Miami Recruiting: 3 Positions That Must Be Filled by Signing Day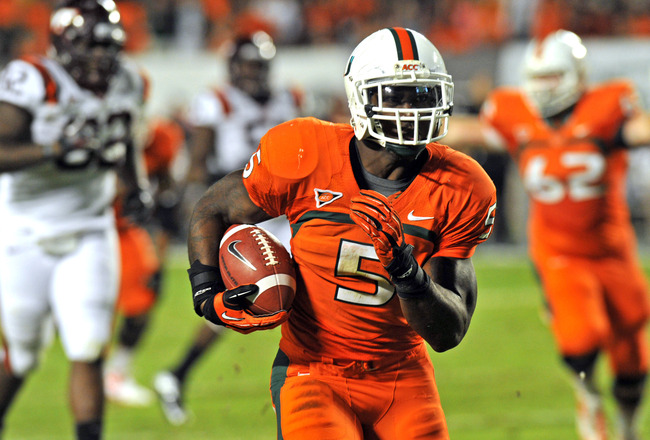 Mike James was a significant part of Miami's rushing attack throughout his college career.
Steve Mitchell-USA TODAY Sports
With a little under four weeks remaining before national signing day, the Miami Hurricanes football coaching staff is buckling down on the recruiting trail.
Though the Canes only graduated four top seniors—Mike James, Brandon McGee, Jake Wieclaw and Dalton Botts—a need for more depth still lingers.
Head coach Al Golden is still pursuing a good number of players to replace those four key players, but certain positions are the focal point.
Here are those three positions that must be filled by signing day.
Note: Statistics courtesy of NCAA.com
Running Back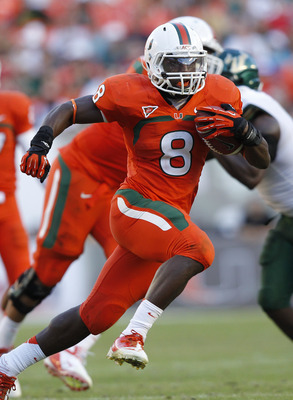 Duke Johnson ran all over opponents as a true freshman.
Joel Auerbach/Getty Images
Yes, Duke Johnson is only a sophomore next season.
But who will be the second- and third-stringers for Miami?
Eduardo Clements and Dallas Crawford—maybe Danny Dillard—figure to be the leading candidates as of now, but a couple recruits could change that.
A pair of highly-touted recruits—Alex Collins and Derrick Green—are considering the Canes and could immediately become the second-stringers. But if neither player commits, what is Miami's backup plan for the backups?
Darris Hughes? Jameson Labady? Brandon Yosha?
Miami needs more depth. And badly.
Defensive Tackle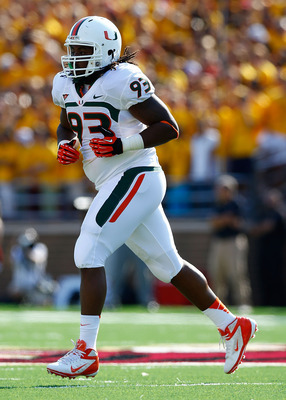 Luther Robinson will be one of two senior defensive tackles.
Jared Wickerham/Getty Images
The Hurricanes managed a mere 12 sacks last season.
Not. Good.
It all starts with the pass rush, and Miami was flat-out embarrassing defensively in 2012, finishing 116th in total defense.
While the defensive line has serious depth—boasting Anthony Chickillo, Shayon Green, Tyriq McCord and the additions of Devante Bond and Al-Quadin Muhammad—the tackles still need serious help.
Luther Robinson, Corey King, Jalen Grimble, Dequan Ivery and others simply don't cut it and could use some new competition. Jay-nard Bostwick and Keith Bryant would be huge additions to the struggling unit.
Note: Both Bond and Muhammad may solely be used as outside linebackers or could play both positions. Golden's decision. Not mine.
Defensive Back
Miami hopes Tracy Howard will live up to his 5-star rating in 2013.
Jared Wickerham/Getty Images
As previously mentioned, the Hurricanes lost top corner Brandon McGee to graduation. While his departure hurts, it would not be the sole reason behind a potentially struggling 2013 secondary.
What could sting, however, is Thomas Finnie being dismissed from the team as the Miami Herald reported.
Miami currently holds commitments from Artie Burns and Jamal Carter, but one more recruit would complete a solid secondary because Carter projects to be a safety.
Behind a paywall, Rivals.com says the Hurricanes are interested in Tahaan Goodman and Rashard Robinson. If Miami does nab either player, consider it a major coup by Golden and crew.
Keep Reading

Miami Hurricanes Football: Like this team?