Power Ranking the Best Matchups of the NFL Divisional Round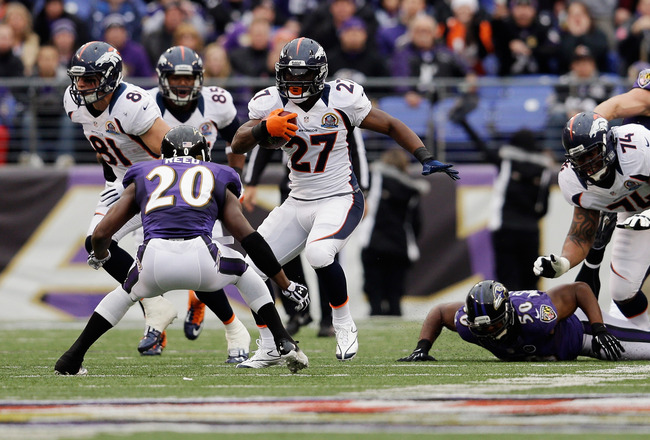 Rob Carr/Getty Images
The NFL Divisional Round of the 2012 playoffs is set to begin, and there's a ton of huge matchups that will decide each game.
There's no shortage of storylines heading into the most exciting weekend thus far of the 2012 season, and they'll all be playing out on the big stage.
Let's take a look at the biggest matchups and power rank them.
8. Andre Johnson vs. Patriots Cornerbacks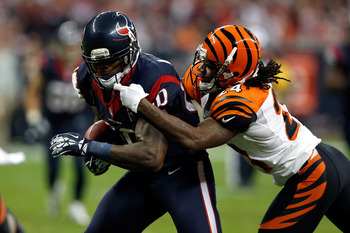 Scott Halleran/Getty Images
The Texans will desperately need offensive firepower to get past the Patriots, who will certainly have that with Tom Brady. That all starts with the passing game.
You know what you're getting from Arian Foster, but the passing game is a huge question mark. Matt Schaub struggled mightily in their Wild Card victory and it was due to Foster that they were able to move on.
He needs his star wideout Andre Johnson to get separation in order to have an easy target. Johnson is an elite wide receiver, but he's yet to prove that in the playoffs.
The Texans time has come, as they have the most talented team in the franchise's history. They could use a breakout game from Johnson.
7. Russell Wilson vs. Falcons Pass Rush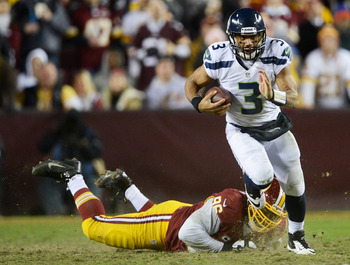 Patrick McDermott/Getty Images
Seattle quarterback Russell Wilson is the only one of three rookies to advance past the Wild Card Round of the playoffs, and his Cinderella story rolls on into the Divisional Round.
Bu,t he runs straight into the class of the NFC. The Atlanta Falcons are well rested and ready to attack the rookie signal-caller.
Defensive end John Abraham will be coming around the end in the hope of keeping Wilson from extending plays with his feet. He'll have major help from the likes of Sean Witherspoon and Jonathan Babineaux.
The Falcons pass rush will have to step up to end the 5'11" quarterback's stunning rookie campaign.
6. Aldon Smith vs. Packers Linemen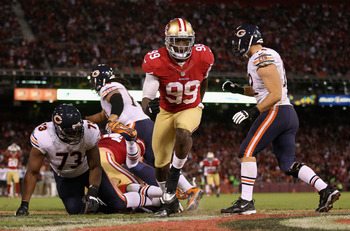 Ezra Shaw/Getty Images
With 33.5 sacks in his 34 career games, 49ers pass-rusher Aldon Smith is an absolute beast. He'll cause fits for the Packers' offensive line during the entirety of their Saturday matchup.
Smith had himself a huge year and is in the running for the NFL Defensive Player of the Year award, but that doesn't mean he's unbeatable.
Packers tackle Marshall Newhouse will likely have the tall task of keeping Smith from getting his very large hands on Aaron Rodgers. If he fails one single time, it could prove to be drastic.
5. Ray Rice vs. Von Miller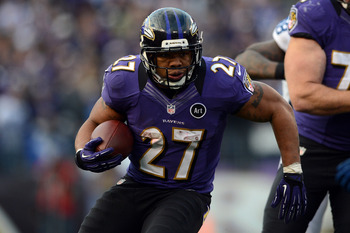 Patrick Smith/Getty Images
The Ravens know what they're getting from Joe Flacco in this game. He'll be a game manager and may make some plays, but he's not going to win the game.
No, that task is on Ray Rice's shoulders. The Ravens' elusive running back needs to move the chains and keep the Broncos defense on the field for as long as possible.
It won't be easy to do so against a strong Denver defense that is led by linebacker Von Miller. In his second season, Miller is playing like a chiseled veteran and joins Aldon Smith and J.J. Watt as favorites for the NFL Defensive Player of the Year.
Miller excels on stopping the run, but he'll have one of the toughest matchups of his young career with Rice.
4. Arian Foster vs. Patriots Front Seven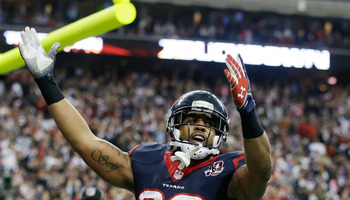 Scott Halleran/Getty Images
The Texans rank eighth in the NFL in rushing, and nearly all of that has to do with running back Arian Foster. He's having himself another incredible year.
Foster ran like a bull against the Cincinnati Bengals in the Wild Card Round, scampering for 140 yards and a score on a workhorse load of 32 carries. In a game that Matt Schaub couldn't get it going through the air, the Texans needed Foster to carry the load and he did.
It will likely be the same story in Foxboro. The Texans' ability to sustain drives and get into the end zone relies on Foster's performance.
If the Patriots can keep him in check and force two-to-three-yard gains instead of allowing seven or eight yards to be picked up with ease, New England will have no trouble getting past Houston.
3. Aaron Rodgers vs. 49ers Secondary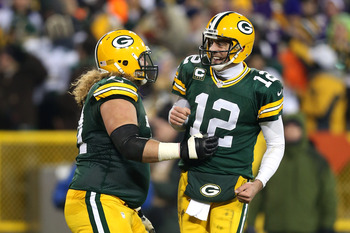 Andy Lyons/Getty Images
Reigning MVP Aaron Rodgers hasn't played up to the standards he set in 2011, but he's still one of the most dangerous players in the league. With the arsenal he has too, it makes him that much more lethal.
But he isn't exactly playing a pushover defense come Saturday. The San Francisco 49ers are unstoppable on defense, ranking fourth in the league in pass defense and rush defense.
49ers cornerback Carlos Rogers is a lockdown threat, and Tarell Brown on the other side is a stud with 56 tackles on the season.
Rodgers will have to thread the needle, look off defenders and make the right reads to come up with a big road victory.
2. Atlanta's Wideouts vs. Seattle's Cornerbacks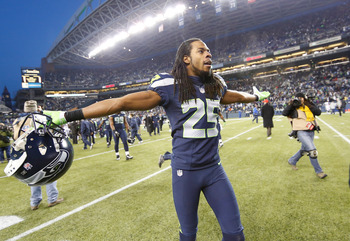 Otto Greule Jr/Getty Images
Seattle cornerback Richard Sherman isn't afraid to get under the opposing team's skin, as you can see here (per Washington Post), but it won't be easy to do that against Atlanta's wideouts.
The Falcons boast one of the best one-two receiver tandems in the league with Roddy White and Julio Jones. They both can leap over defenders, breeze past them with speed or simply kill them with impeccable route-running.
But the Seahawks' cornerbacks don't have the usual NFL makeup. Sherman, at 6'3", often towers over his competition and is quickly becoming one of the top cover corners in the league, while Walter Thurmond also has the size and strength to torment his competition.
It'll be fascinating to see if Seattle can keep up their incredible secondary play against an incredibly salty offensive attack from Matt Ryan and the Falcons.
1. Peyton Manning vs. Ray Lewis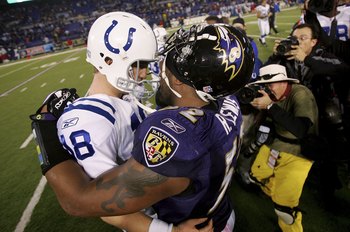 Al Bello/Getty Images
This is the third and last time that Peyton Manning and Ray Lewis will face off in the playoffs. Saying a lot is on the line would be an understatement.
Manning leads the Denver Broncos, the NFL's hottest team, at home against the Baltimore Ravens, who are playing for Lewis and to assure he leaves the game as a two-time Super Bowl champion. But it won't be easy.
Once regarded for their unstoppable defense, the Ravens haven't been the same in 2012. A lot of that has to do with Lewis' absence. They rank in the bottom half of the league in both pass and rush defense.
But his presence in the Wild Card Game against Indianapolis helped change all of that, as they kept Andrew Luck's offense out of the end zone.
It'll be much harder to do against Manning, who is an elite quarterback and playing at an insane level. Picking apart the middle of the field is his expertise, and that's exactly where Lewis will be residing.
If big Ray can have an incredible game Saturday, it'll make a world of difference and delay his retirement for at least one more week. But if Manning tops him, Lewis will be walking off the field for the last time.
Keep Reading