Alabama Football: 7 Reasons Alabama Will Win BCS Championship in 2013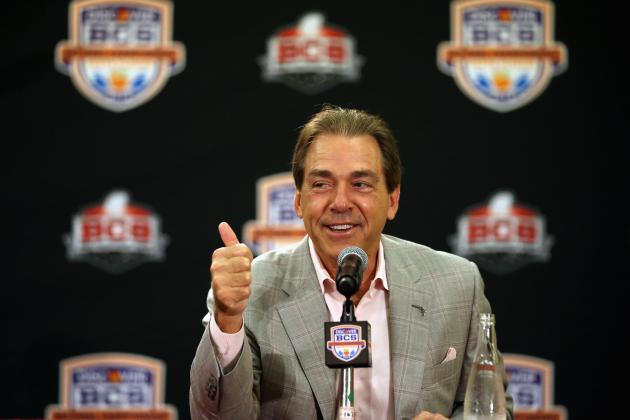 Streeter Lecka/Getty Images

Just days removed from winning yet another BCS championship, Tide Nation is already looking ahead to the team's next title.
Alabama fans might be dreaming, but the way things are going at The Capstone right now, another championship could very well be just 12 months away.
The Tide should indeed make it back to the BCS title game next year. After all, they appear to have everything going their way. In the last four seasons, Alabama has won three BCS titles—two of them after suffering November losses.
All of this is pure speculation, of course, but there are seven very good reasons why Alabama should expect to be back on top in 2013.
Begin Slideshow

»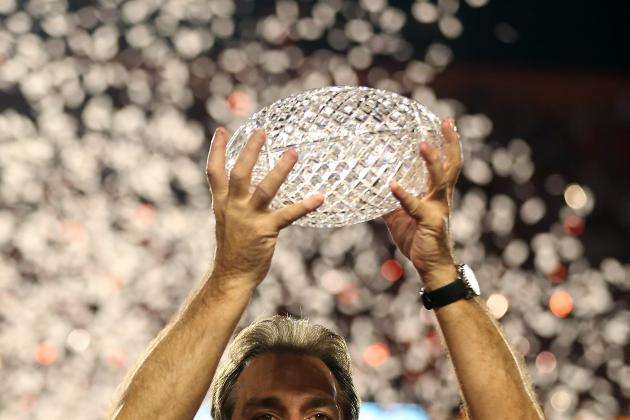 Streeter Lecka/Getty Images

Head coach Nick Saban has clearly placed himself at the top of the college football coaching heap.
On top of winning a trio of BCS titles in just six years at Alabama, his overall record over the last five seasons is an amazing 61-7.
In the vast majority of head-to-head matchups, Saban has the edge. When given two weeks to prepare, the edge grows. When given six weeks to prepare, as is the norm before BCS title games, Saban is a perfect 4-0.
He recruits better, he coaches better, and he has better assistants.
He demands the very best, and he gets the very best.
He is the very best.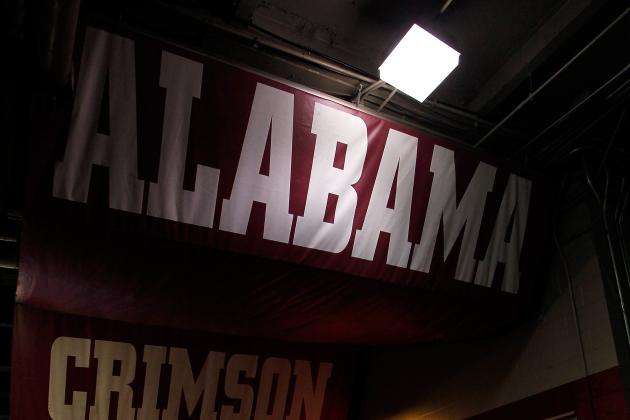 Kevin C. Cox/Getty Images

Those who complained about the strength of Alabama's schedule this season aren't going to like the next one any more.
Alabama opens with a quality nonconference game against Virginia Tech in Atlanta on Labor Day Weekend. While the Hokies are a formidable opponent, the Tide should win fairly easily.
A bye week comes right after the opener, giving 'Bama two weeks to prepare for a trip to College Station and a rematch with Johnny Football and the Texas A&M Aggies. This will be the toughest game of the year.
Home dates with Colorado State, Ole Miss, Georgia State, Arkansas and Tennessee are split by a road game at Kentucky. Assuming the Tide get by A&M, they should once again start the season 8-0.
After facing the Volunteers, Alabama has a second off week, in which it will prepare to host LSU. While this game usually provides the winner of the SEC West, LSU has been gutted by 10 early departures in the last few weeks.
'Bama wraps up the regular season with trips to Mississippi State and Auburn sandwiching a home date with Chattanooga.
If Saban's bunch overcomes Texas A&M, only LSU and the SEC Championship Game will stand in the way of another berth in the BCS National Championship Game.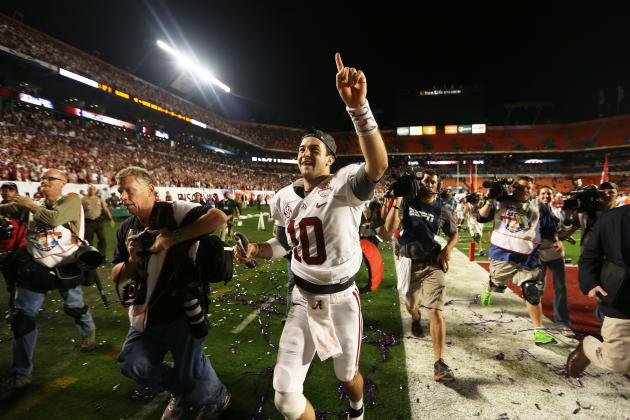 Streeter Lecka/Getty Images

If quarterback A.J. McCarron hasn't shed the title of game manager by now, he never will.
The fact remains, though, that all the kid does is win.
He has been the starter for the Tide for two seasons and has won two national championships. His overall record now stands at 25-2.
In title games, McCarron has completed 43-of-62 passes for 498 yards and four touchdowns with no interceptions. This has come against two teams which were considered to have the best defenses in the country.
He has completed two-thirds of his career passes for just under 6,000 total yards with 49 touchdowns and eight interceptions.
With the experienced staff he will have surrounding him, McCarron is close to being the first quarterback to win three consecutive national titles.
His leadership in 2013 will prove to be invaluable.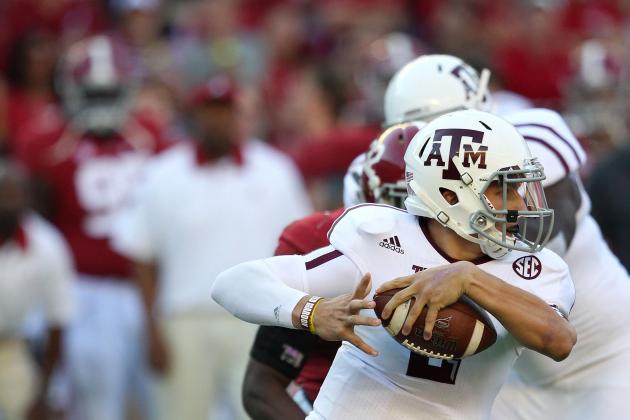 Mike Zarrilli/Getty Images

With help from their SEC counterparts, who have combined with Alabama to win the last seven BCS titles, the Tide likely have an edge in pretty much all tiebreakers.
This has been proven true in each of the last two seasons.
This past year, Alabama, which lost just once, got a berth in the title game over other one-loss teams like Oregon, Kansas State and Florida.
In 2011, Alabama received a bid over Oklahoma State under the exact same circumstances. The Tide also got in over Stanford, which had two losses.
Until the playoff format begins in 2014, Alabama is going to earn a title berth with one loss in most cases. The only likely exception to this would be if it lost in the SEC title game.
No other school in the country gets that kind of respect. It comes with the kind of success that Saban and the Tide have had over the last five years.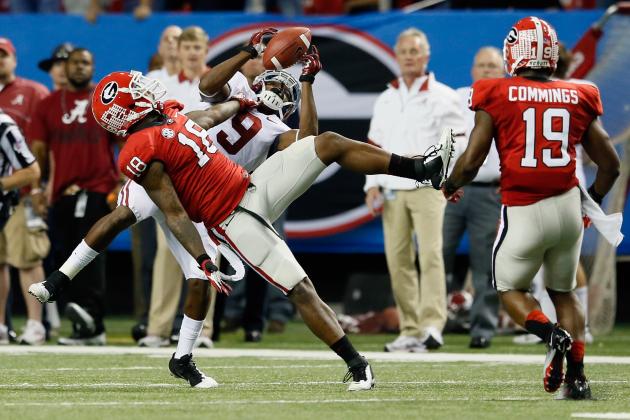 Kevin C. Cox/Getty Images

One of the most disturbing statistics for the anti-'Bama crowd this season must be what the Tide's freshmen accomplished. Alabama led the nation in yards from scrimmage by freshmen with 2,573.
Running back Eddie Lacy announced on Friday that he would enter the NFL draft (via AL.com), meaning the team will turn to T.J. Yeldon, who ran for over 1,100 yards this season as, yes, a freshman.
Yeldon will be backed up by Jalston Fowler and Dee Hart. Fowler was expected to be Lacy's backup before being lost to a season-ending injury.
Oh yes, let's not forget incoming freshman Derrick Henry, who set the national career-rushing-yards record for high-school backs in November.
At wideout, Alabama loses very little. Freshman sensation Amari Cooper will be joined by Kevin Norwood, Kenny Bell, DeAndrew White and Christion Jones. All told, just 411 of McCarron's 2,933 passing yards will not be returning.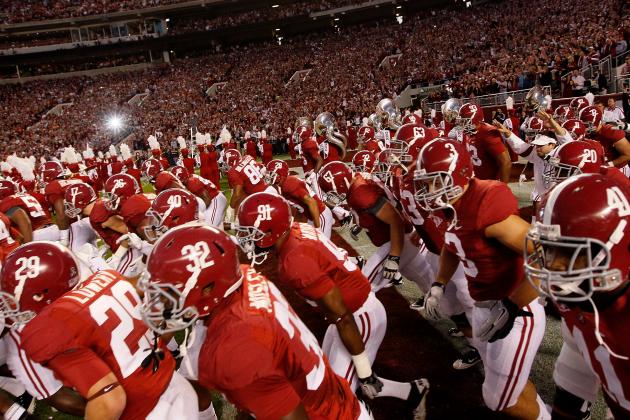 Kevin C. Cox/Getty Images

When Alabama jumped out on top of Notre Dame 14-0 in the first quarter earlier this week, the Irish appeared gassed and confused. They had little idea what they were up against or how to stop it.
If you have ever believed that the aura of the late-1990s New York Yankees or the 1960s Boston Celtics helped them to win games via some sort of mental edge, you have to believe that the Tide now have a similar power.
Debatable though it may be, the Irish lost to Alabama in part because they didn't believe they could beat the Tide.
The complete dominance that Alabama has held over the rest of the country for the last half-decade is to the point where it provides the Tide with an advantage in just about every single game.
The mystique, the aura, the uniform...
Whatever it is, Alabama has it right now.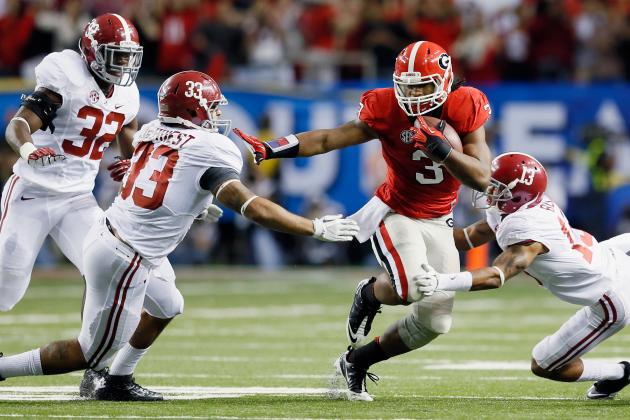 Kevin C. Cox/Getty Images

Alabama is guaranteed to return only Ed Stinson to its front line next season. In terms of the team's linebackers, Nico Johnson will be gone, though Adrian Hubbard is reportedly returning to school (via AL.com).
In the secondary, Robert Lester is out of eligibility, and Dee Milliner also declared for the draft on Friday (via Yahoo! Sports).
In the worst-case scenario, Alabama will lose six starters on the defensive side of the football. But you may remember that the Tide lost seven starters before this season and still boasted the best defense in the nation.
This group was young—green, if you will.
Returning, though, are guys like C.J. Mosley, Trey DePriest and Vinnie Sunseri. They will be joined by the likes of Deion Belue, Nick Perry, Xzavier Dickson and Stinson.
Throw in yet another top-five recruiting class and a bevy of future stars who saw limited playing time or were redshirted this year, and Alabama will be just as good defensively in 2013.
Don't forget that the Tide, even with all of their departures, have been in the top three nationally in scoring defense for each of the last four years.