Predicting the Top 10 Headlines from Divisional Round of NFL Playoffs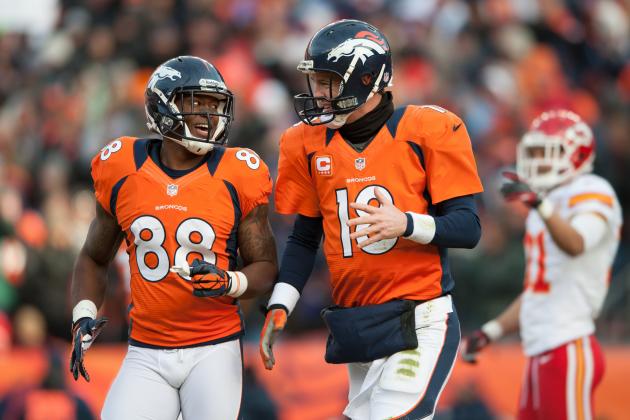 Dustin Bradford/Getty Images

What storylines will emerge from the Divisional Round of the NFL Playoffs? While no one is able to predict the future, sometimes it can be fun to put our thinking caps on and see what we come up with.
Ray Lewis sits on the brink of walking away from the game forever (at least until he becomes a broadcaster).
Matt Ryan is still looking for his first career playoff victory, and Marshawn Lynch seems to be in a never-ending state of "Beast Mode."
So, what will be the top headlines after the four games approaching this weekend?

Let's start with a potential upset in San Francisco.
Begin Slideshow

»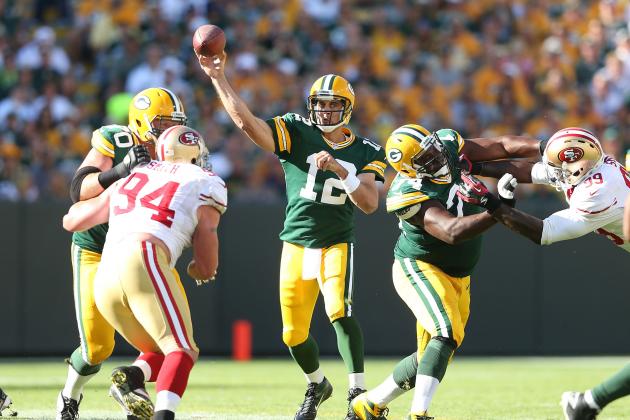 Andy Lyons/Getty Images

Is this a headline or an expectancy?
In a quarterback battle between reigning MVP Aaron Rodgers and Colin Kaepernick, Rodgers would be expected to win 95 out of 100 times.
What will make headlines this week is the way in which it happens.
Kaepernick is going to become flustered as Green Bay aims to remove the rushing component from San Francisco's offense. Thus, forcing Kaepernick into traditional drop-back situations and making him throw corner routes, out routes and other downfield passes.
Rodgers, meanwhile, will utilize all of the targets at his disposal.
Jordy Nelson, Greg Jennings, Randall Cobb, James Jones and Jermichael Finley will all be included in the passing game as a way to spread out the 49ers defense and keep it off balance.
Quick-strike passes will help to take talented edge rushers Aldon Smith and Justin Smith (assuming he plays) out of the game.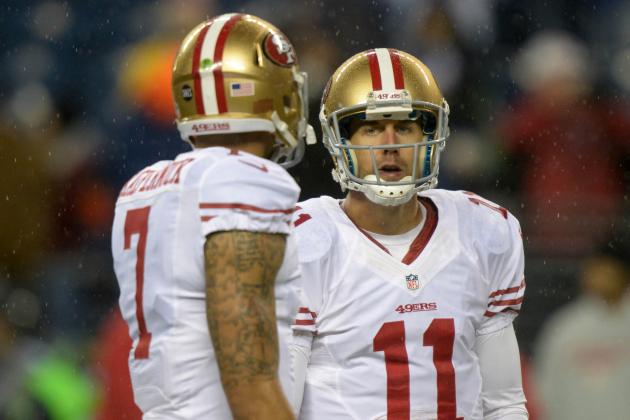 USA TODAY Sports

By losing to the Green Bay Packers, the San Francisco 49ers will fall under intense scrutiny.
After all, last season the 49ers made the NFC Championship Game with Alex Smith under center. Was switching to Colin Kaepernick a mistake?
Would Smith have been able to get San Francisco over the hump? He was the starter when the 49ers beat the Packers in Week 1.
These are just a few of the questions that would arise should San Francisco lose to Green Bay. Not to mention a fresh offseason debate about who should be the starter next season.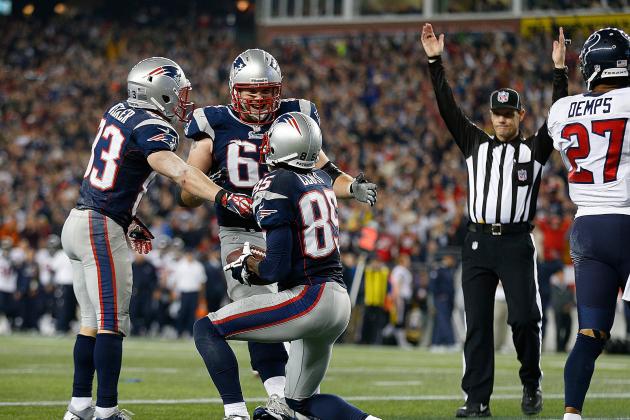 Jim Rogash/Getty Images

In Week 14, the New England Patriots embarrassed the Houston Texans on Monday Night Football by a score of 42-14. The Divisional Round is going to provide a platform for a repeat performance.
Houston limped into the postseason, losing three of its final four regular-season games and looking sluggish in a 19-13 Wild Card Game victory over the Cincinnati Bengals.
New England, meanwhile, has won nine of its last 10 games and has scored at least 23 points in each of its last 14 games. Houston has a stronger rushing attack, but if the Texans fall into an early hole, then the threat of Arian Foster can quickly be neutralized.
Brady, Belichick and Co. rarely make early exits from the playoffs and the fact that they have already beaten up on the Texans once this season foreshadows another sound victory.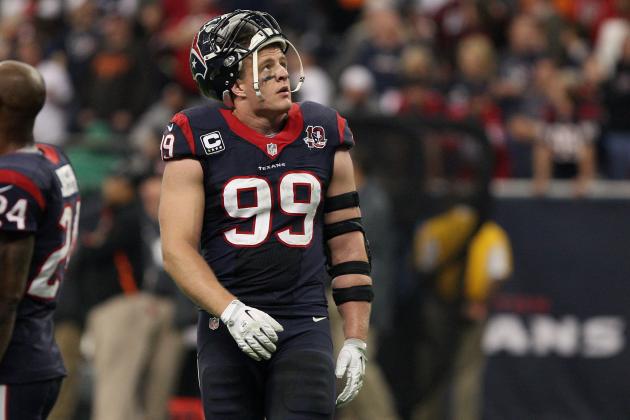 USA TODAY Sports

There are many reasons that Houston was blown out by New England in Week 14.
However, one pattern will emerge after they meet again in the postseason; the struggles of J.J. Watt.
Watt is a Defensive Player of the Year candidate (and likely favorite,) but the Patriots held him to just four total tackles and zero sacks last time around. Watt has 20.5 sacks, so slowing him down is a recipe few teams have discovered yet.
The difference with New England is both the ability of Tom Brady to beat the rush and blitz with audibles and quick strike passes, but also the talent of his tight ends and their inherent skill at helping to derail great pass-rushers.
Aaron Hernandez and Rob Gronkowski will both be in action, and their penchant for both blocking and receiving will be a great way to again temper the skill of Watt.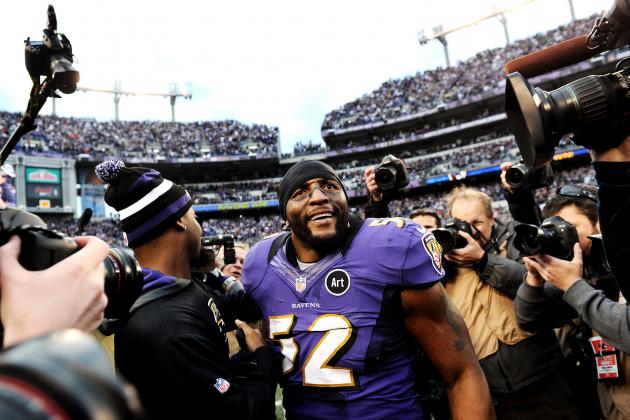 Patrick Smith/Getty Images

It is undoubtedly going to be one of the biggest moments of the NFL season.
Some players transcend the game of football. They immediately walk away from the field as legends, etched into the collective minds of teammates, coaches and legions of fans.
Ray Lewis is one of those guys. Announcing his pending retirement before the postseason has allowed everyone to soak in his final season.
His journey may come to an end against the Broncos, but what a ride it's been.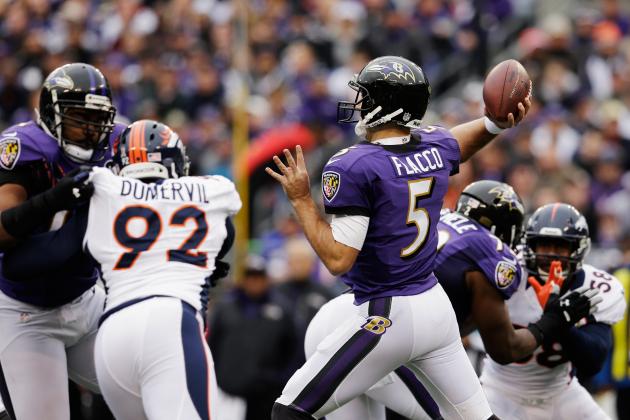 Rob Carr/Getty Images

Joe Flacco is the only quarterback to begin his NFL career by winning a playoff game in five consecutive seasons.
He has yet to win a Super Bowl, but Flacco has helped (or at least not hindered) the Ravens be constant playoff participants. However, Flacco's numbers are rather mediocre when the games matter most.
He has a 54.1 completion percentage in the postseason with 1,810 yards passing, 10 touchdowns and eight interceptions in 10 total games.
Flacco needs to elevate his play in order to keep pace with Peyton Manning and the Broncos' high-octane offense. Is he capable of doing so?
If he is, that ability has not yet been showcased in the postseason. Players like Elvis Dumervil and Von Miller will create tremendous pressure on Flacco. The kind of pressure that he needs to show he can overcome.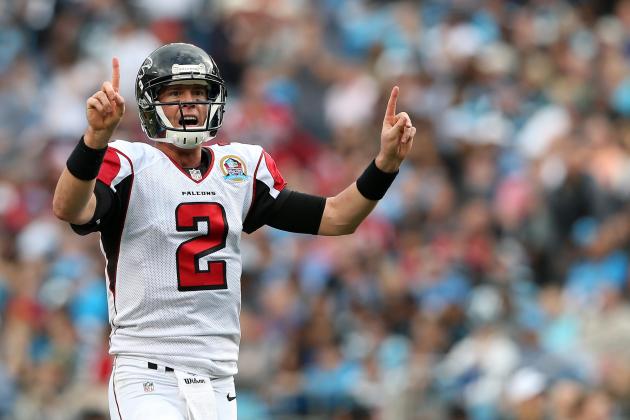 Streeter Lecka/Getty Images

Zero wins, three losses.
That record surrounds Matt Ryan and everything he accomplishes in the NFL.
Atlanta's regular-season triumphs mean little as long as head coach Mike Smith and Ryan fail to elevate their game once the playoffs start.
Unfortunately, this season is not going to be the one to remove the hypothetical monkey from Ryan's back. The Seattle Seahawks are riding a tremendous wave of momentum after beating the Washington Redskins in their Wild Card Game.
Russell Wilson's poise and pocket presence evolve with each passing week. Atlanta's defense ranks in the bottom third of the league, and Seattle will be smart to keep that unit on the field.
In order to do so, the Seahawks will lean heavily on this guy...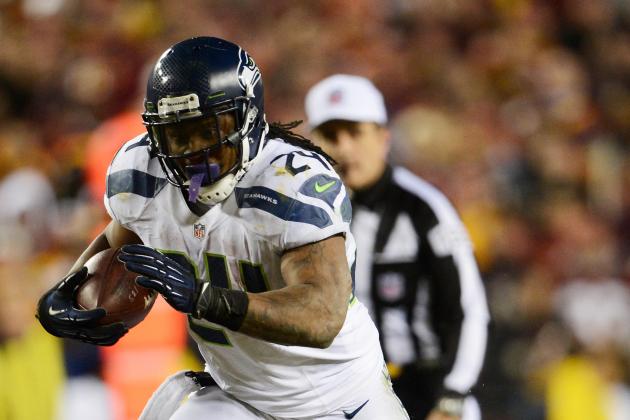 Patrick McDermott/Getty Images

Marshawn Lynch is going to enter "Beast Mode" in the Divisional Round.
Atlanta is giving up over 123 yards per game on the ground and Seattle will be smart to prey upon that this weekend.
Lynch rushed for 1,590 yards and 11 touchdowns this season because Seattle runs a balanced offensive attack that properly utilizes his abilities. By giving Lynch between 25 and 35 carries against Atlanta, the Seahawks can control the flow of the game and prevent the Falcons' high-flying offense from dominating.
Matt Ryan has a plethora of passing options at his disposal, and if Atlanta wins the time of possession battle it will almost certainly win the game.
Instead, Seattle will ensure that is not the case by letting Lynch enter "Beast Mode" early and often in this contest.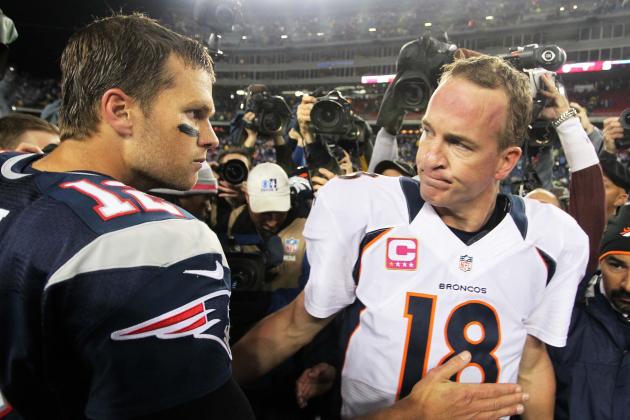 Stew Milne-USA TODAY Sports

The Denver Broncos have not lost a game since Week 5 of the regular season.
Who was that defeat at the hands of you ask? The New England Patriots.
Now, all the stars are aligning for a potential AFC Championship Game rematch. Fans have seen these two clash for the better part of a decade. Manning's jersey color has changed, but the rivalry remains as strong as ever.
Manning and Brady will go down as the best quarterbacks of their era and generation. This potential matchup would only help to further the aura surrounding each of them.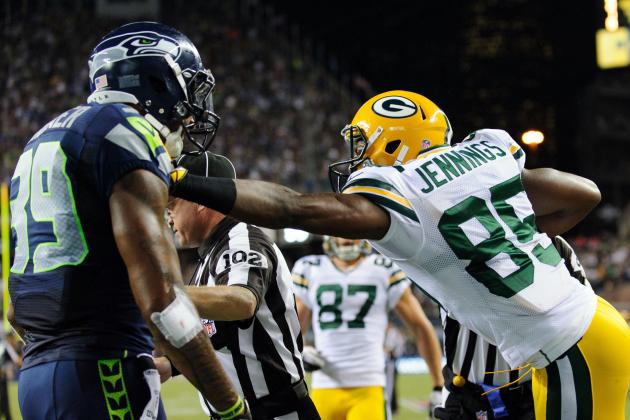 Steven Bisig-USA TODAY Sports

If these predictions all fall into place, the Green Bay Packers will meet up with the Seattle Seahawks in the NFC Championship Game.
Coincidentally enough, these teams have met before. Perhaps you remember a Week 3 meeting that ended on a controversial Hail Mary pass giving Seattle a 14-12 victory. You know, the one that ended the whole replacement referee fiasco.
Anyway, a rematch would give Green Bay a chance to make amends for that defeat. It would also give Seattle a chance to prove that it truly was the better team that day.
Oh yeah, and the winner gets to go to the Super Bowl.
Don't agree with these predictions? Sound off in the comments below.