Reliance on Kobe Bryant Hero Ball Is LA Lakers' Biggest Problem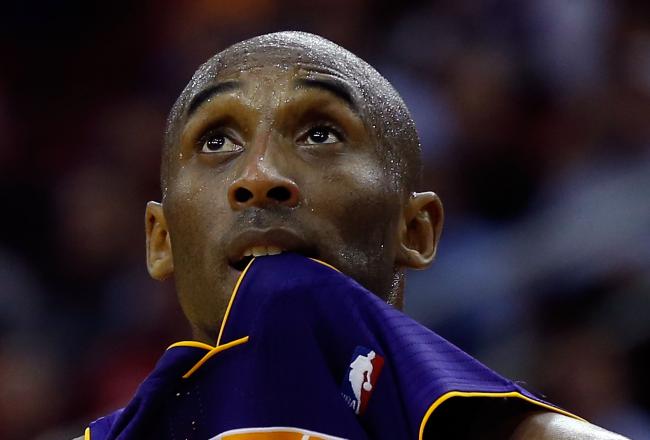 Scott Halleran/Getty Images
In what can only be described as a monumental collapse, the Los Angeles Lakers presently sit five games below .500. They're 15-20, sans their starting frontcourt and in danger of missing the postseason for just the second time since 1994.
The Lakers' reliance on Kobe Bryant hero ball is the biggest reason why.
This is not to slight Bryant's production or consistency. In fact, this isn't even an attempt to blame Kobe for the Lakers' failures.
Instead, it is a factual statement that the Lakers fall apart in the fourth quarter and look to Bryant to carry the burden.
Although Kobe has proven capable of handling such a task in the past, it is not the proper approach to take. In fact, the Lakers have been neutralizing the strengths of an All-NBA-caliber starting lineup by focusing on one man's abilities.
That's the perfect way to create a 15-20 record.
Great teams utilize rotation to achieve victory. Although the stars are inclined and expected to step up with the game on the line, one player can only carry so much of a burden.
Tell the Lakers to take notes.
Don't Blame Kobe
Thus far in 2012-13, the Los Angeles Lakers are averaging 105.9 points per 48 minutes with Kobe Bryant on the floor. They're also shooting 46.6 percent from the floor.
With Bryant on the bench, those numbers dip to 89.4 points on 39.8 percent shooting.
Furthermore, the Lakers have posted a plus/minus rating of plus-5.1 per 48 minutes with Bryant active. When he is resting, however, that number dips all the way to minus-13.4
An 18.5-point difference.
The Lakers' net rating with Kobe is plus-5.8 and their true shooting percentage rests at 55.8. When Bryant is on the bench, however, the Lakers are posting a net rating of just minus-10.8 and a true shooting percentage of 49.8.
Who is to blame for the Los Angeles Lakers' slow start?
A 16.6-point difference.
From an individual standpoint, Bryant is averaging 30.1 points, 5.1 rebounds and 4.8 assists on a slash line of .475/.355/.841. That's a career-best field goal percentage.
As for his 3.4 turnovers per game, the Lakers are averaging 1.9 less turnovers per 48 minutes with Bryant than without.
Ball Watchers
During the fourth quarter of any Los Angeles Lakers loss, one common theme has emerged. Just as Kobe Bryant is a notorious ball-watcher on defense, his teammates do the same on the opposite end.
The offensive end—where the points are scored and the fourth quarter is ultimately decided.
Thus far in 2012-13, Bryant is averaging 5.6 field-goal attempts per fourth quarter. Bryant is also shooting 47.2 percent from the floor during the final period of play.
In other words, there is a rationale for his attempting such a high volume of shots come the fourth quarter.
Oddly enough, Bryant is shooting better during the fourth quarter when the Lakers lose. Marginally better.
Bryant is converting just 40.4 percent from the floor and 27.8 percent from beyond the arc when the Lakers win. He's making 50.0 percent from the floor and 36.4 percent from beyond the arc during the fourth quarter of losses.
So what's the key to these losses? Teammate participation.
During losses, 38.6 percent of Bryant's field goals are being assisted. During victories, however, that number rises to 47.8 percent.
In other words, the Lakers lose when they're idle and win when they play team basketball. So what is it that Kobe could do better?
For one, he could force his teammates out of the hero-ball mentality.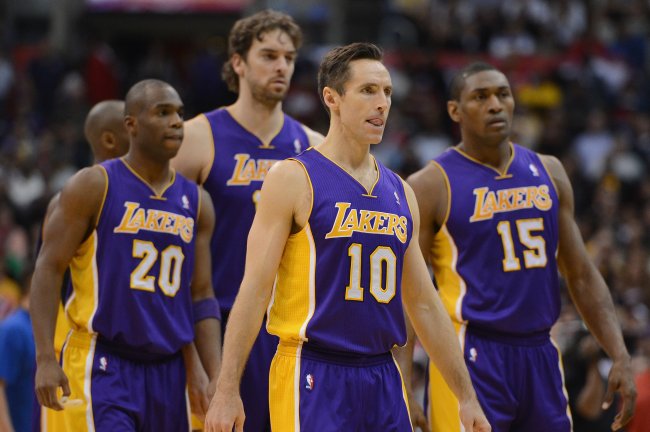 Harry How/Getty Images
Facilitate with Trust—If Possible
Thus far in 2012-13, the Los Angeles Lakers are 12-8 when Kobe Bryant has at least five assists. Considering they're 3-12 when he does not, there's a rather simple analogy to derive.
When Kobe facilitates, the Lakers have a significantly stronger chance of securing a victory.
What this leads to is the necessity for Bryant to embrace a role as a fourth-quarter facilitator. Considering defenses are certain to close out on him, the opportunities to do so will arise.
The question is, can his teammates step up to provide the necessary contributions?
Steve Nash is shooting 36.8 percent from the floor during the fourth quarter. Metta World Peace is converting 35.5 percent during the final period of play.
To round out the perimeter depth, Jodie Meeks is succeeding on just 39.6 percent of his field-goal attempts during the fourth quarter.
In other words, the perimeter is Kobe's to dominate or the Lakers' to lose. This leads to L.A.'s dependency upon Bryant's hero-ball ways.
Surprisingly, there is one player who has been consistent come the fourth quarter: Pau Gasol.
Gasol often puts on a disappearing act in which he loses all signs of aggression come the final period. With that being said, he's converting at a very high rate when he snaps out of that mentality.
Gasol is shooting 66.7 percent on 15 attempts during the final three minutes of the fourth quarter.
Dwight Howard mirrors this production at 58.5 percent during the fourth. The issue, of course, is that the Lakers cannot afford to consistently work the interior when cutting down a deficit.
The Lakers are living and dying by Kobe's hero ball. The only way to change that is for Bryant's perimeter teammates to step up.
Otherwise, the reliance upon Kobe's game-saving ways will be the Lakers' ultimate undoing.
This article is
What is the duplicate article?
Why is this article offensive?
Where is this article plagiarized from?
Why is this article poorly edited?

Los Angeles Lakers: Like this team?