Thank The Good Lord For Making Me a Yankee (or not)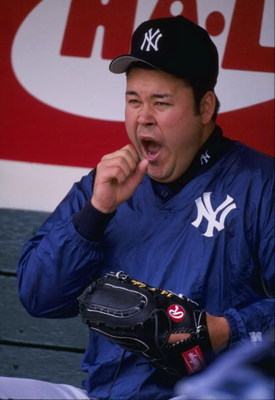 The New York Yankees are the most storied professional sports franchise in the history of the World.
Their record books glisten with names like Babe Ruth, Lou Gehrig, Joe DiMaggio, Mickey Mantle, Whitey Ford and Derek Jeter. True legends of American sport.
But the Yankees have been known to throw a lot of money and a lot of hype behind players who haven't quite panned out.
Here's five that ended up on the short end of the Yankees stick.
Hideki Irabu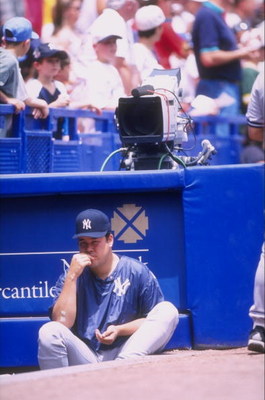 Hideki Irabu was the first big-name Japenese import to hit the States, and when I said hit, I really meant belly-flop.
Irabu jumped the shark in his Major League debut, as he recorded the first of his 34 career wins on July 10, 1997, by scattering five hits over six-and-two-thirds innings and striking out nine Detroit Tigers.
It was all downhill from there, as the man who came to affectionately be known as "The Fat Toad" recorded a career mark of 34-35 over parts of six seasons with the Yankees, Montreal Expos and the Texas Rangers.
Since his last appearance in 2002, Irabu has been somewhat of a recluse, and was most recently arrested in Japan for assaulting a bartender after his credit card was declined. Allegedly he had slurped down 20 mugs of beer.
I guess all the money Irabu made from fleecing the George Steinbrenner has finally run out. Maybe we'll see him on Celebrity Rehab duking it out with Dennis Rodman next year.
Britt Burns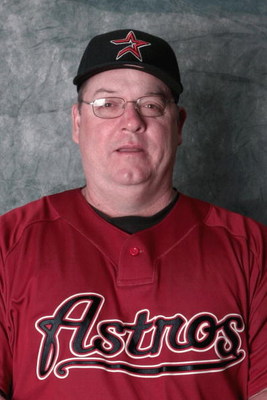 Britt Burns was one of the top young pitchers in baseball when he was traded to the Yankees after the 1985 season, in which he won 18 games, for two 1980s Yankee immortals - Ron Hassey and Joe Cowley.
He never threw another pitch again.
Now a coach in the Houston Astros organization, Burns looks to be about 70 and 300 pounds—essentially, playing the part of a pitching coach quite well.
Carl Pavano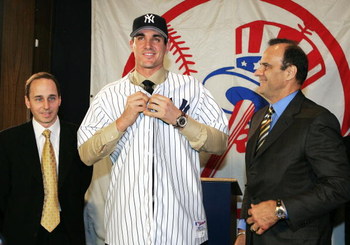 They call him "American Idle" for spending so much time on the Disabled List.
I call him a lucky man, for in his lifetime Pavano has accomplished two things that millions of young men across America have dreamed about—become a pitcher for the New York Yankees and date Alyssa Milano.
So what if he suffered from a variety of hilarious ailments that culminated with a sore tuchus. Nothing that a healthy sprinkling of good old fashioned Anti-Money Butt powder couldn't cure.
He, too, fleeced George Steinbrenner out of a lot of cash.
I'm sensing a trend here.
Ian Kennedy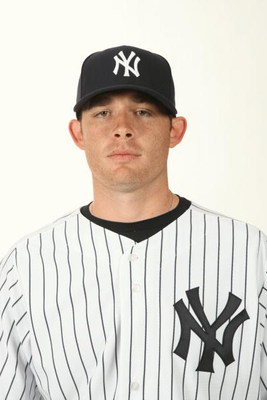 I know it's a bit early to write-off Ian Kennedy, but trust me—his number has been called in Yankees lore.
Kennedy, along with Phil Hughes, was supposed to lead the Yankees back to the World Series in 2008. So much so, in fact, that the Yankees refused to include him in a deal for Johan Santana.
Now, I can't think of many things that sound more ridiculous than this headline:
Yankees refuse to part with Kennedy in deal for Santana.
I'm sure that General Manager Brian Cashman downed a few bottles of Vodka in May in honor of the disaster Kennedy has turned out to be.
Now, with CC Sabathia and A.J. Burnett on board, it's obvious that Kennedy is no longer in the Yankees plans. I'm sure that Cashman would gladly deal Kennedy for a luxury box in CitiField to watch Santana throw darts.
Ruben Rivera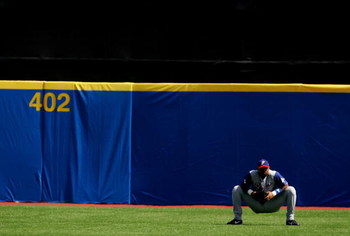 Whenever the Yankees anoint a center field prospect as the second-coming of Mickey Mantle—run...and run fast.
Rivera was the Yankees top prospect in the mid-1990s. He had a mix of power, speed and defense - a five-tool player.
Now, Rivera probably counts a toolbox as part of his work arsenal.
Sadly, Rivera, a cousin of Mariano, will probably be best remembered for boosting Derek Jeter's baseball glove in Spring Training a few years ago.
Maybe he thought that if he wore the glove, his career would instantly re-appear.
He was last seen playing for Mexico in the World Baseball Classic in 2006.
Keep Reading

New York Yankees: Like this team?