Grading Top New England Patriots Rookies for the 2012 Season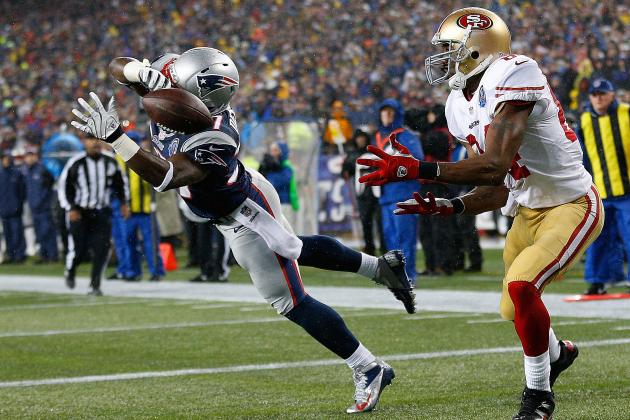 Jim Rogash/Getty Images

The New England Patriots are two days away from starting another playoff run, and—as has has been the case for the past decade-plus—veterans are leading the way in Foxborough.
Tom Brady runs the offense. Vince Wilfork anchors the defensive line. Jerod Mayo leads the linebacking corps. So on and so forth.
But the Patriots have had rookies step up all season, and it's due to several of those rookies that New England has a shot at another Super Bowl title.
Chandler Jones has brought a legitimate pass-rushing presence to the defensive line, Dont'a Hightower is a key contributor at linebacker, and Alfonzo Dennard went from seventh-round pick to cornerstone cornerback over the course of the year.
There are other rookies that have made contributions as well, and now that 16 games are in the books, we have a much better idea about the kind of player they are and what they bring to a team that hopes to have trip to New Orleans in its future.
Here are the regular season grades for the top rookies on the New England Patriots roster this season.
Begin Slideshow

»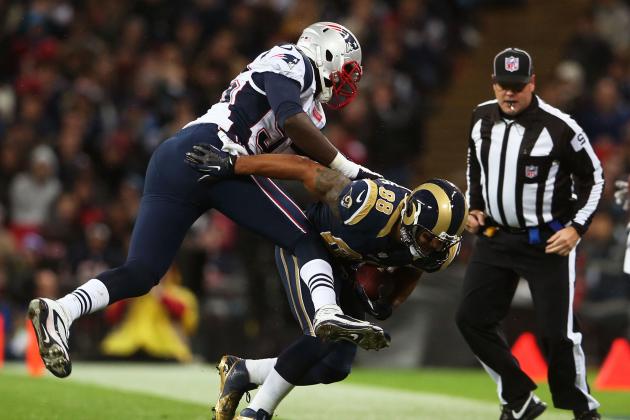 Scott Heavey/Getty Images

Defensive end Chandler Jones gives the Patriots a player that they haven't had in recent years.
Jones' main job this season has been to get into the backfield and get to the quarterback.
The first-round pick has done a good job of that, and as a result, the oft-criticized Patriots defense has been able to perform much better than it has in a while.
Jones doesn't have the out-of-control sack numbers that J.J. Watt and Aldon Smith have put up, but he has done a consistent job of harassing the quarterback and making big plays in the backfield. He finished with six sacks on the season, though he was slowed by an ankle injury and has just recently reached full strength.
Jones's importance to the team goes beyond the numbers. Ever since Willie McGinest and Mike Vrabel left New England, the Patriots have had to try and garner a pass rush from a group of players who did not really specialize in this area. Now, Belichick can put Jones on the field and know that the quarterback won't have all day in the pocket.
Jones has brought some much needed stability to the Patriots pass-rushing unit.
Grade: B+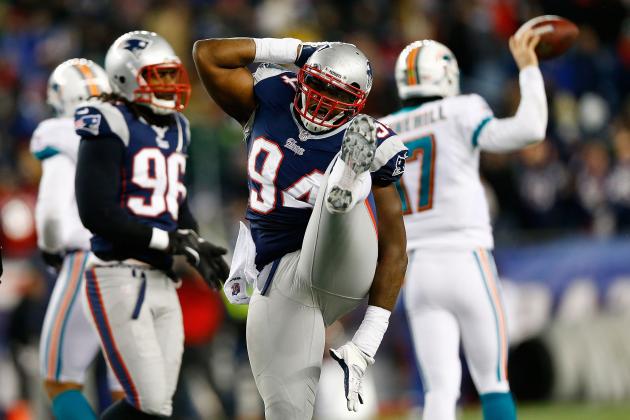 Jared Wickerham/Getty Images

Justin Francis' emergence has been one of the best stories of the Patriots' last several weeks.
An undrafted rookie out of Rutgers, Francis has gone from roster long-shot to valuable interior rusher. He had an impact in New England's near-comeback against San Francisco in Week 15, when he made five tackles as the Patriots tried to rally back. He then had three sacks in the season finale against Miami.
Francis has become a player that will be a big part of New England's defensive line going forward, adding depth to a unit that is quickly becoming one of the Patriots' top assets.
Grade: B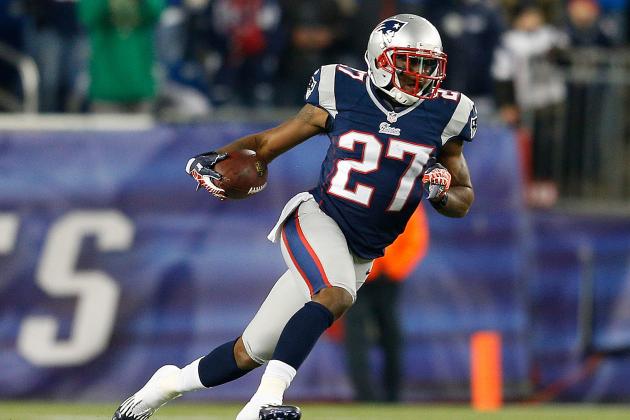 Jim Rogash/Getty Images

Tavon Wilson's impact this season has slowed a bit in the second half, but it would still be difficult not to call this a solid first season for the rookie out of Illinois.
Wilson has shown a nose for the ball while hauling in four interceptions, good for second on the team.
However, he has had to start a few games during the year and play extensive minutes in others, and the results have been mixed. Wilson has shown clear potential at times, but his overall production has been inconsistent.
Wilson has shown that he has good playmaking potential, but his grasp of the basics—especially in pressure situations—has to get better. He was partly responsible for a blown coverage assignment against Seattle in Week 6 that resulted in Sidney Rice's game-winning touchdown catch, so if Wilson wants to crack the main safety rotation, he'll have to show that he can consistently be trusted with assignments.
Grade: B-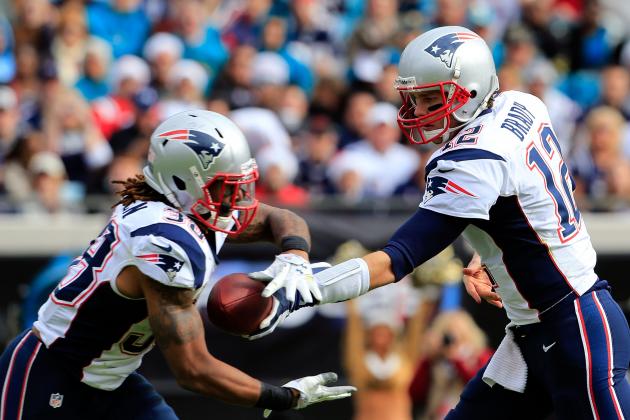 Sam Greenwood/Getty Images

Brandon Bolden began the year as a great find for the Patriots and their backfield, but a disappointing failed drug test in the middle of the season resulted in a four-game suspension.
The rookie out of Ole Miss hasn't been the same since.
Despite the lows of his suspension, Bolden has contributed to the running back corps. He ran for 137 yards in a win over Buffalo in Week 4, and overall, he has looked like a player that the Patriots can expect production from for for the next few years.
Grade: C+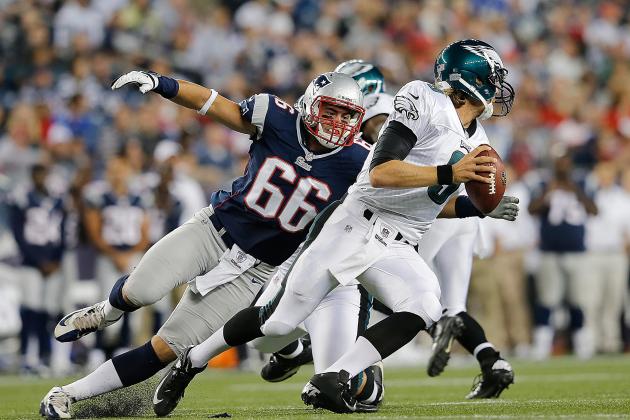 Jim Rogash/Getty Images

A third-round pick who has been a season-long benchwarmer, Bequette has only made it into three games all season. The Arkansas product is pretty low on the totem pole right now, but he'll have a chance to crack the starting group next year.
Grade: C-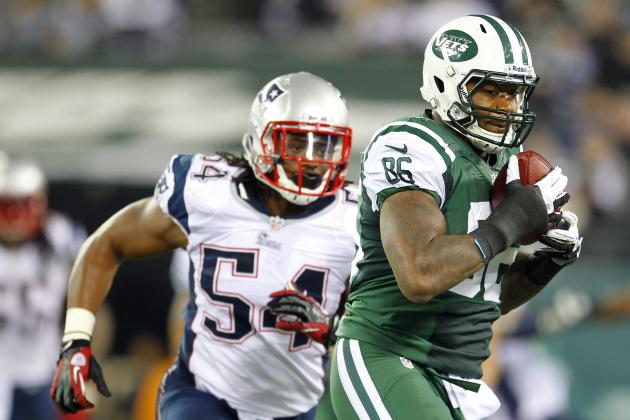 Rich Schultz/Getty Images

The Patriots had high hopes for Hightower when they took him in the first round of last year's draft, and so far, the Alabama product has backed up the team's faith in him.
After dealing with an injury in early October, Hightower has become a fixture in the linebacking corps with Jerod Mayo and Brandon Spikes. He finished with 60 tackles and four sacks on the season.
Hightower's ability to make plays and produce consistently in the Patriots' scheme has made him a valuable commodity in New England. It's also helped Spikes emerge as the Patriots' top middle linebacker, while Mayo has been able to roam around more and try out different responsibilities.
Hightower's gotten better as the season's gone on, as he's had three games of six or more tackles in the past four contests. The Patriots will look for him to keep his solid streak going during the playoffs.
Grade: B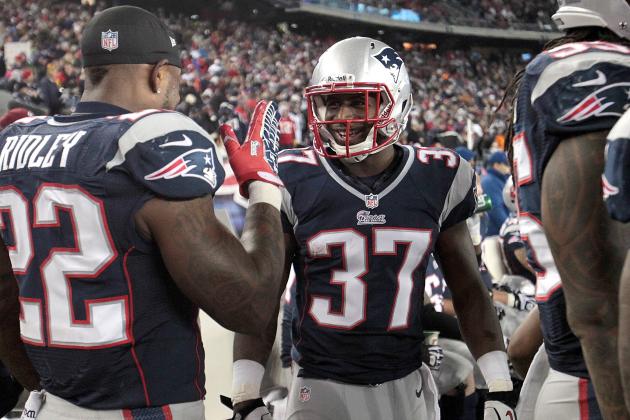 Jim Rogash/Getty Images

It was nearly impossible to project that Dennard, who was still available as the 2012 NFL Draft entered its seventh round, would end up becoming a team's top cornerback by the end of his rookie season—but that is exactly what happened.
Dennard's emergence has meant big things for the New England secondary. The Patriots can stick him and Aqib Talib at corner, which allows Devin McCourty to play safety, where he has looked much better than he ever did at corner.
Dennard's ability to learn quickly on the job has turned a major weakness for New England into a strength. It also allows the Patriots to roll with different packages and use players at a variety of positions in different roles.
Grade: A-