Why Gary Bettman Should Quit Apologizing About the NHL Lockout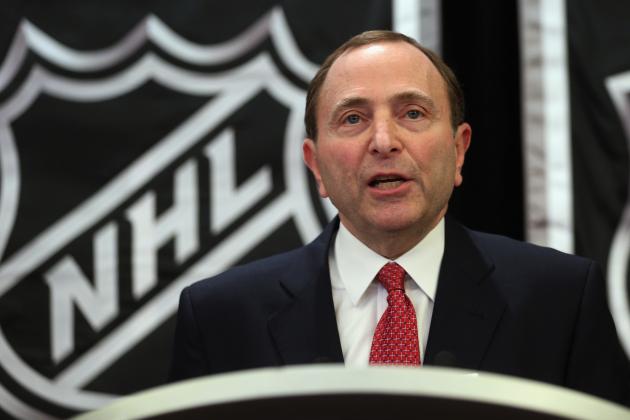 Bruce Bennett/Getty Images

Gary Bettman just doesn't seem to understand social cues. At all. Every single time he hands out the Stanley Cup, he is booed. Every time he appears in public in front of fans, he is booed. The commissioner of the NHL must be a glutton for punishment, because he just doesn't seem to know when to disappear and/or put his foot in his mouth.
I was only seven at the time, but if I had to guess if Bettman was booed before the 1994 work stoppage, I'd guess yes. I certainly know he was booed after the second work stoppage of his tenure, and I can only imagine the insults returning NHL fans will rain on him after his third labor stoppage.
I feel like I can speak for all hockey fans when I say that we got our fill of Bettman throughout the lockout. For the next year of my life I will wake up in cold sweats with the words "we are still very far apart" echoing through my bed chambers.
So the wise thing for the NHL's leading businessperson to do, upon ending his lockout hat trick, would have been to vanish for a few weeks while letting the games on the ice do the talking, as always.
Instead, he had to send one more political, media-centric, gee-look-at-me moment, in front of the press. Yes, he had to issue an apology to the NHL fans. And "partners", owners, and so on.
Here are a few reasons Gary should just quit apologizing.
Begin Slideshow

»
Bruce Bennett/Getty Images
This is Gary Bettman announcing the death of an entire NHL season to a gathered mass of media types in 2004.
Fool me twice, shame on me.
Whoever came up with idiom must have assumed that no one would be foolish enough to fall for the same trick three times. Yet, here we are as fans of the NHL, having just barely survived another lockout, feeling like we were the ones that were taken advantage of.
The thing that Gary Bettman seems to take for granted is that the NHL does, indeed, have the best fans in the world. They'll be back, he utters, as he commands his troops to lock the gates on 30 professional sports arenas every couple of years as he sees fit.
Eventually they won't come back. The general apathy surrounding this lockout should show Bettman that one more lockout like this and it could kill the league entirely.
Sports fans in general are dedicated individuals, but I have always felt like people live hockey more than they do other sports. So when you take away hockey, at least to me, it's like grounding my best friend for 113 days and telling me that he can't come out to play until he pays back the allowance you gave him for work he did three months ago.
My point is that the guy really shouldn't push his luck.
At this point every feigned, penned-for-him-not-by-him apology just feels like a middle finger waving in the air in front of us fans.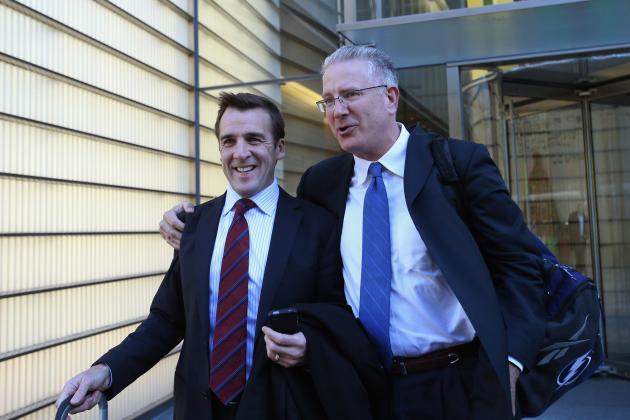 Bruce Bennett/Getty Images
This photo was taken on December 5th. Don't they look worried about missing another entire season?
He is also responsible for keeping the "good ol' boys" club that is the circle of NHL team owners tight and in tact.
My question is a simple one. Love him or hate him, could you imagine what a guy like Mark Cuban would have said during this last lockout? Or the one before it? Or the one before that? Though for the 1994 ordeal he might have been six as well, I'm not sure.
Bettman picks his army and chooses his knights very, very carefully. Just ask Jim Balsillie, who was blocked from buying the Phoenix Coyotes back in 2009. Balsillie had the nerve to want to purchase the team with the intent of, you know, moving it to a market that actually could support a hockey team and wouldn't say things like "hockey is cool, but that rink sure is far away in rush hour traffic."
Nearly four years later, the 'Yotes finally may have a new owner in Greg Jamison. The reason Jamison is noteworthy is because he is the former owner of the San Jose Sharks. Any time you see teams moving hands, being sold, etc, you almost always will see the prefix "former owner" ahead of the name.
There is a reason for that, and that's because Bettman is an individual that does all he can to surround himself with yes-men. Men who will promise to keep teams in failing markets like Phoenix. And if you don't walk the party line, well guess what! You're not invited to the meetings the next time there is a lockout, so BOOM! on you pal.
It's no accident Bettman only allowed a small, select handful of his lackeys to show up in New York alongside him. These were the guys he knew would say yes, support his every move, and not show one inkling of a surprised look when the leaders of the NHL were telling players that getting their PA reps in the room would be a "non-starter."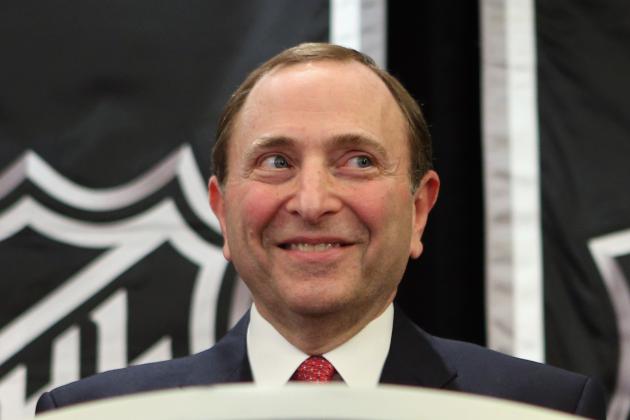 Bruce Bennett/Getty Images

And the only thing Gary Bettman has been sincere about in his tenure as NHL commissioner is... well hell, I find myself drawing a blank. That doesn't happen often.
This may not be the case, but for the last 15 years of his life, every word that Bettman has said to the public has seemed like a ploy. That may or may not be because every word that he has said has been a ploy.
He's always trying to sell us something, isn't he?
Salespeople may be known for a lot of things, but their sincere interest in third parties is not among them. Bettman cares about one thing, and one thing only, and that's keeping his 30 owners happy while making as much money as possible.
Is that his job? Sure, absolutely. But you can still be a businessperson without seeming like a scheming rodent every time you open your mouth. Bettman has never found that line, and at this point his credibility is so diluted that maybe 15 people on planet earth actually still believe he has hockey's best interests at heart.
Those 15 people, of course, are from Bettman's inner circle, and placing the number may be stretching it a bit. There are a small handful of people that Bettman needs to keep happy to maintain his job, and aside from that he just doesn't seem to care or understand why people despise him.
After all, who among you still have faith that this is the man that should be leading the sport we all love and enjoy?
Bueller...Bueller...
So with all this considered, how are we supposed to believe him when he apologizes when we can't even take him at his word for, well, anything at all?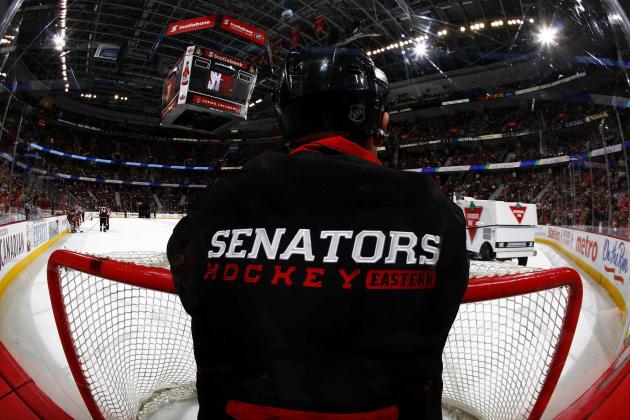 Phillip MacCallum/Getty Images

I listened to the apology speech twice, and maybe I just zoned out during the middle section of the talk, but I didn't hear Bettman apologize to a very important group of people.
That is, that rather immense group of people employed by NHL arenas, and even around NHL arenas, that lost substantial portions of their pay throughout the lockout. What good is a Zamboni driver without ice to resurface? What do the ticket punchers and merch sales people and trainers do when there is no hockey?
Making money on the stock market probably isn't among the hobbies here.
Why apologize at all when you leave out the people who work for your teams for $10 an hour and (I am assuming here) no benefits? Not even a mention or a nod to the servers and bartenders who are putting themselves through school by waiting tables during Boston Bruins games?
There is an obvious disconnect between Bettman that shows its ugly head every time he needs to make one of these flowery emotional speeches. Like the politicians (also lawyers, fancy that) in Washington, he is tone deaf to the true struggles that he perpetuates while he battles for big business.
I'm not trying to get into a political or socioeconomic discussion here. Just a little sensitivity on the part of the commissioner to the plights that were caused by the ripple effect of the lockout would have been nice. Take a page out of the President's book.
"I received a letter from a woman named Nancy, who lives in Minnesota. She puts dinner on the table for her two children every night by driving a bus by day, and working Wild games at night. She stressed to me how devastating this lockout has been to her and her family, and I want to apologize to Nancy personally. To her and every other person this lockout touched and hindered. It's time to drop the puck and get back to work."
Wouldn't that have been something?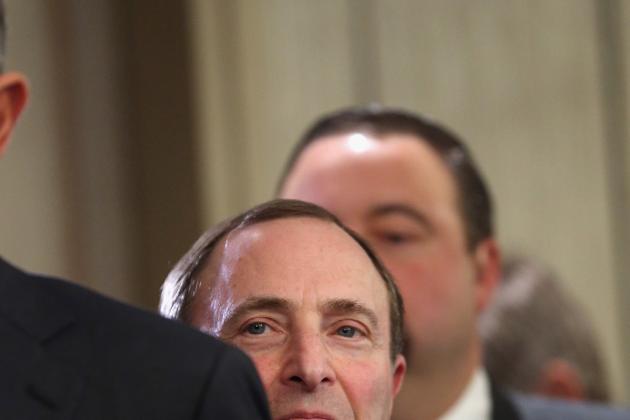 Vilify Donald Fehr as much as you'd like. It takes two to tango, and these two about roflstomped the entire NHL into the ground with their posturing-turned-slamdancing.
I don't support either of them. I believe they are businessmen sent from the MLB and hell to undermine how incredible and gorgeous hockey can be when played correctly, and for more than a decade straight. That said, the NHLPA wouldn't have needed to bring in the nuclear device that is Don Fehr if Bettman hadn't pushed them around so violently the last time.
Yes, that deal worked out fine for the players, but how did that go for them in the long run? Bettman tried to strip everything away from the deal we lost an entire season for last time, more or less asking for a mulligan on the whole thing like it was just a game of Magic The Gathering with a few buddies at the local comic shop.
He allowed the feelings of mistrust that already existed between the NHL and the NHLPA to explode right from the start. I can't wait to compare his original proposal to the PA to the deal that finally was ratified.
The intention was never to get a deal done. The intention was to take as much as he could from the players. See what you can get away with. See what kind of damage you can do by pulling this off the table. Now that.
And he'll do it all over again if he is given the chance in eight years.
Is there any among you that honestly believes that this is the lockout to end all lockouts while Bettman is in charge?
No?
I didn't think so.