10 Greatest Free Agent Signings in Seattle Mariners History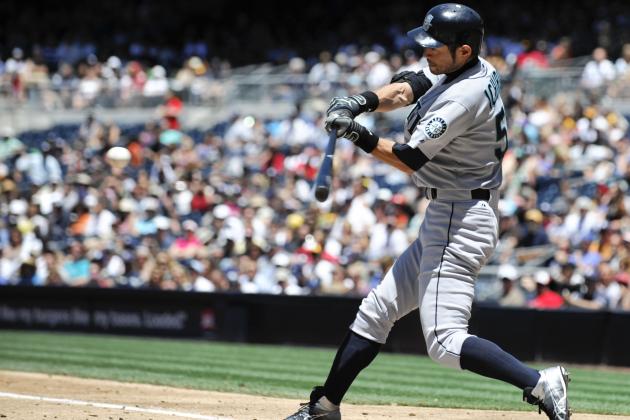 Denis Poroy/Getty Images

It may not have been the offseason most Mariners' fans were hoping for, but the Mariners have had a long history of signing very talented free agents.
Whether it be canvasing the United States, Venezuela or Japan, the Seattle organization has spared no travel expenses over the years to find the right ball players to put a competitive product on the field.
Here is a list of the top ten signings in Mariner history.
Begin Slideshow

»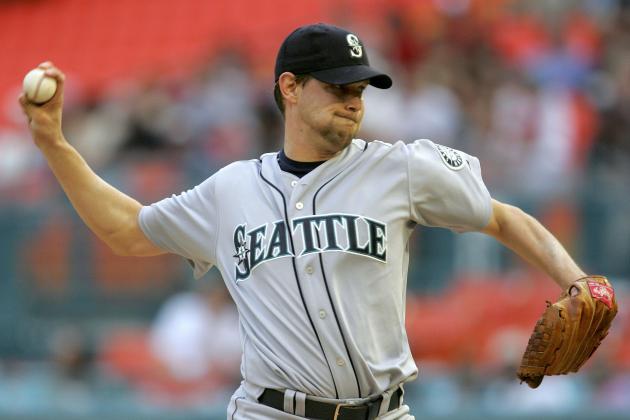 Jamie Squire/Getty Images

Aaron Sele's first stint with the Mariners was as much of a surprise as it was a success.
In January of 2000, Sele was fresh off of two successful years with the Texas Rangers and in line for a big pay day.
Sele had agreed tentatively to a four-year $29 million deal with the Baltimore Orioles, pending a physical, but when Baltimore considered making changes to the contract due to test results, Sele turned around and signed a two-year $15 million contract with the Mariners.
In two years with Seattle, Sele's record was 32-15 with a 4.05 ERA. He also made the American League All-Star team in 2000.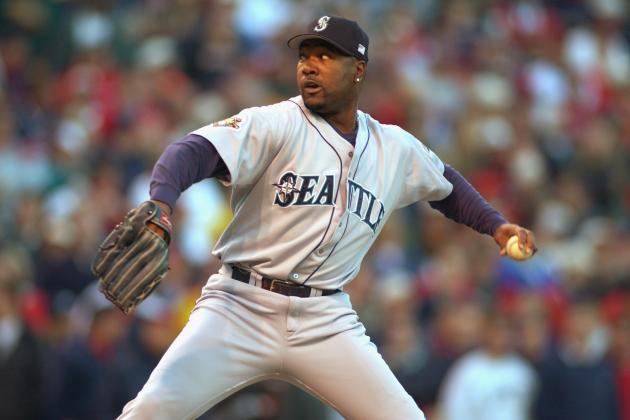 Matthew Stockman/Getty Images

Arthur Rhodes was half of Seattle's dynamic set-up tandem in the early 2000s.
Rhodes left Baltimore and signed with Seattle in 2000, but truly left his mark on the organization during the 2001 and 2002 seasons. Over that time, Rhodes made 137 appearances, compiling an 18-4 record with 2.03 ERA—not to mention his blistering 164 strikeouts over 137.2 innings.
The powerful left-hander returned to Seattle in 2008, where he put together another solid season finishing with a 2.86 ERA over 36 appearances before Seattle traded him to the Florida Marlins for then minor-leaguer Gaby Hernandez.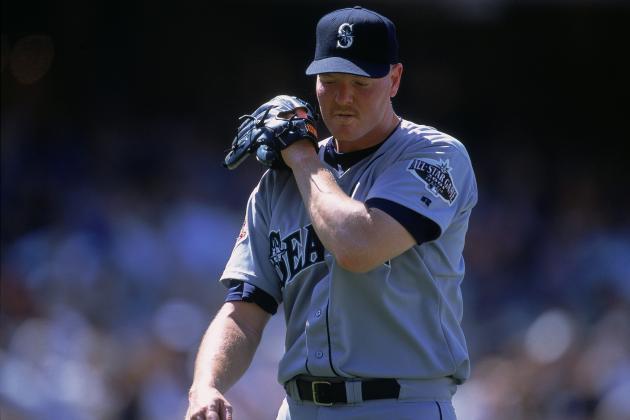 Harry How/Getty Images

Jeff Nelson was the other half of that dangerous set-up tandem with Arthur Rhodes, and was one of the most dominant relievers in the game at the time.
After spending the early part of his career with the Mariners, Nelson pitched for the New York Yankees, where he was a key part of their bullpen while winning four World Series Championships.
In the 2000-01 offseason, Nelson returned to the Mariners where he went on to pitch for another two-and-a-half years.
Over that time, Nelson compiled a 10-8 record in 156 appearances. He garnered a 3.35 ERA with 190 strikeouts over 148.2 innings, and made his only All-Star Game in 2001. Nelson was later traded back to the Yankees halfway through the 2003 season.
Like Rhodes, Nelson would make a return to Seattle in 2005, where he went 1-3 with a 3.93 ERA.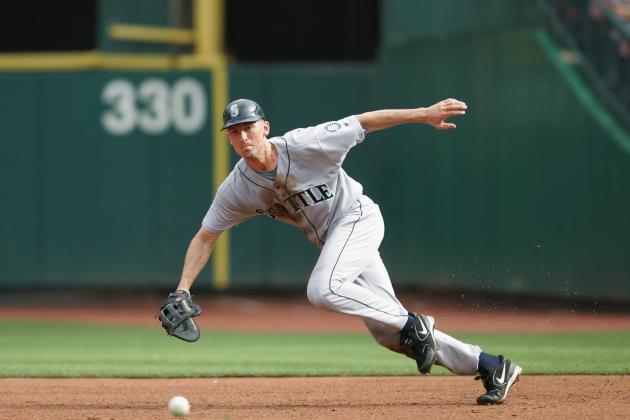 Dilip Vishwanat/Getty Images

John Olerud was an integral part of the Mariners' lineup through the early 2000s, much like the three players before him.
The Bellevue, Washington native signed with the Mariners before the 2000 season and went on to anchor first base for the M's until half way through the 2004 season.
Olerud was extremely reliable in his time with the Mariners only missing a combined 24 games from 2000-2003.
Olerud was a fixture in the lineup that featured great hitters like Bret Boone, Edgar Martinez and Ichiro. Over that period, Olerud batted .289 while averaging 37 doubles and 16 homers a season.
Olerud was also one of the best defensive first basemen in the league over that time period with a .996 fielding percentage.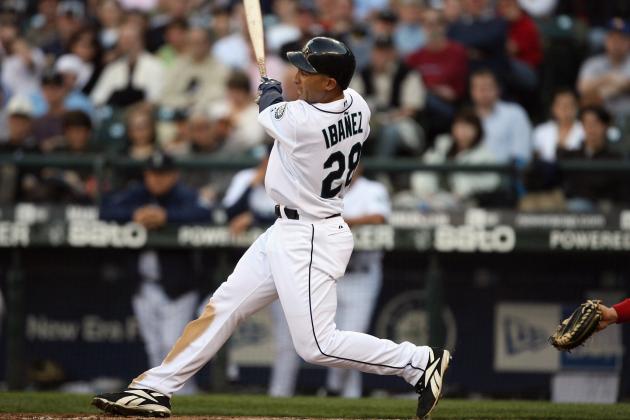 Otto Greule Jr/Getty Images

Raul Ibanez is a familiar face in Seattle.
Originally drafted by the Mariners in 1992, Ibanez returned in November 2003, as a free agent , and most recently signed with them again for a third go around earlier this offseason.
When Ibanez signed with the M's back in 2003, he was coming off of a few productive seasons with the Kansas City Royals, where he had burst onto the MLB scene, becoming an everyday player after being a rotational player for five seasons with the Mariners.
Upon his return, Ibanez became one of the best offensive threats for the Mariners from 2003 until he left for the Philadelphia Phillies in 2009.
Over those seasons, Ibanez batted .291 with an average of 22 homers and 97 RBI per season.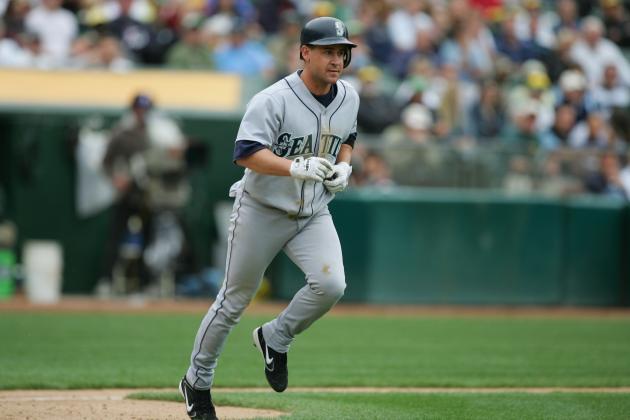 Jed Jacobsohn/Getty Images

Much like Raul Ibanez, Bret Boone was also drafted by the Mariners before coming back as a free agent.
Boone actually played a role in bringing catcher Dan Wilson to Seattle, as he was dealt in the trade that brought Wilson to the M's in 1993.
Eight years later in 2001, Boone returned to the M's and went on to have the best season of his career.
That year, Boone won the Silver Slugger Award, made the AL All-Star team and finished third in the AL MVP vote. He hit .331 with 37 homers, tallied 141 RBI and scored 118 runs that year—all career highs.
Boone would continue to be one of the best second basemen in the league over the next few seasons winning Gold Glove Awards from 2002-2004 and finishing 10th in the AL MVP vote in 2003.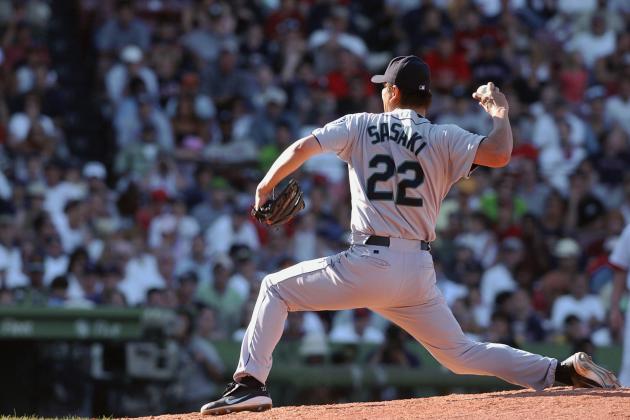 Darren McCollester/Getty Images

Kazuhiro Sasaki wound up being the first of two huge signings (more on the other one later) out of Japan for the Mariners in the early 2000s.
Sasaki made a splash with the Mariners early, winning the closer job from incumbent Jose Mesa in his first season.
He would not relinquish that role for several years.
Known to many simply as Kaz, Sasaki went on to save 37 games, winning the AL Rookie of the Year Award in 2000, which stood as a MLB's rookie record until 2010.
Over his career with the M's, Kaz would make two All-Star teams and even finished in the top 20 for the AL MVP award in 2001.
For his career with the Mariners, Sasaki finished with 129 saves, 242 strikeouts and a 3.14 ERA.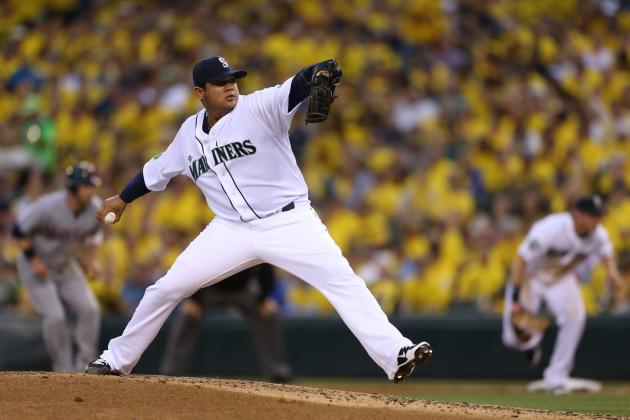 Otto Greule Jr/Getty Images

Yes, Felix Hernandez is only third on this list.
In all honesty, when Felix calls it quits, he may have a case to be number one. But as for right now, the King still has more to do.
Felix was signed as an amateur free agent out of Venezuela in 2002 and tore through the Mariners' farm system until his debut against the Detroit Tigers on August 4th, 2005.
Since his debut, Felix has been one of the best pitchers in baseball, truly coming into his own in the 2009 season. That year, Felix finished 19-5 with 217 strikeouts and a 2.49 ERA, while also finishing second in the AL Cy Young Award and making his first All-Star appearance.
In 2010, Felix would not be denied as he went on to win the AL Cy Young Award, despite logging the fewest wins in a non-strike season in the award's history. He finished that season 13-12 with 232 strikeouts and a 2.27 ERA.
With all of this, Felix may have achieved his greatest moment of his career earlier this season when he threw the 23rd perfect game in Major League Baseball history in a 1-0 victory over the Tampa Bay Rays. In that game, Felix had 12 strikeouts—five of which in the last two innings.
Felix maybe the best pitcher on this list of free agents,but as good as The King has been, he is still behind two other Mariner greats.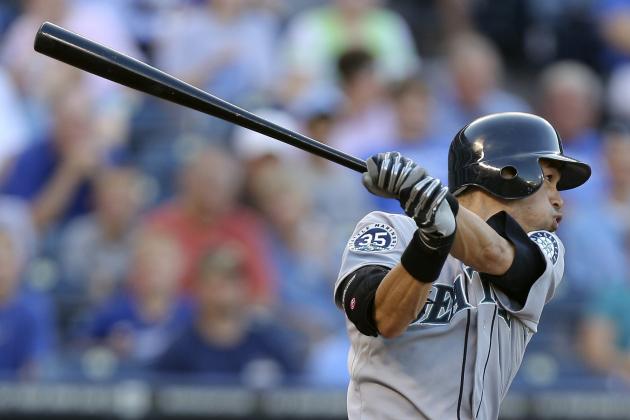 Ed Zurga/Getty Images

Many will be shocked that Ichiro is not ranked number one on this list.
After all, Ichiro is perhaps one of the most important players in baseball history, as Ichiro's arrival in 2001 made him the first Japanese position player to ever be signed to a major league contract.
To say Ichiro made an impact in his first season in the big leagues is an understatement.
In 2001, Ichiro led the American League in batting average and stolen bases en route to winning AL Rookie of the Year and the AL MVP Award.
His style of play also earned him his first of 10 consecutive gold glove awards, All-Star appearances and 200-hit seasons.
It only took Ichiro eight games before he put all of MLB on notice with what some people like to refer to as The Throw (Skip to the 3:05 mark) in which he threw out Oakland outfielder Terrence Long while trying to advance from first to third on a hit to right field.
Over his career with the Mariners, Ichiro would go on to lead the league in hits on seven occasions and win the batting title twice.
But Ichiro's crowning achievement came in 2004, when he broke "Gentleman" George Sisler's 84-year-old record for most hits in a season with 262. That season, Ichiro batted a career high .372.
There are too many feats that Ichiro accomplished and records that he broke to be covered in one slide. In all honesty, there could be a slideshow strictly made up of the top 10 moments of his career alone.
When all is said and done, Ichiro may go down as the greatest Mariner of all time, but for now, he still looks up to one man.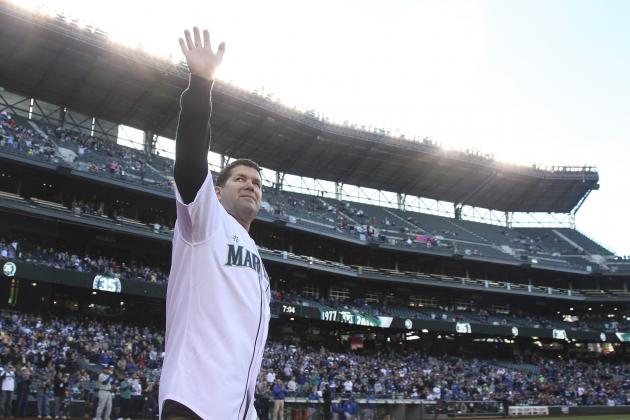 Otto Greule Jr/Getty Images

Edgar Martinez is the greatest free agent signing in Mariner franchise history, period.
Some may call this a sympathy pick for his recently failed attempt of get into the Hall of Fame.
Some may call this the wrong pick.
But when your peers label you as one of the best designated hitters of all time, you've obviously done something right.
Signed as a free agent in 1982, Edgar made his big league debut for the Mariners in 1987 as a pinch runner for third basemen Jim Presley. Edgar would play some third base over his career, but by 1995 he was all but strictly a designated hitter.
Edgar's first full few seasons were a success, but he truly burst on to the scene in 1992, when he hit .343, winning the first of his two batting titles and finishing 12th in the AL MVP vote.
Over his career, Edgar batted over .300 10 times while finishing with 2,247 hits and a career .312 batting average. Martinez also hit for power, finishing with 309 homers as well.
In 1995, Edgar Martinez helped lead the Mariners back from an 0-2 hole in the opening round of the AL playoffs against the New York Yankees to an improbable 3-2 come-from-behind series win, capped by Edgar Martinez' walk-off double in Game 5. It is the single most memorable moment in Mariners' history and is commonly known by fans as The Double.
In that series, Edgar hit a whopping .571 and reached base 18 times in five games.
Edgar Martinez may never get the votes to reach Cooperstown, but to many he is one of the main reasons Seattle still has the Mariners.
And with that distinction comes the title of the greatest Seattle Mariner free agent signing of all time.