Sign, Tag, Walk: Breaking Down Each of the Minnesota Vikings' 2013 Free Agents
Stephen Brashear/Getty Images
Right tackle Phil Loadholt highlights Minnesota's 2013 crop of free agents.
This won't be a groundbreaking offseason for the Minnesota Vikings relative to their free agents, but there are some key cogs they will have have make a move on.
The No. 1 priority will likely be re-signing right tackle Phil Loadholt. The franchise values him so much that it tried to work out a deal midseason.
Beyond the former Oklahoma Sooner, there are 15 other free agents. Many are likely to be in a different uniform. And rightly so.
Here's my take on all of Minnesota's 16 free agents and whether they should be signed, allowed to walk or have the franchise tag applied to them.
*Spoiler alert: No player warrants the franchise tag.*
Begin Slideshow

»
Thomas Campbell-USA TODAY Sports
Erin Henderson recorded 79 tackles, three sacks, a forced fumble and two pass defenses in 14 games.
After his second full season as Minnesota's starting outside linebacker, Erin Henderson has regressed more so than he has progressed.
Henderson opened the 2012 campaign in eye-opening fashion with consecutive games with double-digit tackles. He was all over the field.
Then it was ruled that he had suffered a concussion during Minnesota's Week 2 loss to Indianapolis, which forced him out of the next two games. He wasn't the same the rest of the season.
Just like last year, there isn't a standout outside linebacker Minnesota could sign and move into the starting lineup immediately.
Henderson wasn't a standout. But if the price is right, Minnesota should bring him back and draft (or sign) an outside linebacker to compete with him.
Verdict: Sign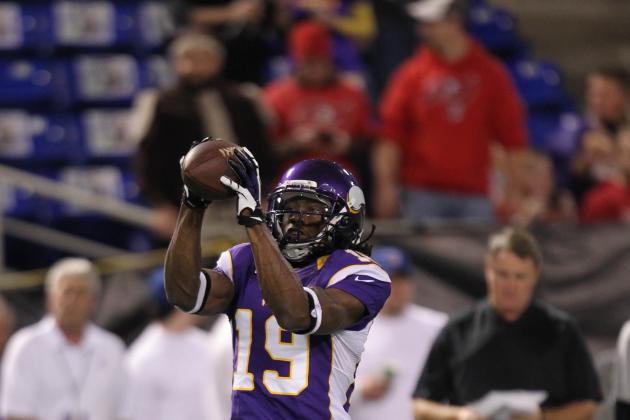 Brace Hemmelgarn-USA TODAY Sports
Devin Aromashodu caught 11 passes for 182 yards in 15 games.
This is simple: PASS.
Minnesota gave Devin Aromashodu two years to show something. Anything. And he went 0 for 2.
His time in a Vikings uniform should be through.
He caught 11 passes for 182 yards this season and 26 passes for 468 yards and a touchdown last season.
If Minnesota had a more talented wide receiver corps, he could settle in nicely as a No. 5 (maybe). But with this group, Minnesota can't afford to retain his services.
Verdict: Walk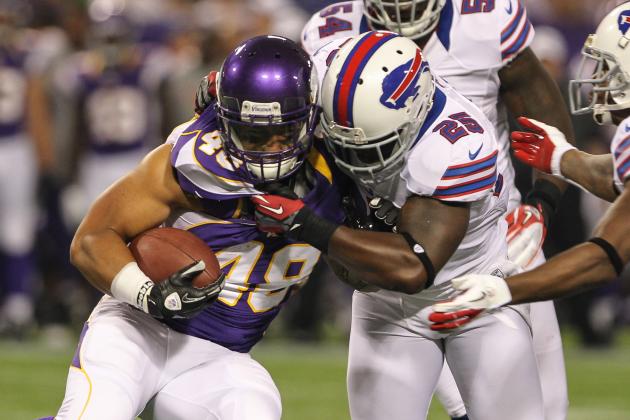 Brace Hemmelgarn-USA TODAY Sports
Matt Asiata carried the ball three times for 9 yards and recorded four tackles on special teams in 16 games.
A strong preseason performance is what earned Matt Asiata a roster spot on the 2012 Minnesota Vikings.
He didn't see the field much once the season started, outside of junk minutes and on special teams, but did a nice job.
Asiata (25 years old) is one of those players who build depth on a roster.
Bring him back for another round.
Verdict: Sign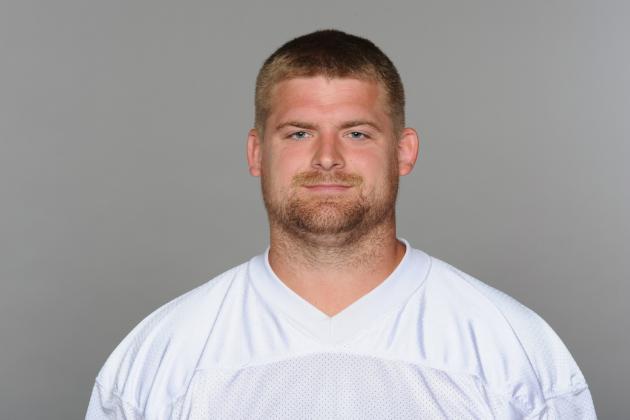 Handout/Getty Images
Joe Berger played sparingly as a versatile backup for Minnesota's offensive line.
Just like with Matt Asiata, Joe Berger isn't a player who will grab headlines. But he's a player who adds depth.
A winning team wouldn't want him playing extended minutes, but he's a versatile offensive lineman with the ability to play center and guard.
Verdict: Sign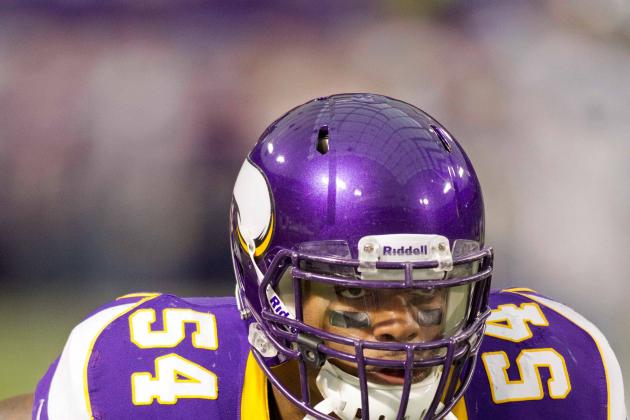 Bruce Kluckhohn-USA TODAY Sports
In his first year as the starting middle linebacker Jasper Brinkley recorded 97 tackles and three forced fumbles in 16 games.
This was Jasper Brinkley's first full year as a starter for the Minnesota Vikings. He recorded 97 tackles and forced four fumbles in 16 games.
Many remember him as the rookie who was forced into the spotlight during the 2009 magical season in which the Vikings fell short in New Orleans in the NFC title game.
He's grown up a lot since then, but still isn't a pass defender. And his play against the run regressed this season. And he's known as a run-stopping linebacker.
The 97 tackles are nice, but in this defense that's to be expected. The middle linebacker is expected to make most plays up the middle and sideline to sideline.
If the Vikings can retain Brinkley's services for a reasonable rate, then he's a player who can be brought in to compete for the starting middle linebacker job again in 2013. But the job shouldn't be handed to him.
At 27 (he'll be 28 for the 2013 opener), this is a big upcoming season for him.
Verdict: Sign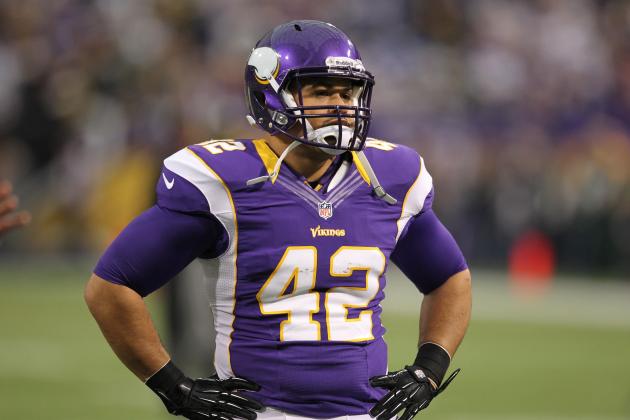 Brace Hemmelgarn-USA TODAY Sport
Jerome Felton didn't carry the ball in 2012 but was instrumental to Adrian Peterson's big season.
This case will be interesting to watch.
In his fifth year, Jerome Felton put it all together and was one of the game's best lead blockers. For his performance, he was rewarded with a Pro Bowl selection.
He doesn't gain many yards (zero rushes, three receptions for 35 yards), but his blocking abilities will be highly sought after this offseason.
It is expected that Felton will be paid among the game's best fullbacks, which will require roughly $3 million per season.
Minnesota will have to decide if that's reasonable. I think it is.
Verdict: Sign
Otto Greule Jr/Getty Images
A.J. Jefferson recorded 37 tackles in his first year as a Viking.
Minnesota acquired A.J. Jefferson prior to the 2012 season after the preseason had already finished. To obtain him, Minnesota relinquished a conditional pick in the 2013 draft (not an overly steep price).
It took him time to get acquainted with the Minnesota defense. Once he did, he had his ups and downs, with many of those downs coming in the Week 17 win and the wild-card playoff loss to the Packers.
He recorded 37 tackles in what could be his last season as a Viking.
Depending on what Minnesota does in free agency and in the draft, Jefferson may or may not be retained.
Chris Cook, Antoine Winfield (barring retirement) and Josh Robinson are all certainly in Minnesota's plans at cornerback next season.
At 24 years old and with good size (6'1" and 190 pounds), I think it's likely he's back.
Verdict: Sign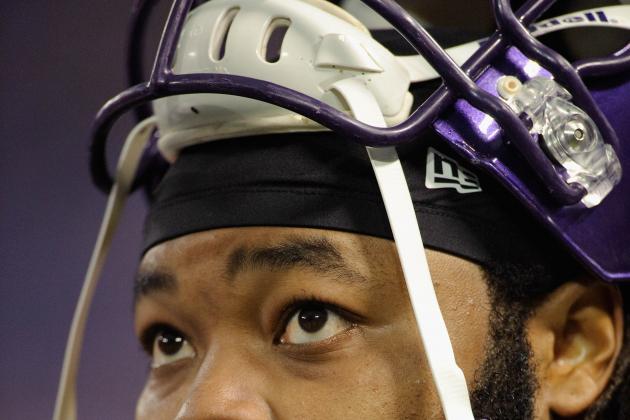 Hannah Foslien/Getty Images
Phil Loadholt improved as the season progresses and deserves to be re-signed.
The intention to retain Phil Loadholt was made early in the season when Minnesota attempted to extend his contract before the offseason.
Loadholt had a weak start to the 2012 campaign waters but finished strong. He very much deserves a new contract.
He was easily Minnesota's third-best offensive lineman at season's end (which isn't saying much given the fourth- and fifth-best members, but is saying a lot considering the best and second best).
Unless Loadholt doesn't want to play in Minnesota any longer, I fully expect him back in 2013 and beyond.
Verdict: Sign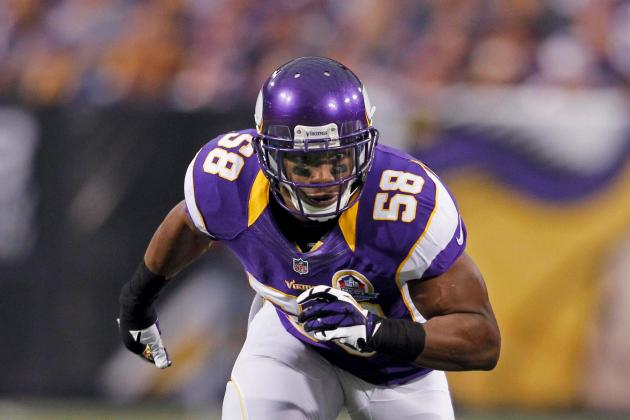 Bruce Kluckhohn-USA TODAY Sports
Tyrone McKenzie forced two fumbles and recorded 12 tackles in 16 games of limited playing time.
There's nothing special about Tyrone McKenzie.
At 27 years old (he'll be 28 in December) he's never had a starting gig in the NFL. He's merely a special-teamer who provides depth at linebacker.
Minnesota should look to find a younger linebacker to fill his spot on the roster.
Verdict: Walk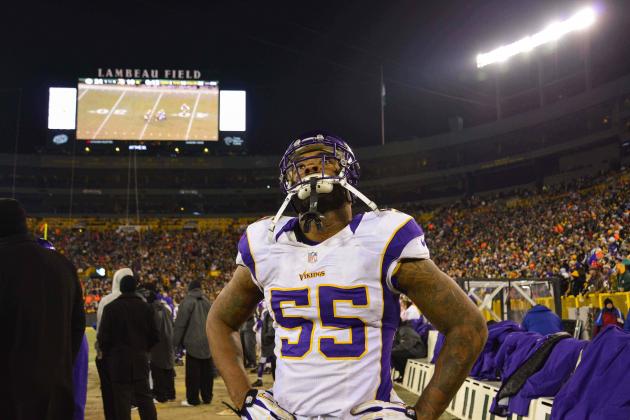 USA TODAY Sports
Marvin Mitchell recorded nine tackles and forced two fumbles in 11 games.
When Erin Henderson was out, it was Marvin Mitchell who got the two starts.
He didn't overwhelm with his play: one tackle vs. the San Francisco 49ers and two tackles vs. the Detroit Lions.
Mitchell, much like Tyrone McKenzie, hasn't ever been a starting linebacker in his career, and at 28 years old (he'll turn 29 in October), he isn't likely to ever be a difference-maker.
It's not as if he's an overly reliable backup, either. If I were Minnesota, I would look for a younger player. If that falls through, he could be retained.
Verdict: Walk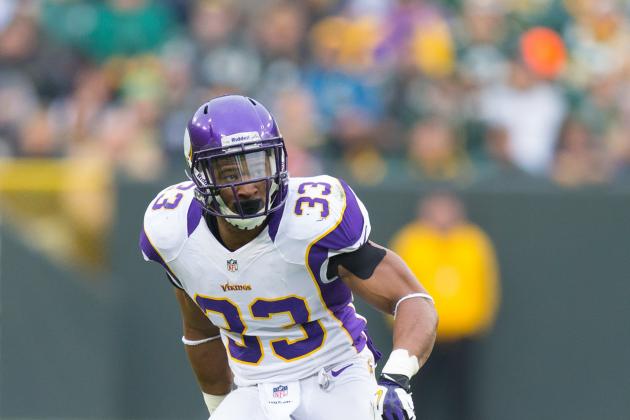 Jeff Hanisch-USA TODAY Sports
Jamarca Sanford recorded 66 tackles and forced four fumbles in 16 games.
Jamarca Sanford is an interesting case, at least based on public perception.
After having been strongly opposed to him entering the 2011 season (and, yes, I mean nearly two years ago), fans seem very much behind Sanford after the year he had in 2012.
Unlike most fans, however, I was very high on Sanford initially. And now that people are high on him, I am not.
I like Sanford. Don't get me wrong. But not as a starter. He's a nice special-teams player and provides stable depth at safety.
He's a very reliable backup who can come in and make plays. But he's not fit to start.
Minnesota should bring him back and allow him to compete for the starter spot while bringing in another safety through the draft or free agency.
Verdict: Sign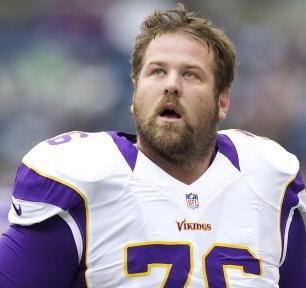 Stephen Brashear/Getty Images
Geoff Schwartz played sparingly as a backup offensive lineman during his first year in Minnesota.
Geoff Schwartz seemed to be a nice signing in the offseason, as he was viewed as an up-and-coming player.
But injuries have slowed his development. He missed all of the 2011 season with a hip injury, then a sports hernia set back his 2012 campaign and he never got going.
He's a versatile lineman who can play play guard or tackle. But at this point, injuries are a concern and there are other versatile linemen to be signed.
Verdict: Walk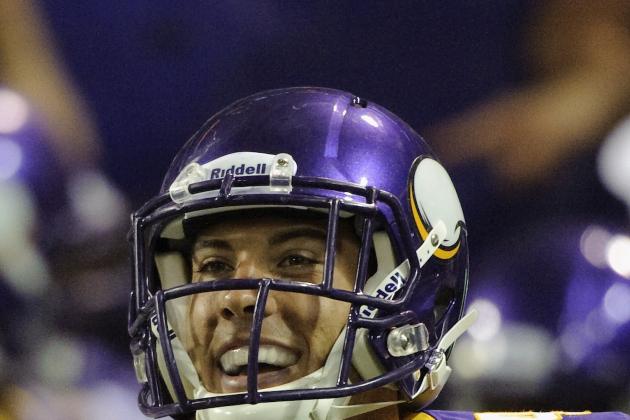 Hannah Foslien/Getty Images
Andrew Sendejo recorded six tackles in 13 games.
We got glimpses of Andrew Sendejo at safety with Minnesota this season. And they're glimpses the fans would like to have stricken from their memories.
When rookie safety Harrison Smith was ejected from the game against Tennessee, Sendejo was average at best.
Minnesota has Smith, Mistral Raymond and Robert Blanton all under contract for next season. I suspect it'll make a decent effort to retain Jamarca Sanford, too.
I think the numbers work against Sendejo.
Verdict: Walk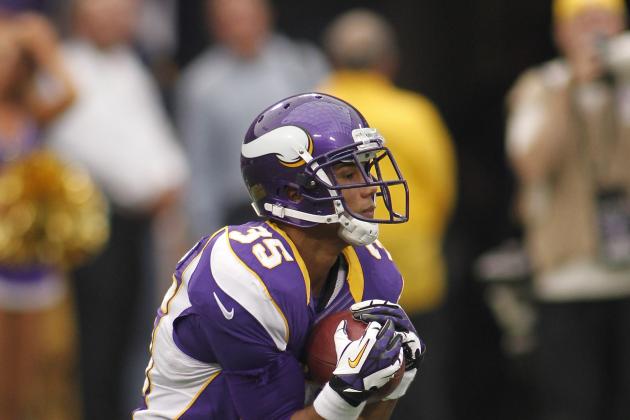 Andy King/Getty Images
Marcus Sherels recorded nine tackles in 16 games as a cornerback and accumulated 287 yards and a touchdown on punt returns.
Marcus Sherels demonstrated in 2012 that he has real value as a punt returner.
Think whatever you will of him as a defensive back, but his punt return skills are real and valuable. He helped Minnesota win in Week 4 vs. the Detroit Lions with his 77-yard punt return.
He struggled heavily against the Green Bay Packers in Week 17 and shouldn't see the field too often. But he can be a difference-maker as a special teams player.
Verdict: Sign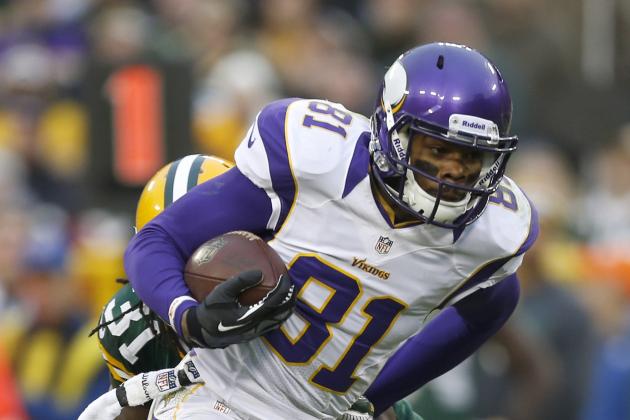 Wesley Hitt/Getty Images
In 12 games Jerome Simpson caught 26 passes for 274 yards and zero touchdowns in his debut season in Minnesota.
Jerome Simpson, don't let the door hit you in the behind.
The Minnesota Vikings signed Simpson last offseason with the hopes that if given an instrumental role in an offense, he could be a difference-maker from the wide receiver position.
After a three-game suspension, numerous drops and an unproductive season, it's clear that is not in the cards. At least, not in the cards with the Vikings.
Simpson caught 26 passes for 274 yards without a touchdown in 12 games.
It left Minnesota fans wondering how the player who did this could do so little in an expanded role.
Verdict: Walk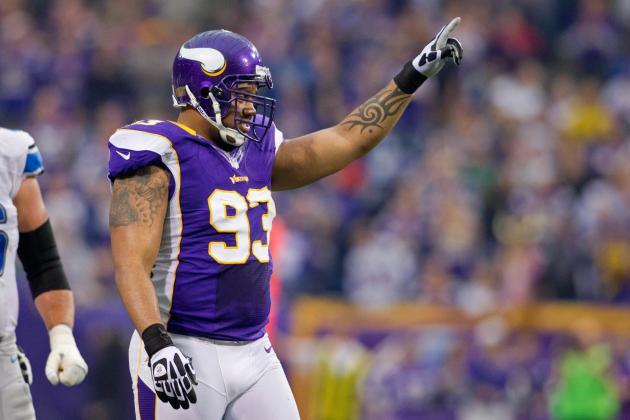 Bruce Kluckhohn-USA TODAY Sports
Kevin Williams recorded 30 tackles and two sacks in 16 games.
It's been a good run for Kevin Williams. But it's a run that has a very real chance of ending.
Williams has been a Viking since he entered the league in 2003. It's been a career filled with Pro Bowl appearances.
But Williams is nowhere near the player he once was.
He had the fewest tackles (30) and second-fewest sacks (two) of his career in 2012.
He'll have to take a serious pay cut to stay. Even if he did, I'm not sure it's in the franchise's best interest to keep him.
Verdict: Walk