5 Pittsburgh Penguins That Must Step Up in 2013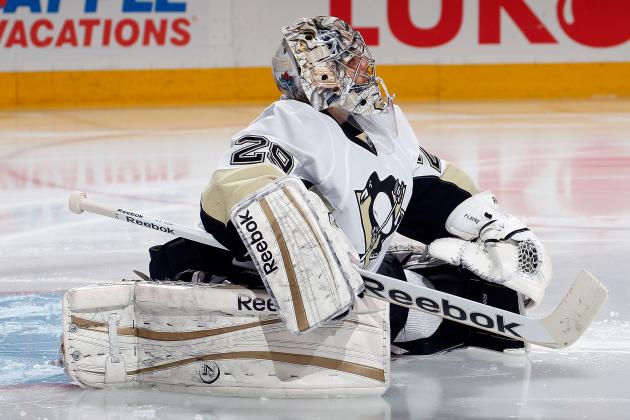 Paul Bereswill/Getty Images

The Pittsburgh Penguins will enter 2013 as one of the favorites to bring home the Stanley Cup. They have arguably the two best players in the world in last year's MVP, Evgeni Malkin, and Sidney Crosby. In the offseason, they lost penalty kill specialist and third line center Jordan Staal, who was a huge part of their game plan.
Who will step up and take his place?
The Pens were ousted in the first round by the Philadelphia Flyers in a physical series that only escalated their statewide rivalry. Their penalty kill was diminished and their overall defensive game plan was weak. Claude Giroux basically walked all over them for six games.
Many players will have to up their game in 2013 if the Pens want to win it all, but here are the top five.
Begin Slideshow

»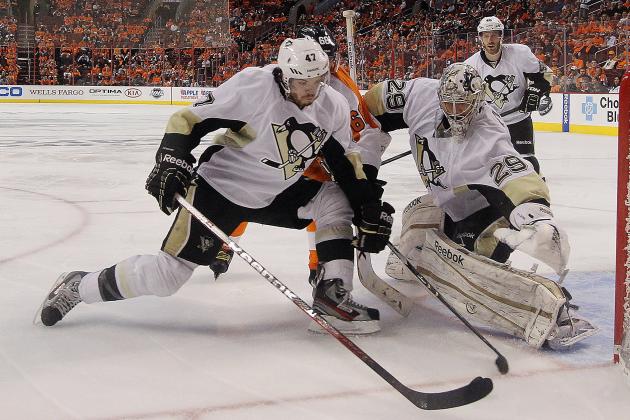 Bruce Bennett/Getty Images
Despres will have to be huge in the defensive zone if the Pens want to make a run at the Stanley Cup
It's tough to ask a lot out of a 21-year-old kid who only played in a total of 21 games last year, but in the three playoff games in which he suited up he showed real potential, and was one of the Penguins best defensemen.
He had a plus-2 rating in the playoffs despite only averaging just over nine minutes per game.
The Penguins shipped off Zbynek Michalek back in June to free up cap space, and that hole is more than likely going to be filled by Despres. Pittsburgh should have no issues scoring goals—the question is going to be whether or not they can keep the puck out of the net.
Under the leadership of guys like Kris Letang, who will hopefully be his D-partner, Despres could turn into a franchise defenseman for the Pens, but in 2013 he will need to have a breakout season.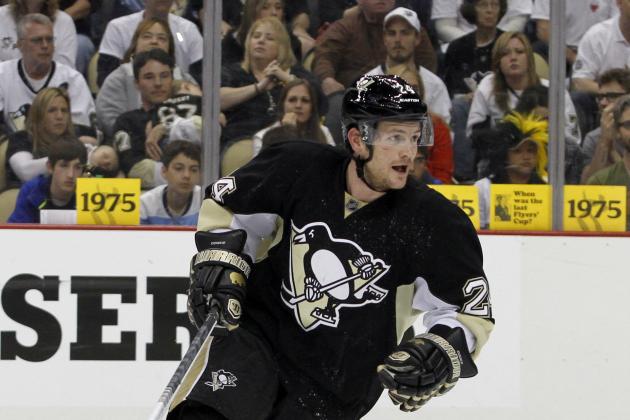 Justin K. Aller/Getty Images

Matt Cooke really didn't have a bad year last season, and it had to have been difficult knowing that one more questionable hit and he could have been suspended for a long, long time. His plus-3 rating in the playoffs actually led the Pens, but now that Jordan Staal is gone, Cooke will be the top dog on the penalty kill.
During the playoffs, the Penguins were a shockingly abysmal 47.8 percent on the penalty kill. To put that into perspective, the league average during the regular season was around 83 percent.
Dejan Kovacevic of the Pittsburgh Tribune-Review recently wrote an article about how the No. 1 priority for the Pens is that they must kill penalties. This quote from Matt Cooke really stood out:
"To be honest, I was wracking my brain over it," Cooke was saying Tuesday with a shake of his head. "And you know, all I can come up with is that it's probably the worst performance we've had in my four years here."
Matt Cooke understands his role, and he will have to step up in 2013.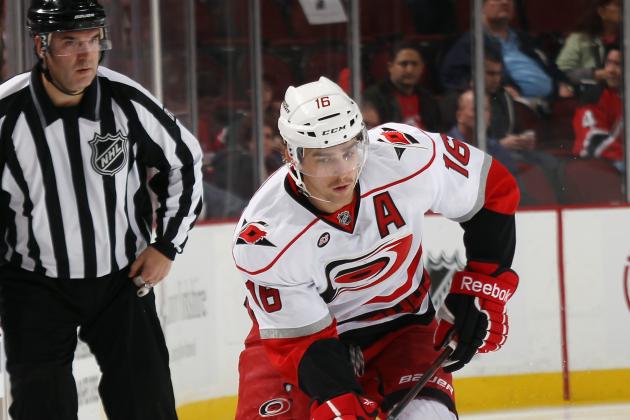 Bruce Bennett/Getty Images

Brandon Sutter faces the tough task of having to replace Jordan Staal. He will more than likely be placed as the third line center, and it wouldn't be surprising to watch him kill some penalties as well.
It would be asking a lot of Sutter to replicate Jordan Staal's production, but he will at least have the benefit of facing opposing teams' third pair of defensemen, as the other two pairings will be focused on stopping Sidney Crosby and Evgeni Malkin.
Last season while with the Carolina Hurricanes, Sutter put up 32 points in 82 games. Another great thing about him is his resiliency. Since being moved up from the AHL to be a full time NHL player, Sutter has only missed 10 games in the last three years. He's also a proven leader, as he was the Canes alternate captain in 2012.
The play of Brandon Sutter will determine the depth up front for the Pens, putting a lot of pressure on him during his first season wearing black and gold.
Bruce Bennett/Getty Images

Was there any player that was worse last year than Paul Martin? He was awful all season and especially in the playoffs. Unlike All-Star teammate Kris Letang, Martin is a stay-at-home, defensive defenseman, and he needs to start playing like it. No one expects 40 or 50 points out of him. All Pens fans want is for him to be solid in his own end and not make risky pinches in the offensive zone.
The biggest problem is that even if he has another rough season, the Pens can't just sent him off somewhere. It's very unlikely any team will be willing to take on his $5 million cap hit, and on top of it he has a no-trade clause, which I'm sure he would never waive.
Pittsburgh Tribune-Review writer Rob Rossi recently quoted Paul Martin as simply saying "I just need to be better."
Well, at least he's aware of it.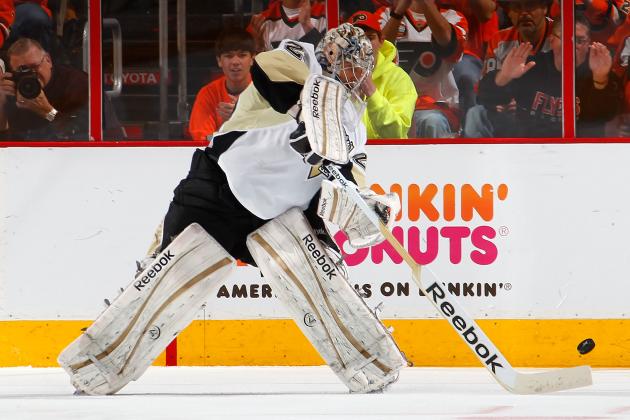 Paul Bereswill/Getty Images

The Stanley Cup the last two seasons has been won almost entirely because of goaltending.
Tim Thomas and Jonathan Quick winning back-to-back Conn Smythe trophies as playoff MVPs marked the first time two goaltenders had done so since 1986. "Flower" had a pretty decent regular season, but he was absolutely atrocious in the postseason, and a huge reason why the Flyers defeated the Pens so easily in the first round.
The signing of Tomas Vokoun to be Fleury's backup was a great move by the front office, and it should pressure Fleury into getting back to his old self that won the Penguins the Stanley Cup in 2009.
While I'm gonna miss the left hook of Brent Johnson, Vokoun will provide a better second option in between the pipes if Fleury does falter, but I would have trouble believing he is a Stanley Cup-caliber winning goaltender.
No Penguin needs to step up more in 2013 than Marc-Andre Fleury.