2013 NFL Mock Draft: Updated First Round Projections with Pro Comparisons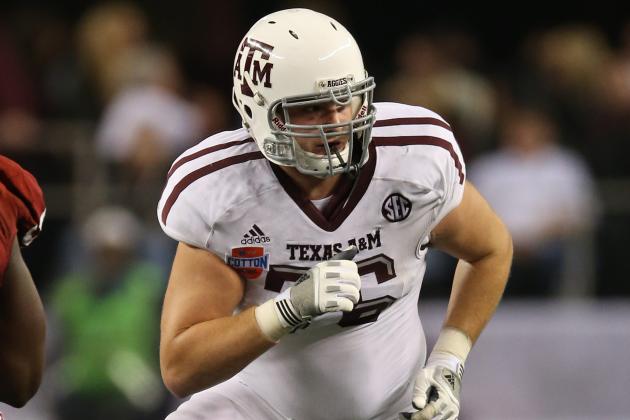 USA TODAY Sports

If the first round of the 2013 NFL draft were held today, how would the first round play out?
With so many coaching vacancies and front office positions still up for grabs, this is a tough question to answer. What we can do for you with more clarity is give you some pro comparisons for the players most likely to end up being drafted in Round 1.
Remember, mock drafts aren't an accurate projection of what will happen in late-April. Rather, these are just sketches of what may come to pass.
Feel free to debate our findings in the comments section below. Tell us if you think players will be selected earlier, later, and tell us if you think they compare to a different player than the one we've listed.
Begin Slideshow

»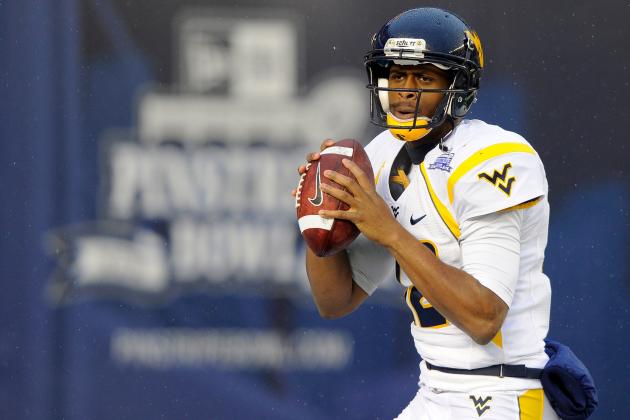 Rich Barnes-USA TODAY Sports

Geno Smith, QB, West Virginia
Andy Reid is a noted quarterback guru who has gotten the most out of quarterbacks—some of whom tanked with other coaches.
Smith is a project, of that there's no doubt, but so are Matt Cassell and Brady Quinn. His arm strength, athleticism, accuracy and mobility make him a perfect candidate for Reid's West Coast offense, and I will be surprised to see the Kansas City Chiefs go in a different direction.
Pro Comparison: Randall Cunningham
Brett Davis-USA TODAY Sports

Luke Joeckel, OT, Texas A&M
Whoever comes in to coach the Jacksonville Jaguars next season will need a stud left tackle to anchor the offensive line.
The Jaguars allowed 50 sacks in 2012, and the team's rushing attack ranked No. 30 in the NFL.
Joeckel is as technically sound and as physically dominating as any offensive tackle to come out of college since Joe Thomas, and he's the best player in this year's draft.
Pro Comparison: Joe Thomas
Star Lotulelei, DT, Utah
The Oakland Raiders need help at most positions, but since Luke Joeckel is already off the board, Reggie McKenzie would be wise to take the next best player off the board.
Lotulelei is a powerhouse defensive tackle who is adept at stuffing the run and as a pass-rusher on the inside. He'll take over for Richard Seymour on the Raiders defense, giving Oakland a cornerstone player for years to come.
Pro Comparison: Ndamukong Suh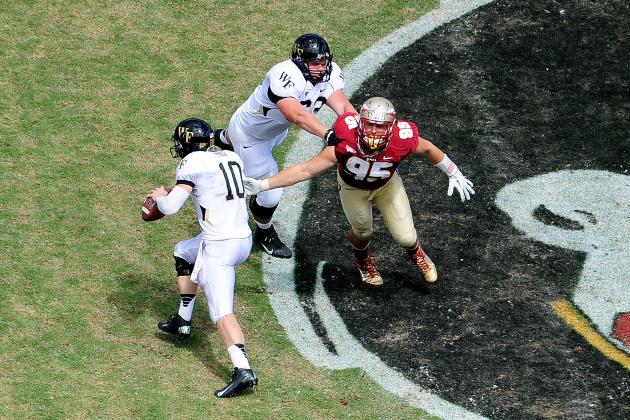 Stacy Revere/Getty Images

Bjoern Werner, DE, Florida State
The Philadelphia Eagles desperately need an offensive tackle, but since Jake Matthews made the decision to stay in school for one more year, the Eagles must look to another position.
Werner is this year's top pure 4-3 defensive end. He has excellent speed and explosion off the edge and enough flexibility and strength to go outside or inside once he's made his initial burst.
Pro Comparison: Jared Allen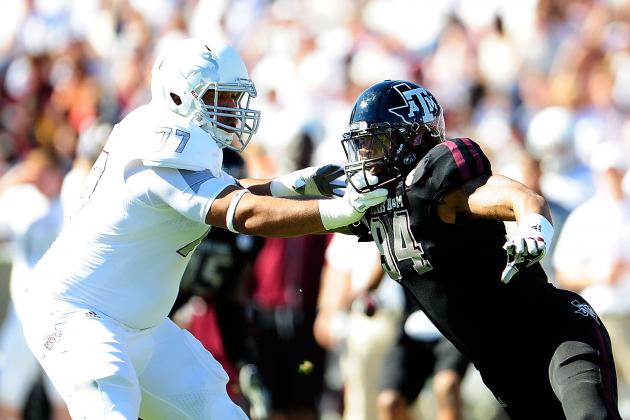 Stacy Revere/Getty Images

Damontre Moore, DE, Texas A&M
Cliff Avril will likely demand a huge contract this winter, and Kyle Vanden Bosch has long since lost his explosive first step. It's time for the Detroit Lions to get younger on the edge of their defense, and Moore is the perfect player for their system.
Moore is an explosive edge-rusher who has surprising strength for a man of his size.
At 6' 4" and just about 250 pounds, he's smaller than your average 4-3 defensive end, but he won many a one-on-one battle against top-notched talent in the SEC in 2012.
Pro Comparison: Cameron Wake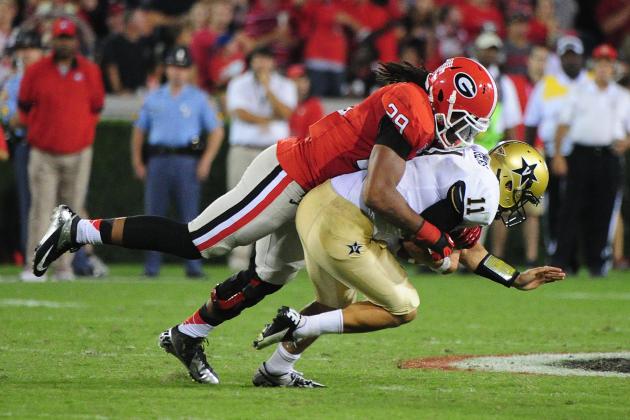 Scott Cunningham/Getty Images

Jarvis Jones, OLB, Georgia
Jones led the nation in sacks in 2012, tallying 14.5 from his outside linebacker position.
The Cleveland Browns need pass-rushers, and since he's also adept at playing in space, he's perfect for them, whether they stay with the 4-3 defensive scheme or switch back to the 3-4.
Pro Comparison: Von Miller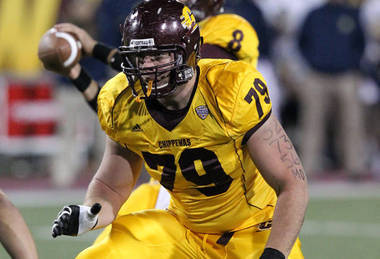 h/t MLive.com
Eric Fisher, OT, Central Michigan
The Arizona Cardinals featured the worst offensive line in the NFL in 2012. This unit allowed more sacks than any other team in the league and featured the worst rushing attack in the league.
Fisher is a highly skilled pass-protector and an extremely athletic man who will improve as a run-blocker. He'd be a starter from day one on the left side for Arizona.
Pro Comparison: Joe Staley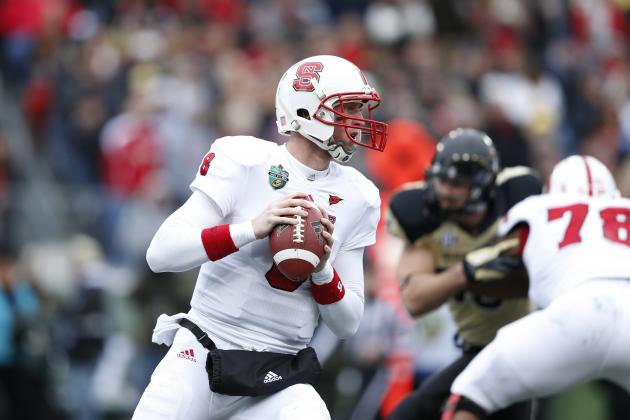 Joe Robbins/Getty Images

Mike Glennon, QB, North Carolina State
Many Syracuse fans might expect new Buffalo Bills head coach Doug Marrone to target Ryan Nassib this spring, but Glennon is going to be a much better pro quarterback than Nassib.
Blessed with an absolute cannon for an arm, Glennon will skyrocket up draft boards during the scouting process. He has the ability to spread the ball and make all the throws—a perfect complement to the Bills' strong running game.
Pro Comparison: Ryan Mallett
Tyler Wilson, QB, Arkansas
Mark Sanchez probably won't be going anywhere in 2013, but the team needs to bring in a quarterback to at least challenge him for the starting spot.
Wilson is a strong-armed signal-caller who is more athletic than Sanchez and who can do more with less, as he proved during his tumultuous 2012 season at Arkansas. He'll overtake Sanchez by the time training camp ends, as I'm positive his confident demeanor and superior quarterbacking skills will shine through.
Pro Comparison: Tony Romo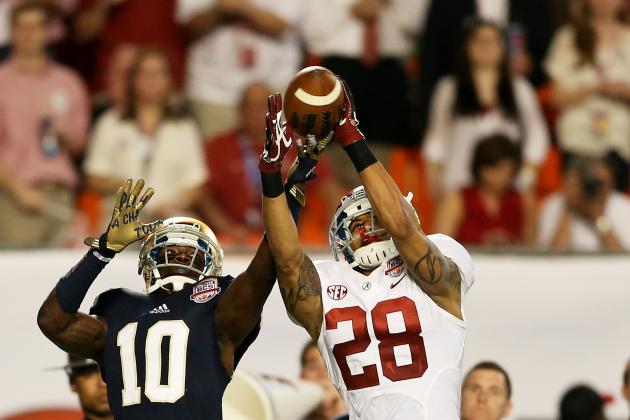 Streeter Lecka/Getty Images

Dee Milliner, CB, Alabama
The Tennessee Titans have an awesome young cornerback in Jason McCourty, but they need another lockdown corner to play opposite him on Sundays.
Milliner is this year's top cornerback, and his physical style of play is perfect for Tennessee. He'll take over where Cortland Finnegan left off a year ago and give the Titans one of the best young duos in the NFL.
Pro Comparison: Charles Tillman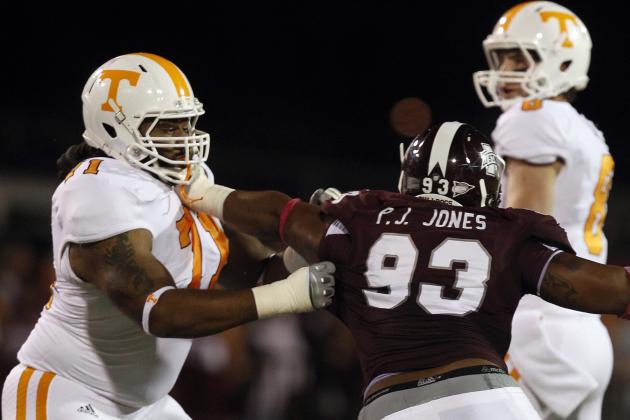 Butch Dill/Getty Images

Dallas Thomas, OT, Tennessee
With Taylor Lewan and Jake Matthews both taking their talents back to school for another year, Thomas shoots up the board for offensive tackle-needy teams like the San Diego Chargers.
Thomas has ideal size, at 6' 5" and 305 pounds, and is quick on his feet. He has an extremely high ceiling, and his frame gives him room to grow. Once he gets a bit stronger and develops better technique, he could become a dominant left tackle in the NFL.
Pro Comparison: Russell Okung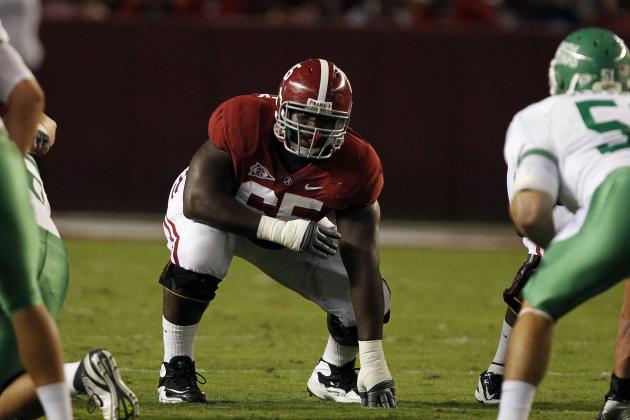 Butch Dill/Getty Images

Chance Warmack, OG, Alabama
Warmack is my No. 3 prospect this year behind Luke Joeckel and Star Lotulelei, and if not for the fact that he is an offensive guard, he'd be long gone before now.
The Miami Dolphins have need of a top-flight guard, too. Richie Incognito's best days are a few years behind him, and it's about time Miami drafted his replacement.
Pro Comparison: Marshal Yanda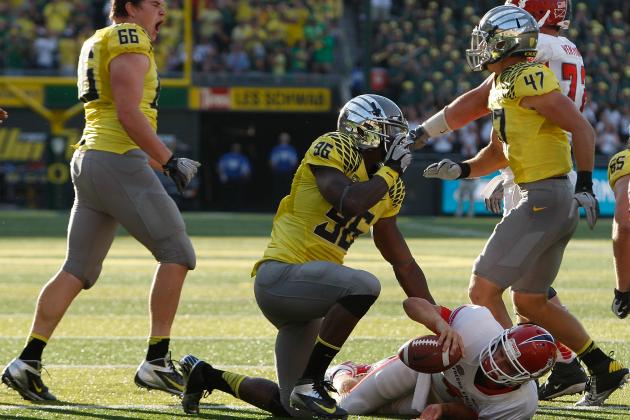 Kevin Casey/Getty Images

Dion Jordan, DE, Oregon
The Tampa Bay Buccaneers are developing a good corps of young defenders, but one thing the team lacks is a legitimate threat to get to the quarterback.
Jordan is pure speed and acceleration and adding him to the front seven, along with Gerald McCoy, Michael Bennett, Mason Foster and Lavonte David, would be like adding jet fuel to a fire. He isn't as strong in run support as you'd like at this point, but the Bucs already feature one of the best run defenses in the NFL.
Pro Comparison: Manny Lawson (but faster)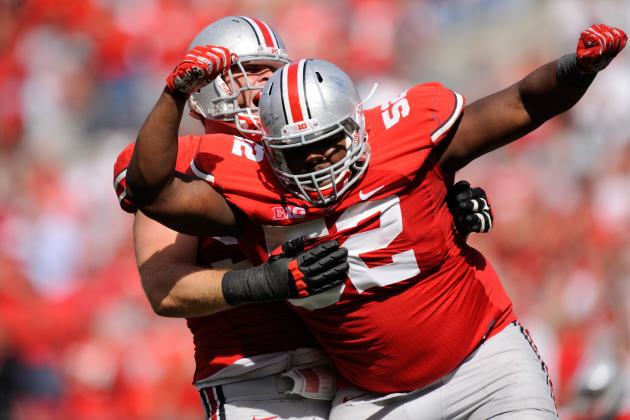 Jamie Sabau/Getty Images

Johnathan Hankins, DT, Ohio State
The Carolina Panthers need a big body in the middle of their defense to plug up running lanes. Jon Beason, Luke Kuechly and Thomas Davis make up a formidable linebacking corps, but they were too often getting swallowed up by offensive linemen before they could get in on running backs.
Hankins, at 6' 3" and 322 pounds, is a powerhouse of a man who is an incredible run defender. He isn't a penetrating defensive tackle, but his ability to take on double teams and win makes him a valuable defender.
Pro Comparison: Brandon Mebane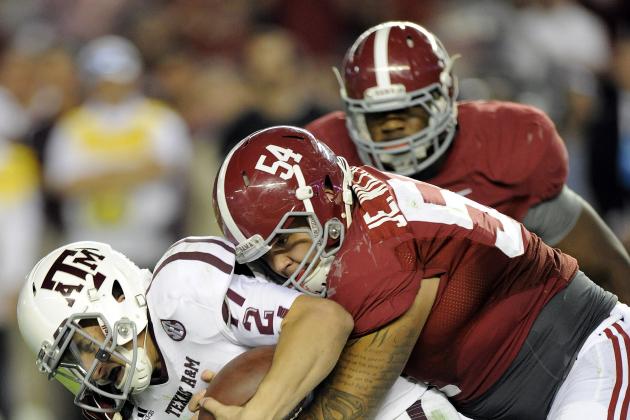 John David Mercer-USA TODAY Sports

Jesse Williams, DT, Alabama
The New Orleans Saints were the worst team in the NFL at stopping the run in 2012, allowing 5.2 yards per carry to opposing teams.
Williams is a stout run defender who can also make some moves inside to get to the quarterback, and though many expect him to end up on a team that runs a 3-4, he will be even better as a 4-3 defensive tackle without so many double teams headed his way.
Pro Comparison: Marcell Dareus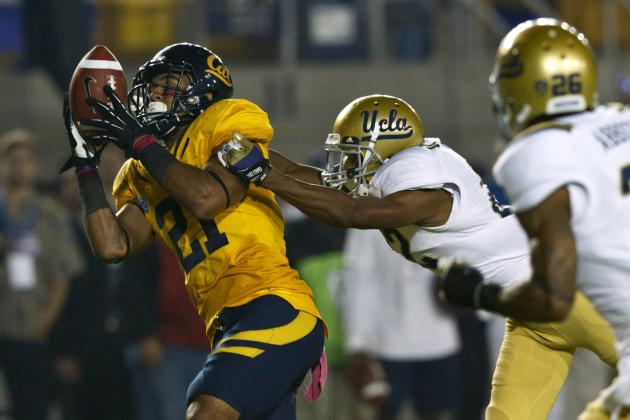 Jason O. Watson/Getty Images

Keenan Allen, WR, California
The St. Louis Rams may be hurt worse than any team in the NFL by the decisions of Taylor Lewan and Jake Matthews to stay in school in 2013.
There aren't any tackles left on the board worth taking at this point, so the Rams would be well served to grab the top wide receiver in this year's draft class instead.
Allen isn't a true burner, but his sweet hands and ability to run after the catch make him a deadly weapon for any offense in need of a playmaker.
Pro Comparison: Greg Jennings
Manti Te'o, ILB, Notre Dame
Many people have overreacted to Te'o's poor game against Alabama. Those of us who've been watching him play on a regular basis already knew his limitations, and the way 'Bama was able to handle him only confirmed our suspicions.
Te'o isn't going to be the next Patrick Willis.
He lacks elite speed and strength at the point of impact, and he's always going to need space in order to make big plays. That said, he is an extremely effective player when he can flow from sideline to sideline, and his ability to make plays in the passing game can't be denied.
Pro Comparison: Brian Urlacher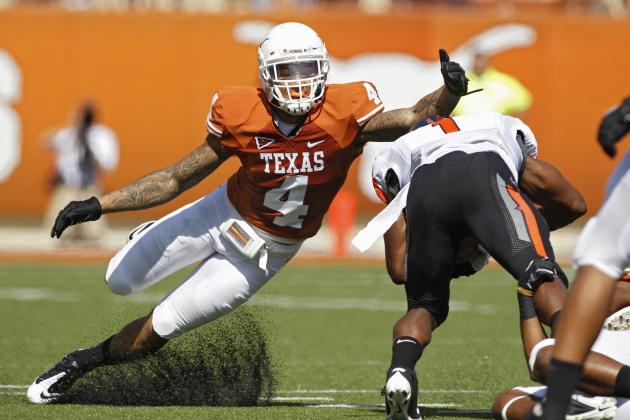 Erich Schlegel/Getty Images

Kenny Vaccaro, S, Texas
The Dallas Cowboys have a couple of fine cornerbacks in Brandon Carr and Morris Claiborne, but they lack talent in the middle of the secondary.
Vaccaro is a rare player who can play either safety position. He's a willing and able tackler in run support who is also a terrific center fielder and can cover receivers one-on-one in the slot.
Pro Comparison: Charles Woodson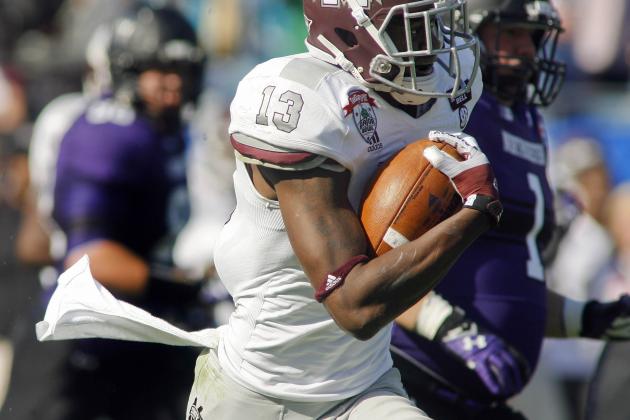 Phil Sears-USA TODAY Sports

Johnthan Banks, CB, Mississippi State
Being only one year removed from hoisting the Lombardi Trophy, it seems weird to say this, but the New York Giants have a lot of holes to fill.
New York needs offensive line help, defensive line help and help at linebacker and cornerback.
Might as well take an underrated cornerback who could end up as the best of this year's draft class in Banks. He's a ball hawk who loves to play against big, fast receivers—a true No. 1 corner. His ability to play man-to-man against the SEC's best has taught him well, and he's ready to start from day one.
Pro Comparison: Nnamdi Asomugha (Raiders)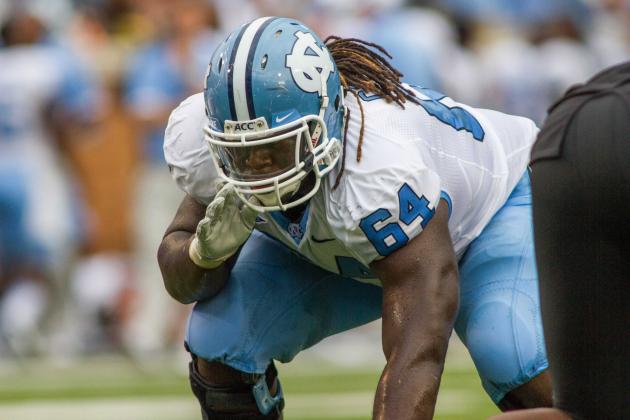 Jeremy Brevard-USA TODAY Sports

Jonathan Cooper, OG, North Carolina
Cooper isn't much of a step down from Chance Warmack, and God knows the Chicago Bears need help on the interior of their offensive line.
The Bears started Chilo Rachal at left guard at one point in 2012 for crying out loud.
Cooper has the experience, skill, technique and power to excel in the NFL ranks, and he'll be a boon to both Jay Cutler and Matt Forte.
Pro Comparison: Carl Nicks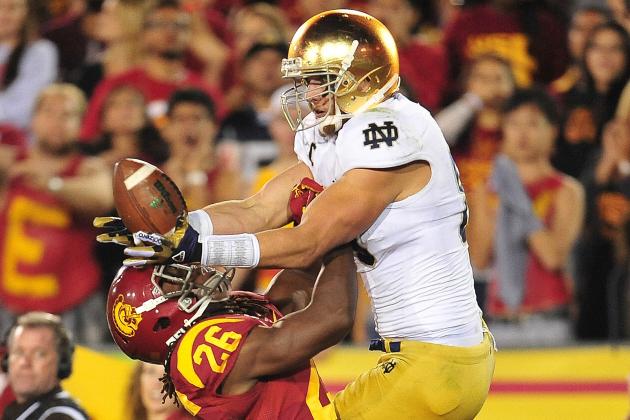 Gary A. Vasquez-USA TODAY Sports

Tyler Eifert, TE, Notre Dame
Jermaine Gresham has become nothing more than a liability for Andy Dalton's confidence. Dropped pass after dropped pass has doomed many a Cincinnati Bengals offensive possession, and the team would be smart to give its franchise quarterback a reliable security blanket in the middle of the field.
From a purely athletic standpoint, Eifert isn't any different than Gresham. Both are big, strong, athletic receivers who can go up and get balls at their highest point. The biggest difference is that Eifert actually comes down with them.
He has the best pure hands of any receiver in this year's draft class, and he'd quickly become an integral part of the Bengals offense.
Pro Comparison: Jimmy Graham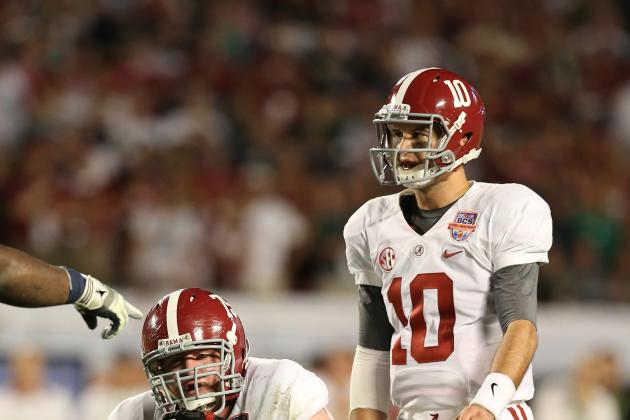 Matthew Emmons-USA TODAY Sports

Barrett Jones, C/G, Alabama
Without any tackles truly worthy of being selected here, the St. Louis Rams need to focus on getting better on the interior of their offensive line.
Jones is a multi-talented player who can man any of the five spots on the offensive line, though he's better suited to play either guard or center. The Rams need help at both positions, so this seems like a perfect fit, especially considering Jones' toughness makes him a Jeff Fisher kind of player.
Pro Comparison: Jonathan Goodwin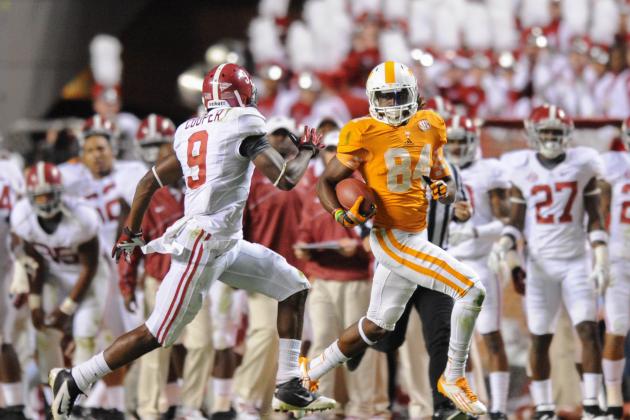 Randy Sartin-USA TODAY Sports

Cordarrelle Patterson, WR, Tennessee
There's no doubt the Minnesota Vikings need to improve the overall talent level of their receiving corps.
When Percy Harvin can't play, the Vikings offense slows down to a crawl.
Patterson is an extremely raw prospect who may end up as the best receiver in this year's class. Blessed with terrific top-end speed, excellent leaping skills, good hands and a knack for making big plays after the catch, he's a perfect fit for the Vikings.
Pro Comparison: Randy Moss (but really, really raw)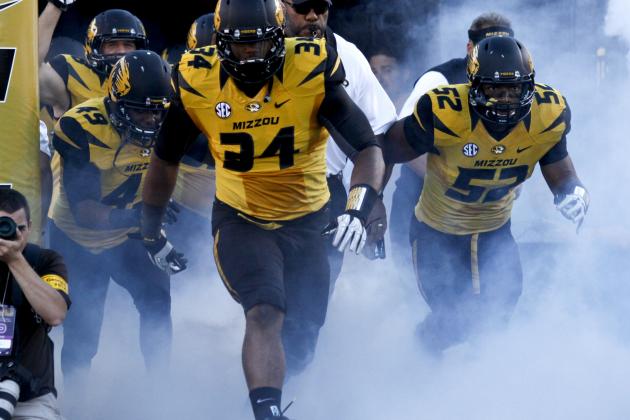 Ed Zurga/Getty Images

Sheldon Richardson, DT, Missouri
The Indianapolis Colts changed from a 4-3 defense to a 3-4 scheme to start the 2012 season, and it's still a work in progress.
The team struggled against the run for much of the year, culminating with a horrendous showing against the Kansas City Chiefs in Week 16 where Jamaal Charles, Peyton Hillis and Co. rushed for an astonishing 352 yards.
Richardson projects as an excellent 3-4 defensive end, as he has the strength and quickness to excel s a five-technique end, and he'll help to solidify the interior of this burgeoning new defense.
Pro Comparison: Antonio D. Smith
Arthur Brown, ILB, Kansas State
Ray Lewis won't be returning in 2013, leaving the Baltimore Ravens searching for his replacement.
Brown is a bit undersized, at 6' 1" and about 230 pounds, but his pure speed, high degree of football IQ and instincts, downhill tackling style and coverage abilities make him a top-level middle linebacker prospect at the next level.
Pro Comparison: Daryl Washington
Josh D. Weiss-USA TODAY Sports

Ezekiel Ansah, DE, BYU
The rich get richer.
The Seattle Seahawks already feature one of the NFL's best defenses, and adding a pure pass-rusher like Ansah to the mix to play opposite Bruce Irvin for the next decade sounds like good strategy to me.
Ansah is a player most casual fans haven't yet heard of, but his 6'6", 272-pound frame will have analysts talking nonstop once he hits the field at the NFL scouting combine.
Pro Comparison: Jason Pierre-Paul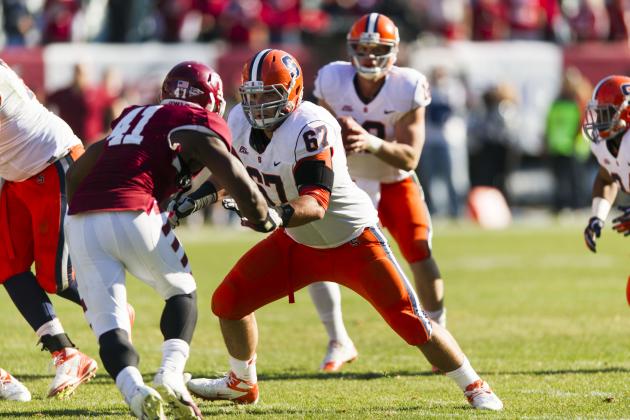 Howard Smith-USA TODAY Sports

Justin Pugh, OT, Syracuse
Imagine how good Aaron Rodgers would be if he wasn't getting slammed to the turf 50-plus times a season.
The Green Bay Packers must do something to shore up what's become an embarrassing offensive line, and though Pugh is coming off of shoulder surgery, he looks like he'll be an excellent pro tackle.
At 6' 6" and a shade under 300 pounds, Pugh has the athletic frame that scouts look for in a left tackle. He is a bit on the lean side at this point in his career, but a year or two in an NFL weight room will give him the bulk he'll need to excel as Rodgers' blind-side protector.
Pro Comparison: Nate Solder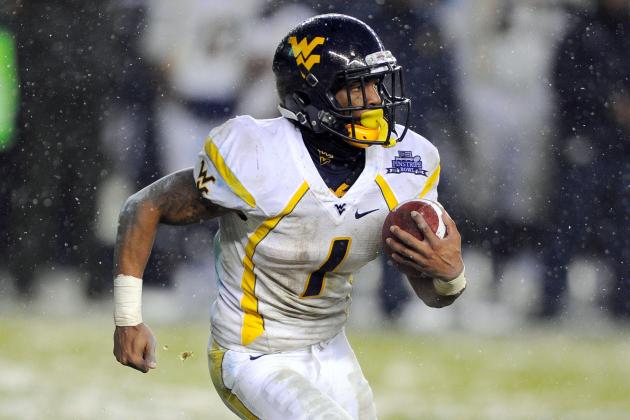 Rich Barnes-USA TODAY Sports

Tavon Austin, WR, West Virginia
Besides Andre Johnson, the Houston Texans don't have any reliable receivers who can make game-breaking plays. This lack of a threat makes it easy for opposing teams to key in on Arian Foster, which is why he only averaged 4.1 yards per carry in 2012.
Austin isn't a big guy, but his pure speed and ability to make defenders miss in the open field would open things up in a big way for Matt Schaub and the Texans offense.
Pro Comparison: Darren Sproles
Sylvester Williams, DT, North Carolina
The San Francisco 49ers haven't been the same on defense without Justin Smith, and it's about time for Trent Baalke to address the lack of depth on his defensive line.
Williams is a big man who can play all three positions on the 49ers line. He's quick enough to penetrate inside on both passing plays and against the run—a truly disruptive player who fits the 49ers' scheme to perfection.
Pro Comparison: Vince Wilfork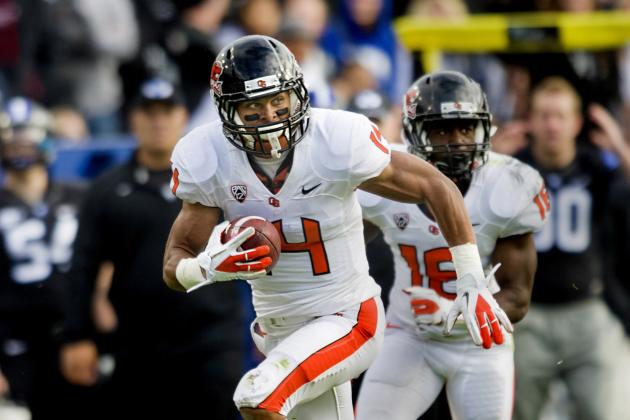 Douglas C. Pizac-USA TODAY Sports

Jordan Poyer, CB, Oregon State
Despite the fact that the New England Patriots are much improved against the pass in 2012, there's still a lot of room for improvement.
Poyer brings good size, speed, ball skills and technique to the table, and he'd challenge for a starting role from the first day of training camp. He is a capable man-on-man defender who has excellent instincts.
Adding him to the lineup would allow the Patriots to send more pressure on occasional blitz packages.
Pro Comparison: Champ Bailey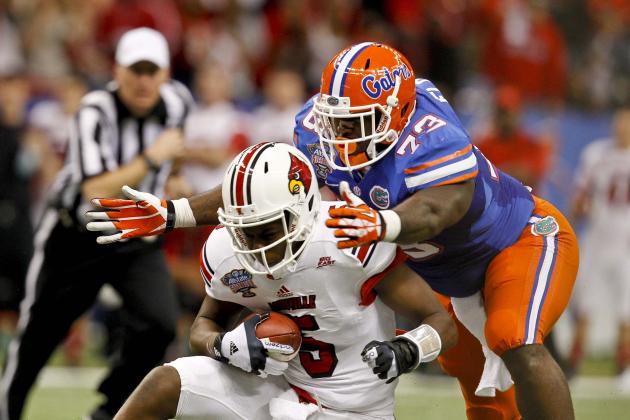 USA Today Sports

Sharrif Floyd, DT, Florida
The biggest area of weakness for the Denver Broncos is the interior of their defense.
Floyd is a stout run-stuffer, and he will make life easier on Von Miller and the rest of the team's linebackers by absorbing double teams.
He is also a capable pass-rusher who can bring down opposing quarterbacks who get flushed into the middle from heavy pressure on the outside.
Pro Comparison: Dan Williams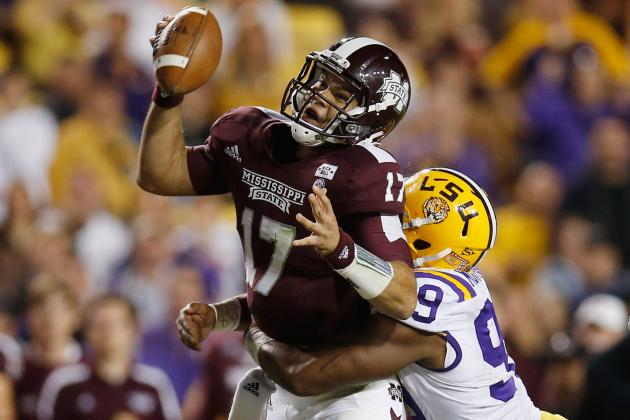 Chris Graythen/Getty Images

Sam Montgomery, DE, LSU
The Atlanta Falcons have won this year despite the fact that the team struggles to bring consistent pressure to opposing quarterbacks.
Montgomery is a player who never takes plays off, brings a high degree of effort and skill to every play and is more of a power-rusher than a pure speed guy.
In short, he's a perfect fit for Atlanta's defense.
Pro Comparison: Chandler Jones
Follow me on Twitter @JesseReed78