Ranking the 10 NBA Stars Most Likely to Be Traded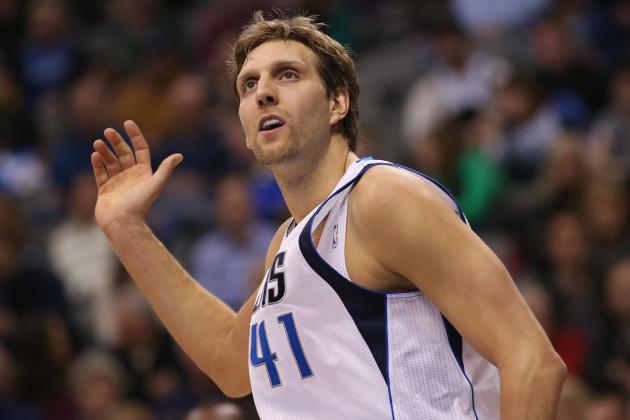 Ronald Martinez/Getty Images
Dirk Nowitzki is just one of a handful of stars who will be shopped.
As the NBA inches toward the trade deadline, some of the league's biggest names will inevitably end up on the block.
It's only reasonable for some NBA teams to shop their prime-time players.
Some stars play for squads struggling to stay in playoff contention. Others are languishing in the bottom half of the league. Some other players still are failing to jell on their team.
What they all have in common is that they could be worth more to another organization.
Not every guy on this list is sure to be traded, but their respective teams will definitely consider offers.
Let's take a look at the stars who will hit the trade block, working our way to the guys most likely to get moved.
Stats accurate as of Jan. 11, 2013.
Begin Slideshow

»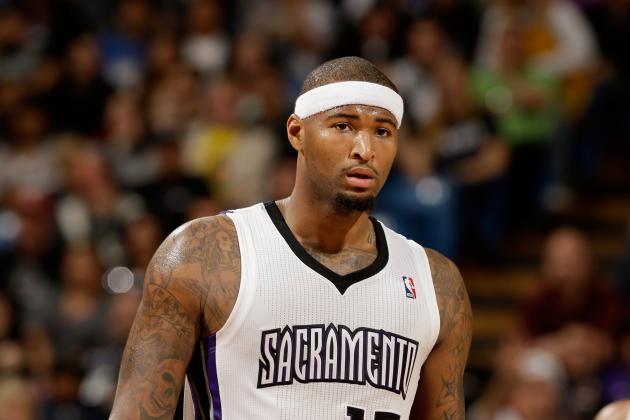 Ezra Shaw/Getty Images
DeMarcus Cousins is too talented and too erratic to trade.
It's nearly impossible to guess the fate of DeMarcus Cousins, the most unpredictable player in the NBA.
Insubordination and suspensions aside, the Maloof brothers love their über-talented man-child. That means Cousins will most likely remain with the Sacramento Kings, for better or for worse.
However, there is a contingent within the Kings organization, most notably including GM Geoff Petrie, that considers Cousins too much of a headache to tolerate.
According to Dan Gutterplan of WEEI, it was Petrie and coach Keith Smart argued to suspend Cousins indefinitely for conduct detrimental to the team, only for the Maloofs to overrule them. Even if Petrie might prefer to listen to offers for Sacramento's biggest asset, he needs to convince his owners to back the decision.
Gutterplan believes the Kings' impending sale to a Seattle ownership group kills any chance of the Boston Celtics acquiring Cousins. When a team is transitioning between owners, it is unfeasible for the front office to make any major personnel moves.
That said, Bob Condotta of the Seattle Times reports that the Maloofs' sale is not as inevitable as it was assumed to be. As long as the Kings remain on the market, Cousins is still tradable, especially if prospective buyers are being turned off by the volatile face of the franchise.
So while it doesn't look like he's going anywhere now, the scenario might be different next week. With Cousins, nothing is ever set in stone.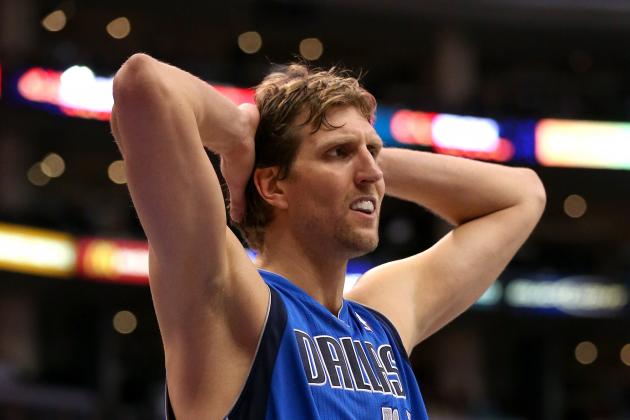 Stephen Dunn/Getty Images
The prospect of Dallas trading Dirk is not realistic.
The Dallas Mavericks are at least bound to test the market for their franchise player.
Though there is no sign that Dallas has looked into trading Dirk Nowitzki, he acknowledged that as a possibility, according to Tim MacMahon of ESPNDallas.com.
We knew that coming in, that eight or nine new guys on one-year deals is not really an ideal situation, but what else is there to do? So either you break the whole thing up and trade me, or you get a bunch of one-year deals and try to be a player next summer. That's the decision we made, so now we've got to fight through it.
A Dirk trade simply makes sense for the Mavs at this juncture.
At 14-23, their playoff chances are essentially dead in the deep Western Conference. This is an old team with little long-term infrastructure. Getting a package of young players and/or picks for Dirk is the most pragmatic move.
However, with so little to cheer about right now, Dallas fans might riot if the Mavs traded the most beloved player in franchise history.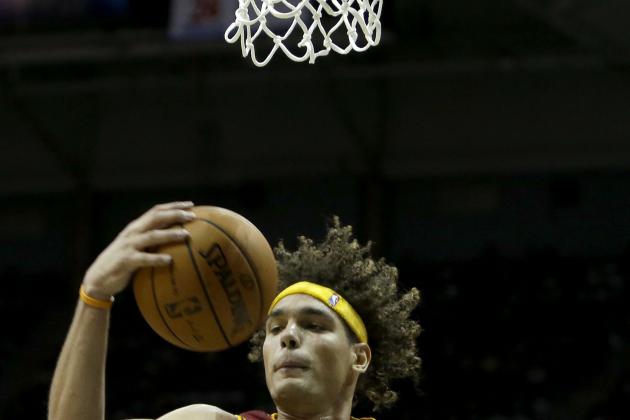 Mike McGinnis/Getty Images
Varejao will not be on the court at the trade deadline.
ESPN reports that Anderson Varejao underwent surgery to repair a split muscle in his leg. The procedure will keep the Brazilian big man out until after the trade deadline, but that won't kill the market for him.
Varejao is both at his most and least valuable, averaging 14.1 points and 14.4 rebounds per game but sidelined by injury.
Teams looking towards the 2013-14 season might consider his $9.1 million price tag a bargain and jump at him now. As for the Cleveland Cavaliers, they could be persuaded to part with Varejao now if the price reflects his ability rather than his health.
You don't have to think back too far to find a similar example.
Just last season, the Golden State Warriors acquired Andrew Bogut from the Milwaukee Bucks. Bogut was rehabbing a broken ankle at the time and never suited up for the Dubs in 2011-12. Even so, Golden State pulled the trigger on a Bogut trade, nabbing a staunch post presence while he was available.
Like Bogut, Varejao has a considerable injury history, having missed over 100 games since the 2010-11 season. Any team that targets the injured Varejao knows he is liable to get hurt again.
Per Steve Kyler of HOOPSWORLD, the Cavs were turning teams off with a stiff asking price for Varejao even before he got hurt. Now that he has gone down yet again, Varejao's trade value now may be lower than Cleveland is willing to pay.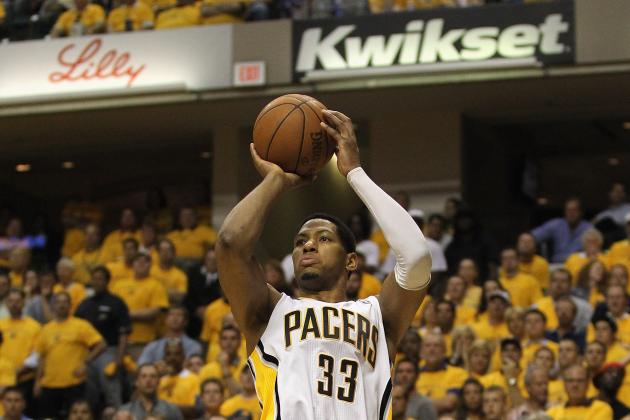 Jonathan Daniel/Getty Images
The Pacers have plenty of what Granger provides.
Danny Granger has proven to be expendable while sidelined with a knee injury, as Indiana is still winning without him.
He was the closest thing Indy had to an alpha player last season, leading the hard-nosed, gritty team on an improbable playoff run.
Though the Pacers have struggled on offense since Granger has been out, they have morphed into a defensive powerhouse.
Paul George has shifted up to his natural position at small forward, replacing Granger and boosting Indiana to the NBA's best defensive efficiency mark.
Frank Vogel told Mike Wells of the Indianapolis Star that he'd like to get back to playing Granger and George together.
Yet Indiana really needs a shooting guard who can create offense. If it looks to trade for one, Granger is both a valuable trade chip and the asset that would least impact the team's on-court chemistry.
That said, Granger should be returning to the court just a couple of weeks before the deadline. He's not the best addition the Pacers could ask for right now, but with his stock down, it might be in their best interest to retain him this season.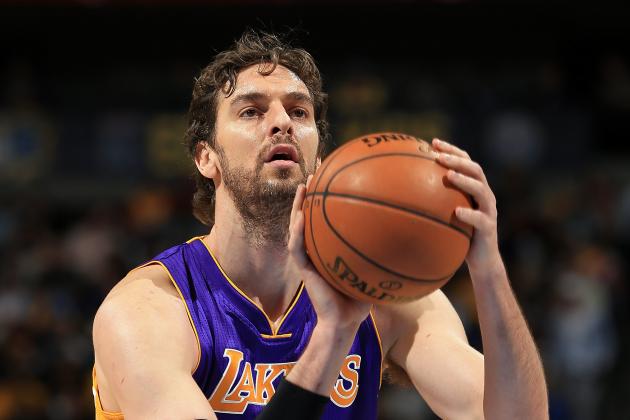 Doug Pensinger/Getty Images
Another day, another Gasol trade rumor.
As long as the Los Angeles Lakers are losing, trade rumors will swirl.
We've all heard the story by now—the team is dysfunctional and sluggish, with Kobe Bryant calling his squad "old as s---," per ESPNLosAngeles.com.
Meanwhile, coach Mike D'Antoni hasn't figured out how to have Pau Gasol and Dwight Howard work together, let alone inspire anyone to play consistent defense.
The two-center problem resolved naturally with the Lakers' newest marquee big man out indefinitely with a torn labrum. Gasol is also out with a concussion, but if he gets back on the court sooner than Howard, he could have the post to himself for a while.
Unfortunately, the Lakers are 15-20, and they'll probably have to be at least a few games over .500 to get to the postseason. The prospect of this team evolving into a second-half juggernaut grows more unlikely every day, and the 2012-13 season seems lost.
Averaging 12.2 points and 8.4 rebounds per game, Gasol is having easily the worst season of his career. The Lakers have no chance of getting fair value for him considering how good he can be when healthy and in a scheme conducive to his abilities.
On the other hand, Howard's contract expires after this season. He could walk and leave the Lakers with nothing in return.
If Howard commits to coming back next season, Gasol might not be in the cards moving forward. If not, Howard could be on the move again.
Ramona Shelburne of ESPNLosAngeles.com reports that the Lakers aren't interested in making any major moves. If the price is right, however, Los Angeles would be foolish not to listen.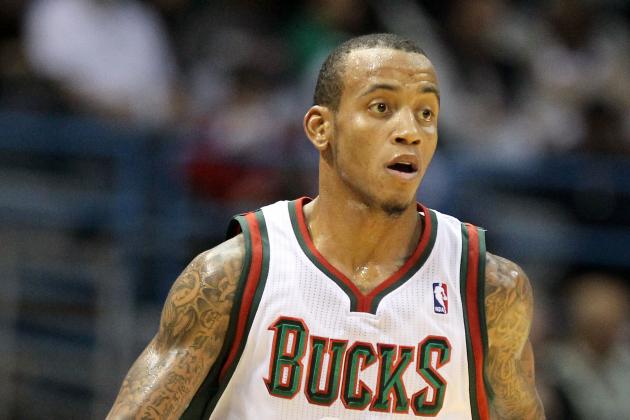 Mike McGinnis/Getty Images
Monta Ellis and Brandon Jennings don't fit together.
The Monta Ellis experiment just isn't working out for the Milwaukee Bucks.
In pairing him with Brandon Jennings, Milwaukee boasts the quickest backcourt in the NBA, but it is also very one-dimensional.
Ellis and Jennings are both volume scorers who look to shoot first and pass second. They pick up some steals, but are otherwise weak on defense.
Combined, they form a backcourt that can't stop anyone and is explosive but inefficient on the offensive end. It's not an effective pairing in the short term, and in the long term, Gery Woelfel of The Journal Times reports that Ellis plans to opt out after this season.
The Bucks have ridden their efficient forwards into playoff contention, but they'll be a quick out unless they get a shooting guard who better complements Jennings.
Since his contract is expiring, Ellis could provide some firepower for a contender or serve as a building block for a lottery team that could convince him to agree to a sign-and-trade.
If the Bucks can't find a guard to replace Ellis, they won't look to force a trade. In order to construct a more coherent lineup, though, they should explore all possible deals.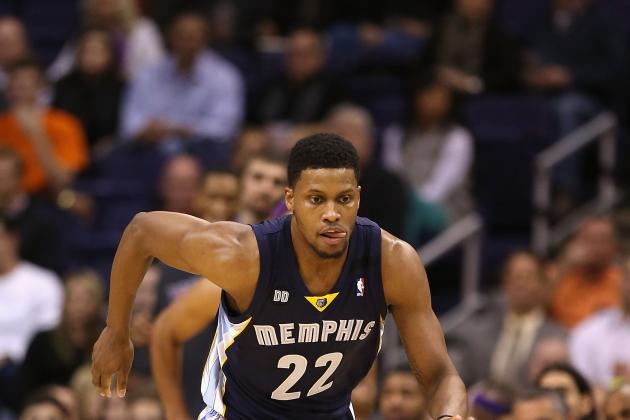 Christian Petersen/Getty Images
Gay is not the type of offensive player Memphis needs.
The Memphis Grizzlies have the framework for a solid inside-out attack on the offensive end.
Rudy Gay does not fit into those designs.
Considering Zach Randolph's interior dominance and Marc Gasol's stellar passing from the post, it's only logical that the Grizzlies surround them with three-point threats on the perimeter. But when their best offensive player is a slashing small forward, they have a schematic conflict on their hands.
With Memphis lacking both shooters and depth, Gay might not be worth as much to the Grizz than the multiple players he can bring back.
Adrian Wojnarowski of Yahoo! Sports reports that Memphis and the Phoenix Suns are discussing a deal built around a Gay-for-Jared-Dudley swap.
A guy like Dudley would give Memphis the shooting option it desires (he's shooting 37 percent on threes this season) while improving the Grizzlies' already staunch defense. The Grizzlies have also shopped Gay to other teams.
This trade would streamline Memphis' on-court strategy and save the organization a ton of money, both in terms of the two-and-a-half years left on Gay's contract and in luxury tax.
That's a win-win for the Grizzlies.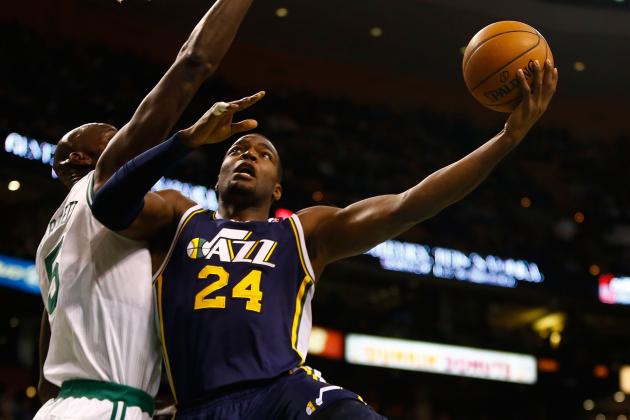 Jared Wickerham/Getty Images
Millsap is the likely trade option of Utah's big men.
The Utah Jazz have a logjam in the paint. Al Jefferson and Paul Millsap each have expiring contracts.
Something has to give.
Jefferson and Millsap are both productive big men, but they're blocking Derrick Favors and Enes Kanter from getting more run. Those two are the future of the franchise, and it's highly unlikely the Jazz will re-up both Jefferson and Millsap this offseason.
So the question is not if the Jazz will trade one of their starting big men, but which one they will part with.
Millsap is probably the odd man out. He has a mid-range offensive game and is a better defender than Jefferson, making him more attractive to potential buyers.
At the same time, Jefferson has the build to body up against true centers, which would allow him to cover for the Jazz's developing young players.
Utah isn't likely to trade both big men during the season. The Jazz are still in the playoff hunt, and they might want to keep using Kanter off the bench next season.
Still, both Jefferson and Millsap are going to be on the trade block this season, and one of them is sure to be dealt.