New York Yankees: 5 Players Who Will Be Relied Upon Most to Overachieve in 2013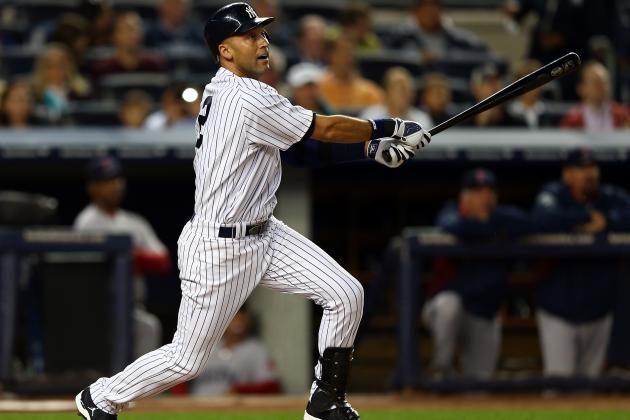 Elsa/Getty Images
Derek Jeter led the league in hits at the age of 38 last season
The New York Yankees are an aging baseball team. On opening day 2013, manager Joe Girardi will send out seven starters who are over the age of 30 and potentially eight, depending on who he names as the team's starting designated hitter.
As a result, the Yankees will be fighting in a tough AL East division relying on players to out-produce their age and/or ability. In 2012, Derek Jeter led the MLB in hits with 216 at age 38, and Hiroki Kuroda won 16 games and was arguably the best pitcher on the staff at age 37.
In 2013, with another year passing and multiple holes to fill due to the losses of Nick Swisher to the Indians and Alex Rodriguez to injury, everyone will be asked to do more. These five players specifically will need to overachieve for the Yankees to be successful.
Begin Slideshow

»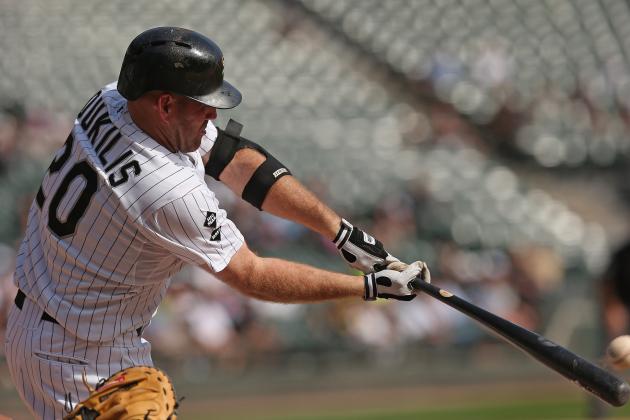 Jonathan Daniel/Getty Images
Youkilis will be in Yankee pinstripes in 2013 after many seasons in Boston
Kevin Youkilis is not the player who finished third in the MVP voting in 2008 anymore. He has not hit over .260 since 2010 and has not hit 20 home runs since 2009. However, the Yankees still signed him to be their starting third baseman and will likely insert him into the middle of their lineup.
For the Yankees to have a successful offense in 2013, Youkilis will need to produce more than he has in the past two seasons. He is effectively being asked to replace Nick Swisher's lost production from the right side of the plate, meaning that 20 home runs and a .260 or above batting average will be the minimum expected.
Nicknamed "the greek god of walks," Youkilis' patience will fit right into the most patient lineup in baseball and the Yankees hope that his contact hitting ability will make them less reliant on home runs to score.
The Yankees hope that Youk can hit at least 20 home runs and 30 doubles while driving in at least 80 runs. That would be quite a large jump from his statistics over the past few seasons.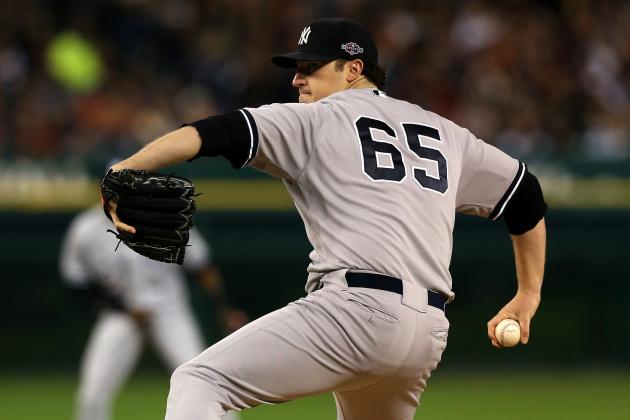 Jonathan Daniel/Getty Images
Hughes will be asked to step into the front of the rotation very soon
Phil Hughes was supposed to be the Yankees' next great ace. He was once consensus top-5 prospect in baseball and impressed in his second major league outing at age 20, throwing six and one-third no-hit innings before leaving with a leg injury that has seemingly derailed his career as a starting pitcher.
Six years later, Hughes has put together only two truly successful seasons as a starter, 2010 and 2012. He has had intermittent velocity issues, arm injuries, leg injuries and seems to have lost confidence at times.
However, after finishing last season very strong, Hughes will be asked to shoulder a greater load this season. Two of the Yankees top-3 starters---Andy Pettitte and Hiroki Kuroda---may be in their final season and are both older than 38. Someone will need to step in for them in case of injury, poor performance or eventual retirement next season. Also, ace CC Sabathia is recovering from elbow surgery.
Enter Hughes, he of the powerful fastball and huge curveball but inconsistent results. The one-time ace-in-waiting will have to step up and be a front of the rotation force for an aging Yankee rotation in 2013.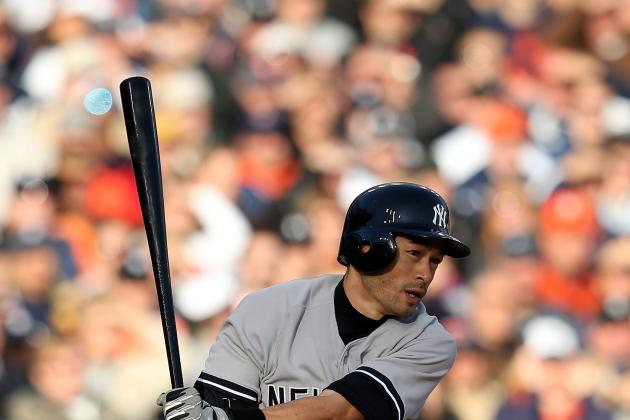 Jonathan Daniel/Getty Images
Ichiro will have to deliver like he did late last season in 2013
Ichiro seemed done in Seattle at the start of 2012. He was hitting just .261 for the Mariners before being dealt to the Yankees, which seemed to rejuvenate the career .322 hitter.
After the trade, Ichiro nearly doubled his home run total and hit .322 in 67 games. He also nearly doubled his steal total over that stretch.
In 2013, Ichiro will be asked to keep up that production, all of which is beyond what is expected of most 39-year-old players. He will have to be a table setter and baserunning threat for the Yankees if they want their offense to be more multi-dimensional and less reliant on the long ball.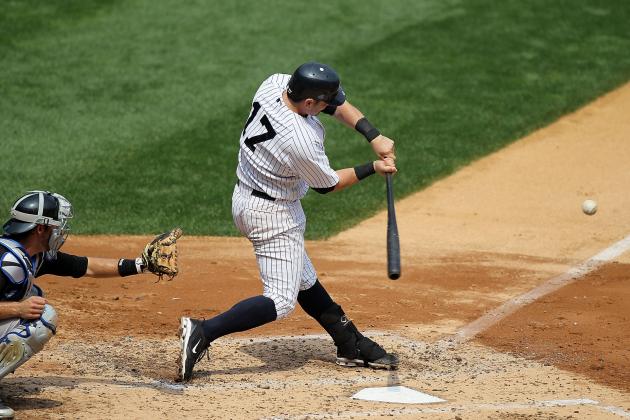 Jim McIsaac/Getty Images
Cervelli did not spend much time in the majors last season
The Yankees have not had this bad of a catcher situation since well before current manager Joe Girardi was behind the plate in the mid-1990s. After Jorge Posada retired and Russell Martin filled in admirably for two seasons, the Yankees now are left without a true starting catcher.
The current favorite to start on opening day is former reserve Francisco Cervelli, who spent most of last season in triple-A, but has a total of 582 major league at bats since debuting in 2008. Cervelli does not have a high ceiling, but has shown competency defensively and can hold his own at the bottom of the lineup.
If Cervelli is the full-time catcher, he will be expected to replace above-average defense from Martin and at least some of the offense vacated by the departure of his 21 home runs.
The other option is highly-touted prospect Austin Romine, who sat out most of last season with a back injury. Romine---if handed the opportunity to start---will have no time to adjust to major league pitching and will have to bring his bat up to speed with his major-league-caliber defense to stick around.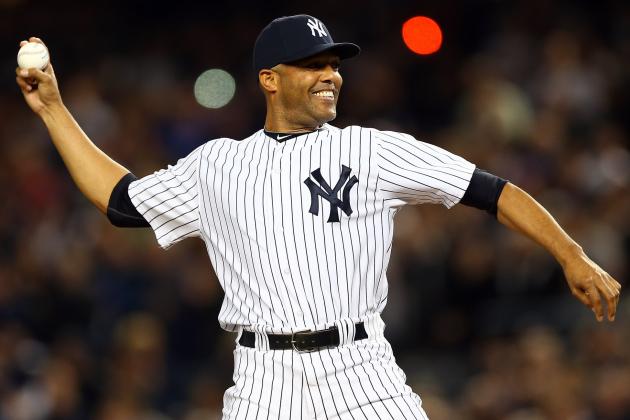 Elsa/Getty Images
Rivera will be 43 in his 19th season
Through 18 seasons, there has not been a better relief pitcher to ever pick up a baseball than Mariano Rivera. He has finished with an ERA over three (3.15 in 2007) just one time since 1996 and has not slowed down at all in any statistical category as he has aged.
However, age is not the only obstacle Rivera will have to overcome this season. He is now recovering from surgery on a torn ACL and will have to rehab his knee while also battling father time.
It would be foolish to bet against Rivera, as he has always proven every doubter wrong, but it would also be foolish to set the bar too high for the 43-year old surefire hall-of-famer.
The Yankees are not expected to retain all-star closer Rafael Soriano, so Rivera will need to replace the effectiveness of the man who replaced him last season after his injury and continue to keep the back-end of the bullpen strong.