10 Hitting Prospects Ready to Take the Largest Leaps in 2013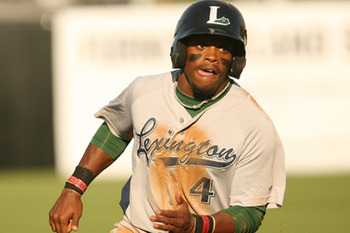 Delino DeShields, Jr., 2b (Astros): After a disappointing full-season debut in 2011, DeShields batted .287/.389/.428 with 44 extra-base hits and 101 stolen bases over both Class-A levels. // Photo courtesy of MiLB.com
Each season there are lower-level position prospects who turn in a breakout offense campaign, and as a result, narrow the gap between their present ability and future potential.
Typically, it's a player who has battled injuries early in his career or simply a young, unrefined hitter who suddenly puts everything together (hit and power utility, plate discipline, secondary skills).
Therefore, I've identified 10 position prospects who I believe will gain invaluable experience and take a huge step forward with their overall offensive performance in 2013.
Since some of these players already rank within their organization's top 10 prospects, I've included scouting notes from their original profile.
Boston Red Sox: Blake Swihart, C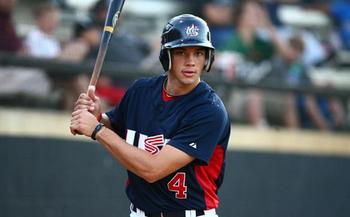 Courtesy of ESPN.com
Age: 20
Season in Review: The switch-hitting catcher batted .262/.307/.395 with 28 extra-base hits and 68/26 K/BB over 92 games in his full-season debut at Low-A Greeneville.
Scouting Notes: Athletic and agile behind the plate with quietly strong 6'1", 175-pound frame; has room to add considerable strength as he develops without getting bulky; is raw defensively due to lack of experience, but noticeably improved over the course of his first full season; average blocker at the moment but should improve quickly; will need to do better job streamlining throws, though catch-and-throw skills may ultimately grade as above-average.
Impressive switch-hitter considering his age and lack of professional experience; demonstrates potential for above-average hit tool from both sides of the plate due to level, line-drive swing; lacks present power, but like most young hitters, that should emerge as he gets stronger; cheats himself at the plate due to hyper-aggressive approach from both sides; needs to improve pitch recognition and look for pitches to drive early in the count.
New York Yankees: Slade Heathcott, OF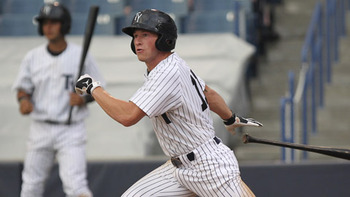 Courtesy of MiLB.com
Age: 22
Season in Review: Finally healthy, the 2009 first-rounder batted .307/.378/.470 with 23 extra-base hits and 17 stolen bases in 60 games for High-A Tampa.
Scouting Report: Hard-nosed, high-energy does everything 100 percent; plus defensive center fielder with 70-grade wheels and great range; arm strength has waned since a pair of shoulder surgeries; improvement as a base-stealer was good to see after time off.
Leadoff hitter-type who can fly down the line; constant extra-base threat at the plate; tendency to rip open front side and not use hands; lack of fluidity in swing may be result of lack of experience; needs to start making more consistent contact in 2013.
Detroit Tigers: Danry Vasquez, OF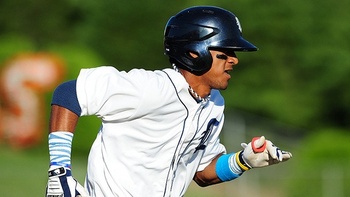 Courtesy of MiLB.com
Age: 19
Season in Review: Vasquez opened the 2012 season as an 18-year-old at Low-A West Michigan, but was demoted to Short-Season Connecticut after batting .162/.218/.222 through 29 games. He rebounded in New York-Penn League by posting a .742 OPS in 72 games.
Scouting Report: Signed a monster $1.2 million bonus as a 16-year-old out of Venezuela; at 6'3", 169 pounds, Vasquez should add considerable strength to his naturally strong frame when he fills out; pretty left-handed swing with lots of potential; is comfortable using the whole field as an 18-year-old; makes lots of contact but will also have to learn how to take his walks; not a lot of present power, but his plus bat speed and the natural loft in his swing suggest it will come.
Average speed; suitable for either corner outfield position; inconsistent reads and poor routes magnify his inexperience; arm strength is solid-average but may not be good enough for right; should receive another crack at the Midwest League in 2013.
Minnesota Twins: Max Kepler, OF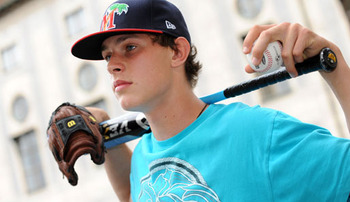 Courtesy of TwinsTarget.com
Age: 19
Season in Review: An international free agent signed out of Germany, Kepler posted a .714 OPS with 15 extra-base hits as an 18-year-old in the Appalachian League in 2011. He mastered the level last season in his second tour by batting .287/.387/.539 with 31 extra-base hits (10 home runs) and 33/27 K/BB in 59 games.
Scouting Report: He has a highly projectable 6'4" frame with plenty of room to add strength. He's a high-level athlete who passes the eye test. He has good speed but is not a base-stealer. He has a solid swing from the left side. His bat yields hard contact. His swing can get too long, but he's exhibited the ability to make adjustments. His hit and and power tools both flash above-average potential.
His speed plays well in the outfield, but he still possesses average range. His average arm strength may not be enough for right field. He will probably end up a left fielder or a potential tweener.
His athleticism will always give him a chance. He has a lot of upside, but it may take him some time to get there. He may struggle in his full-season debut, but he's still very young.
Miami Marlins: Jacob (J.T.) Realmuto, C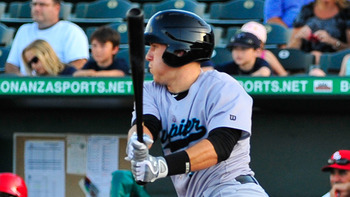 Courtesy of MiLB.com
Age: 21
Season in Review: After posting an .801 OPS in his full-season debut at Low-Greensboro in 2011, Realmuto batted .256/.319/.345 with 24 extra-base hits, 13 stolen bases and 64/37 K/BB in 123 games at High-A Jupiter in 2012.
Scouting Notes: Enjoyed one of the best high school seasons in history as a senior, batting .595 with 28 home runs and 119 RBI; excellent athlete who played multiple positions in high school; converted to a catcher upon selection in 2010 draft.
Has the hand-eye coordination, strength and natural talent to hit for both average and power; wraps bat and bars front arm; swing was much longer this past season; casts hands around too many pitches; swing often lacks fluidity and rhythm; plus-raw power but utility is questionable; has solid plate discipline, now he just needs to put it all together.
Rare breed of catcher who's also an above-average runner capable of double-digit stolen bases; impressive catch-and-throw skill set; quick release and plus arm strength result in consistent pop times around 1.8 seconds; game-calling and ability to slow down the game should improve with experience; still relatively new to the position; footwork and blocking continues to improve; would benefit from opening 2013 season back at High-A.
Philadelphia Phillies: Maikel Franco, 3B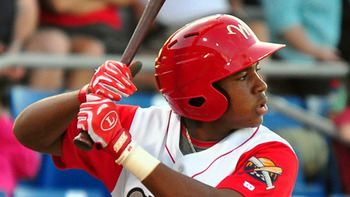 Courtesy of MiLB.com
Age: 20
Season in Review: Franco made an impressive full-season debut last year at Low-A Lakewood, batting .280/.336/.439 with 49 extra-base hits (14 home runs), 84 RBI and 80/30 K/BB in 132 games.
Scouting Notes: Franco possesses wiry strength at 6'1", 180 pounds, but should become a more physical player as he develops and fills out; right-handed hitter has easy, above-average raw power to all fields thanks to strong wrists and a leveraged swing; bat path can get long when he tries to gear it up; aggressive hitter needs to attack more pitches in the strike zone and work to improve his bat-to-ball ability; may possess a solid-average hit tool by the time he reaches the major leagues.
I really like his defense profile at the hot corner; despite lacking speed and quickness, he's an agile defender with average range in all directions; hands and actions seem natural at the position and should continue to improve; plus arm is his strongest defensive attribute; still a very raw prospect but early indications suggest he'll develop favorably.
Pittsburgh Pirates: Josh Bell, OF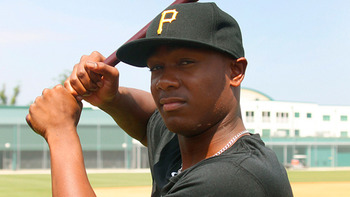 Courtesy of MLB.com
Age: 20
Season in Review: The switch-hitting outfielder was batting .274/.288/.403 with 21/2 K/BB through 15 games at Low-A West Virginia when he suffered a season-ending knee injury.
Scouting Notes: Snagged for $5 million as a second-rounder in 2011; involves big-time projection at 6'4", 195 pounds; now 20 years old and behind developmental curve; switch-hitting outfielder has plus-raw power from both sides of the plate; loose wrists, strong forearms; above-average pure bat speed; potential for above-average hit tool; sample size is limited, but needs to see more secondary offerings to get comfortable; big gap between present and future potential.
Speed wasn't great before knee injury and he's not a clean fit in center field; will likely end up at a corner position; somewhat of a wild card headed into 2013 given age and lack of experience; offensive tools are there, but he's very raw overall.
Cleveland Indians: Luigi Rodriguez, OF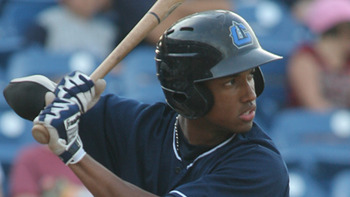 Courtesy of MiLB.com
Age: 20
Season in Review: The outfielder batted .268/.338/.406 with 37 extra-base hits, 24 stolen bases and 133/50 K/BB in full-season debut (117 games) at Low-A Lake County.
Scouting Notes: Incredibly raw but has some intriguing tools; hit tool leaves plenty of room for improvement; bat can drag through the zone at times; too much swing-and-miss with current approach; can struggle against quality velocity; physically strong for his size for some pop, but doesn't project for more than average power.
Rodriguez is an excellent defensive center fielder; easy plus speed gives him impressive range; should be able to remain in center field; reads and routes were vastly improved this past season; arm is decent and a clean fit in center; it may take some time for his bat to catch up to his defense, but when it does, he could be a solid up-the-middle talent in the major leagues.
Chicago Cubs: Christian Villanueva, 3B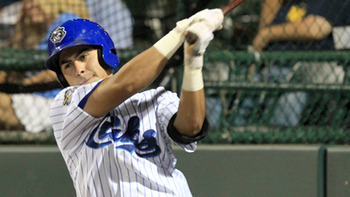 Courtesy of MiLB.com
Age: 21
Season in Review: Prior to his acquisition by the Chicago Cubs, Villanueva was batting .285/.356/.421 with 30 extra-base hits in 100 games for High-A Myrtle Beach. Following the trade, the right-handed hitter batted .250/.337/.452 in 25 games at High-A Daytona.
Scouting Notes: Headlined the prospect package acquired from the Rangers for Ryan Dempster at the trade deadline; at 5'11", 160 pounds, Villanueva lacks the prototypical physique for the position; offers plus defense at the hot corner thanks to an excellent glove, plus arm and above-average range; always seems to take instinctual first step and plays the position with loads of confidence.
Right-handed hitter with above-average-to-plus raw bat speed that generates a surprising amount of pop; barrels the ball with consistency, with most of his true power to the pull-side; present gap power could result in slightly above-average power as big leaguer; hit tool needs some work and may prevent quick ascent to majors; employs a consistent approach at the plate that should aid him upon reaching Double-A next season; possesses sneaky speed that should continue to result in double-digit stolen base totals.
Arizona Diamondbacks: Chris Owings, SS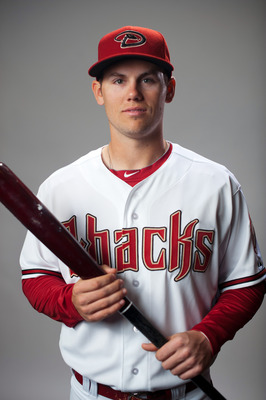 Rob Tringali/Getty Images
Age: 21
Season in Review: Owings mastered the California League (High-A) last season after posting a paltry .662 OPS during his first go-around in 2011. The toolsy shortstop batted .324/.362/.544 with 11 home runs in 59 games before his promotion to Double-A Mobile, where he was noticeably challenged and batted .263/.291/.377 with 69/11 K/BB in 69 games.
Scouting Notes: Owings is only 5'10", 180 pounds, but his tools play much louder; right-handed hitter employs a compact swing thanks to his strong hands and above-average bat speed; understands how to maximize power; can turn around good velocity; improved pitch recognition; needs to work deeper counts and coax more walks to be a top-of-the-order hitter; improved on-base skills should result in more stolen bases; bat has some serious juice and could yield 15-20 home runs in the major leagues; key to his development will be consistency.
One of the better defensive shortstops in the minor leagues; instinctual defender with quick feet; showcases excellent body control in all directions; smooth actions; plays through the baseball; plus-arm strength more than enough for the position; if Didi Gregorius progresses as the organization hopes, Owings could reach the major leagues as a second baseman.
Keep Reading