5 Realistic Trade Targets for Boston Celtics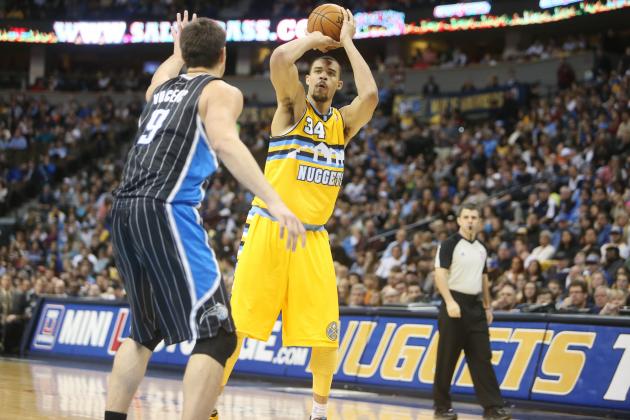 USA TODAY Sports

The Boston Celtics have looked like a different basketball team since Avery Bradley returned to the starting lineup. His ability to smother opposing ball-handlers up and down the court, combined with the controlled chaos he adds to Boston's offense suggests that winning four of their last five is not a coincidence.
But even with the emergence of Jared Sullinger as a growing immovable force, the unknown promise of Fab Melo (whose D-League play has reportedly ruined the confidence of just about everyone who's chosen to attack him in the paint) and the pending return of Chris Wilcox, this team could use another big man in its regular rotation.
The following five players have been ranked, lowest to highest, by both how they'd hypothetically fit with the Celtics, and the likelihood their current teams would be willing to give them up.
All statistics and salary information used in this article were taken from Hoopdata.com, Basketball-Reference.com and Synergy Sports.
Begin Slideshow

»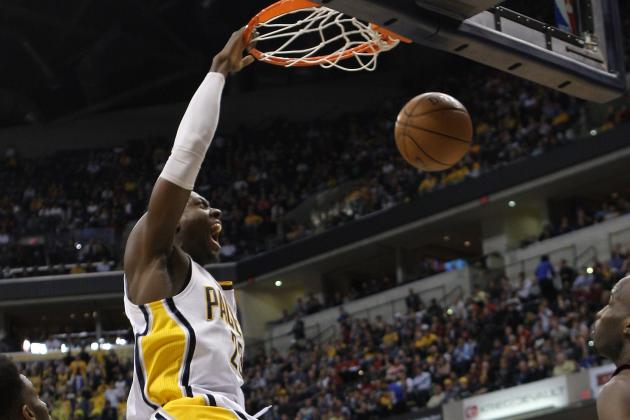 USA TODAY Sports

There are a bunch of reasons why Ian Mahinmi isn't a household name—a prominent one being he isn't great in any particular area on a basketball court. While players like this typically fall through the cracks and aren't given a second contract, Mahinmi is really tall, so explaining why he can help a team like the Celtics should be straight-forward.
Mahinmi is listed at 6'11" and his athleticism translates well to the defensive end. According to Synergy, he's a top-30 overall defender, allowing just 0.74 overall points per possession. And he's ranked fifth against roll men defending pick-and-rolls, allowing 0.65 PPP in 26 opportunities.
He's owed $4 million through 2016 and was ironically traded for a score-first guard to the Pacers—a team that badly needs score-first punch in its backcourt. (Moving him straight up for either Jason Terry or Courtney Lee could be a simple solution.)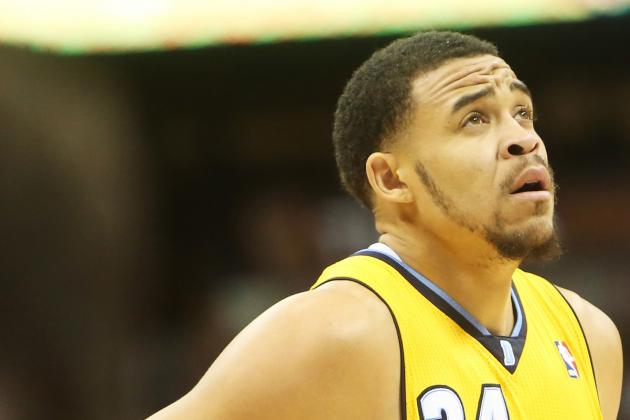 Chris Humphreys-USA TODAY Sports

Without a doubt the most interesting, entertaining and risky player on this list, JaVale McGee combines insane athletic ability (try imagining Rondo to McGee alley-oop opportunities without passing out) with a spacious learning curve. He's 24 years old and still makes a ton of mistakes on both sides of the court—even though he's cleaned up a lot of the garbage we saw take place in Washington.
This year he's posting career highs in PER and True Shooting Percentage, basically evolving into an efficient yet not dependable scorer while still blocking a silly number of shots (he's second in the league in block percentage, and Denver allows the lowest field goal percentage at the rim in the league for opposing teams).
The Nuggets have a plethora of seven-footers, and losing their least stable/most expensive one is certainly a possibility.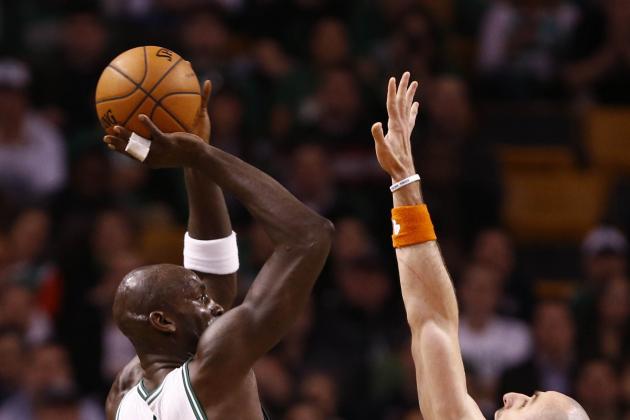 USA TODAY Sports

Gortat is one of the sexier names available—and with good reason. He's an absolute monster on the block—averaging 0.98 points per possession in post-up situations (good for 11th in the league), per Synergy—and a gigantic human being that defenses must always give their undivided attention.
But he's third here for the simple reason that he's the fifth-leading scorer on a team devoid of talent or direction. It's a situation that screams for a player like Gortat to stuff a box score, but for whatever reason he hasn't been able to. His per-36 minute rebounding numbers have been a career worst, and his PER is below his career average.
Despite looking like a 48-year-old man, Gortat is only 28. He's one of the 10 best shot-blockers in the league and has shown a consistent ability to knock down the open 18-footer. Overall, bringing him to Boston wouldn't not be a good idea.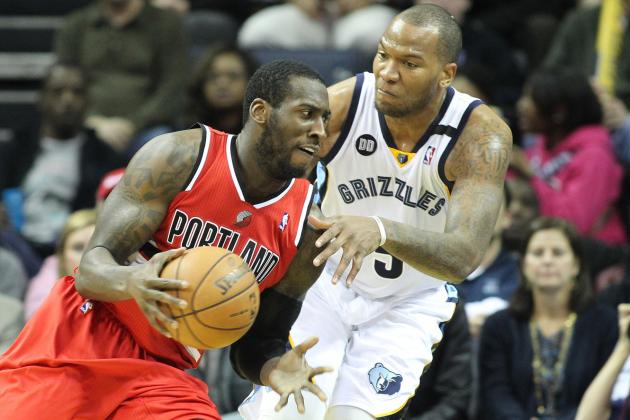 USA TODAY Sports

So far this season the Trail Blazers have vastly exceeded expectations with their potential pursuit of a playoff spot, and a huge part of that is the unexpected solid play of starting center J.J. Hickson. (Through 35 games with Sacramento last season, his PER was 9.9; through 33 games with Portland this season, his PER is 20.5.)
Hickson is playing out 2013 on an expiring $4 million contract, so the Trail Blazers have somewhat of a motivation to move him, but they're currently $2 million under the salary cap with a decent chunk of space next year to make a run at some productive players in free agency. So if they were to take anything back, it wouldn't be long term and it wouldn't be expensive.
If Portland manages to live up to its preseason expectations by falling out of the playoff hunt, Hickson could be as good as gone, with the idea being that rookie center Meyers Leonard can slide into a starter's spot.
Should this happen, the Celtics would be happy to have him. Hickson has finally recognized his place in the league, and it's as a rebounder (he's fifth in rebounds per game with 11.0, and fourth in offensive rebounding percentage with 15.4 percent). He's also knocking down a ridiculous 52 percent of all shots from 16-23 feet, which would fit nicely with Boston's admiration for that shot.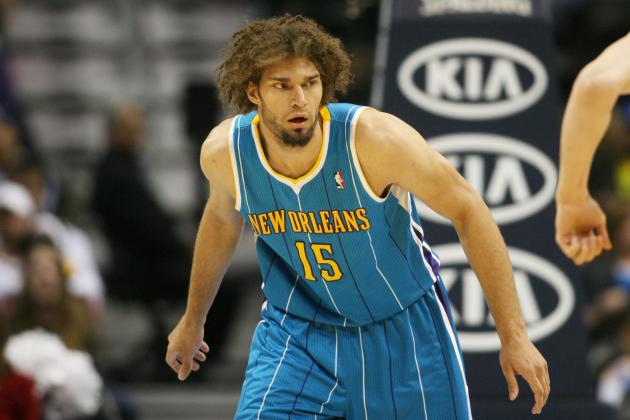 Chris Humphreys-USA TODAY Sports

Robin Lopez has made remarkable strides in his overall game since going from Phoenix to New Orleans. And him standing seven feet tall with a contract that's non-guaranteed for the next two years makes him an especially attractive asset on a team going nowhere in the short term. Eventually New Orleans will likely shift its Rookie of the Year candidate, Anthony Davis, to center (if only to get Ryan Anderson into the starting lineup), which would leave Lopez out in the cold.
Lopez is shooting 40 percent on over one attempt per game from 16-23 feet while posting career-best efficiency numbers at the rim. For his size he isn't a great rebounder (7.9 per 36 minutes), but the positive impact he brings to offense as a rolling big man capable of drawing defenders to the paint is unquestionable.
And his defense hasn't been bad. According to Synergy, the lesser-known Lopez twin leads the entire league in defending pick-and-roll roll men, allowing just 0.29 points per possession on 28 opportunities. He's also seventh in the league in block percentage. The Celtics would love to have him.