Percentage Predictions for the 2014 Baseball Hall of Fame Voting Results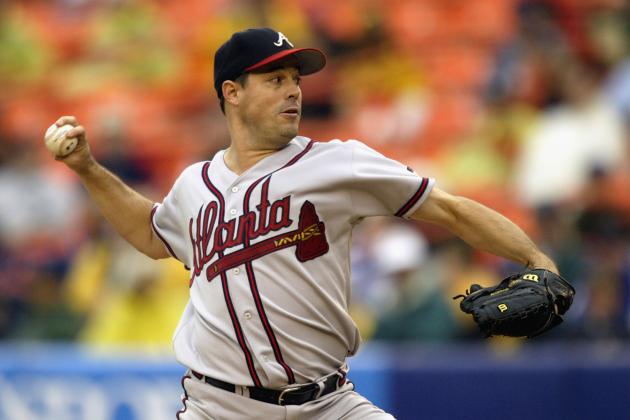 Chris Trotman/Getty Images
Will Greg Maddux get the call to Cooperstown in 2014?
The ballot for the 2013 Baseball Hall of Fame vote was absolutely loaded. It featured the all-time home run king, arguably the best right-handed pitcher ever and assorted other legends.
In an announcement that came as a surprise to, well, nobody, none of them got in. Thanks to Steroid Era suspicions, statistical arguments and other such nasty things, this year's Hall of Fame ceremony promises to be a real snoozer.
But things will be better in 2014. Between the holdovers and the noteworthy new additions, the 2014 Hall of Fame ballot is going to be even more star-studded than the 2013 ballot. Somebody is going to get in.
We'll find out in a year's time, but I'm going to hit you with some predictions for the top-10 vote-getters right now.
Note: Stats courtesy of Baseball-Reference.com unless otherwise noted.
Begin Slideshow

»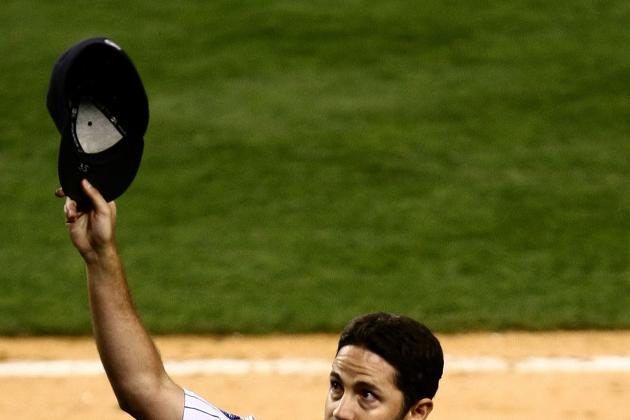 Chris McGrath/Getty Images
Mike Mussina
Fred McGriff
McGriff was hurt by the influx of new stars on the ballot in 2013. He went from 23.9 percent of the vote in 2012 to a mere 20.7 percent this year. He may get in one day, but he has neither the stats nor the star power to make a significant jump in what will be a very crowded ballot.
Prediction: 24 percent
Alan Trammell
Trammell seemed to be making progress in 2012 when he went from 24.3 percent of the vote up to 36.8 percent, but he went back down to 33.6 percent this year. With even more legends on the ballot next year, he's going to have a hard time standing out and accumulating votes.
Prediction: 31 percent
Curt Schilling
Schilling has a strong Hall of Fame resume, but he's going to be punished by the voters' foolish attachment to 300 wins as a measuring stick for pitching greatness. Thanks to the new additions, a decline is waiting for him in 2014 after getting 38.8 percent of the vote this year.
Prediction: 33 percent
Mike Mussina
Mussina's Hall of Fame candidacy is a lot stronger than many people probably realize, but he's going to end up being just as underappreciated in the voting as he was during his career. He'll be largely overlooked in his first year on the ballot.
Prediction: 37 percent
Lee Smith
Like McGriff and Trammell, Smith also went backwards in 2013, going from 50.6 percent to 47.8 percent. He has his supporters, but he got lost in the shuffle in 2013 and should get lost in the shuffle again in 2014.
Prediction: 40 percent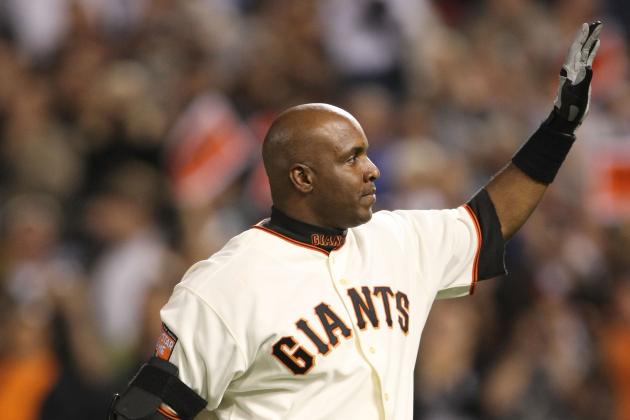 Jed Jacobsohn/Getty Images

2013 Percentage: 36.2
2014 Prediction: 41
Nobody should be surprised that Barry Bonds didn't get elected to Cooperstown in his first year of eligibility. The only real surprise was that he got as much as 36.2 percent of the vote.
The stage has been set for a long, uphill climb for Bonds to get in the Hall of Fame. For him to actually get 75 percent of the vote, the voters are going to have to get over their anger with his role in the Steroid Era and the Steroid Era in general.
That's going to take a while. Bonds may be the all-time home run king(*) and generally one of the greatest players ever(*), but the voters have made it clear that they trust players from the Steroid Era about as far as they can throw them. And as if it wasn't bad enough that he had few fans in the media to begin with, Bonds is the poster boy for the Steroid Era.
However, tainted though they may be, Bonds' career numbers are jaw-dropping enough to a point where he should be able to avoid moving backwards in the voting, a la Mark McGwire and Rafael Palmeiro. There may also be a small section of voters that just didn't want to vote for Bonds this year.
Thanks to these voters and the voters who are sure to be converted over the next 12 months, Bonds should experience a modest rise in 2014.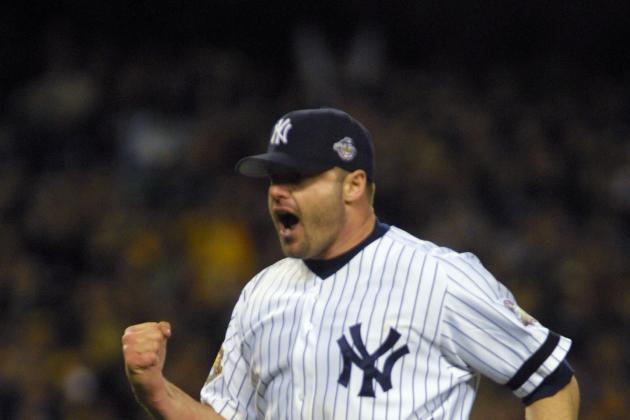 Al Bello/Getty Images

2013 Percentage: 37.6
2014 Prediction: 44
The voters treated Roger Clemens as if he's just as guilty of juicing as Bonds is, giving him only 1.4 percent more of the vote than they gave Bonds.
It's understandable that there's so much suspicion surrounding Clemens, as his legacy was permanently smeared the moment he emerged as a star character in the Mitchell Report back in 2007. But the assumption that he was a juicer is just that: an assumption.
We know now that the Mitchell Report is not exactly gospel, and we also know that it is not an established fact that Clemens used PEDs during his career. No positive test has ever turned up, and the one guy who has ever claimed firsthand knowledge of his alleged PED use crashed and burned as a witness in court.
This doesn't mean people shouldn't be suspicious of Clemens. It just means they should accept that there's a very reasonable doubt as to whether he used PEDs.
The existence of this reasonable doubt gives Clemens an advantage over Bonds, as it will likely mean more converts for him over the next 12 months. In addition, he may also have reluctant supporters who just didn't want to vote for him the first time around.
If so, he's due for a bigger rise in support than the one Bonds is going to get.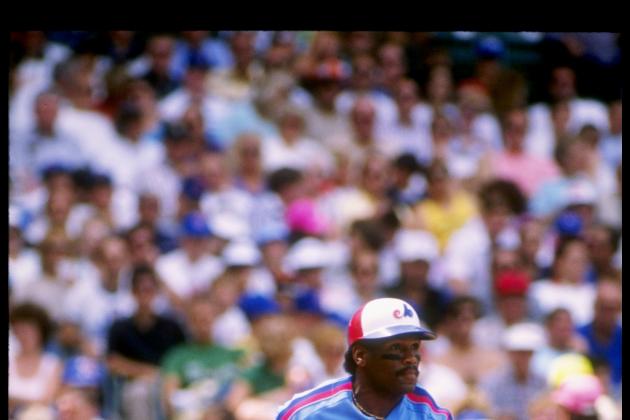 Jonathan Daniel/Getty Images

2013 Percentage: 52.2
2014 Prediction: 56
Tim Raines is getting there. He went from getting 37.5 percent of the vote in 2011 to 48.7 percent in 2012 to 52.2 percent this year.
This is proof that the campaign for Raines among the sabermetrics community is having the desired effect. Slowly but surely, he is gaining support as one of the most underrated all-time greats in baseball history.
Any voters—and fans, for that matter—who are skeptical of sabermetrics should still be able to appreciate Raines' accomplishments. He led the National League in stolen bases four straight seasons early in his career, and he's one of only three players in history with more than 800 career steals and a career OBP of better than .385.
The others are Rickey Henderson and Ty Cobb.
Raines' progress is likely to be slowed by the new stars who will be joining the ballot in 2014, but only to a degree. Look for him to inch a little closer to getting the call to Cooperstown.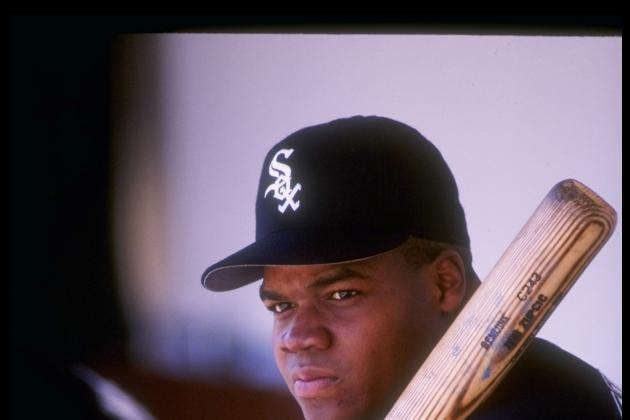 Otto Greule Jr/Getty Images

2013 Percentage: N/A
2014 Prediction: 60
Frank Thomas has as many career home runs as Willie McCovey and Ted Williams, his .974 OPS is good for 14th all time and he has the same career OPS+ as Willie Mays.
Nonetheless, he's not going to get into the Hall of Fame in his first year on the ballot in 2014.
A couple things are working against The Big Hurt. The simplest is the fact that he did much of his career damage as a designated hitter, a position that has thus far been frowned upon by the voters. Just look at poor Edgar Martinez, who is a long way from gaining entry into the Hall of Fame despite being one of the best right-handed hitters in history.
Then there's the fact that Thomas is from the Steroid Era, which will hurt him by default. He'll also be hurt by the fact that he was a very, very big man during his playing days. There are bound to be a few voters who take that as a sign that Thomas was a juicer, even though he was gigantic from the moment he first entered the league in 1990.
Thomas is going to come fairly close to getting elected thanks to his truly excellent career hitting numbers, but the circumstances surrounding his career will keep him out.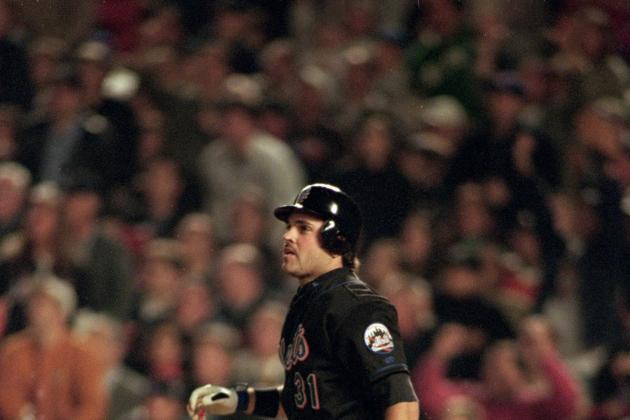 Al Bello/Getty Images

2013 Percentage: 57.8
2014 Prediction: 64
Like with Bonds and Clemens, it was not a surprise that Mike Piazza fell well short of getting 75 percent of the vote in his first year on the ballot.
What's different about Piazza is that there are no convincing arguments for why he shouldn't be in the Hall of Fame. He didn't get in this year just because, apparently.
Piazza had the numbers to warrant a first-ballot ticket to Cooperstown. He is the greatest hitting catcher in baseball history, as he's the all-time leader among catchers in home runs, OPS and OPS+.
Piazza may have played during the Steroid Era, but his actual ties to steroids are as weak as can be. The only evidence voters have against him is back acne, a phenomenon that has been known to be caused by things other than PEDs (genetics, for example).
Some voters will come to their senses over the next year. Others who denied Piazza first-ballot votes will also lend him their support in 2014.
He should be due for a nice jump in the voting, but it's likely to take a couple years for him to get to 75 percent.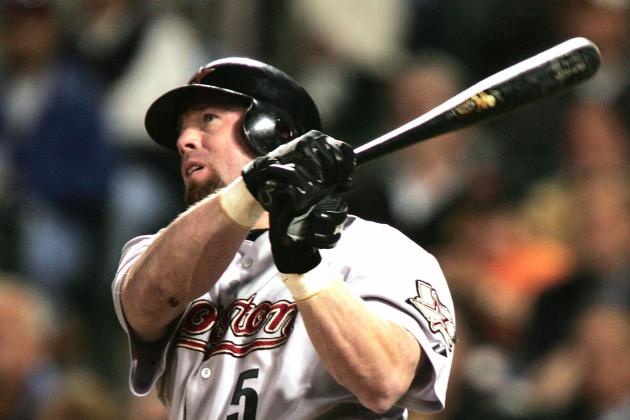 Jed Jacobsohn/Getty Images

2013 Percentage: 59.6
2014 Prediction: 67
Like Tim Raines, Jeff Bagwell is getting there. After getting only 41.7 percent of the vote in his first year on the ballot in 2011, he's now almost to 60 percent.
It's a good sign that Bagwell is making progress. It would seem that voters are recognizing that he's one of the most well-rounded first basemen in baseball history, and that he did an awful lot of damage (449 home runs) in what was only a 15-year career.
It would also seem that voters are getting over their entirely baseless suspicions of what Bagwell was putting into his body during his playing career. Aside from the reality that he was as big as a house, Bagwell has no ties whatsoever to PEDs.
Bagwell has the best shot of any Steroid Era slugger of getting the call in 2014, but he's still going to be a fair amount of votes short of election in 2014. He still has critics to win over, and he's going to be hurt by the new stars on the ballot next year.
He'll get there one day, but probably not for a couple more years.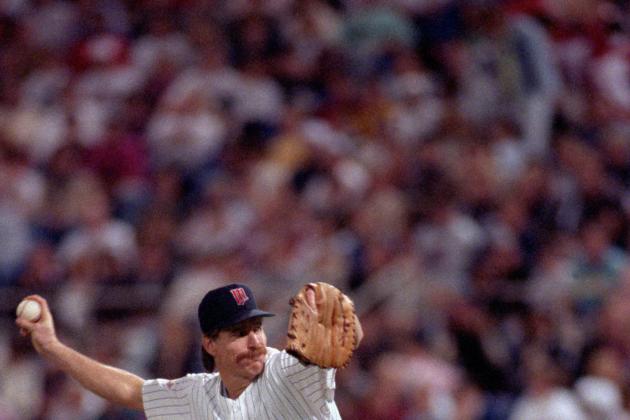 Rick Stewart/Getty Images

2013 Percentage: 67.7
2014 Prediction: 69
Jack Morris had a very legit shot at getting elected this year. He went from getting 53.5 percent of the vote in 2011 to getting 66.7 percent in 2012, and his supporters this year were once again very vocal.
Instead, the support for Morris barely increased at all.
That's partially thanks to the crowded ballot, as those who were on the fence about Morris getting in had plenty of other candidates to consider over him.
Then there are those who may never vote for Morris, who are just as positive that he shouldn't be in the Hall of Fame as those who think he should be.
Those who don't want Morris in the Hall of Fame have a legit gripe. Strip away his 254 career wins, and he has the numbers of an average pitcher. His 3.90 career ERA would become the highest among Hall of Fame pitchers, and his 105 career ERA+ would place him above only Rube Marquard and Catfish Hunter.
The push-back against Morris' candidacy will still be strong in 2014, and he'll have even more stars to contend with for votes.
He's due for only a slight rise in the voting.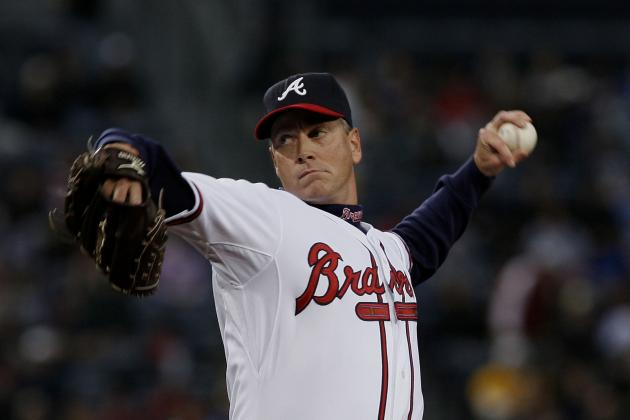 Mike Zarrilli/Getty Images

2013 Percentage: N/A
2014 Prediction: 78
Yes, Tom Glavine will be a first-ballot Hall of Famer.
Glavine certainly has the numbers to warrant selection. He's a member of the oh-so-important 300-win club, and he also owns a respectable 3.54 career ERA and a 118 career ERA+.
Among left-handers, Glavine ranks sixth all time in bWAR (Baseball-Reference.com's version of WAR) in between Steve Carlton and Carl Hubbell, both of whom are in the Hall of Fame. His case is further helped by his two Cy Young awards.
Though Glavine played through the Steroid Era, he's going to escape suspicion of using PEDs because he didn't succeed because he was blowing away hitters when he took the mound. He was a true pitcher, using location and deception rather than velocity to get hitters out.
There will be arguments against Glavine's Hall of Fame candidacy, but they won't be strong enough to keep him out. They'll only succeed in keeping him close to 75 percent.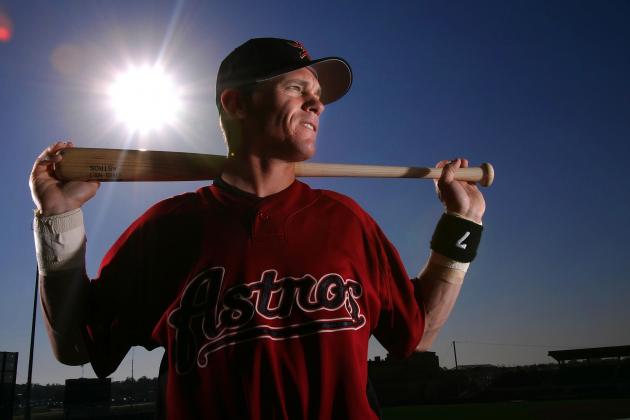 Carlo Allegri/Getty Images

2013 Percentage: 68.2
2014 Prediction: 82
Yes, Craig Biggio will also be getting into the Hall of Fame in 2014.
He came closer than anyone to getting in this year, as his 68.2 percent of the vote placed him just ahead of Jack Morris among the 37 candidates.
It was a sure bet all along that Biggio would be the leading vote-getter, even if he didn't get in. Of all the Steroid Era players on the ballot, he was the one guy who stood out as being probably the most innocent of the bunch.
This isn't going to change over the next 12 months unless somebody comes up with shocking (and convincing) evidence that Biggio used PEDs. Since that's unlikely to happen, Biggio will maintain his reputation as a player who must have been clean during his playing days.
It's not as if he was an elite power hitter, after all. Biggio was only ever a solid hitter, and he was solid long enough to collect 3,060 career hits. His membership to the 3,000-hit club didn't get him a ticket this year, but it will next year.
It also helps that Biggio is one of only two players in history with 3,000 hits, 400 stolen bases and 290 home runs to his name. The other is Rickey Henderson.
His call to the Hall of Fame will only be overdue by a year.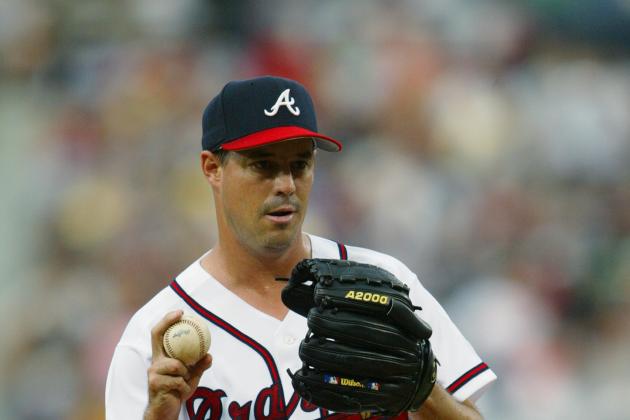 Jamie Squire/Getty Images

2013 Percentage: N/A
2014 Prediction: 91
I'm about 90 percent certain that Glavine and Biggio are getting into the Hall of Fame in 2014. I'm 100 percent certain that Greg Maddux will get the call as well.
Maddux has it all going for him. His 355 career wins are good for eighth on the all-time list. He won four straight Cy Young awards between 1992 and 1995. He led the league in ERA four times, in innings pitched five times and in WHIP four times.
Among right-handers, Maddux's career ERA+ of 132 ties him for 13th all-time with Spud Chandler. His career bWAR of 99.4 places him fifth among right-handers behind Tom Seaver.
Nobody is going to bother questioning whether Maddux achieved his career numbers the right way. He didn't have great velocity during his heyday, and he was able to remain a successful pitcher as his fastball got slower and slower in the late 1990s and into the 2000s.
Control and unparalleled smarts made Maddux a successful pitcher, not physical prowess. Voters are going to be well aware of that when they fill out their ballots.
And in the end, they'll make Maddux a more-than-deserving addition to the Hall of Fame.
If you want to talk baseball, hit me up on Twitter.