It's the deep breath before the plunge for the New England Patriots and Houston Texans.
Sure, that's a bit of a shoehorned Lord of the Rings reference, but it's weirdly appropriate.
New England, the great evil rising from the East after a long (two-week) dormancy, is ready to strike in pursuit of total domination and the elusive ring that will cement their dynasty. Meanwhile, the Texans are heading right into the belly of the beast with little hope of survival against a seemingly unending army of New England weapons on offense.
The only problem with this metaphor is that the Pats can much more realistically lay claim to Frodo Baggins and Samwise Gamgee than Houston.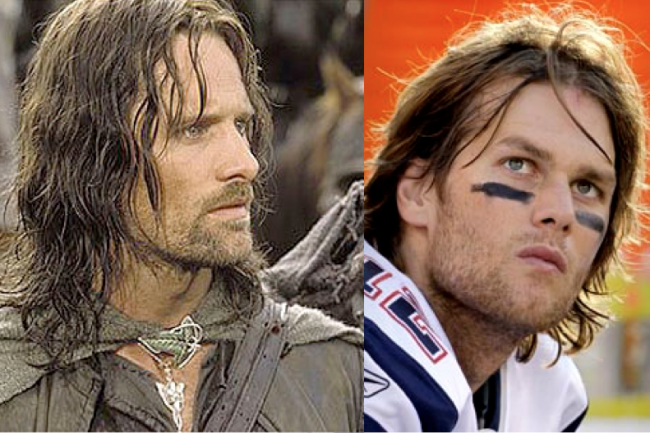 Okay, I think I've compared my favorite team to the greatest evil J.R.R. Tolkien could imagine for long enough. Time to analyze how Sauron's army, err, I mean coach Bill Belichick's defense can shut down the opposition in pursuit of that long-lost ring.
Win the Trenches and Collapse the Pocket
Belichick said on Wednesday that "you don't win a war digging a foxhole."
While he was referring to the aggressiveness with which his team needs to play against the Texans, it's an interesting statement for a game will almost surely come down to trench warfare.
The key, as per usual, will be Vince Wilfork, who left a sizeable paw-mark on the first meeting between these two teams.
Indeed, according to ProFootballFocus' grading metrics, Wilfork had his best game of the season against Houston, which is saying something for a Pro Bowl starter.
Let's take a look at just one of his many impact plays in that Week 14 matchup.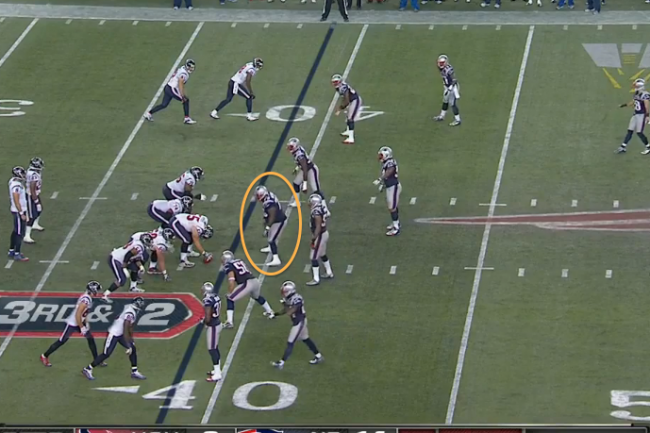 The Pats line up in the 3-2-6 dime (six defensive backs—the deep safety is off-screen) to counter the Texans' four-WR set.
Wilfork is in the orange circle in the middle.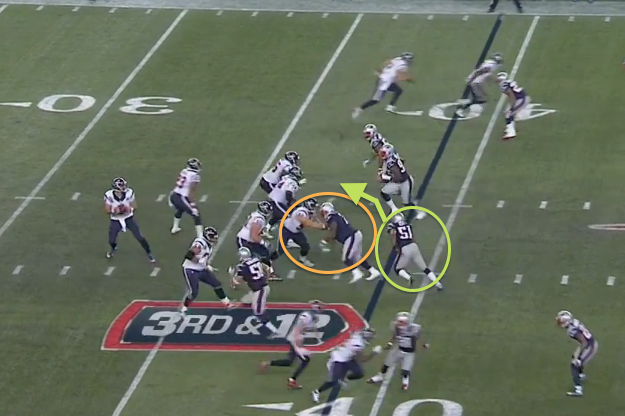 At the snap, Wilfork gets his hands on center Chris Myers quickly, preventing a cut-block. LB Jerod Mayo (green circle) stunts to the left A-gap, creating an overload on that side (three rushers, two blockers).
RB Arian Foster picks up the extra man, but not until the offensive line has adjusted to the overload—which, as you'll see, leaves Wilfork with a one-on-one in space.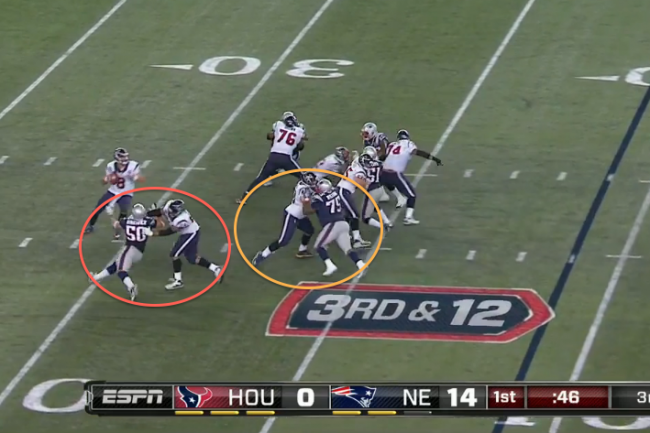 See? Told you.
The Texans run a zone-blocking scheme, so Myers passes Wilfork to RG Ben Jones in order to pick up Mayo. Jones' list weight is 30 pounds less than Wilfork's, and the actual differential is probably even greater. Not a good matchup for the Texans.
Along the outside (red circle), you can see Rob Ninkovich gaining the edge. Of course, as is usually the case, a decent tackle can stiffen his arms and leverage the rusher past the pocket. That's what happens here.
While Ninkovich's edge rush forces Texans QB Matt Schaub to step up, it's the interior rush of Wilfork that really decides this play.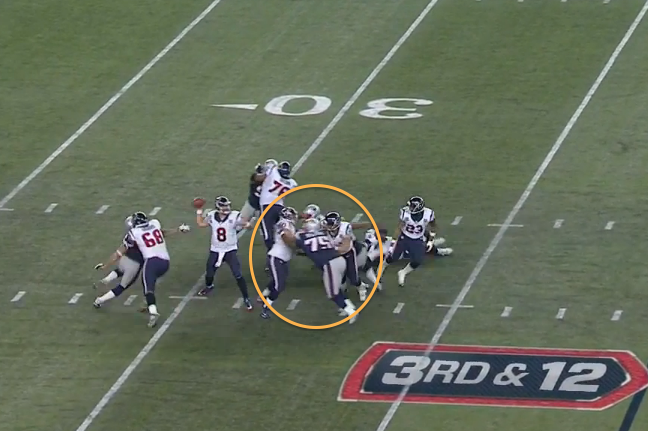 A big mess and a couple of cheap, albeit legal, cut blocks later, and Wilfork has driven his man right back into Schaub (just ask Mark Sanchez how that feels). He's garnered a little extra attention now from his right, but it's too late—Wilfork is now right on top of the play.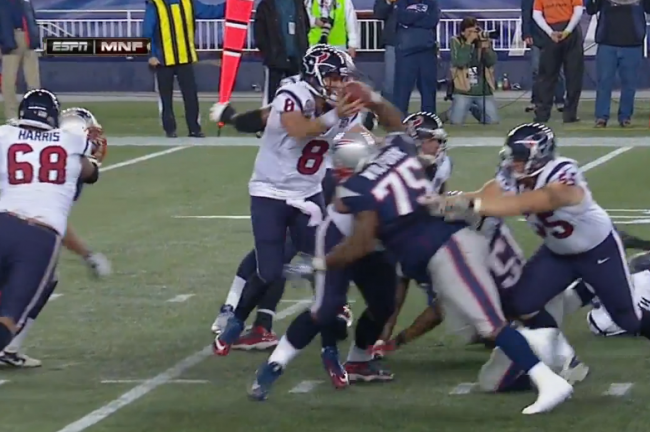 Wilfork is too much for the Texans' line, and his extra effort at the end is enough to poke the ball out of Schaub's hands for the fumble.
This kind of domination at the line by the Pats will make it impossible for Schaub to run through his secondary reads. Interior pressure is often talked about as the bane of Tom Brady, but that's only true insofar as it's the bane of every quarterback ever.
If the Pats can manhandle Houston's interior line again in the Divisional round, they'll most likely be punching a ticket to the AFC Championship Game.
Keep Your Feet and Maintain Gap Discipline Against the Run
Yeah, this is a big one.
The Texans' zone-blocking scheme often leaves opposing defenses vulnerable to cutbacks as they over-pursue down the line and get shoved one direction while the runner goes the other way. That's especially true with a running back like Arian Foster, who is a master at making smart, hard and effective cuts at the line.
The first step, of course, is to avoid those nasty cut-blocks. That's almost certainly something Belichick has had his players working on against Houston—Wilfork in particular seemed to do a very good job of holding the point of attack in Week 14.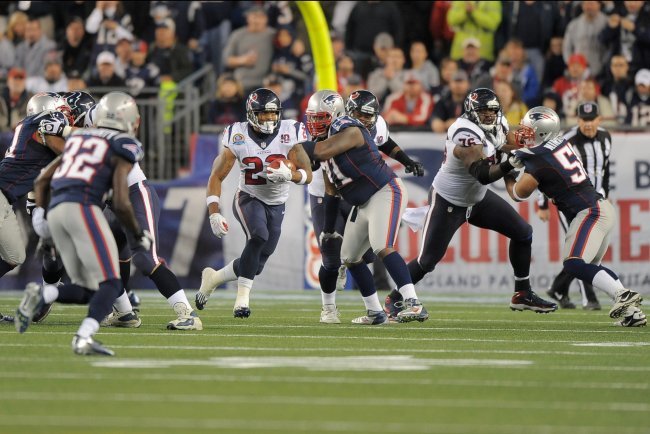 USA TODAY Sports
Believe it or not, the Pats can actually draw some inspiration from New York Jets head coach Rex Ryan on this one. ProFootballTalk's Mike Florio touched on this about a year and a half ago:
What Rex Ryan uses is a big red ball, and he pushes it into the legs of the lineman [as they're engaged high] and they're told to push down on it and push it away while they keep their feet. Over time, they get better at keeping their balance and pushing away the things that are hitting them low.
Oftentimes, if you can get that cut-blocker out of your way, your original engaged blocker will have already peeled off upfield—leaving you with a clear path to the quarterback.
AFC East lead writer Eric Frenz broke down how the Texans use cut-blocks (and how the Pats engaged early and generated good push to counteract them in Week 14) in a recent article.
Unfortunately, there's a fine line with cut-blocks—and the Texans themselves have been hurt by them this year.
Once they've gotten past those knee-twinging cut-blocks, the Pats still need to bring down the ball-carrier. With the Texans likely to dedicate a lot of attention to Wilfork, a lot of the onus in stuffing Foster will come down to the Pats' linebackers.
That includes Brandon Spikes, the NFL's fourth-best run-stuffer per ProFootballFocus, though he's struggled in recent weeks. He had his worst game since Week 3 against the Texans, grading out negatively in pass coverage and run defense.
The Pats will need Spikes to be his usual aggressive self in the second level in order to put pressure on the Texans' zone scheme.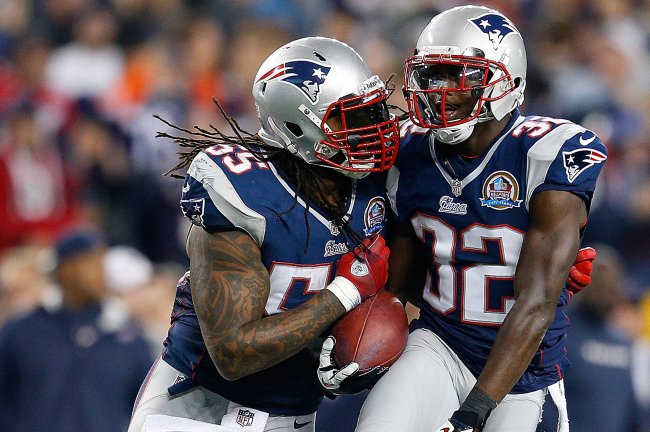 Jim Rogash/Getty Images
As we saw in the Wilfork play diagrammed above, aggressive linebackers like Mayo on the stunt can throw off a zone-blocking scheme, leaving some defenders double-teamed and others in mismatches.
To that end, Spikes' aggressive play (and occasionally worrisome tendency to sell out to a gap) benefits the Pats. But New England needs a counter-balance to that aggression, and that has to come from Mayo and rookie LB Dont'a Hightower, who both graded out positively on ProFootballFocus in the first Pats/Texans meeting.
At their best, Mayo and Hightower are disciplined backers who pursue down the line and set the edge well (though Hightower is a bit slow to the outside). They need to be at their best for the Pats to shut down the Texans.
It's been said a few times, but it's worth repeating. Houston isn't really a game-plan team—they like to do what they do best in any given game, and what they like to do on offense is run to set up play-action.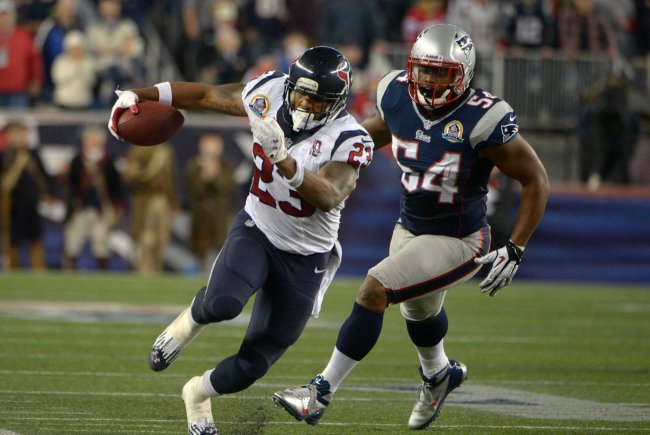 USA TODAY Sports
If the Pats can maintain gap discipline early—at both the first and second level—it will prevent over-pursuit against the run as the game progresses. That will affect Houston's ability to do anything it wants to do offensively, and ultimately it will force the game into Matt Schaub's hands.
That's exactly what the Pats want.
Clamp Down on Texans' Receiving Weapons
So we've touched on the first two levels of the defense—it's only fair that we give a little shout-out to the back end of the Pats' D.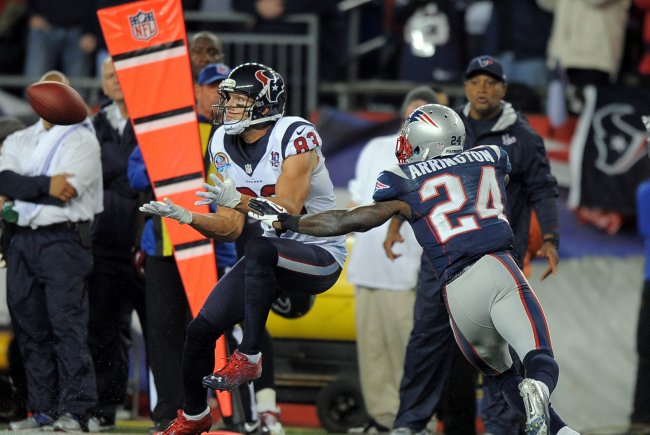 USA TODAY Sports
After all, the secondary was a big part of holding the Texans to just seven points before the legendary Ryan Mallett-to-Visanthe Shiancoe connection faltered and the Texans were set up with an easy garbage-time TD late in the fourth quarter.
The relationship between rush and coverage is, of course, symbiotic—great penetration on the interior rush makes the secondary's job easier, and good coverage buys the defensive line time to reach the QB.
But the Pats' secondary had an inarguably awesome game against the Texans in Week 14.
One of the stars was Aqib Talib, who cemented his status as a top CB in that game. Though the Pats like to assign their CBs to one side of the field and leave them there, they bucked that trend against the Texans by having Talib shadow top WR Andre Johnson.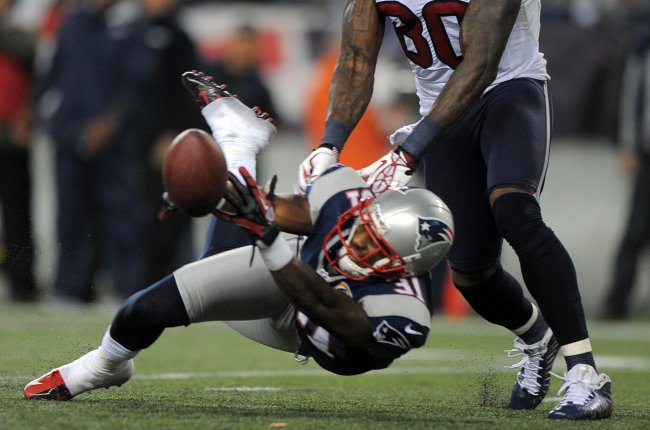 USA TODAY Sports
Talib and the Pats' defense shut down Johnson, with Talib yielding just three catches for 42 yards on five targets in 35 snaps per Dave's Breakdown.
Talib injured his hip on a near-interception in that game, and his health will be something to monitor in this game—the Pats will sorely need him healthy to shut down Johnson again.
Talib's counterpart, Alfonzo Dennard, also fared well in covering a smattering of Johnson, Kevin Walter and Lestar Jean, yielding three catches in 53 snaps.
Beyond Johnson, the real weapon the Pats must contain is TE Owen Daniels. Daniels is Schaub's security blanket, and the Texans' QB looked much more comfortable on Wild Card Weekend when he had Daniels as an option. The big TE racked up a game-high 91 yards receiving on nine catches in a win over the Cincinnati Bengals.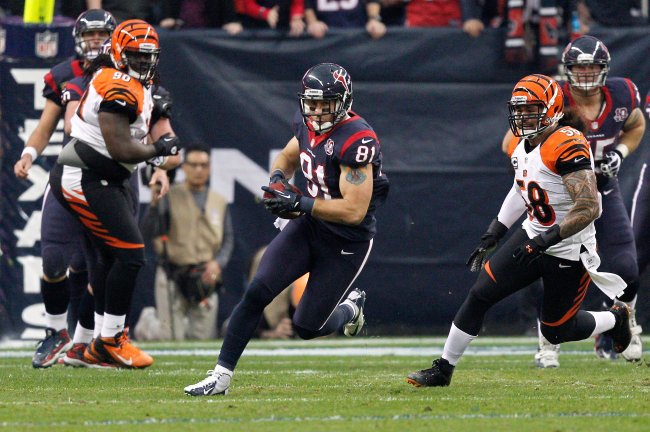 Bob Levey/Getty Images
Schaub's comfort zone is the middle of the field—he can't consistently make the throws to the sidelines. The Pats know that and bracketed Daniels heavily in Week 14, holding him to his second-lowest receiving total of the season (24 yards on two catches).
The Pats will likely bracket him again, with a coverage LB (perhaps Rob Ninkovich) underneath and a safety over the top.
If the Pats can take away Schaub's outlet and force him to make throws he isn't comfortable making, this game won't be close.