Seahawks vs Falcons: Who Has the Edge at Every Position?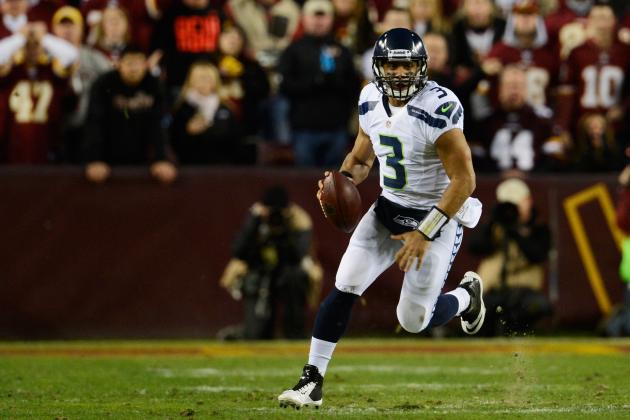 Patrick McDermott/Getty Images

The Seattle Seahawks will look to continue their magical run against the Falcons in Atlanta this weekend.
While Russell Wilson's group comes in scorching hot, Matt Ryan's team is hungry for its first playoff win of the Mike Smith era and did lead the NFC with 13 wins in 2012.
Which team holds the edge in every positional matchup?
Let's take a look.
Begin Slideshow

»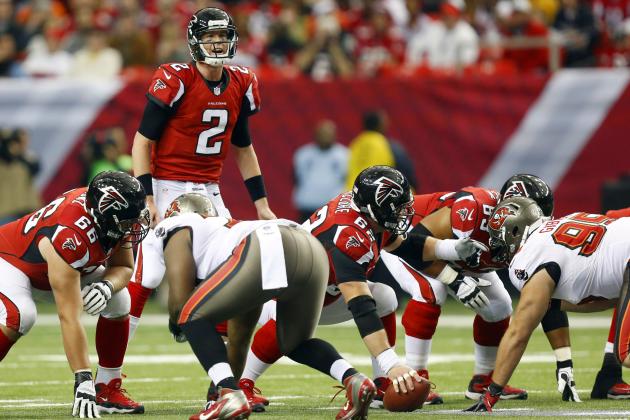 Josh D. Weiss-USA TODAY Sports

Russell Wilson finished with a QB rating .9 points higher than Matt Ryan during the regular season, but the Atlanta Falcons' signal-caller was much more of a volume passer.
He attempted 222 more passes than Wilson and accumulated 1,600 more yards through the air along with six more touchdowns.
However, Ryan threw four more interceptions.
Much of the statistical disparity speaks to each team's respective offense—Seattle's being far more balanced in 2012.
In the final month of the year, Wilson and Ryan had comparably impressive numbers, so although the Seattle Seahawks' quarterback is the trendy guy entering this game, it's hard to say he is the "better" signal-caller in this matchup.
EDGE: Falcons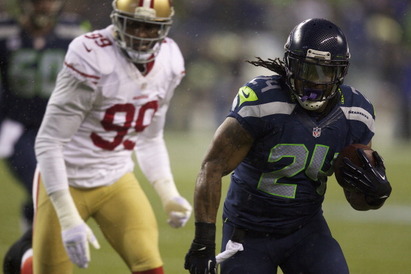 Stephen Brashear/Getty Images

Marshawn Lynch has always been a powerful and deceptively shifty runner, but with the read-option threat of Russell Wilson, the play of the former Buffalo Bills feature back has elevated to en elite level.
Over the last five games, Lynch, who finished third in rushing yards in 2012, has accumulated 584 yards at nearly 6.9 yards per carry.
Meanwhile, the thick-legged and relatively burst-less Michael Turner has totaled 208 yards at a 3.85 yards-per-carry clip over his last five outings.
Jacquizz Rodgers is a nice change-of-pace option for the Falcons but certainly isn't isn't any more effective than Robert Turbin is behind Lynch.
This one's not even close.
EDGE: Seahawks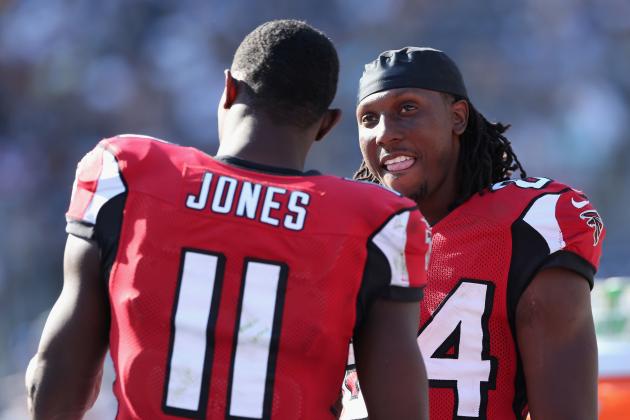 Jeff Gross/Getty Images

Roddy White and Julio Jones combined for 171 receptions, 2,549 yards and 17 touchdowns in 2012.
They complement each other extremely well and both played the role as deep threat and chain-mover this season.
In a more run-heavy offense, Sidney Rice and Golden Tate combined for 118 grabs, 1,436 yards and 15 touchdowns.
So, while Seattle's top receivers are far from pedestrian and are capable of making big plays, Atlanta's White and Jones pose much more of a threat.
EDGE: Falcons
USA TODAY Sports

Tony Gonzalez is a future first-ballot Hall of Famer, and he had one of the best statistical seasons of his career in 2012 with 93 receptions for 930 yards and eight touchdowns.
He's a prime red-zone target for Matt Ryan with good reason.
When they're not run-blocking, the Seahawks like to use their tight ends Zach Miller and Anthony McCoy on high percentage play-action bootlegs which typically gain minimal yardage.
Miller and McCoy combined for 56 catches, 687 yards with six touchdowns this year.
EDGE: Falcons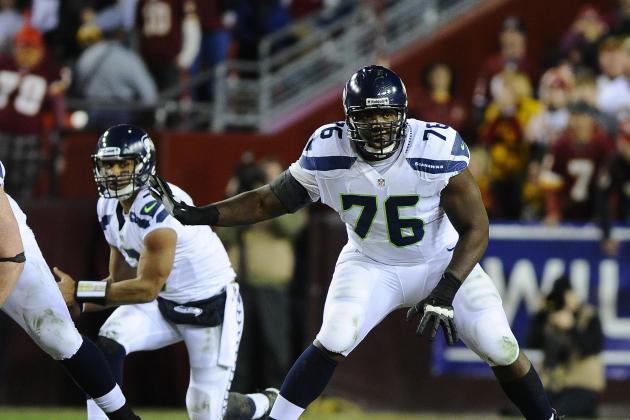 USA TODAY Sports

According to ProFootballFocus (subscription required), the offensive lines of the Falcons and Seahawks graded almost identically in 2012 in terms of pass-blocking.
However, using a more elementary metric, Seattle allowed 33 sacks while Atlanta allowed only 28.
Still, the difference in pass-blocking seems negligible, that is, if there is any pass-blocking difference at all.
Per PFF, the Seahawks were the 13th-best run-blocking team in the NFL, while the Falcons were the 26th-most effective.
Russell Okung is probably the best offensive lineman on either team, as he allowed only one sack during the regular season.
EDGE: Seahawks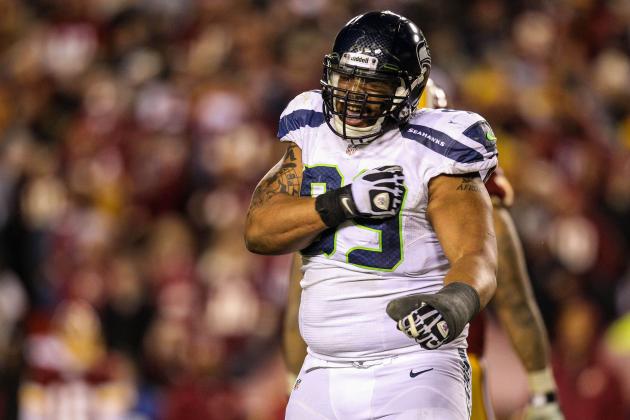 USA TODAY Sports

With a healthy Chris Clemons, the Seahawks would easily have an edge in the defensive line department.
But with their sack specialist sidelined with a knee injury, the defensive line battle is at least worth analyzing.
Seattle racked up 36 sacks during the regular season, while Atlanta struggled to a mere 29 quarterback takedowns, the fifth-fewest in football in 2012.
Without Clemons, theoretically, the Seahawks won't be as intimidating getting after the passer, but they are also more stout, albeit slightly, against the run than the Falcons.
Gus Bradley's crew allowed 4.5 yards per carry this year and 103.1 ground yards per game.
Mike Nolan's squad allowed 4.8 yards per carry and 123.2 yards per outing.
EDGE: Seahawks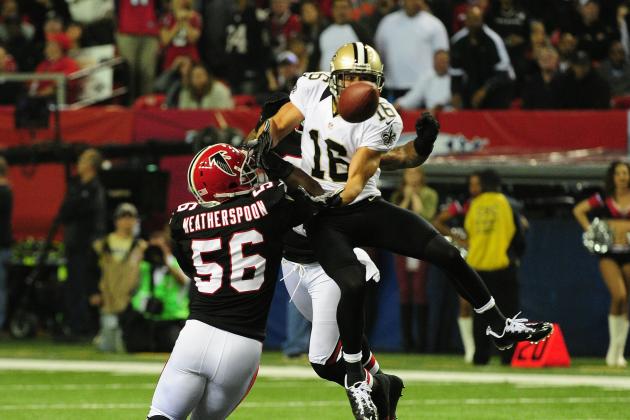 Scott Cunningham/Getty Images

With 140 total tackles, two sacks and three interceptions, middle linebacker Bobby Wagner had a Defensive Rookie of the Year-caliber season.
Next to him, K.J. Wright totaled 98 tackles with one sack and a pick.
On the other side, veteran of the group Leroy Hill wasn't as impactful, but he was far from a liability.
Sean Weatherspoon is the most rangy and athletic linebacker on the Falcons.
In 13 games, he totaled 95 tackles and three sacks.
Akeem Dent had 65 tackles and Stephen Nicholas had 97 takedowns with a sack and an interception.
However, as we all know, it comes down to more than tackle numbers.
This matchup is exceptionally close, and due to more experience and cohesion, the Falcons get the edge.
EDGE: Falcons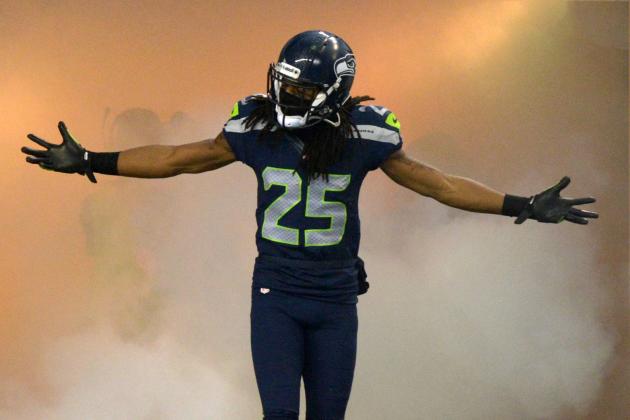 USA TODAY Sports

The Seahawks are known for their rookie quarterback, Marshawn Lynch, and their imposing secondary.
Brandon Browner (6'4'', 220) and the chatty Richard Sherman (6'3'', 195) formulate the largest and most physical outside cornerback duo in the NFL, while Earl Thomas and Kam Chancellor have become an exquisite free safety and strong safety pairing behind them.
Though Asante Samuel, Dunta Robinson, William Moore and Thomas Decoud, almost surprisingly, haven't received as much publicity in 2012, they make up quite the ball-hawking secondary as well.
Seatte's pass defense allowed a 71.8 QB rating in 2012 while the Falcons' pass defense wasn't far behind, as opposing signal-callers averaged a 77.1 QB rating.
Believe it or not, Atlanta reeled in two more interceptions than Seattle this season.
This one is close, but the Seahawks still get the edge due to the ultra aggressive style of play in their defensive backfield.
EDGE: Seahawks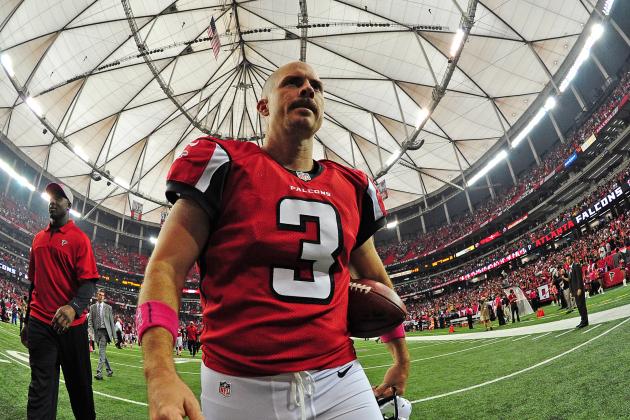 Scott Cunningham/Getty Images

Matt Bryant went 33-of-38 in 2012, and Steven Hauschka made 24-of-27 field goals, which actually represents the better percentage.
However, Hauschka was hurt on on Saturday, and the club signed Ryan Longwell to replace him. The veteran kicker and former Minnesota Vikings made 22-of-28 field goals in 2011, including 2-of-3 from over 50-plus.
However, Bryant was 4-of-4 beyond 50 yards.
The 11-year veteran has attempted and made plenty more clutch kicks in his career.
Seattle ranked second in kick-return average in 2012, while the Falcons were 14th.
Neither team was especially explosive returning punts.
In all likelihood, the field goal kickers will have a moderate impact on this game, so Atlanta gets the nod.
EDGE: Falcons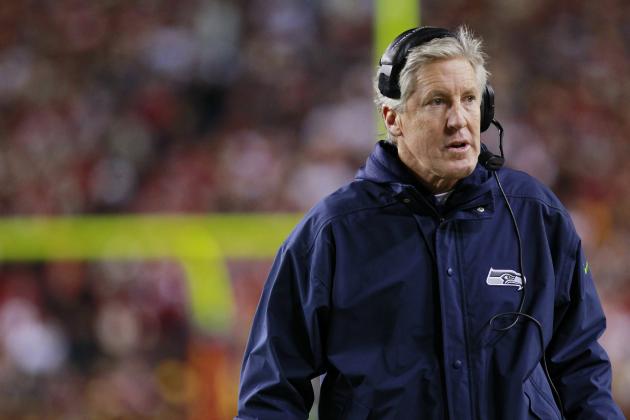 USA TODAY Sports

Mike Smith is a former Coach of the Year, and Pete Carroll is a prime candidate for the award this season.
Both head guys have a secure grasp on their team's strengths and weaknesses, but something has to be said about Smith's 0-3 postseason record.
EDGE: Seahawks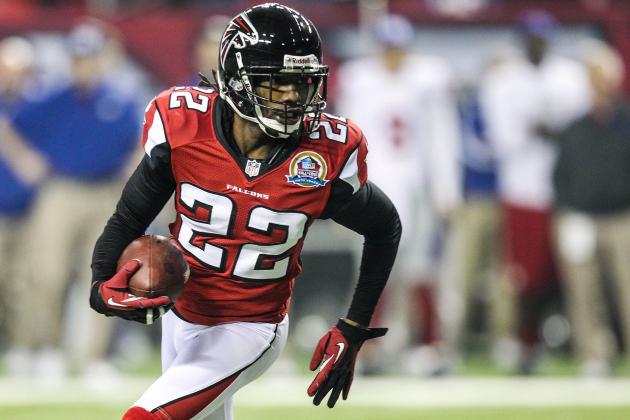 USA TODAY Sports

It's an even split. The Falcons and Seahawks each hold the edge in five categories.
Many of the positional edges were extremely close, especially when it came to the quarterback, linebackers and defensive backs.
It will be interesting to see how each position matches up with its corresponding opposition in what should be a highly entertaining divisional showdown.
FINAL EDGE: Seahawks