Ravens vs. Broncos: Drawing Up Baltimore's Offensive Game Plan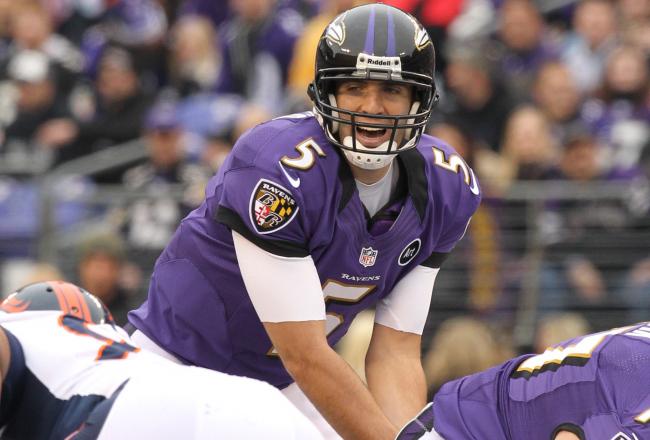 Here's a blueprint for Joe Flacco and company when they face off against the Denver defense on Saturday.
Mitch Stringer-USA TODAY Sports
The Baltimore Ravens travel to Denver to take on the AFC top-seeded Broncos in the divisional round of the NFL playoffs this Saturday, marking the second meeting between the two teams in just under a month.
The hope for the Ravens is that the outcome is different than their first game, which the Broncos won 34-17. In that game, the Ravens offense in particular struggled to get its footing. The score was 17-0 at halftime and stretched to 31-3, until quarterback Joe Flacco connected with tight end Dennis Pitta on two scores in the fourth quarter.
Granted, the loss came just days after the Ravens fired offensive coordinator Cam Cameron and replaced him with Jim Caldwell, and in the time since, the offense has been able to reestablish their identity. That hasn't made Baltimore's offense any less erratic; however, there are clear indications that the switch from Cameron to Caldwell has been of benefit to both their passing and running games.
For the Ravens to defeat the Broncos this week and move on to the AFC Championship game for the second consecutive season, their offense needs to outperform their Denver counterparts.
Here's a game plan for how they can do just that.
Balance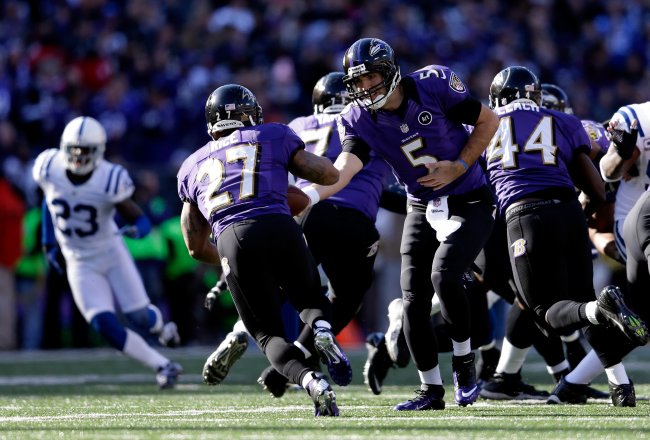 Running the ball cannot be limited to just the first half or when not playing from behind.
Rob Carr/Getty Images
The Broncos defense ranks second in the league in total yards allowed, third in rushing and fourth in passing yards given up per game. No matter how Baltimore's offense approaches them on Saturday, it will be a battle, with yards likely at a premium.
Focusing on running more than passing, or vice versa, isn't the smartest approach—it's best for the Ravens to be as balanced as possible.
Balance is difficult in certain situations, such as playing from behind, but if the Ravens get to a point on Saturday where they completely abandon the run, then hope for victory will fade fast. Their offense isn't built upon Joe Flacco as Denver's is on Peyton Manning—it needs the run, not just to set up passing, but also as a true, functioning, major component of their entire offensive approach.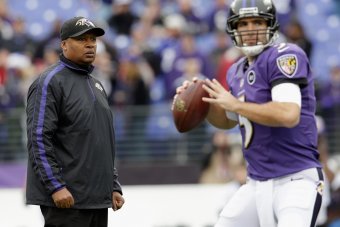 Jim Caldwell's offense has appeared more balanced than Cam Cameron's.
Rob Carr/Getty Images
The first game with the Broncos started with more balance, giving us the first indication that Caldwell's offense would be different from the Cameron era. Even with a deficit, the Ravens didn't give up the ground game.
In the first half, which ended 17-0 in Denver's favor, Flacco threw a total of 15 passes while running backs Ray Rice and Bernard Pierce combined for 12 runs. In the second half, which didn't produce any significant Baltimore scoring until the fourth quarter (with the game well out of hand), Flacco threw an additional 25 more passes, while Rice had just five more carries. Pierce, who suffered a concussion, had none.
Though the passing game ultimately produced two touchdowns, it wasn't until late. The ever-growing hole that the Ravens found themselves in made them abandon the run almost entirely. It may not have been the smartest move.
With a huge gap to close, the Ravens would have been better-served to run the ball more in the second half and try to wear down the Broncos defense. If done successfully, it would also have served to keep Manning's offense off the field, giving Denver fewer opportunities to extend their lead.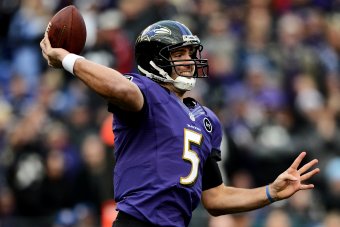 Joe Flacco isn't Peyton Manning, and the Ravens have never needed him to be.
Patrick Smith/Getty Images
The temptation will be there for Flacco to try to mirror Manning's approach and try to engage the Broncos in a shootout. However, with Denver's pass-rushers among the best in the league and Baltimore's offensive line hardly the portrait of consistency, Flacco won't be able to comfortably sit in the pocket drive after drive.
Keeping things balanced will aid Flacco and hopefully decrease some of the pressure on him. It will make the Ravens more unpredictable and harder to defend. It will showcase the talents of not just Flacco, but also two very dangerous weapons in Rice and Pierce.
If the Ravens want to beat the Broncos as their own game, then it's not about passing the ball and then passing it some more—it's about putting their best offensive game plan on the field and executing it.
A good balance between running and passing gives them the greatest opportunity to do just that.
Tight End Attack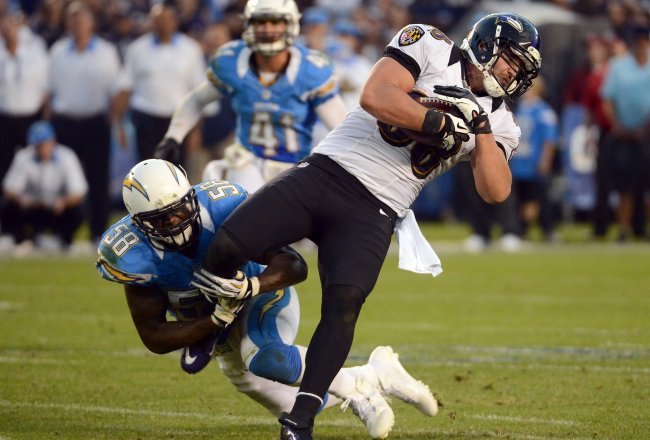 Denver's safeties should have a fit when it comes to defending Dennis Pitta.
Harry How/Getty Images
As I brought up earlier in the week, the Broncos' safeties are major liabilities on a defense that has otherwise been mightily impressive this season. Targeting the two—Mike Adams and Rahim Moore—should be a major component of Baltimore's passing offense on Saturday, and that means getting the ball in the hands of tight ends Dennis Pitta and Ed Dickson.
Pitta was the man who scored the two fourth-quarter touchdowns when the Broncos and Ravens met earlier in the season; he was also their leading receiver, with seven catches on 10 targets for 125 yards. This was no fluke, either—all season long, Adams and Moore have been giving up yards and touchdowns to tight ends.
It's a very real weakness that the Ravens must take advantage of.
The Broncos have given up a league-leading 11 touchdowns to tight ends this season, and the two safeties have allowed seven scores of their own (though it's hard to find out if those are all tight end scores, of course, it's hard to imagine that at least some of them are not).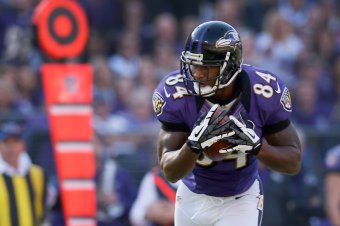 Don't rule out Ed Dickson making a contribution, either.
Rob Carr/Getty Images
What is known, however, is that one of Pitta's two Week 15 scores was Adams' fault, and that Adams and Moore have been major reasons why the Broncos struggle against tight ends. What's also known is how reliable Pitta in particular has been this season, with 61 catches on 93 targets for 669 yards and seven touchdowns, the second-highest total receiving touchdowns on the team.
While Dickson hasn't been as involved this year, he's also been reliable when on the field, catching 21 of his 33 targets, for 225 yards. As long as he's healthy—he missed time with a knee injury—expect him to get in the receiving mix on Saturday simply because of how Adams and Moore have struggled.
Though there's no Ravens receiver more dangerous than Anquan Boldin, nor is there one who threatens to stand tall in the end zone and score touchdowns like Torrey Smith, the middle of the field should be a goldmine for Baltimore's offense this week.
That means it's the perfect time for Dickson and Pitta to step up and lead the passing game.
This article is
What is the duplicate article?
Why is this article offensive?
Where is this article plagiarized from?
Why is this article poorly edited?