Strikeforce Superlatives: Best and Worst from the Entire Fight Card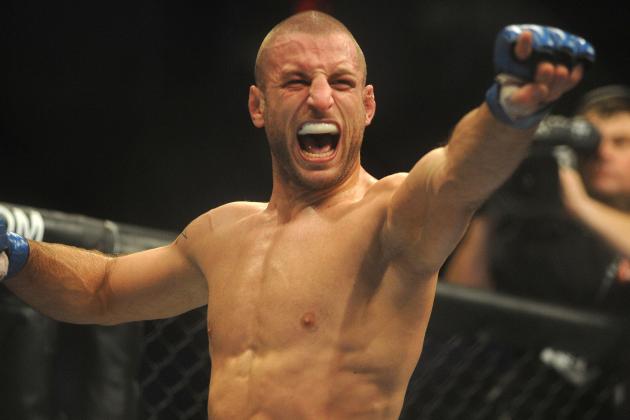 USA TODAY Sports

Strikeforce tore down its cage for the final time on Saturday, but not before putting together a number of entertaining fights on its last fight card.
Most notably, Tarec Saffiedine stunned Nate Marquardt in the main event to become the new and final Strikeforce welterweight champion.
Heavyweight notables Daniel Cormier and Josh Barnett won mismatches with ease. Though they didn't get to test themselves against elite competition, the Strikeforce Heavyweight Grand Prix finalists were able to put their skills on display inside the hexagonal Strikeforce cage one last time.
As Strikeforce closes shop, let's take a look at the best and worst from the promotion's final event.
Begin Slideshow

»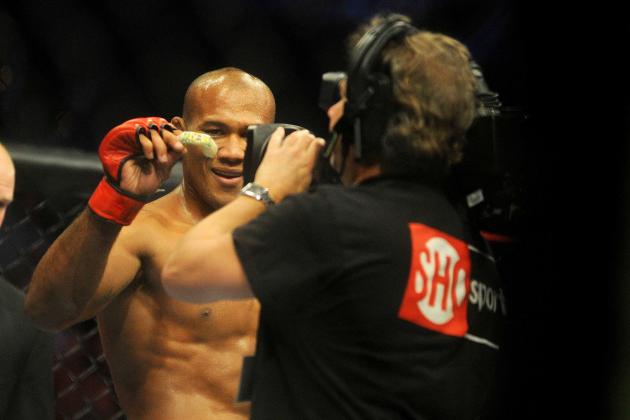 USA TODAY Sports

Ronaldo Souza ran through UFC veteran Ed Herman in his final Strikeforce fight. With the submission win, Souza proved he has the potential to be a serious contender in the UFC's middleweight division.
More than any other competitor on Saturday, Souza made a statement to his future UFC opponents.
For his eventual UFC debut, a bout with an opponent like Jake Shields would be intriguing and could give a good indication of where "Jacare" stands in the 185-pound class.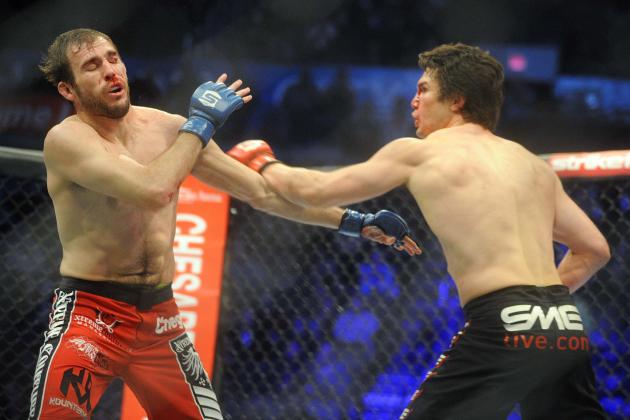 USA TODAY Sports

Although it ended in controversy, a lightweight bout between K.J. Noons and Ryan Couture was easily the most entertaining and competitive fight on Saturday night.
Both fighters faced adversity at some point in the fight and were able to battle on to a close decision.
Noons landed eight more strikes than Couture and defended all of his opponent's takedown attempts (via FightMetric.com), but the son of MMA legend Randy Couture was awarded the victory on two of the three scorecards.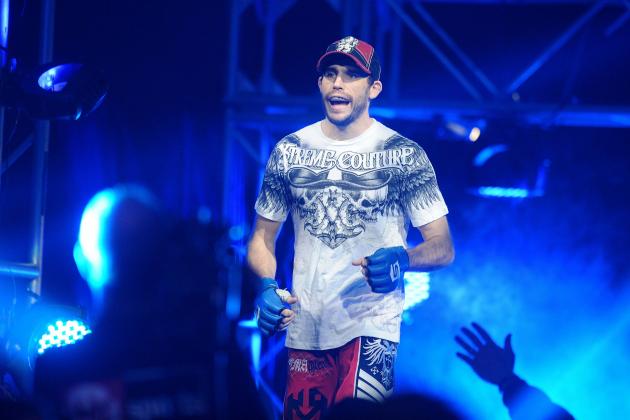 USA TODAY Sports

Unsurprisingly, the best round of Strikeforce's final event came during the best bout on the fight card.
Shaun Al-Shatti of MMAFighting.com broke down the action from the second round of a fight between K.J. Noons and Ryan Couture:
Round 2: Noons presses forward, hands still down low. Big uppercut crushes Couture. Noons evades a front kick and answers with a one-two. Couture tosses out a jab. Counter uppercut lands flush for Noons, however an inadvertent headbutt slices Noons open. Noons cracks Couture with a looping punch. Noons smells blood, starts teeing off on a wobbly Couture. Noons is relentless now, looking for the finish. Couture survives and unloads and huge knee to the jaw. Blood is streaming down Noons' face. Straight left lands for Couture. Wild spinning back kick misses for Couture. Furious exchange gets the crowd on its feet as the horn sounds. MMA Fighting scores it 10-9 for Noons.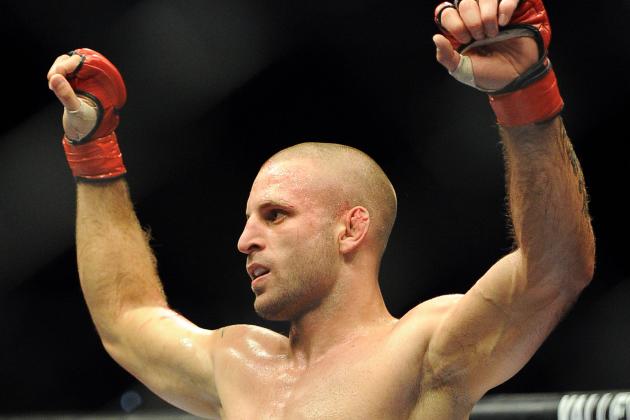 Jayne Kamin-Oncea-USA TODAY Sports

The final fight in Strikeforce history produced one of the most memorable moments the promotion has seen, as Tarec Saffiedine dethroned Nate Marquardt to become the new and final Strikeforce welterweight champion.
A fighter who worked his way up the ranks through Strikeforce, Saffiedine leg-kicked his way to a clear decision win over the UFC veteran.
Strikeforce founder Scott Coker was able to strap a belt around a new champion's waist one last time in the last minutes of the last broadcast in his promotion's history.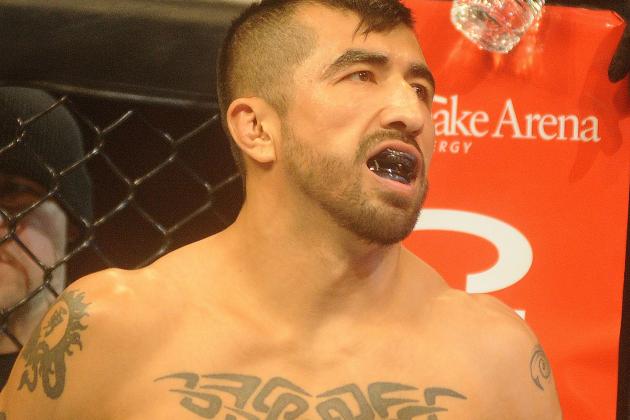 USA TODAY Sports

There were only two knockouts on Saturday's fight card, and one of them came in a massive mismatch between Daniel Cormier and Dion Staring.
In a preliminary card bout against Michael Bravo, Estevan Payan recorded the only other stoppage due to strikes during the final Strikeforce event.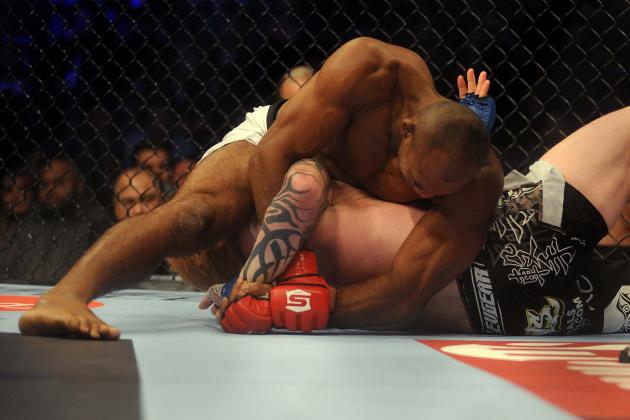 USA TODAY Sports

Saturday's Strikeforce event was packed with five submissions, but Ronaldo Souza's kimura against Ed Herman stood out above the rest.
Once he was able to get his hands on Herman, Souza dropped his opponent to the canvas with a double-leg takedown and quickly attacked Herman's arm.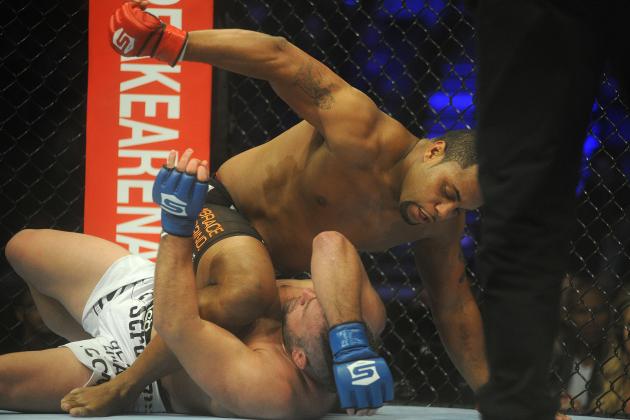 USA TODAY Sports

As expected, Daniel Cormier was dominant in victory against Dion Staring in his final Strikeforce appearance.
Staring's toughness only resulted in him absorbing more punishment than he really needed to. After nine minutes of eating punches on the ground, Staring finally covered up and waited for referee John McCarthy to step in.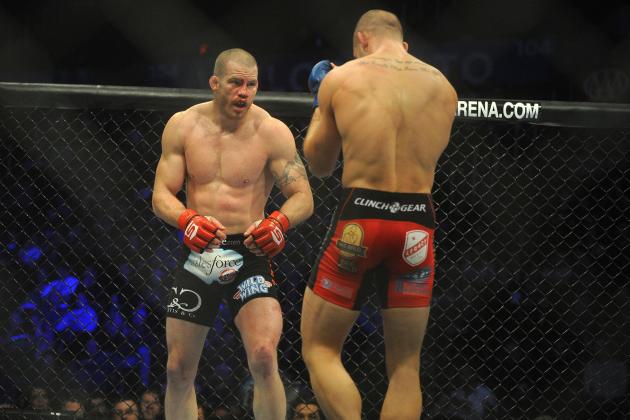 USA TODAY Sports

A bout with the unproven Tarec Saffiedine was supposed to give Nate Marquardt a platform to put his skills on display prior to rejoining the UFC roster.
Instead, Marquardt's lead leg was repeatedly pounded on by Saffiedine's shin. By the time the fifth round came along, Marquardt was using all the energy he had to remain standing.
Marquardt is still likely to return to the Octagon, but there will now be much less interest in his first fight back than there would have been had he won.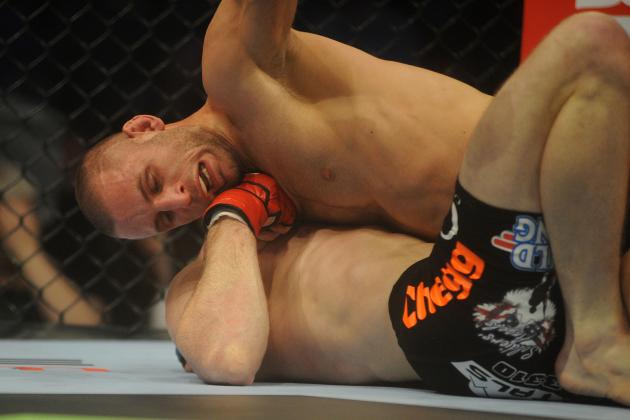 USA TODAY Sports

Tarec Saffiedine's win over Nate Marquardt wasn't the only significant upset of Strikeforce's final fight card. Ryan Couture also surprised many with his victory over K.J. Noons.
However, Saffiedine's win was much more decisive than Couture's and it came against a much more consistent opponent.
With his win on Saturday, Saffiedine went from a relatively unknown fighter to a potential contender in the UFC's welterweight division.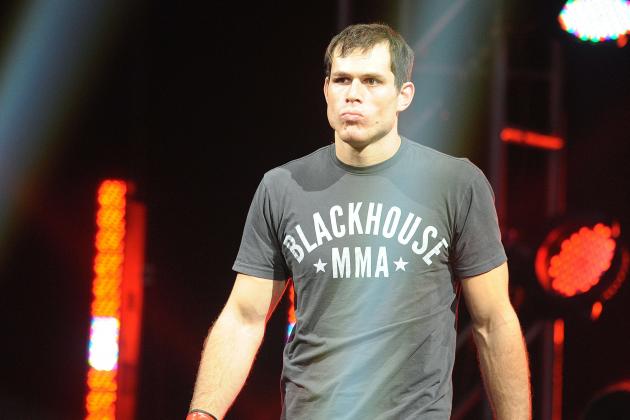 USA TODAY Sports

Roger Gracie had trouble standing with Anthony Smith in the opening round of his last Strikeforce bout, but the jiu-jitsu ace was able to take things into his realm in the second frame.
Once Gracie had Smith on the ground, it was only a matter of time before the submission came, and it soon did in the form of an arm triangle choke.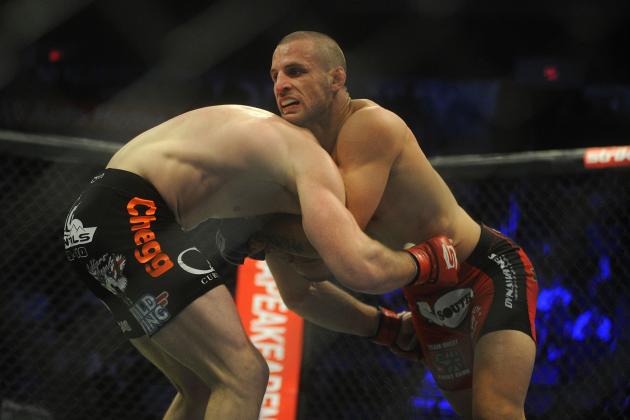 USA TODAY Sports

Prior to winning the Strikeforce welterweight title, Tarec Saffiedine's biggest win was probably a decision victory over Scott Smith.
By utilizing leg kicks frequently throughout the five-round contest, Saffiedine suddenly emerged as one of the better 170-pound fighters in the world in dethroning a talented UFC veteran.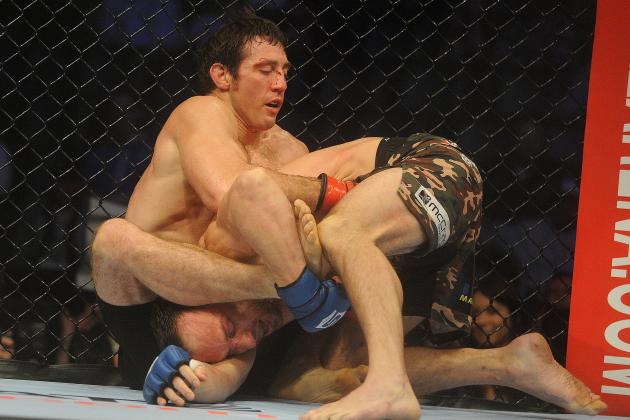 USA TODAY Sports

Tim Kennedy was out of action for about six months following his loss to Luke Rockhold in a middleweight title fight, so a win over Trevor Smith on Saturday was crucial in order to prove he deserved a spot on the UFC roster.
Smith continually shot in for takedowns on Kennedy, who was able to avoid being put in a bad position and eventually secured a guillotine choke that would end the fight.
With the win, Kennedy now becomes one of the more intriguing additions to the UFC's 185-pound division.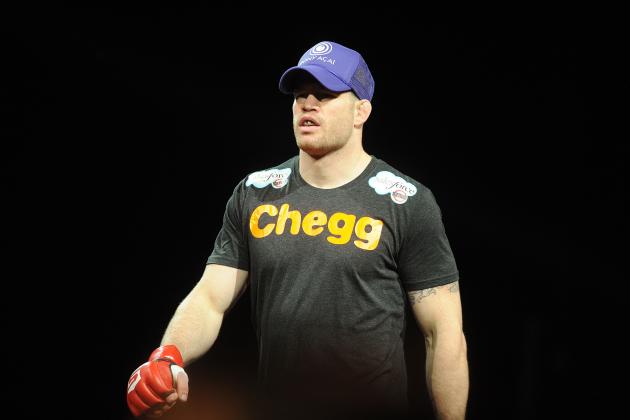 USA TODAY Sports

Though it was the final event in Strikeforce history, Saturday's fight card has a more similar feel to a season finale of The Ultimate Fighter, with competitors looking to prove themselves to the UFC brass.
While there's a good chance a majority of the fighters will make their way to the Octagon in 2013, a sense of urgency was still in the air as the competitors tried to remove any doubt.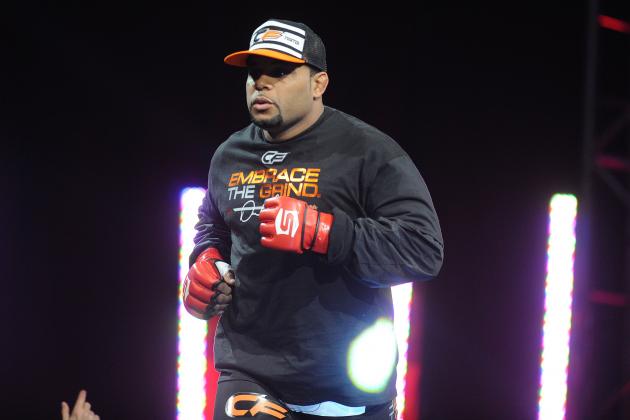 USA TODAY Sports

It has become increasingly popular for fighters to leave the matchmaking to the matchmakers during post-fight interviews. However, after beating Dion Staring on Saturday's Showtime broadcast of Strikeforce, Cormier laid out his 2013 schedule.
"April 20th on Fox," Cormier said. "I signed my UFC contract. Frank Mir, you and me, let's do it...I'm gonna let Jon Jones defend his belt April 27th. Then, I'm gonna kick his ass in the fall."
Cormier is already considered one of the best heavyweights in the world. However, Cormier's teammate, Cain Velasquez, holds the UFC heavyweight title, so he is considering a move to light heavyweight to make a run at the 205-pound championship.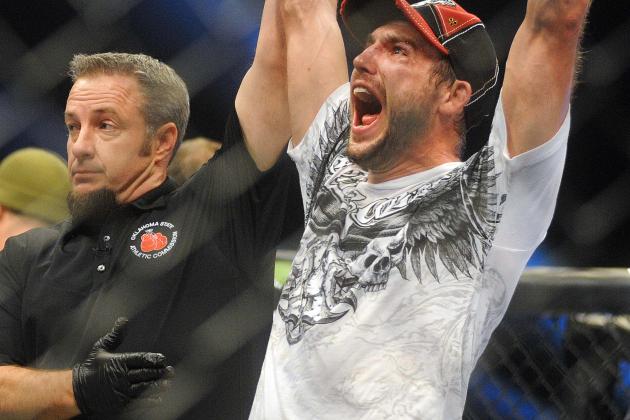 USA TODAY Sports

Though Ryan Couture was out-struck by K.J. Noons on his feet and could not find a way to take the fight to the ground at all, the son of MMA legend Randy Couture was awarded a split-decision win in his final Strikeforce appearance.
Entering the fight as an underdog, Couture performed much better than expected and earned himself a UFC roster spot in all likelihood, but he was handed a win he didn't quite deserve.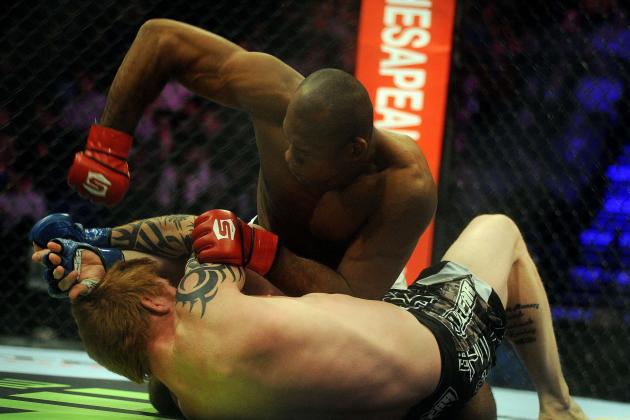 USA TODAY Sports

After his submission win over Ed Herman, Ronaldo "Jacare" Souza performed his patented alligator imitation in celebration.
Even on a fight card that saw Josh Barnett's throat-slashing celebration, Souza's post-fight performance stood above the rest.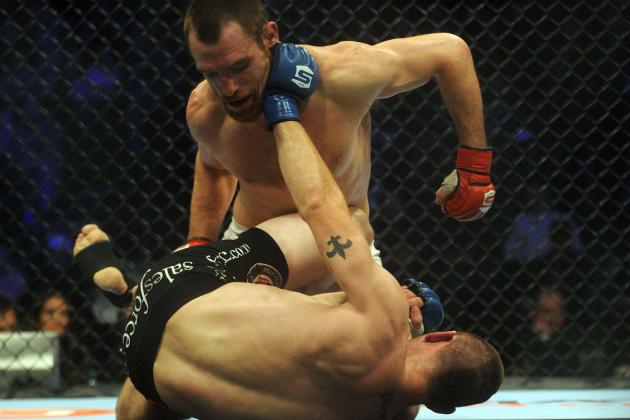 USA TODAY Sports

Although Tarec Saffiedine and Pat Healy train in different locations, both competitors represent Team Quest.
With Team Quest co-founder Dan Henderson sitting cageside, Saffiedine was able to beat Nate Marquardt in the main event.
Additionally, Healy continued his winning streak with another Team Quest co-founder, Matt Lindland, in his corner.