Ravens vs. Broncos: Who Has the Edge at Every Position?
Dustin Bradford/Getty Images
Peyton Manning and the Broncos are the AFC's top seed.
A late holiday gift comes in the form of Ray Lewis squaring off with Peyton Manning in the 2013 NFL playoffs.
Two of the best at their respective positions, Lewis and Manning are easily the featured players in this colossal AFC divisional game. The Baltimore Ravens enter Mile High with confidence, because they just held Andrew Luck and the Indianapolis Colts to nine points (all field goals).
The Denver Broncos, however, bashed the Ravens in the regular season and are looking for a trip to the AFC Championship Game. Holding the No. 1 seed with a 13-3 record, this situation is why Manning was brought on board.
So, which team has the advantage?
Well we can definitely expect a closer contest simply because of the implications. Needing to keep Super Bowl dreams alive, let's break down Saturday's legendary matchup.
Begin Slideshow

»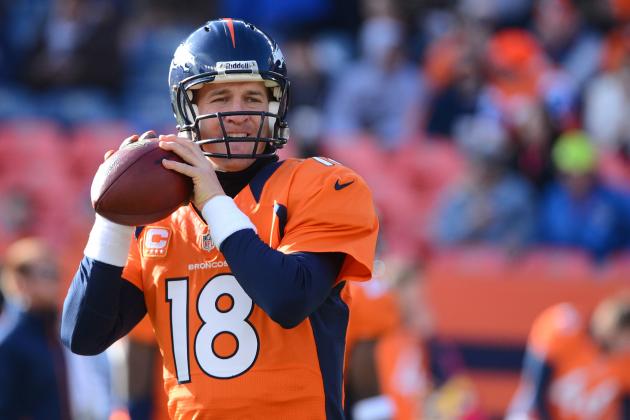 Garrett Ellwood/Getty Images

Two franchise quarterbacks with one colossal disparity: a Super Bowl victory.
Joe Flacco has taken the Baltimore Ravens to two AFC title games during his short career.
Unfortunately, the Ravens fell in each game, and the pressure continues to mount. As for Peyton Manning, he has accomplished just about everything expected of a pro quarterback. Even more impressive, though, is Manning's triumphant return to the gridiron after missing all of 2011.
Finishing with a 68.6 completion percentage and 37 touchdowns to only 11 picks, Manning orchestrated one of his best seasons ever. Now Flacco did have a decent season as well, because 22 touchdowns to just 10 picks are worth noting.
The concern is his 59.7 completion percentage. If not for Ray Rice, Baltimore's offense wouldn't field any sort of balance.
Edge: Broncos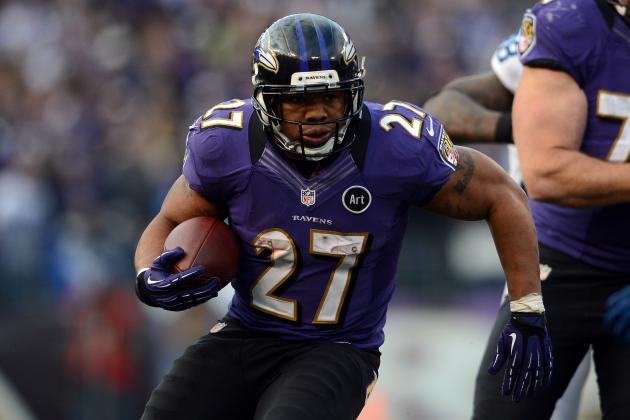 Patrick Smith/Getty Images

Ray Rice is one of the most complete running backs in pro football.
This season he compiled 1,621 total yards, scored 10 touchdowns and averaged 4.4 yards per rush.
Only Willis McGahee comes close to matching that production for Denver, and he won't be suiting up Saturday. Per Stuart Zaas of the Broncos' official website:
For the first time since injuring his knee in Denver's Week 11 win against the San Diego Chargers, running back Willis McGahee rejoined the team at practice on Tuesday.

McGahee, who was placed on injured reserve with a designation to return, is not eligible to play this week, but would be if the Broncos were to advance to the AFC Championship game.
Even still, Rice is the better back right now simply because of youth and being there on every snap. When McGahee was healthy the Broncos did utilize a carousel between Knowshon Moreno, Lance Ball and rookie Ronnie Hillman to a certain degree.
And for Baltimore to win the possession battle, Rice's impact must take control early.
Edge: Ravens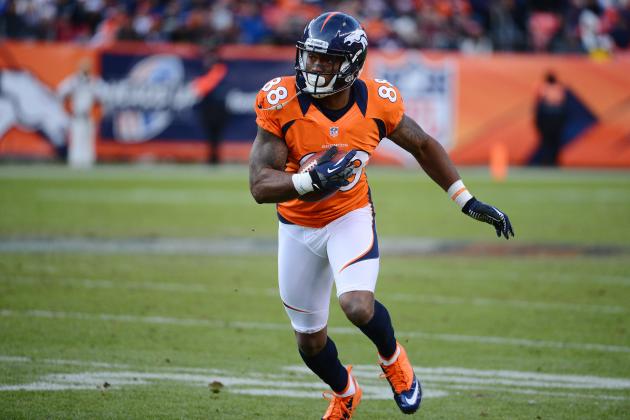 Garrett Ellwood/Getty Images

The receiver position is one of the most even-keeled comparisons between Denver and Baltimore.
Each quarterback has two reliable targets who can stretch the field and accumulate yards after the catch.
Joe Flacco has Torrey Smith and veteran Anquan Bolden, while Peyton Manning is provided with Demaryius Thomas and Eric Decker. All four are capable of consistently beating man coverage, drawing double coverage and stock-blocking downfield to help the ground game.
Additionally, all four were targeted 100-plus times by their respective quarterbacks.
The disparity lies within the efficiency of their receptions. Thomas caught 94 passes on 141 targets, which equals to a 66.7 reception rate. Decker did slightly better in catching 85 of his 123 passes: a reception rate of 69.1 percent.
Together this duo combined for nearly 2,500 receiving yards and 23 touchdowns.
Smith and Bolden on the contrary, weren't as impressive. Smith had a 44.5 reception percentage and Bolden finished at 58.0. Without question, Peyton Manning is impacting here more than Joe Flacco, but Denver's receivers have simply been more dependable all season.
Edge: Broncos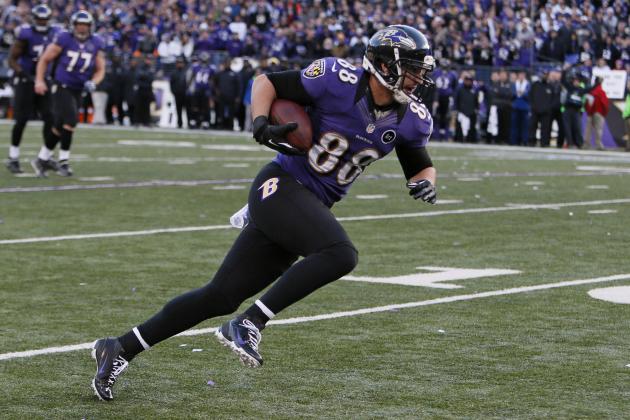 USA TODAY Sports

Dennis Pitta is one of pro football's more underrated tight ends.
He's improved through each new season and had to fill some big shoes in Todd Heap after 2010.
Catching 61 passes on only 93 targets, Pitta was second on Baltimore with seven receiving touchdowns and 264 yards after the catch.
The Broncos' combo of Jacob Tamme and Joel Dreessen played a dual role all year. Tamme and Dreessen combined for 911 yards on 93 snags and seven touchdowns.
Much of Denver's passing numbers are certainly inflated due to Manning's passing capabilities. Pitta, though, knows how to run-block as well as anyone in the game.
The end result was Ray Rice getting 4.4 yards per rush and rookie Bernard Pierce averaging 4.9. Pitta's ability to extend running lanes, beat man coverage when on a route and move the chains on third down will be crucial.
The last thing Baltimore needs is its offense failing to match Manning's pace.
Edge: Ravens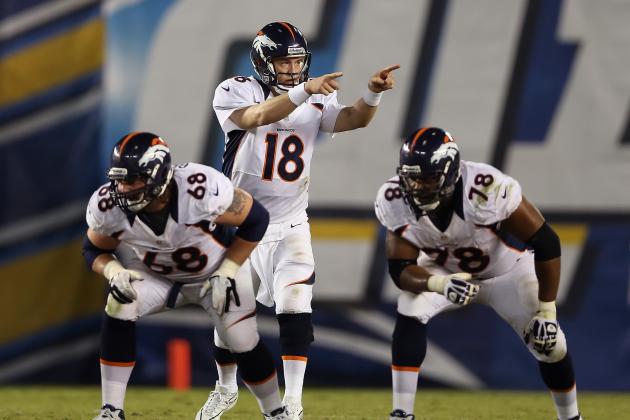 Jeff Gross/Getty Images

The game comes down to protecting the quarterback.
Peyton Manning has been sacked only 21 times this season, and Joe Flacco went down 35 times.
Despite the Broncos faring better for Manning, the Ravens kept Flacco off the ground more often than not. In short, each offensive line formed a comfortable pocket, and it's a key reason why each quarterback turned the ball over so few times.
One thing we can't overlook is rushing yards per carry.
Baltimore averaged 4.3 per attempt compared to 3.8 for Denver. Then again, when these two lined up in Week 15, the Broncos' Knowshon Moreno averaged 5.5 per rush, and Ray Rice managed only 3.2 per carry.
The distinction resides in each offense's forte. Denver is pass-balanced, and Baltimore is run-balanced. Unfortunately for the Ravens, their strength was held in check against other strong run defenses this regular season, namely Pittsburgh and Houston along with Denver.
Edge: Broncos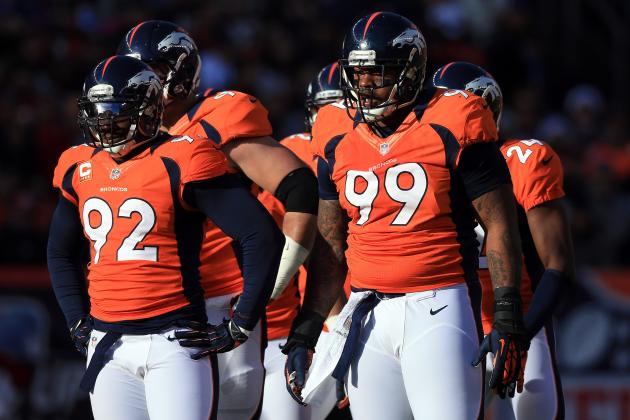 Doug Pensinger/Getty Images

Elvis Dumervil and rookie Derek Wolfe have combined for 17 sacks and 94 tackles this season.
Dumervil has also forced six fumbles, which led to a Pro Bowl selection this season.
The Broncos give up only 3.6 yards per carry and rank No. 3 in rush defense. Unsurprisingly, only five rushing touchdowns have been allowed by Denver as well. Presenting the personnel to get consistent quarterback pressure and quickly get off blocks, the Broncos' front wall of defense is nearly impenetrable.
For Baltimore, Haloti Ngata is the guy to watch for along the Ravens' defensive line.
With five sacks and 51 tackles during the regular season, Ngata can slip inside for quick quarterback pressure or split double-teams to clog running lanes.
As a result, the rest of Baltimore's front seven is freed up to make more plays at the line. The downside is Baltimore having allowed an average of four yard per rush in 2012's regular season and 4.1 to Vick Ballard of the Indianapolis Colts last week.
The Broncos rushing offense may not be as impressive, but Denver's defensive line will tighten up against the run.
Edge: Broncos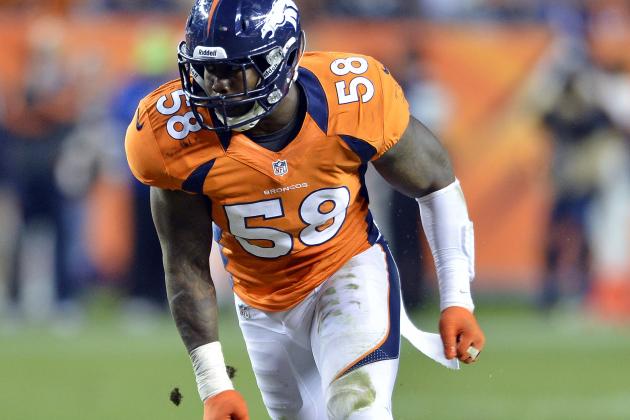 Ron Chenoy-USA TODAY Sports

All season the Ravens have been dealing with injuries at the linebacker position.
Obviously the absence of Terrell Suggs and Ray Lewis during part of the regular season played a factor into the defense's inconsistent performance.
Well, if there's one advantage any team can have over another in the postseason it's health. The Broncos have been healthy all year at linebacker, which has undoubtedly led to Von Miller's dominant campaign.
Lewis and Suggs are undoubtedly great players capable of taking over this game, but so are Miller, Wesley Woodyard and D.J. Williams. Miller is a Defensive Player of the Year candidate with 68 tackles, 18.5 sacks, six forced fumbles and one pick-six.
Woodyard led Denver with 117 tackles and accounted for 5.5 sacks and six defended passes (three picks). The guy from Baltimore to really watch for is Paul Kruger.
Having racked up 42 tackles, nine sacks and six passes defended in the regular season, Kruger slammed the Colts last week. There, he was responsible for 2.5 sacks, five quarterback hits and one forced fumble.
Miller and Co., though, are just as capable of shutting down the run and creating turnover opportunities. It happened in the first meeting.
Edge: Broncos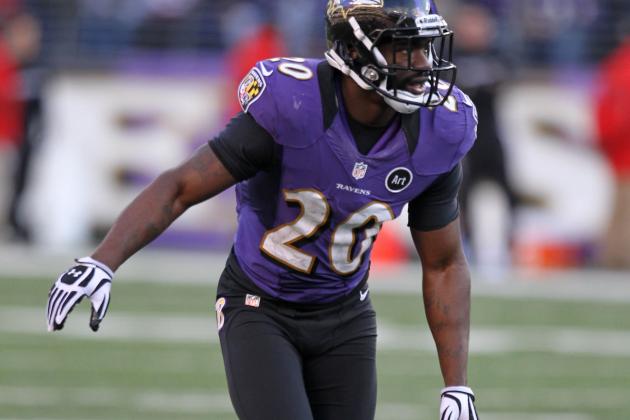 USA TODAY Sports

The defensive backs are a fascinating comparison between Denver and Baltimore.
On one side is Ravens veteran safety Ed Reed who is capable of generating turnovers at any time.
The other is Champ Bailey of the Broncos, who continues to get better with age.
The Ravens picked off 13 passes in 2012 and allowed only a 60.1 completion percentage. The Broncos snagged 16 interceptions and gave up a 57.4 completion percentage.
Despite Denver being marginally better in this area, Jack Del Rio's defense also allowed 25 passing touchdowns. Baltimore gave up a mere 16 passing touchdowns.
Each has been exploited by the deep ball during the regular season, but it's Baltimore's red zone defense that gains a supreme edge. Only 41 percent of the time did the Ravens allow a red zone touchdown, compared to 58.5 for Denver.
In short, regardless of how well the offenses move the rock, the secondary that best locks down with its back against the wall has better odds for victory.
Edge: Ravens
Mitch Stringer-USA TODAY Sports

Aside from controlling the line of scrimmage, field position is the next area that impacts any game the most.
The punters are quite equal, because Denver's Britton Colquitt averaged 46.3 yards per attempt with 27 spotted inside the red zone.
Baltimore's Sam Koch matched that by getting 47.1 per punt and dropping 28 inside the opponents' 20-yard line. Factor in Matt Prater and Justin Tucker, who are capable of booming field goals from 50-plus yards, and the kicking game is a wash.
On returns, Jacoby Jones has been an extreme competitive advantage for Baltimore all season, courtesy of three special teams touchdowns.
Averaging 30.7 yards on kickoff returns and 9.2 on punts, Jones proved to be one of the best this season.
When a player can shift the field position by more than three first downs on a kickoff and nearly one on punts, it immensely assists the offense. As for Denver, the Broncos took a while to find a consistently reliable returner until Trindon Holliday gained confidence.
He has fumbled six times this season, losing one, but provides explosiveness with an average of 32.5 yards on kickoff returns and 10.8 on punts (one touchdown on each). But considering that Jones has fumbled less and possesses more experience, he gives Baltimore a key field position advantage over Denver.
Edge: Ravens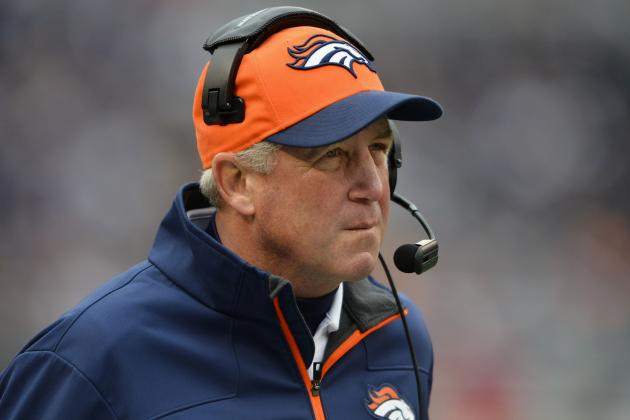 Ron Chenoy-USA TODAY Sports

The duel between John Fox and John Harbaugh will be intriguing to watch.
One key attribute to their collective success resides in emphasizing defense and special teams.
Unsurprisingly, the Broncos and Ravens have solid return games, punters and reliable kickers. Regarding resumes, Fox has been an NFL head coach since 2002 and spent that season through 2010 with the Carolina Panthers.
During his tenure he went to two NFC title games and was edged out by Bill Belichick in Super Bowl XXXVIII 32-29. Denver's 13-3 season was the best for Fox in pro football, and it resulted in his fifth playoff appearance.
For Harbaugh, the Ravens have been his only stint thus far. Despite the brief period, Harbaugh has taken the Ravens to five straight postseason appearances and twice made the AFC Championship Game.
Although Harbaugh has made the playoffs as many times as Fox, Denver's head coach gets the slight edge because of his one Super Bowl appearance.
Edge: Broncos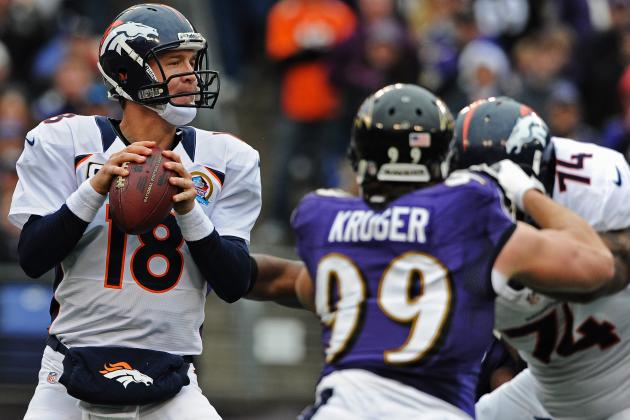 Patrick Smith/Getty Images

Quarterbacks: Broncos
Running Backs: Ravens
Wide Receivers: Broncos
Tight Ends: Ravens
Offensive Line: Broncos
Defensive Line: Broncos
Linebackers: Broncos
Defensive Backs: Ravens
Special Teams: Ravens
Coaching: Broncos
Overall: Broncos 6, Ravens 4
Denver won the regular-season meeting 34-17, but the Ravens were without Ray Lewis in Week 15's matchup as well.
No matter how well Baltimore's defense shows up, though, Von Miller and the Broncos are capable of matching it. Denver finished the regular season with a league-leading 52 sacks and allows an average of just 291 total yards per contest.
Even worse for Baltimore, though, is Denver's defense on third down. The Broncos ranked No. 1 on third down by allowing a 30.6 conversion rate. Joe Flacco and the Ravens offense ranked No. 20 with a 36.9 conversion percentage.
So, will Baltimore move the ball on Denver and keep pace with Peyton Manning?
No.
Edge: Broncos
Follow John Rozum on Twitter.