5 Ways for Chelsea to Move Forward
Where has it gone wrong for the European champions?
Michael Steele/Getty Images
It was yet another night to forget for the Chelsea faithful as their side crashed to a humiliating Capital One Cup semi-final first leg defeat to Swansea City.
The Blues now stand on the brink of missing out on their fifth piece of silverware of the season after two Branislav Ivanovic errors allowed the Swans to leave Stamford Bridge with a healthy 2-0 advantage.
There are many problems to ponder in this current Chelsea set-up.
Let's look at the five main issues that need addressing.
A Manager to Make This His Team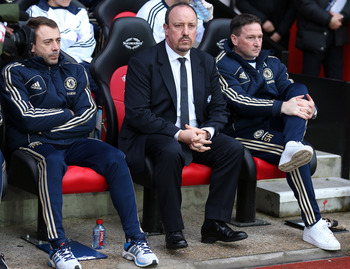 Running a rudderless ship
Julian Finney/Getty Images
Rafa Benitez may have replaced Roberto Di Matteo in the dugout, but what changes has he actually implemented upon the side?
Against Swansea, Chelsea were guilty of making many of the same mistakes that were prevalent under Di Matteo, and before that during Andre Villas-Boas' reign and even before that under Carlo Ancelotti.
The man at the helm may change, but few things about Chelsea's tactics and temperament actually do. This is a side set in its ways, a team without an identity or a blueprint of how they play.
The formation is invariably always the same or similar, but few of its weaknesses are ever properly rectified.
Once again, there was a lack of width to the team. That allowed the visitors to defend deep, narrow and largely comfortably during large spells of the second half when Chelsea were pressing.
Everybody now knows how Chelsea will set up. The lack of a plan B is demonstrated in how many times they fall behind and fail to rescue anything from games.
Bar the man patrolling the touchline, very little changes from one Chelsea team to another. This will remain the case until the right man is found and allowed to develop a personality onto a bunch who have been successful despite–and not because of–the managers.
Accountability from the Top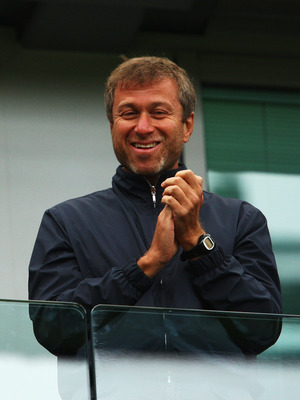 An owner but not a leader
Richard Heathcote/Getty Images
The fall guy for any Chelsea wobble is invariably the manager, but it's about time the shadowy figures running the club were made accountable for their part in the ongoing circus.
The first question is what benefits Di Matteo's sacking has brought to the team and club. Although there have been a few goal gluts under Benitez, the Blues are still way off the pace in the Premier League and have passed up two very presentable opportunities of silverware.
Things may or may not have been different had Di Matteo still been at the helm but his dismissal has created an unrest amongst the fans which can only have a detrimental effect on the side.
By now we also know that the Chelsea manager is largely a spectator in transfer dealings. If that's the case, who takes the blame for entering the season with only blind faith in Fernando Torres to do the job as the sole striker? And whose idea was it to let Raul Meireles and Michael Essien go without bringing in adequate replacements?
One can only blame the people who sanctioned the transfers, and thus far there has been no explanation, justification or apology as to why the squad went into September with such a lopsided look.
The signings of Oscar and Eden Hazard should have been the jewels in the crown. Instead they now look like flamboyant gestures with the team lacking so much in vital areas.
Any manager can only do so much with what he has at his disposal. The Chelsea hierarchy must carry the can for the state of the squad and the disharmony they've caused by axing RDM.
Adios Torres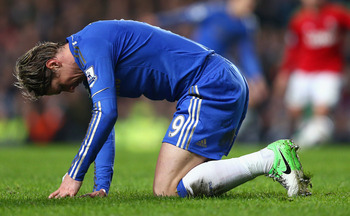 Torres is down and almost out
Clive Mason/Getty Images
Enough is enough. Two years on and the penny must have dropped that Fernando Torres will never be able to regain the form which once made him one of the world's most feared strikers.
Torres has tested the patience of the Chelsea support since day one, but finally their patronage appears to have worn off.
After another anonymous display against Swansea, all corners of Stamford Bridge were baying for Demba Ba's introduction. There was audible booing when Torres trotted off to be replaced with ten minutes to go.
With the crowd also on his back, it's very difficult to see how the Spaniard can be anything other than a millstone for the rest of the season.
Ba's arrival against Swansea immediately gave Chelsea a focal point to their attacks which is woefully lacking when Torres plays. Torres may not ever be the player he was, but at present he offers so little in a Blue shirt that it's futile to give him a game.
Few Chelsea fans wouldn't ship him out in January if the deal was right, but El Nino's stock has fallen so low you'd be lucky to give him away now.
The player is shot of confidence and conviction. When he plays, he causes more problems for his own team than the opposition. Yet another ill-thought-out purchase who has cost Chelsea in financial and footballing terms.
Keep Frank Lampard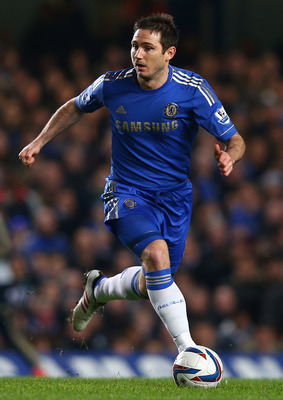 Why let Lamps leave?
Clive Rose/Getty Images
Your team are struggling, you've replaced one manager for another to little effect and you've got a large collection of players new to the club, new to the league and inexperienced at answering the demands for success which are dictated by Chelsea.
What do you do?
Well, one thing I wouldn't do is get rid of the heart and soul of your team, the man who has been there from start to finish and given everything for the cause. A player–arguably the greatest in the club's history–who provides a much-needed bond between the pitch and terrace.
Who on earth could countenance seeing off Frank Lampard at this particular stage of yet another Chelsea revolution/evolution?
Lampard was even willing to take a pay cut (via Daily Star) to remain at Stamford Bridge to see out his playing career. Although he is not the player he once was, surely it's better to have Lampard around the place than not?
Love them or loathe them, Chelsea have had an enviable ability over the past decade to rise above adversity to always challenge for honours.
As with the Champions League last year, it can often be effective rather than exhilarating, but the desire and determination to power on through to the bitter end is a hallmark which has been ingrained into the club. The cornerstone of that attitude is Frank Lampard.
The vice-skipper is not an egotistical man; he's an intelligent individual and should understand the necessity for him to accept a reduced role for the overall greater good of the team.
Not offering Lampard a deal to stay could be the biggest misdemeanor on Abramovich's ever-growing charge sheet.
Reengage with Reality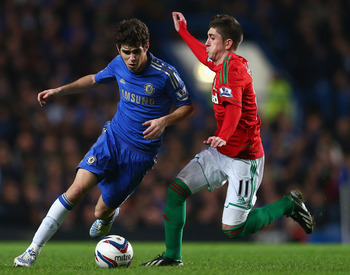 Plenty to build upon
Clive Mason/Getty Images
Last season's Champions League success masked many inadequacies which have yet to be rectified.
Did Chelsea enter this campaign with a squad definitively better than the one that finished last season in sixth place? Probably not.
Was it realistic to think the Blues could usurp the top Premier League spot from the Manchester clubs or could retain their European title? Definitely not.
Chelsea have been burdened by overly high expectations from within. Whilst demanding success is the barometer of a club of this stature, setting unrealistic goals has brought along its own issues.
The Blues have the nucleus of a very good team, with some talented individuals slipping into the core of a side who have consistently won things. Yet they still remain far from title challengers, and the interim changes have also intensified the pressure.
This season Chelsea should have been closing the gap at the summit and building for a renewed assault next year,
Instead, midway through another fragmented term it looks like they'll be going back to the drawing board and starting afresh for the umpteenth time this summer.
Follow John Baines on twitter @bainesyDiego10
Keep Reading

Chelsea: Like this team?