Each MLB Team's Biggest Sleeper Prospect for 2013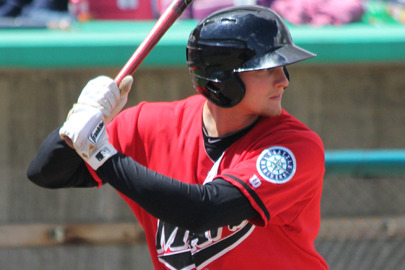 John Hicks, c (Mariners): Hicks batted .312/.351/.472 with 49 extra-base hits and 22 stolen bases last season in his full-season debut at High-A High Desert // Photo courtesy of MiLB.com
Every prospect hound takes immense pride in identifying sleeper prospects—it's just what we do. Luckily, due to the extensive nature of the amateur draft, there's a countless supply of new, lower-level talent to evaluate each year.
A prospect typically gains "sleeper" status because the start of their career has been slowed by injury, which, in turn, has delayed their overall ascension; or they are a younger player with untapped potential and a lack of professional experience.
Here's a look at each organization's biggest sleeper prospect headed into the 2013 season.
Begin Slideshow

»
Courtesy of MLB.com
Age: 25
Overview: The 6'4" right-hander made three impressive starts for Double-A Bowie in 2012 (.125 BAA, 2.73 GO/AO in 18 IP) before landing on the disabled list with a season-ending shoulder injury. Although he's inexperienced for his age with a concerning medical record, Drake uses his height to his advantage to throw a heavy fastball that induces excessive groundball outs. His secondary offerings need refinement, but that should happen naturally as long as he remains healthy.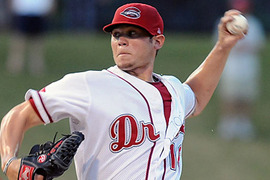 Courtesy of MiLB.com
Age: 23
Overview: The start to Britton's career was delayed when he needed Tommy John surgery in 2008. The 6'2" left-hander pitched well following a promotion to Double-A Portland last season, registering a 3.72 ERA with 76/38 K/BB in 84.2 innings. With a three-pitch mix highlighted by a plus fastball, he could emerge as a back-end starter in the major leagues, though he's well behind the developmental curve.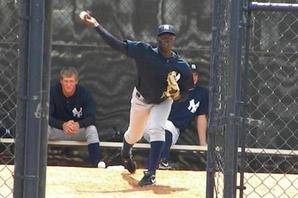 Courtesy of RiverAveBlues.com
Age: 21
Overview: The 6'2" right-hander had a strong showing in the Dominican Summer League, registering a 1.46 ERA with 85/18 K/BB in 61/2 innings. Despite his lack of experience, De Paula repeats his delivery well and pounds the strike zone on a downhill plane. He possesses a big arm that shows easy velocity in the mid-90s, and should be capable of more as he develops. He throws a hard breaking ball with above-average potential, as well as a raw changeup. De Paula's already 21 years old, but could move quickly if he improves and refines his secondary offerings.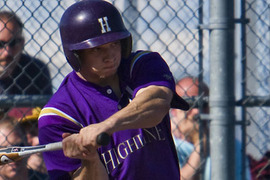 Courtesy of tampabay.rays.mlb.com
Age: 21
Overview: Undersized at 5'9", Brett makes up for his lack of outstanding tools with an aggressive, all-out style of play. He posted solid numbers last season at Low-A Bowling Green, batting .285/.348/.393 with 29 extra-base hits and 48 stolen bases, but was also slapped with a season-ending 50-game suspension for methamphetamine (yikes). His greatest strength is plus speed, which plays on both ends of the ball.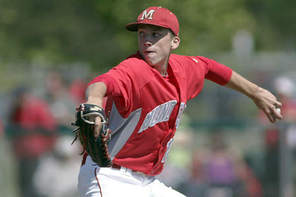 Courtesy of vernonhills.suntimes.com
Age: 18
Overview: A left-hander with a highly projectable 6'4", 175-pound frame, Borucki fell to the Blue Jays in the 15th round after injuring his elbow in the spring—he opted for rehab rather than Tommy John surgery. He ultimately appeared in four games in the rookie-level Gulf Coast League, allowing two earned runs with 10/0 K/BB over six innings. With a long arm on the backside, everything he throws is aided by deception. His fastball sits comfortably in the low-90s with lots of arm-side action created by a loose delivery. Both his slider and changeup are difficult to recognize out of his hand and have plenty of room to develop.
Courtesy of SoxTalk.com
Age: 21
Overview: A fourth-round draft pick in 2012, Brennan is a 6'4" right-hander with a heavy fastball that induces a ton of groundball outs. His curveball and changeup are inconsistent at the moment but project to be average-to-above-average offerings. After registering a 4.34 ERA and 2.80 GO/AO last season in the Pioneer League, he'll likely make the jump to Low-A to open the year.
Courtesy of clevelandtribeblog.blogspot.com
Age: 21
Overview: Araujo, a 6'6" left-handed pitcher, missed all of 2009 and 2010 after Tommy John surgery, but was excellent during his stateside debut in the rookie-level Arizona League in 2011. However, he's struggled at every higher level and registered a 5.00 ERA with 111/61 K/BB in 135 innings during his full-season debut for Low-A Lake County last year. With a fastball that reaches the high-90s and two relatively advanced secondary pitches, all Araujo needs is experience.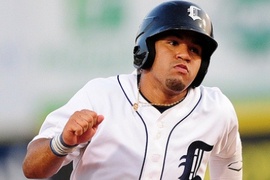 Courtesy of MiLB.com
Age: 21
Overview: An undersized second baseman at 5'9", 183 pounds, Travis was selected in the 13th round of the 2012 draft out of Florida State. He has more pop than his size suggests and showcased advanced secondary skills in his brief professional debut after signing, batting .280/.352/.441 with seven extra-base hits and 10/8 K/BB in 25 games for Short-Season Connecticut.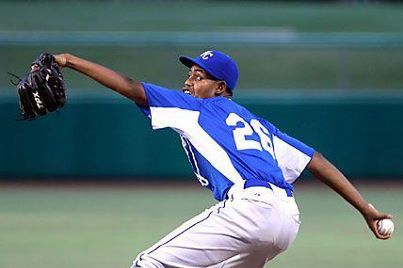 Courtesy of BaseballAmerica.com
Age: 19
Overview: Almonte had an excellent stateside debut in the rookie-level Arizona League last season, as he registered a 2.33 ERA with 28/5 K/BB in 27 innings. Although the 6'2" right-hander is inexperienced, he showed advanced command of both his fastball and changeup last season and seems poised for a strong full-season debut.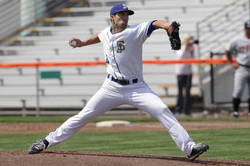 Courtesy of sjuspartans.com
Age: 22
Overview: A fourth-round pick in 2012 out of San Jose State, Jones boasts an electric arm with two above-average-to-plus pitches in a plus-plus fastball that can reach triple-digits, and a sharp slider thrown with velocity. The 6'1", 185-pound right-hander made a strong debut after signing, recording four saves and a 3.21 ERA with 25/7 K/BB in 14 innings at Low-A Beloit. If Jones can continue to throw strikes, it may not take him long to reach the major leagues.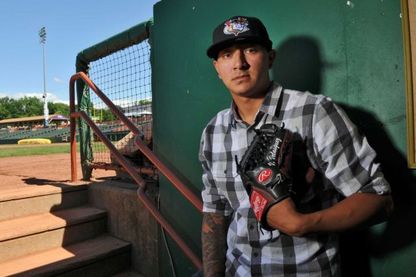 Courtesy of timesunion.com
Age: 20
Overview: A second-round draft pick back in 2010, Velasquez missed the entire 2011 season while recovering from Tommy John surgery. However, he was impressive in his return to the mound last season in the New York-Penn League, registering a 3.35 ERA and .223 BAA with 51/17 K/BB in 45.2 innings. Considering his previous injury, the 6'3" right-hander showed more polish than expected, as well as the potential for a solid three-pitch mix.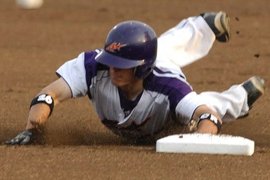 Courtesy of Twitter (via @EZdozeit8)
Age: 21
Overview: Selected out of Evansville in the sixth round of the 2012 draft, Stamets is a defense-oriented shortstop with plus speed. He made the jump to the Midwest League (Low-A) in his professional debut, and held his own by batting .274/.323/.347 with 15 extra-base hits and seven stolen bases in 62 games. His excellent range, hands and strong arm will allow him to remain at shortstop; the only question is whether he'll hit enough at higher levels.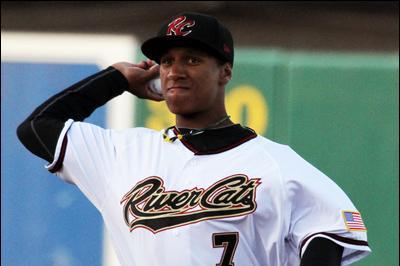 Courtesy of athletics.scout.com
Age: 19
Overview: Selected in the 44th round in 2011, Bostick is a flat-out ballplayer with decent tools and legitimate secondary skills. After posting a 1.136 OPS during his 14-game professional debut in the Arizona League in 2011, the 5'11", 185-pound infielder was clearly challenged last season at Short-Season Vermont. With a line-drive-oriented swing, the right-handed hitter can barrel the ball with consistency and should always collect plenty of doubles. He has the athleticism and arm strength for shortstop, but his speed and defensive actions are a cleaner fit at second base.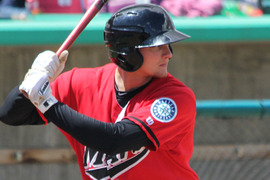 Courtesy of MiLB.com
Age: 23
Overview: Signed as a fourth-rounder out of Virginia in 2011, Hicks batted .312/.351/.472 with 49 extra-base hits and 22 stolen bases last year in his full-season debut for High-A High Desert (in the hitter-friendly California League). He won't hit for that much power, but his hit tool is promising and he offers above-average speed relative to the position. His receiving is still raw, but his strong arm has led to a 51-percent caught-stealing rate through his first 136 games behind the dish.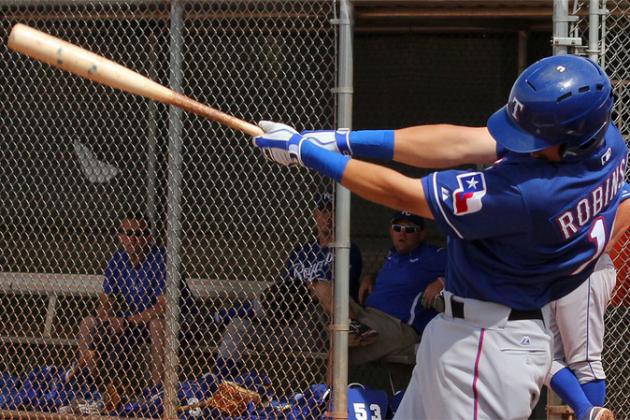 Courtesy of releasepoints.com
Age: 20
Overview: Selected in the fourth round of the 2010 draft out of a Las Vegas high school, Robinson has seen time at six different positions over the last two years, but finally settled in last season at third base. A 6'1", left-handed hitter, he batted .273/.409/.444 with 40 extra-base hits and 123/86 K/BB in his full-season debut for Low-A Hickory. Although his defense is still raw and may slow his development, Robinson offers an intriguing blend of power and on-base skills for his age and experience.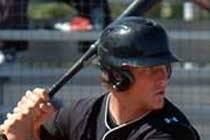 Courtesy of braves.scout.com
Age: 18
Overview: At 6'3", 205 pounds, Lien is an excellent athlete with a frame that should allow him to add significant strength. An outfielder with plus speed and raw talent, Lien has the potential to be a steal in the 12th round of the 2012 draft. His bat is inexperienced, but he showcases the potential for an above-average hit and power tool.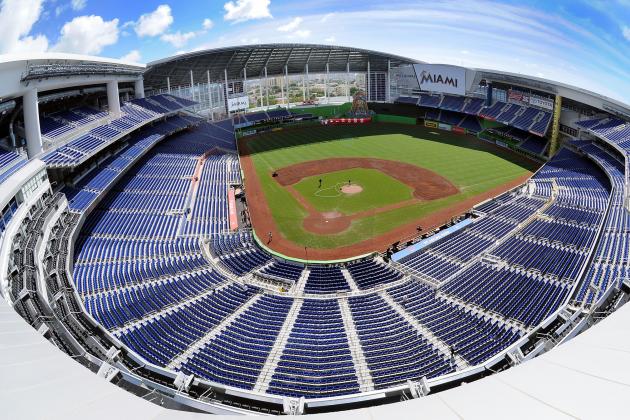 Jason Arnold/Getty Images

Age: 22
Overview: Solorazano followed up his impressive stateside debut in 2011 with an even stronger performance last season for Short-Season Jamestown. The toolsy outfielder improved across the board, batting .314/.274/.519 with 24 extra-base hits and 49/17 K/BB in 59 games. Although his hit tool projects to be his best offensive attribute, he showcased a surprising amount of pop last season. He's definitely a prospect to follow closely during his full-season debut in 2013.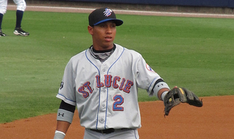 Courtesy of amazingavenue.com
Age: 21
Overview: A 5'10", 160-pound shortstop, Tovar's calling card will always be his defense thanks to his plus range, solid glove and strong arm. He makes so much contact that it nearly offsets his lack of plate discipline, and batted .270/.345/.360 with 32 extra-base hits, 14 stolen bases and 39/40 K/BB last season in 122 games between High and Double-A. His fastest route to the major leagues is probably as a late-inning defensive replacement up the middle.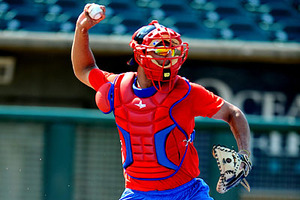 Courtesy of philly.com
Age: 19
Overview: Acquired from the Orioles in the deal for Jim Thome at the end of June, Lino's a raw prospect with the potential to become an above-average catcher in the major leagues. At 6'3", 200 pounds, his plate discipline is inconsistent, as he batted .222/.293/.352 with 30 extra-base hits and 97/30 K/BB in 93 games at Low-A last season. Defensively, Lino shows excellent athleticism behind the plate and a plus arm that will be an asset at higher levels.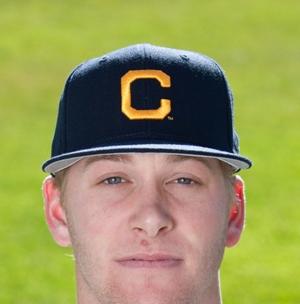 Courtesy of willofachampion.com
Age: 23
Overview: Selected by the Nationals in the ninth round of the 2011 draft, Anderson didn't make his debut until late-2012 due to injury. However, the 6'6" right-hander still flashed plenty of upside, as he registered a 3.04 ERA with 24/8 K/BB in 26.2 innings. With a digging two-seam fastball that sits in the low-to-mid-90s, he gets an exceptional number of groundball outs. Anderson also features a curveball with plus potential, as well as a splitter that should develop into an average third pitch.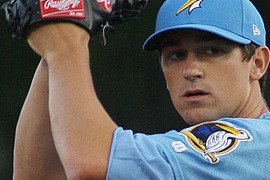 Courtesy of joelmlblogs.wordpress.com
Age: 23
Overview: Acquired from the Rangers in the Ryan Dempster deal in late July, Hendricks, a 6'3" right-hander, was sharp in his full-season debut. Pitching for both organizations' respective High-A affiliate, the former eighth-rounder (2011) registered a 2.99 ERA with 123/18 K/BB in 147.2 innings. A workhorse-type starter who can get outs and eat innings, Hendricks has a true feel for his three-pitch mix that's highlighted by a low-90s fastball and plus changeup.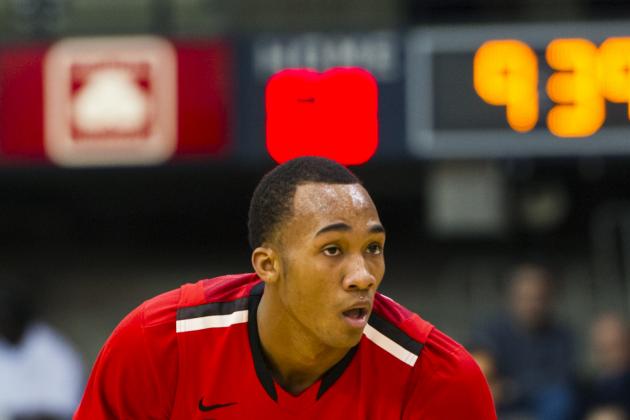 Howard Smith-USA TODAY Sports

Age: 20
Overview: Also a basketball player at St. John's, the Reds spread out Garrett's $1 million signing bonus over five years after drafting him in the 22nd round in 2011. The 6'5" left-hander has a plus fastball, but is otherwise extremely raw and inconsistent. He'll need additional time to develop given his two-sport aspirations, but there's plenty of upside to be excited about.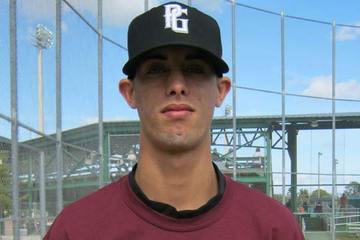 Courtesy of PerfectGame.org
Age: 19
Overview: A second-round draft pick in 2011, Lopez registered a disappointing 5.06 ERA with 46/22 K/BB in 48 innings last season between the Arizona and Dominican Summer Leagues. The 6'4" right-hander has the potential for three average-to-plus pitches, including a borderline-plus curveball that's presently his best offering.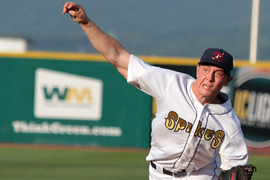 Courtesy of MiLB.com
Age: 21
Overview: Sampson would have been drafted out of high school a few years back, however, the 6'3" right-hander needed Tommy John surgery during his senior year. Instead he attended Bellevue Community College for two seasons before the Pirates popped him in the fifth round last June. Behind a present above-average fastball and curveball, he registered a 2.95 ERA with 44/17 K/BB in 42.2 innings in his professional debut at Short-Season State College last summer. If his changeup continues to develop, Sampson has the ceiling of a mid-rotation starter.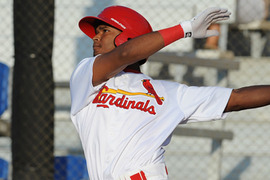 Courtesy of MiLB.com
Age: 21
Overview: Garcia has improved in each season since the Cardinals drafted him in the 18th round in 2009 out of Puerto Rico. A physically strong right-handed hitter, he batted .280/.354/.525 with 56 extra-base hits (19 home runs) and 107/34 K/BB in his full-season debut at Low-A Quad Cities. His bat receives less credit than it deserves, and is actually highly projectable provided that his plate discipline continues to improve.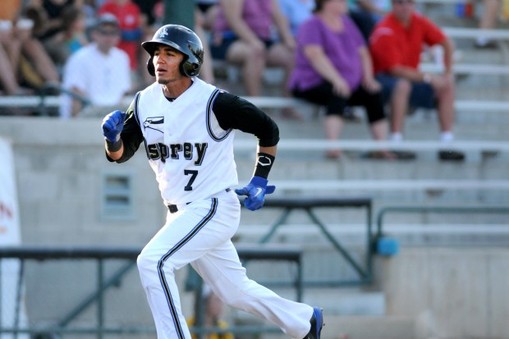 Courtesy of missoulian.com
Age: 20
Overview: Perez was highly impressive this past season in the rookie-level Pioneer League, as he batted .293/.358/.542 with 31 extra-base hits in 58 games for Missoula. Although his plate discipline and pitch recognition are raw due to inexperience, the left-handed hitting backstop projects to have an average hit tool with above-average raw power. Defensively, Perez is advanced beyond his years with plus catch-and-throw skills and a plus arm. His receiving skills need refinement, understandably, but he has the makings of an above-average catcher in the major leagues.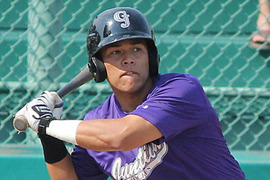 Courtesy of MiLB.com
Age: 18
Overview: A seventh-round draft pick last June out of Puerto Rico, Rodriguez received an aggressive assignment to the rookie-level Pioneer League where he played the season as the youngest backstop in the league. He held his own at the plate, batting .319/.370/.452 with 17 extra-base hits and 23/13 K/BB in 43 games. He lacks present power, but has a compact swing that yields line drives to all fields. Rodriguez is raw behind the plate but has the makeup and athleticism to improve.
Courtesy of MiLB.com
Age: 21
Overview: A 6'1", 150-pound shortstop, Sweeney stands out for his athleticism and plus speed. Drafted in the 13th round in 2012, the switch hitter's bat was better than expected (from both sides of the plate), as he batted .291/.372/.447 with 17 extra-base hits and 17 stolen bases in 51 games for Low-A Great Lakes. Due to his speed, the Central Florida product has excellent range, as well as the arm and instincts to remain at the position. He's still raw around the edges overall, mainly with his footwork and accuracy, but he showcases an impressive collection of tools.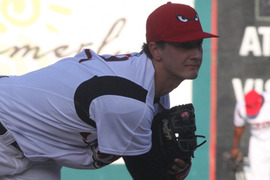 Courtesy of MiLB.com
Age: 22
Overview: A 14th-round draft pick in 2011 out of Oklahoma, Smith, a 6'4", right-hander, made the jump directly to High-A Lake Elsinore for his full-season debut, and registered a 3.85 ERA with 137/27 K/BB in 128.2 innings. He's ready for Double-A next season, but will have to work lower in the zone against more advanced hitters. Smith's capable of both missing bats and getting outs, and projects favorably as a No. 4 or 5 starter.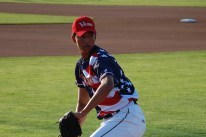 Courtesy of 9inningknowitall.com
Age: 20
Overview: At 6'7", 180 pounds, Gregorio's frame oozes with projection. The right-hander made his stateside debut in 2011 and paced the Arizona League with a 2.32 ERA. He showed good stuff once against last year, but was touched up at Short-Season Salem-Kazer to the tune of a 5.54 ERA and .272 BAA in 76.1 innings. Gregorio's fastball sits in the low-90s on a good angle, and, given his wiry frame, there's reason to believe that he'll add velocity. He has the foundation for a quality breaking ball, but, much like his changeup, he's still developing a feel for the pitch.