Dwight Howard's Continuing Injury Woes Ensure Lost Season for L.A. Lakers
Use your ← → (arrow) keys to browse more stories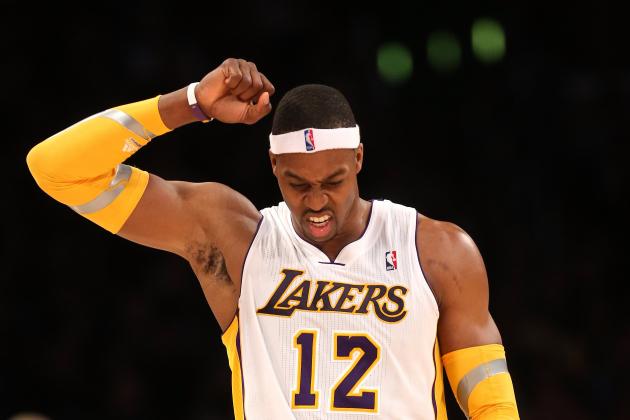 Stephen Dunn/Getty Images
Dwight Howard has been in pain more often than not this season.
The Los Angeles Lakers are plummeting fast.
After losing a close game in San Antonio on January 9 in which the team frankly had no business coming close to a win (we're talking a surprise 22-point, 13-rebound input from Earl Clark), Mike D'Antoni's team has fallen to five games below .500.
Overall, the Lake Show has been uninspired, out of sync and at times downright hard to watch. The defense is as poor as any L.A. has seen in the last decade, so much so that an offensive mind like D'Antoni will not be able to bail them out.
Even former Lakers great Magic Johnson is struggling to maintain his optimism for this year's squad, and rightfully so. With the latest shoulder injury to NBA's former best center Dwight Howard, the Lakers have officially fallen out of the hunt for a championship in 2012-13.
But this shouldn't be news to anyone—Dwight has been battling some variety of injury bug all season. Whether it has been officially reported or not, his game play and demeanor on the floor have lacked the typical aggression and explosiveness that had him trademarked as the best defensive player in the league.
Only now that the Lakers are 15-20 have people started to panic and talk of the Lakers missing the postseason. I'm here to tell you that the team's ultimate fate has rested on Dwight Howard's massive shoulders all along, and because of injury—both past and present—he has failed to deliver what the team needs in order to make serious strides.
It starts and ends with where the Lakers are missing Dwight the most—defensive swagger.
If you thought Dwight Howard was going to be a revelation on the offensive end of the floor this year (or any, for that matter) you had the wrong idea. The big man can score, but mostly because he is stronger than every other player on the floor and thus can get really, really close to the basket.
Otherwise, he lacks legitimate post moves, doesn't own a credible jump shot and is poor from the free-throw line.
But that has all been forgotten in the past because the man used to change every single defensive possession when he was on the floor.
Before coming to the Lakers, Howard was the premier shot-blocker in the NBA. Statistics show that he wasn't the leader in blocks per game or per 48 minutes in 2011. However, his presence in the paint was the most feared of anyone around the league.
He sent countless attempts sailing away from his hoop, and as the second video shows, even caught some out of midair.
Dwight Howard could light up the Orlando crowd with one monstrous block.
Coincidentally, Howard has averaged 2.6 blocks per game this season compared to just 2.1 in his last season with the Magic. Even still, Superman and his three Defensive Player of the Year awards were expected to anchor the Lakers' defensive unit.
To date, the Lakers rank No. 26 in the NBA in team defense, allowing opponents to average 101.5 points per game.
In Orlando, when he couldn't quite block a shot, Dwight certainly altered it. Every penetrating guard thought twice about going up strong to the cup with the knowledge that a freakishly muscular frame would be there to greet him. Easy layups sailed high and wide time and time again.
And when those altered shots didn't fall, guess who was there to corral the rebound? Dwight Howard. He averaged over 14 boards per game in his last two seasons with Orlando. This year for the Lakers? 12.4.
This Lakers team lacks the swagger that Dwight introduced to the Orlando Magic, the defensive nastiness that kept his teams in the playoff hunt against the beasts of the Eastern Conference and even carried them to the Finals in 2009.
Granted, Howard is not the only man on the floor responsible for defending
Kobe Bryant can't stay in front of anyone reasonably athletic these days (and is often lazy, allowing cutters to beat him to the bucket), Steve Nash is constantly seen stretching his back on the floor next to the bench and Pau Gasol is, well, Pau Gasol.
Check out Dwight's defensive impact on one game.
In any case, Superman quite noticeably has not appeared to be at full strength at any point this season. It could be linked to offseason back surgery, discontent with his new home and teammates or some other undisclosed physical issue that's holding him back.
The bottom line—the Lakers aren't going anywhere without Dwight as the centerpiece, and his latest injury guarantees they will not reach their final goal.
All stats are accurate as of January 9, 2013.