Manchester United: 6 Areas United Could Improve in 2013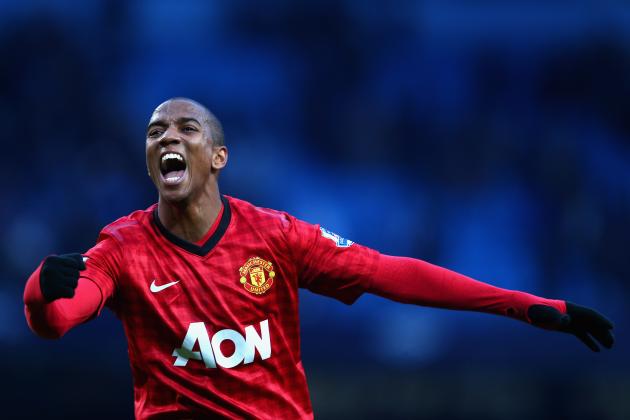 Clive Mason/Getty Images

Manchester United currently sit seven points clear atop the English Premier League and seemingly in complete control for the remainder of the season.
Their attack is the most dominant and explosive in the league and, unlike last year, they sit in strong positions in both European and domestic competitions. Sir Alex Ferguson's men are just in cruise control at the moment, and they are traveling along very, very comfortably.
Having said that, however, the Red Devils are far from perfect and still face several major issues and concerns in the remainder of the current season.
Read on to find six areas United could improve in 2013.
Begin Slideshow

»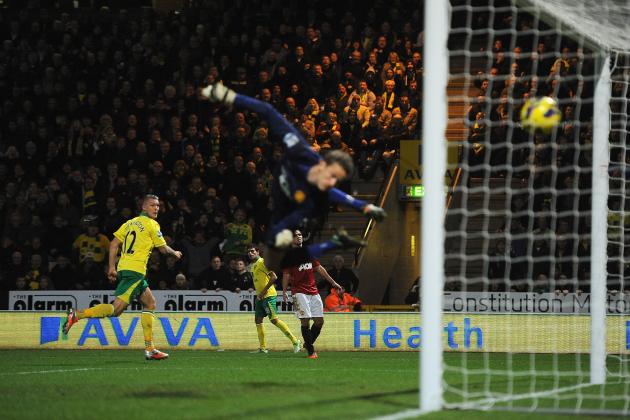 Christopher Lee/Getty Images

There is little doubt that Manchester United's biggest area of concern in 2013 is about their defense, and their ability to play without glitches every single week.
Granted the Red Devils have been crippled by injuries to key players this year and they have posted back-to-back clean sheets, but they simply haven't looked like a strong and untied force in defense this year—and their opponents know it.
Of their 21 league matches so far, Manchester United have posted just five clean sheets on the season. By comparison, nine matches have seen their opponents score two or more goals—conceding three goals on three separate occasions this year.
Jonny Evans has come a long way in his game this season, and Patrice Evra has also proven why he isn't likely to end his career soon either. In fact, the same could be said for all of United's defenders individually this year.
But for whatever reason, they have simply allowed too many cheap and easy goals and don't look like a cohesive and stable unit at the back. The return of captain and star defender Nemanja Vidic will hopefully help fix this problem for United in 2013.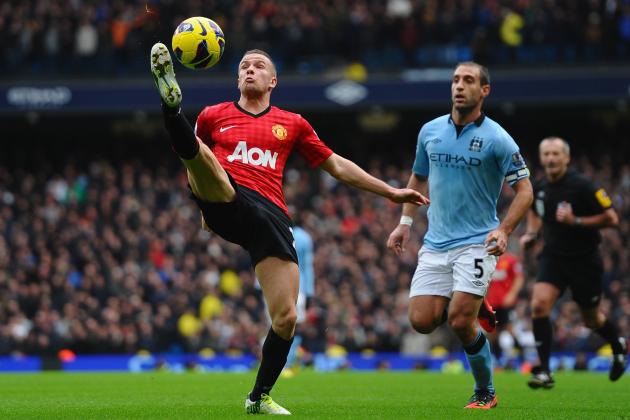 Laurence Griffiths/Getty Images

Tom Cleverley has come along rapidly in his development this year as a central midfielder—taking his game from being good and solid to being very, very effective at times this season.
The England international has combined well with Michael Carrick in central midfield to form the duo that Sir Alex Ferguson seems most comfortably using in the must-win games for the Red Devils.
And for the most part, the pair have done very well. Yet having watched the likes of Manchester City—and to a lesser extent Chelsea—simply run riot through the middle of the field against the pair, there is still much work to be done in central midfield for United.
Neither Cleverley or Carrick is the holding midfielder that their team desperately needs and neither contribute as well in defense as they do going forward.
That's okay when their defense is sound and their attack is firing, but in tight games, when the going might not be so easy, it will come back to hurt the Red Devils—as it has done already this season in the amount of cheap goals they've conceded.
Between the two of them, the English pair need to be better at controlling midfield—holding the team together and directing the play from behind rather than blazing gun-ho into the attack. One of them needs to become Michael Essien to the Manchester United midfield in 2013.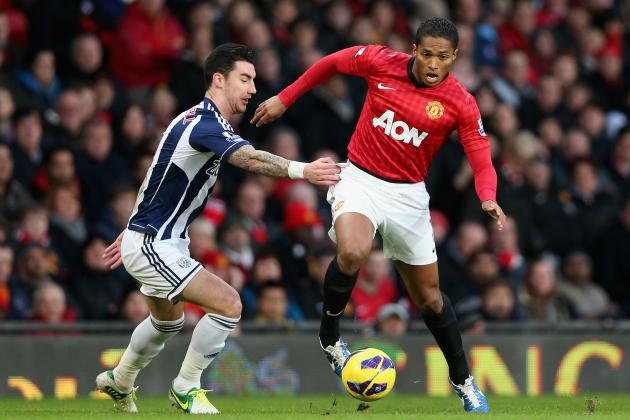 Clive Brunskill/Getty Images

In the 2011/12 season, the wingers at Manchester United were seemingly unstoppable. Antonio Valencia was reaping havoc on the right wing; Ashley Young and Nani were chipping in with useful contributions from the left hand side of the field.
However in the 2012/13 season so far, the Red Devils haven't quite had the same impact that they would have liked from their wide men.
Granted, there's been some formational changes and the presence of Wayne Rooney in an almost midfield role, meaning that their attack is often more direct. But even when the ball does get out wide and the Red Devils do look for inspiration, the effectiveness simply hasn't been there so far.
Antonio Valencia is looking like a one-trick pony; Ashley Young is looking inept; Nani is looking like he'll be more valuable in a Michael Owen role on the bench.
United need the trio to step up again in 2013 and regain their dominance out wide—feeding better balls through to their talented strikers up front. If they can be as good out wide as they were last season, then the Red Devils will be truly unstoppable in midfield in 2013.
And that could lead to some very big things for United.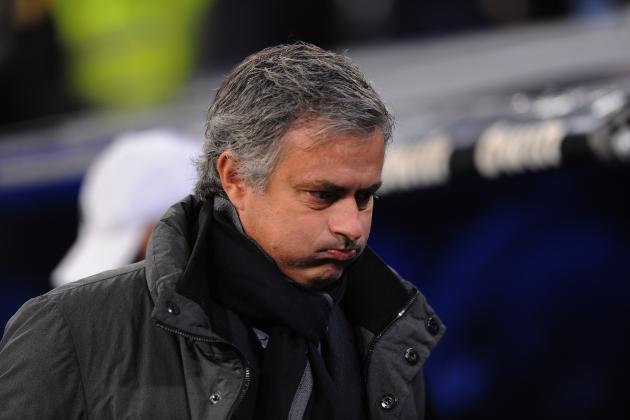 Denis Doyle/Getty Images

Starting with the Champions League.
Having been sensationally funded out in the group stages last year, United have already improved on their previous campaign by progressing through to the round of 16.
Now that they're there, the Red Devils have a huge opportunity to show that they are indeed a world-class team and have a genuine chance at the European title in 2013.
United haven't made the final of the Champions League since 2009, where they were beaten by Barcelona. Sir Alex Ferguson will be looking to leave his mark on Europe once more this season, with arguably the strongest team he's had at his disposal since they last won the trophy in 2008.
To progress any further than they are now, they'll need to beat one of the best in Real Madrid. But having watched United this season, there's little doubt that they are indeed capable of beating the Spanish champions and could well do so this year.
After all, to be the best, you have to beat the best.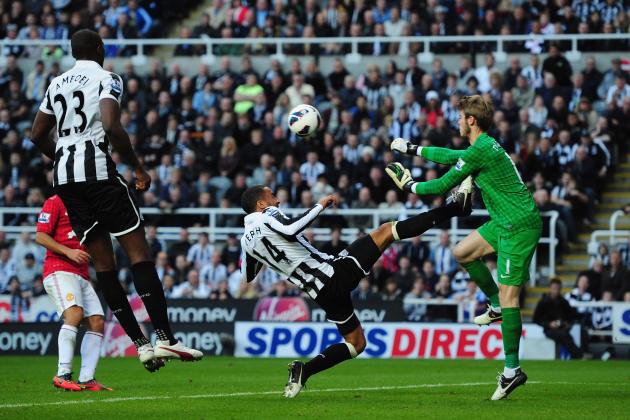 Stu Forster/Getty Images

Particularly in the English Premier League, conceding the opening goal has become a major problem for Manchester United—though it hasn't cost them too many results, strangely enough.
The Red Devils have let in the opening goal in over half their league matches to date—11 out of their 21 matches in the Premier League. They've also put themselves in positions where they've had to come from behind 14 times this year.
There will come a time when United simply cannot keep getting out of jail, where their comeback won't take off the ground as they might want it to.
The solution is to fix their defense early and stop allowing the early goal—something they have been better at lately. Ferguson's men have scored the opening goal in five out of their last six games in the Premier League, showing that improvement is slowly taking place.
But compared to the other major teams, it still doesn't make for great reading, and it's definitely something they can continue to work on in 2013.
| | | |
| --- | --- | --- |
| Club | Score first | Opponent score first |
| Manchester United | 10 out of 21 | 11 out of 21 |
| Manchester City | 11 out of 21 | 8 out of 21 |
| Tottenham Hotspur | 14 out of 21 | 6 out of 21 |
| Chelsea | 12 out of 20 | 5 out of 20 |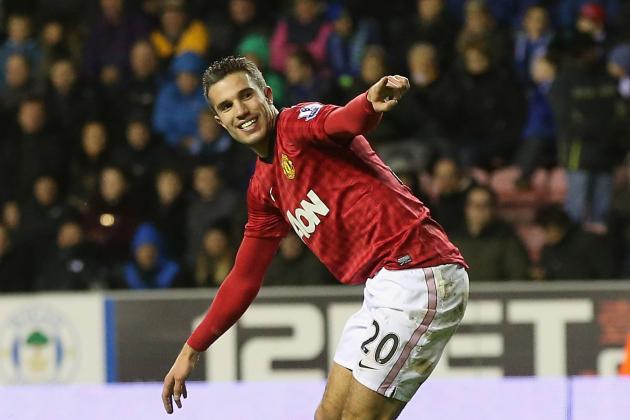 David Rogers/Getty Images

The final point here isn't too much of an issue for United at the moment, but it could become one if not managed properly throughout the remainder of the season.
The Red Devils cannot over-rely on Robin van Persie this season—something that could work itself out in several different ways in 2013.
Not just in terms of scoring goals, but they must not become focused on directing all the attack through him. They must make sure that they are looking for the best option available in attack, and not just the high-flying Dutch international's left foot.
They must also make sure that they are adequately resting the 29-year-old and not burning him out by playing him in matches where he is not needed. That also means Ferguson should trust other strikers such as Javier Hernandez and Wayne Rooney to get the job done.
Van Persie isn't being over-relied on at United at the moment, and it isn't an issue with the club, but it could be throughout the remainder of the year. The Red Devils need to make sure that they are keeping him fresh and hungry, and that they are working well as a team in 2013.
If they can continue to do that, then they'll go a long way to winning that elusive 20th league title.
How do you think Manchester United can improve in 2013?
Comment below or hit me up on Twitter: Follow @dantalintyre