Fighters Who Put the 'Power' in Power Rankings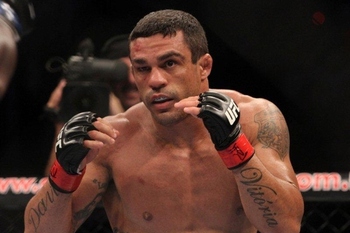 sherdog.com
First of all, to qualify for this list, a fighter must be a bona fide heavy hitter. If he can't force a fist or a leg through a brick wall, then he should go puff his chest somewhere else.
Also, if a guy isn't an active top 10 fighter in his division—hence the mention of power rankings in the title—he needs to exit stage right.
So while guys like Jeremy Stephens, Shane Carwin, Chris Leben, Jimi Manuwa, Mark Hunt and Melvin Guillard possess serious knockout power, they don't make the cut.
This list is in no particular order, but it most definitely packs a punch. Enjoy.
The Heavyweights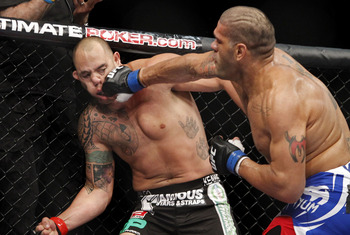 Bruce Kluckhohn-USA TODAY Sports
For obvious reasons, heavyweights are some of the most intimidating individuals on the planet. With hands that are often carved from wholesale ham hocks, they've grown accustomed to punishing foes with fists of thunder.
Here are a few names who have excelled in that regard.
Junior dos Santos - By far the most efficient boxer in the heavyweight division, dos Santos is always one swift strike away from knocking an opponent out cold.
Alistair Overeem - With some of the best kickboxing skills in all of the UFC, Overeem's ability to sling powerful shins complements his robotic-like body type.
Antonio Silva - With hands the size of some fighters' heads, "Big Foot" has the innate strength to blast a hole through any heavyweight. Just look at what he did to Travis Browne with a single punch.
Roy Nelson - Despite average height and a fat belly, Nelson continues to get inside on bigger heavyweights and make them pay. Consequently, that makes him one of the more entertaining big men in the sport today.
The Champions
Tom Szczerbowski-USA TODAY Sports
Cain Velasquez - After putting Junior dos Santos on his butt with one precise punch—along with his impressive finishes over top-notch contenders like Antonio Silva, Brock Lesnar and Minotauro Nogueira—it's officially time to consider Velasquez a heavy-handed Octagon general. Even though his immediate strength continues to be his ground game.
Anderson Silva - There's no doubt about it. Silva is one of the most prolific KO artists of all time. With historic one-strike finishes over guys like Vitor Belfort, Forrest Griffin, Stephan Bonnar and James Irvin, "The Spider" has mastered the art of making fighters pay. So whether it's a flying knee, front heel kick or falling-back jab, the greatest fighter of all time surely puts the power in power rankings.
Jon Jones - Even though Jones often opts to play chess with an opponent and take his time forming offensive strategies, he still possesses the raw power to finish anybody in the division. And it's not just his hands. Jones has been proficient in the past with side kicks to the knee, standing elbows, spinning elbows and sharp muay Thai.
Jose Aldo - Aldo's power in his hands may not stack up pound-for-pound against other guys on this list, but it's his ability to throw devastating leg kicks that lands him here. The fact of the matter is that Aldo has enough power in his legs to cripple a fighter for weeks on end following a bout. Look at what he did to Urijah Faber. Aldo is a modern-day Pele competing in the UFC.
Michael McDonald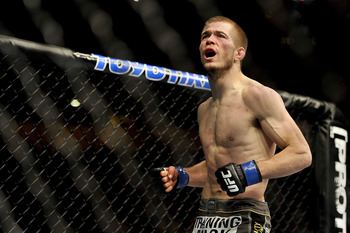 Paul Abell-USA TODAY Sports
Michael McDonald may be an anomaly in the UFC bantamweight division.
Rarely does a guy possess such power in such a small weight class, but McDonald seems to have it down pat with two knockout victories in just four fights.
With a well-rounded arsenal to match the dynamite in his gloves, the 21-year-old has produced immediate success alongside highlight-reel finishes.
Interim champ Renan Barao is next in line to experience the barbaric power of "Mayday."
Hector Lombard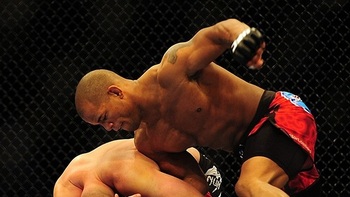 rantsports.com
Physically imposing and skillfully able, UFC middleweight sensation Hector Lombard just looks the part of a complete power striker.
With muscular arms, quick reactions and an untamed threshold to instill pain, the Cuban seems set to run loose throughout the division's top ranks over the next few years.
As long as Lombard maintains his health and worthwhile game plans, he should have no problem adding to a career that already boasts 18 knockouts.
Brian Stann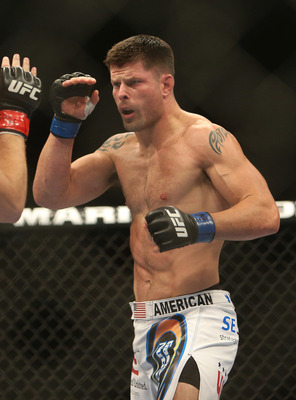 Tom Szczerbowski-USA TODAY Sports
It's always pleasing to root for Brian Stann, especially when he's landing power shots to an unsuspecting head.
The bottom line is that Stann, whether as a middleweight or at his new home as a light heavyweight, demands a certain excellence of himself whenever he steps inside the Octagon.
He uses that self-worth to explode on opponents whether they know it or not. It's going to be interesting to see if he's fast enough to knock out Wanderlei Silva because he definitely possesses the power.
Johny Hendricks
Eric Bolte-USA TODAY Sports
The UFC welterweight division hasn't seen a knockout specialist like Johny Hendricks in years.
It's been far too long, and Hendricks seems to be making up for lost time.
As the consensus No. 1 contender behind the socially unpredictable Nick Diaz, "Bigg Rigg" will need to continue to channel his inner beast heading into the future.
That's something that Hendricks should have no problem doing. His fellow welterweights better keep their chins tucked.
Vitor Belfort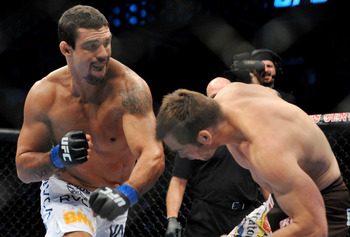 Jon Kopaloff/Getty Images
As long as Vitor Belfort is still competing in MMA, he'll make this list. No ifs, ends or buts about it.
The bottom line is that "The Phenom" has been making heads roll for more than a decade.
For that, respect is due.
It just makes it a little easier to do so considering Belfort is still a top fighter in the world, whether as a middleweight or light heavyweight.
His upcoming bout opposite the always formidable Michael Bisping could produce a similar outcome to that of Dan Henderson's historic double tap on the Brit's chin back at UFC 100.
Daniel Cormier
fighters.com
Daniel Cormier's power comes in many forms.
He can slam guys on their neck, despite the fact that they weigh over 250 pounds, or he can blast his fists into their face.
Either way, one of the most talked-about stars in MMA today has the potential to knock out nearly anyone he faces.
As a future UFC light heavyweight—assuming he won't change his mind and aim to dethrone fellow teammate and heavyweight champion Cain Velasquez—Cormier's power should surface even more.
That's downright frightening.
Ryan Bader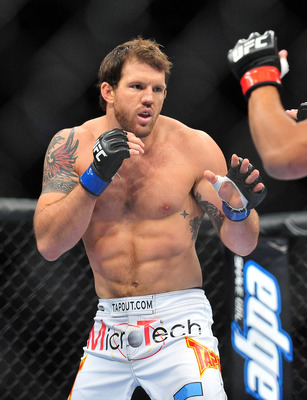 Gary A. Vasquez-USA TODAY Sports
Ryan Bader may slowly be fading out of the UFC light heavyweight division's top 10, but the dude can still punch with the best of them.
The problem is that Bader often opts to throw bombs instead of picking his shots. His technique is average at best.
Regardless, this list is comprised of power strikers. To leave Bader off would be silly.
Wanderlei Silva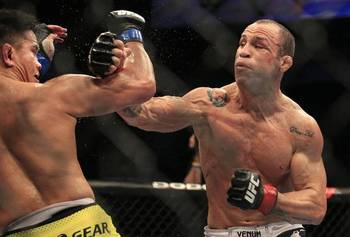 lasvegassun.com
Similar to the case of Vitor Belfort, Wanderlei Silva's historic past and current striking skills easily make him a top candidate for this list.
Whether it's against an elite striker or world-class wrestler, Silva throws bombs from the first minute of a fight to the last. It's something that's even more predictable than the sun rising in the east.
In any case, it's extremely awesome to witness and something that usually favors the Brazilian.
Jake Ellenberger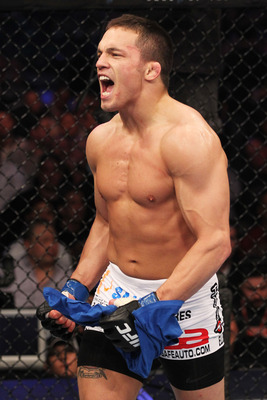 fiveouncesofpain.com
With a nickname like "The Juggernaut," Jake Ellenberger better pack a serious punch.
Well, guess what? He does.
Despite recent struggles to put away Martin Kampmann and land significant strikes against Jay Hieron, Ellenberger is still one of the most dangerous punchers in the UFC's welterweight division.
He's relentless when he gets going and has a knack for pouncing on an opponent when he smells blood.
It may not be a bold prediction, but expect a devastating knockout at the hands of Ellenberger sometime in 2013.
Dan Henderson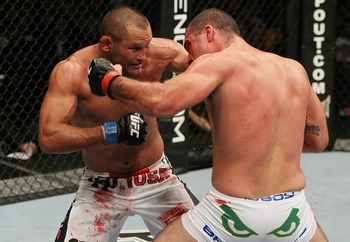 blogs.theprovince.com
Fedor Emelianenko, Michael Bisping, Wanderlei Silva, Rafael Cavalcante and Renato Sobral. They are the fighters who have been stopped early at the hands of Dan Henderson over the past six years.
The first three fighters alone should be enough proof that "Hendo" is one of the greatest power punchers to grace the cage or ring.
The fact that he's 42 years old and missing half his teeth is just icing on the cake.
For more UFC/MMA news and coverage, Follow @DHiergesell
Keep Reading