Re-Grading Philadelphia Eagles' 2012 Rookies at End of Rookie Season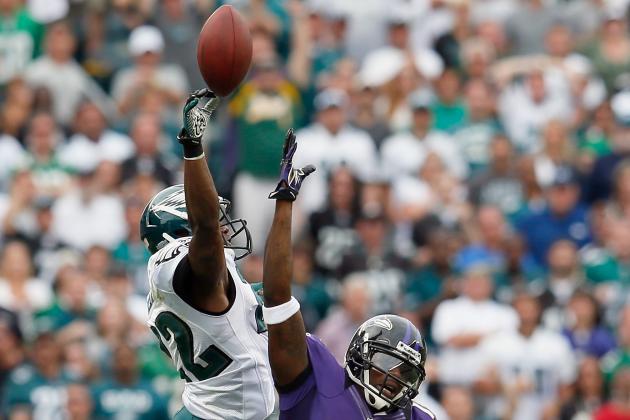 Rob Carr/Getty Images

Much of the demise of Andy Reid's coaching tenure was the result of the 2010 and 2011 offseasons.
During those two years, Reid made a number of questionable free agent acquisitions and draft picks. His draft picks of Brandon Graham and Danny Watkins in consecutive years has given the Philadelphia Eagles almost no production thus far (although to be fair, Graham has started to come on strong as of late).
He whiffed on a number of middle to late round players like Nate Allen, Jaiquawn Jarrett, Curtis Marsh, Casey Matthews, and Daniel Te'o-Nesheim. And his free agent signings of Nnamdi Asomugha, Ronnie Brown, Steve Smith, and Vince Young have all backfired.
Even Reid's coaching hires, notably Howard Mudd and Jim Washburn, cost the team a number of wins.
That's why his 2012 draft was so spectacular. This is looking like one of the finest drafts the Eagles have had in a number of years, possibly since the magnificent 2002 draft. That one produced Lito Sheppard, Sheldon Brown, Michael Lewis, and Brian Westbrook in consecutive picks.
The strong play from the rookies this past year bodes well for the franchise's future. If all goes according to plan, the '12 draft class will play an integral in a playoff berth next season.
Begin Slideshow

»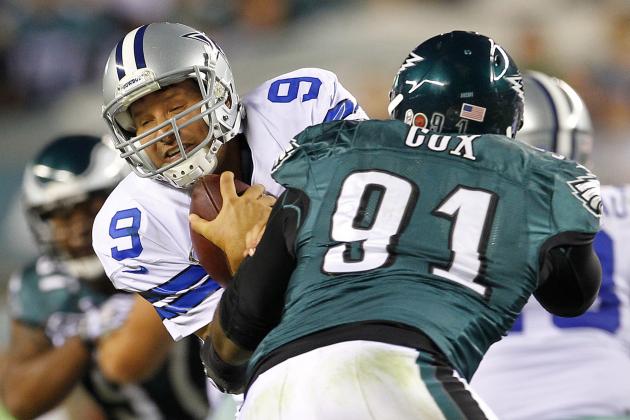 Rich Schultz/Getty Images

In typical Andy Reid fashion, he began last year's draft with a defensive lineman. Such has been the norm for Reid, as he has selected a defensive tackle or end in six of his 12 first rounds.
Fletcher Cox wasn't just an ordinary defensive tackle though. He was seen as a low-risk, high-reward interior lineman with the ability to get to the quarterback and cause constant pressure. The Philadelphia Eagles actually traded up from the 15th pick to the 12th pick, sending a fourth and sixth-rounder to the Seattle Seahawks.
Cox began the year as a backup behind Cullen Jenkins and Derek Landri (Mike Patterson was sidelined due to offseason brain surgery). Landri played well enough to hold down the starting spot for the season's first six games but Cox took over for Week 8 against Atlanta.
He was a one-man wrecking crew in Weeks 10 and 11, registering a combined eight quarterback pressures in just 65 total snaps. The Eagles continued playing Cox sparingly, using their usual constant rotation on the defensive line. This kept Cox fresh and allowed time for Jenkins, Patterson, and Landri to all get snaps.
Cox missed the final game with a concussion, which won't carry over to the 2013 season. His 5.5 sacks tied Marcell Dareus and Nick Fairley for the third-most among all interior defensive linemen. It was far and away the tops for any rookie defensive tackle. Cox's terrific campaign was rewarded with a selection to Mel Kiper's NFL All-Rookie team. He will be a Pro Bowler within a year or two.
Grade: A
Alex Trautwig/Getty Images

Andy Reid has never selected a linebacker in the first round. The fact that he picked Mychal Kendricks as high as he did shows he realized just how poor the positional group was in 2011.
Kendricks began the year playing at a Pro Bowl level against the Cleveland Browns, Baltimore Ravens, and Arizona Cardinals. In those three games, he played nearly every snap. Kendricks started two games at weak side linebacker and one at strong side 'backer. He was terrific in pass coverage and extremely valuable in run defense.
Kendricks' ability to go sideline-to-sideline was evident from day one, and he was a massive upgrade over the likes of Jamar Chaney, Casey Matthews, and Akeem Jordan. Kendricks' play dropped off in the later weeks, as he may have hit the rookie wall.
He struggled in tackling, missing a ridiculous six in a 16-14 loss to the Pittsburgh Steelers. Kendricks' struggles coincided with the Eagles' eight-game losing streak, as he was a liability as a tackler game after game.
Kendricks settled down in the season's final few games. He turned in arguably his finest all-around performance in a win over the Tampa Bay Buccaneers, excelling when he was switched over to weakside linebacker.
The growing pains Kendricks experienced are fairly typical of a rookie linebacker, especially one that wasn't picked in the first round. He's a talented enough player though that there's reason to be excited about his future. Kendricks may play at strong side linebacker next year and it may be at weak side, but the impressive aspect is that he can play either one. Coupled with DeMeco Ryans in the middle of the field, the Eagles have one of the finest linebacking corps they've had in quite some time.
Grade: B-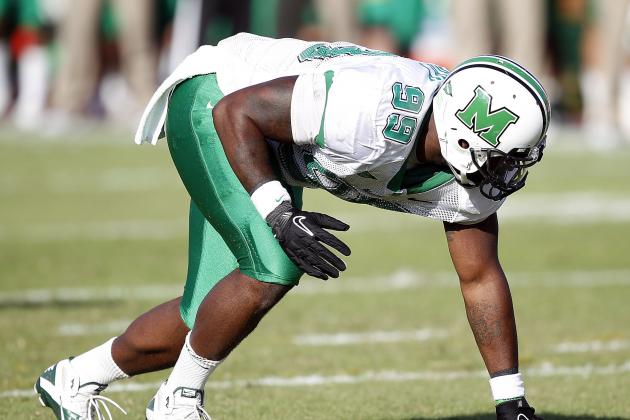 Bob Levey/Getty Images

The fact that the Philadelphia Eagles picked three front-seven players with their first three selections is reason to believe the defense will be solid for years to come.
Vinny Curry had a successful collegiate career at Marshall University, establishing himself as one of the premier pass-rushers in the NCAA. The Eagles grabbed Curry to add to an already-deep defensive end rotation.
That unit vastly underachieved in 2012, namely veterans Trent Cole and Jason Babin. Cole is still an important part of the franchise, but Babin was canned midway during the year. That moved Curry, who was inactive for the first 11 games, into the rotation.
He played 22 snaps against the Carolina Panthers in his debut, registering four tackles. Curry also had a hurry, nearly sacking Cam Newton. He was efficient down the stretch, although not remarkable. The Eagles always rotate their linemen heavily, and Curry was just part of the mix in 2012.
He will move into a more important role next year though. Cole and Brandon Graham will likely start, which means Curry should be the top backup. Neither Phillip Hunt nor Darryl Tapp was productive enough to warrant a return in '13.
That means the Eagles will see more of Curry next season, and he's going to be an important piece of their defense.
Grade: B-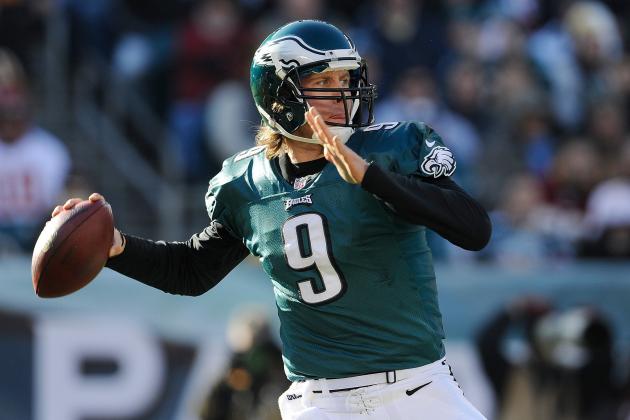 Patrick McDermott/Getty Images

It's always risky picking a quarterback in the third round. It's typically too high for a backup, but too low for a starter, which can put a signal-caller in the Colt McCoy territory.
Nick Foles got his chance to play in Week 10 against Dallas, when he took over for an injured Michael Vick. Foles showed growing pains at first, throwing just one touchdown pass in his first three games. The Philadelphia Eagles used Foles carefully, calling a number of checkdown passes that allowed Foles to ease into his role slowly. That, and the lack of pressure from a horrific losing streak gave Foles the chance to get his feet wet.
Foles came onto his own down the stretch, posting a passer rating of over 85 in three of his final four games. His performance was highlighted against the Tampa Bay Buccaneers, when he converted a pair of fourth downs before hitting Jeremy Maclin for a walk-off touchdown pass and a two-point win.
Foles finished the season with a 60.8 completion percentage, the fifth-highest in history among an NFL rookie. He threw just five interceptions, posting a 1.89 rate exactly identical to that of likely league MVP Peyton Manning. More than just that, Foles showed confidence and poise in the pocket.
He's not fast; in fact, he's one of the slowest skill position players in the league. But he showed an exceptional ability to step up in the pocket and avoid a pass rush. He doesn't appear to get rattled at all. And he makes very good decisions.
The big arm that was advertised wasn't always evident, as Foles had some problems throwing the ball deep. But that is to be expected for a rookie third-round pick forced into action without much of his offensive line, his best running back, or his number one receiver.
Foles may be the quarterback of the future and he may not be. Either way, it's likely that he gets the opportunity to enter camp in 2013 as the uncontested starter.
Grade: B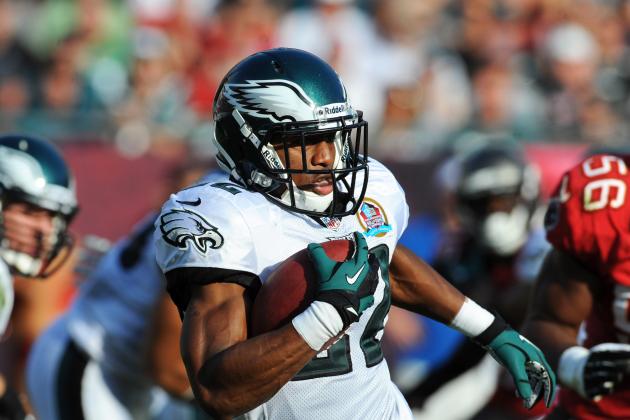 Al Messerschmidt/Getty Images

Brandon Boykin showed flashes of brilliance during his rookie campaign. He played mostly as a nickel cornerback, lining up opposite the other team's slot receiver. That's probably the best place for Boykin, as his height could limit him against some of the game's more physical receivers.
Then again, players like Antoine Winfield are short in stature but make up for it with their outstanding play.
Boykin allowed three touchdowns without recording an interception but he also held opposing quarterbacks to just a 54.0 completion percentage. The Philadelphia Eagles may let Dominique Rodgers-Cromartie walk in free agency, which could force Boykin into a starting role in 2013.
Grade: B-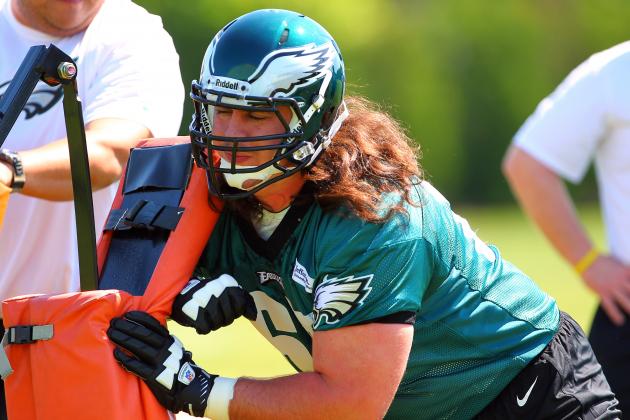 Rich Schultz/Getty Images

The Philadelphia Eagles were forced to play Dennis Kelly regularly in his rookie season because of their shoddy play on the offensive line.
Kelly is a natural tackle at 6'8", so the team's decision to start him for several games at right guard was questionable. He struggled, predictably so, and it didn't help matters that he was a full nine inches taller than his quarterback at the time.
Kelly played better when he was moved to right tackle. He experienced some growing pains that would be expected for a young, inexperienced offensive lineman. But he's got a chance to be a starter for the Eagles someday down the road. At the very least, he's atop backup in 2013.
Grade: B-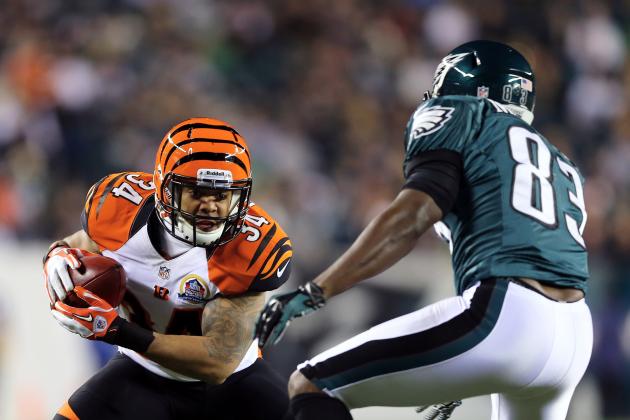 Elsa/Getty Images

Marvin McNutt was one of the more disappointing players in the Philadelphia Eagles' draft. He was initially projected by many to be a borderline second or third round pick but saw his stock fall to the sixth round.
The Eagles picked him up, hoping his excellent hands would land him a spot on the 53-man roster. Instead, McNutt was beaten out by undrafted rookie free agent Damaris Johnson. McNutt ended up spending the majority of the campaign on the practice squad.
Grade: D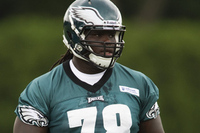 Picture Courtesy of Google Images
Like Marvin McNutt six picks before him, the Philadelphia Eagles probably thought they had a steal when they selected Brandon Washington. The guard was seen as a mid-round pick and was expected to provide depth on the offensive line in 2012.
Washington never made the team though. He was cut in training camp, and had he made the team he assuredly would have seen playing time given Danny Watkins' struggles.
Grade: F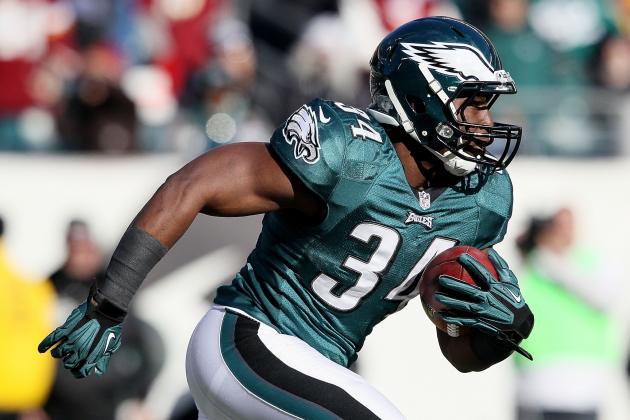 Alex Trautwig/Getty Images

Perhaps no player had more of an up-and-down season than seventh-round running back Bryce Brown. After a near-nonexistent collegiate career, Brown beat out Dion Lewis and Chris Polk for the backup running back spot behind LeSean McCoy.
He played sparingly for the first half of the year before he was forced to start for the injured McCoy. Brown exploded in his first two games, rushing for 178 and 169 yards while scoring a pair of touchdowns in each of his first starts. He showed explosive power and speed, giving the Philadelphia Eagles dreams of a monstrous two-headed running back tandem in 2013, despite Brown's fumbles.
Then Brown hit the rookie wall. He stopped running between the tackles. He looked scared of contact, or of fumbling the football again. He showed almost no value in the season's final games, putting his stock for the 2013 season much in question.
Of course he will make the team, but the question is how much he will contribute. If he can hold onto the football and run between the tackles, he's got a chance to shine.
Grade: B+