New York Giants: Progress Report on GM Jerry Reese's 2011 Rookie Class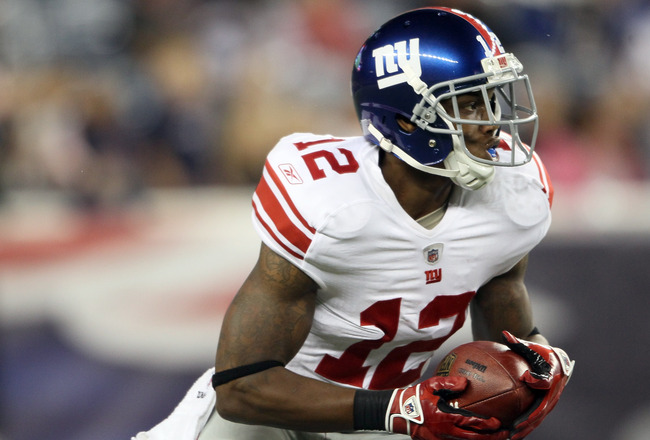 WR Jerrel Jernigan was a third-round pick in 2011.
Elsa/Getty Images
Last week, I evaluated every member of the New York Giants' 2012 rookie class. Now it's time to revisit the rookies from the year before, as most of general manager Jerry Reese's handpicked crop has had two full seasons to marinate in the Giants organization.
Last week's article highlighted "what we saw" and "what to expect," culminating in a final grade (five-point scale) that measures each player's "untapped potential." This article will use a similar rubric.
Three members of the 2011 rookie class will not be on the list: sixth-round linebacker Greg Jones (cut in training camp, spent 2012 with Jacksonville Jaguars) and undrafted defensive linemen Martin Parker and Justin Trattou (limited action between practice squad and injured reserve).
Round 1, Pick 19: CB Prince Amukamara
Tom Pennington/Getty Images
What we have seen:
Coming into the 2012 season, cornerback Prince Amukamara had draft-bust written all over him.
A broken foot, which Amukama suffered shortly after a brief holdout during training camp, delayed his rookie debut to Week 11 of the 2011 season. When he finally did get into the action, the inexperienced corner was unimpressive and eventually pulled from the starting line-up.
Despite an unwanted dip in the ice-tub back in preseason, Amukamara impressed his teammates with a much-improved level of play in 2012. He was easily the Giants' top corner (when on the field) this past season, as veteran Corey Webster suffered a complete drop-off in production.
Amukamara finished the season with only one interception but seven passes defended, third most on the team.
What to expect:
Amukamara's biggest downfall is his ongoing struggle to stay off the injury report; he has missed 12 games in the past two seasons.
However, if Amukamara is able to stay healthy in 2013 and beyond, he could become one of the top cornerbacks in the league. He is a great man-to-man defender who has the athleticism to go up against an opponent's top receiver.
Untapped potential: 4.5/5.0
Round 2, Pick 52: DT Marvin Austin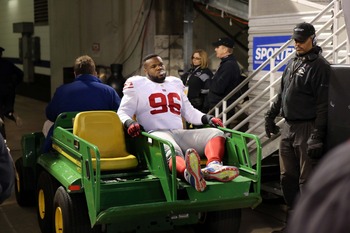 The Star-Ledger-USA TODAY Sports
What we have seen:
When he was drafted, defensive tackle Marvin Austin was viewed as a steal. The one-time sure-shot first-rounder was expected to provide the Giants' interior defensive line with unprecedented athleticism. So far, that hasn't been the case.
Like Amukamara, Austin has struggled to stay healthy. He spent his rookie season on injured reserve for a torn pectoral muscle. He had plenty of opportunities to showcase his athleticism in 2012, but injuries and overall rawness really limited his impact once again.
Austin finished the season with only eight tackles (five solo).
What to expect:
For a second-round pick, Giants fans should be growing impatient with Austin's lack of production. The former Tar Heel has all the tangibles—size, speed and strength—but until he shakes the injury bug, Austin won't be able to make any progress. He is clearly starting to lag behind.
Untapped potential: 3.5/5.0
Round 3, Pick 83: WR Jerrel Jernigan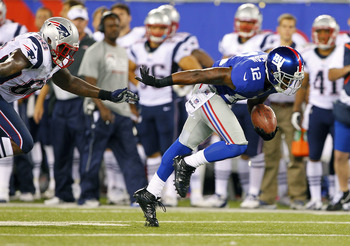 Rich Schultz/Getty Images
What we have seen:
For a third-round pick, wide receiver Jerrel Jernigan has flown under the radar for most of his time in the NFL. At first, the Giants thought he could become a valuable return threat. Unfortunately, Jernigan hasn't been able to field kicks and punts with any degree of reliability.
Jernigan played in eight games in his rookie season but did not catch a single pass. Some anticipated an increase in production after a full offseason with New York, but that was not necessarily the case.
Jernigan finished the 2012 season with three catches for 22 yards and one rush for six yards.
What to expect:
Jernigan won't be able to hide on the active roster for much longer. After two seasons with the Giants, the 5'8" receiver provided next to nothing for New York's offense. Barring an unforeseen breakout performance next August, don't expect to see Jernigan make much of an impact with Big Blue.
Untapped potential: 1.5/5.0
Round 4, Pick 117: OL James Brewer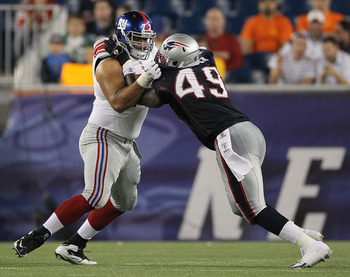 Jim Rogash/Getty Images
What we have seen:
We haven't seen much of the former fourth-round pick, but offensive lineman James Brewer certainly stands out when he is on the field. He is the Giants' most massive lineman at 6'6" and 330 pounds.
The 25-year-old has only appeared in eight games (all in 2012), mostly as an extra tackle in some run-heavy sets.
What to expect:
While we haven't seen much of Brewer, most Giants fans have seen enough of right tackle David Diehl. Until Brewer gets an opportunity to run with the starters on a regular basis, it will be tough to get a read on his true ability. He should be given a shot to replace Diehl in 2013.
Untapped potential: 3.0/5.0
Round 6, Pick 198: S Tyler Sash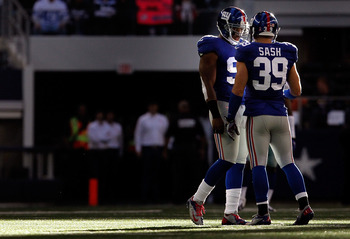 Tom Pennington/Getty Images
What we have seen:
Safety Tyler Sash was a pleasant surprise in his rookie season. He was a standout on special teams, playing in all 16 regular-season games. He recorded 17 tackles and a forced fumble as a reserve safety in 2011.
Sash got off on the wrong foot in 2012, starting his season with a four-game suspension for use of an NFL-banned PED, Adderall. He never fully recovered from the setback and only played in seven games.
Sash finished with only eight tackles in 2012.
What to expect:
Sash is a hard-working player, but given the emergence of safeties Stevie Brown and Will Hill as of late, the former Iowa Hawkeye's future with the Giants is up in the air.
While Sash and Hill will be under contract in 2013, Brown and starting safety Kenny Phillips will be free agents. In a few months, the fog will settle, and we'll be able to properly assess New York's safety situation moving forward.
Untapped potential: 2.5/5.0
Round 6, Pick 202: LB Jacquian Williams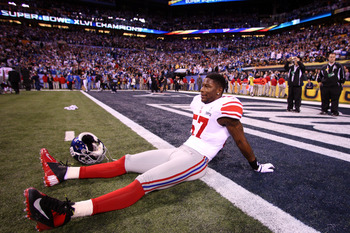 Elsa/Getty Images
What we have seen:
Stop me if I start to repeat myself—linebacker Jacquian Williams, a gifted athlete, hasn't reached his full potential with New York due to injuries. After appearing in all 16 games a season ago, the speedy linebacker missed six games in 2012 with a knee injury.
The Giants fielded a subpar linebacker unit this past season, but Williams is one of the group's few bright spots. He is New York's best linebacker in coverage, and he has no trouble hanging with the league's best tight ends when healthy.
In two seasons, Williams has racked up 108 tackles (79 solo), two sacks and six passes defended.
What to expect:
Williams will have a bounce back season in 2013. He is a player that constantly impresses with his unexpected athletic ability. Williams will emerge as the Giants' top returning linebacker next season.
Untapped potential: 4.5/5.0
Round 7, Pick 221: RB Da'Rel Scott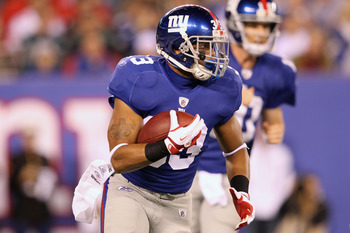 Al Bello/Getty Images
What we have seen:
The Giants took a late-round chance on a speedster out of Maryland when they drafted running back Da'Rel Scott in the seventh round of the 2011 draft. New York figured that Scott would provide a boost in the return game if nothing else.
The Giants did not completely swing and miss by drafting Scott. He returned 14 kicks for 341 yards during his rookie season, but that's just about where the positives end regarding Scott. He only appeared in four games in 2012 before he was sent to injured reserve to make room for defensive tackle Chris Canty, who was returning from PUP..
Scott has 11 career carries for a grand total of 25 yards…oh yeah, and a fumble.
What to expect:
When the Giants drafted David Wilson in the first round of the 2012 draft, Scott was basically rendered useless. Wilson is quicker, faster and just an all-around better back than Scott. With Wilson on the roster, it's difficult to find a situation in which Scott's watered-down skill set will come in handy.
Untapped potential: 1.0/5.0
UDFA: FB Henry Hynoski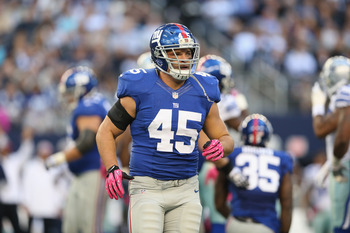 Ronald Martinez/Getty Images
What we have seen:
After completing his second season with the team, fullback Henry Hynoski has become a fan favorite. In 2012, he paved the way for a successful Giants' rushing attack that had ranked worst in the league only a season before.
No matter which running back was in the game, Hynoski found a way to clear a path for big yardage. As a team, New York averaged a formidable 4.6 yards per carry. Because of his adept understanding of pass-blocking assignments, Hynoski was even trusted to run a little halfback in some shotgun sets.
Hynoski capped off a great 2012 season with his first career touchdown against the Eagles in Week 17.
What to expect:
Hynoski made very few mistakes in 2012; he is a valuable cog in New York's offensive machine. Don't expect Hynoski to go anywhere any time soon, as he is quickly becoming one of the league's most dominant fullbacks.
Untapped potential: 4.0/5.0
UDFA: LB Mark Herzlich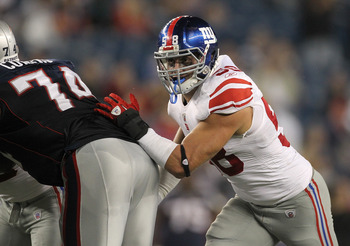 Jim Rogash/Getty Images
What we have seen:
Cancer survivor and former Boston College standout linebacker Mark Herzlich made the Giants squad as an undrafted free agent in 2011. He wasn't quite ready to make an impact in his rookie season, and when an ankle injury forced him to miss the run New York made toward the Super Bowl, veteran Chase Blackburn was asked to fill in at middle linebacker.
Some thought that Herzlich would usurp Blackburn's role as the starting linebacker in 2012, but the incumbent proved to be more difficult to dethrone than originally anticipated. Later in the season, Herzlich received more snaps on defense, which means he could play a larger role in the future.
Herzlich has recorded 42 tackles (30 solo) in 27 games played with the Giants.
What to expect:
Both Blackburn and Herzlich are smart, instinctive players at middle linebacker, but the Giants can afford to upgrade athletically. If things don't pan out in free agency and the draft, Herzlich could still end up starting with the Giants in 2013, though.
Untapped potential: 3.0/5.0
UDFA: LB Spencer Paysinger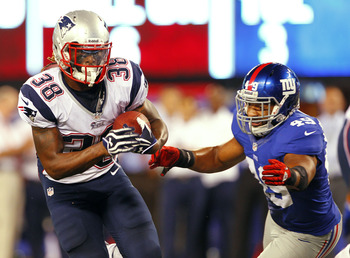 Rich Schultz/Getty Images
What we have seen:
Linebacker Spencer Paysinger is the ultimate role player. Paysinger was a very underrated member of the 2012 Giants special teams cast; he was often seen flying down the field to make a key stop on a dangerous return man.
Paysinger did not play much outside of special teams during his rookie campaign, but he got some time at linebacker late in 2012. He is rarely caught giving less than a full effort and has played in every game except for one in his career.
Paysinger has 51 tackles (38 solo) and a forced fumble in his two seasons with New York.
What to expect:
Unfortunately for Paysinger, it's hard to make a career solely out of outstanding special teams coverage. If his role does not expand soon, a younger, hungrier player with more potential will replace Paysinger on the roster.
Untapped potential: 2.5/5.0
Keep Reading

New York Giants: Like this team?