10 of College Basketball's Most Indispensable Bench Players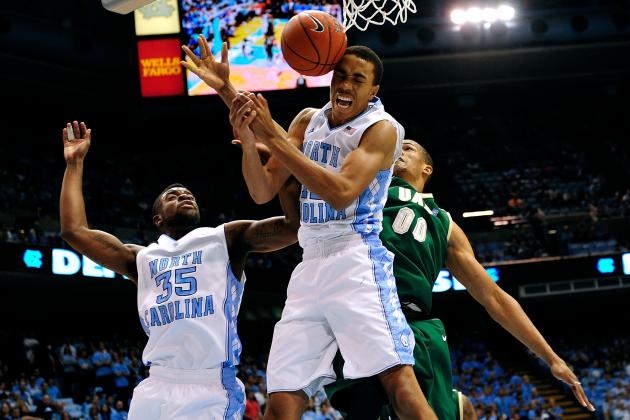 Grant Halverson/Getty Images

Every basketball player wants to crack his team's starting five. It's a vote of confidence from the coach, telling the player that he's trusted to get the team out to a fast start and set the desired tempo from the opening tip.
Not everyone can start, though.
These players still provide a lot of quality time for their teams off the bench. All of them have made five or fewer starts through games of Jan. 8.
They're not often on the court for the first minute, but they do get a lot of time in the final minutes, which are often even more important.
(Players are presented alphabetically.)
Begin Slideshow

»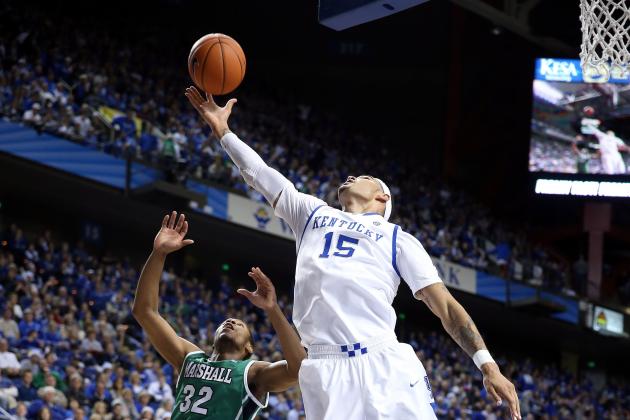 Andy Lyons/Getty Images

On a Kentucky team that only goes about seven deep to begin with, the guys that do play have to make something happen when they're on the court. Willie Cauley-Stein, the "other" freshman big man for John Calipari's Wildcats, usually fits that bill.
Cauley-Stein plays only 20 minutes a night, but produces nearly eight points, six rebounds and two blocks per night. If he was on the court for the 30 minutes that classmate Nerlens Noel sees, he'd be a double-double threat every night, instead of against the Samfords and Eastern Michigans of the world.
The biggest obstacle to Cauley-Stein seeing that kind of playing time is his foul shooting, which can truly be described as "foul." A 36-percent mark makes him hard to trust during crunch time. While the SEC doesn't look as dangerous as in past years, neither do the Wildcats. Close games could be more the rule than the exception this year, and free throws will be crucial.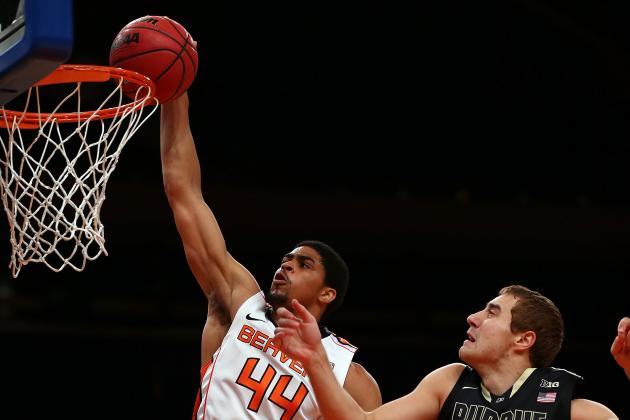 Elsa/Getty Images

Devon Collier made 56 starts over his first two seasons in Corvallis, so moving to the bench is a bit of a culture shock for him. Beavers coach Craig Robinson, however, thinks the move has been highly beneficial.
"When you're as prolific in the low post as Devon is, if he's starting the game from the jump, he is double-teamed or triple-teamed," Robinson told the Oregonian. "If he is coming off the bench, there have been some other guys who have gotten going so he doesn't have to go right away. Then he can kind of wait to pick and choose his spots.''
Collier has picked his spots well this year, averaging 14.5 points per game on 56 percent shooting, both second on the team. The shooting is slightly down from last season's 61.5 percent, which led the Pac-12.
The junior lefty is fine with coming off the bench, since he's playing 25 minutes a night. His low-post presence is key for the Beavers' chances at an NCAA berth, which Robinson may need to save his job.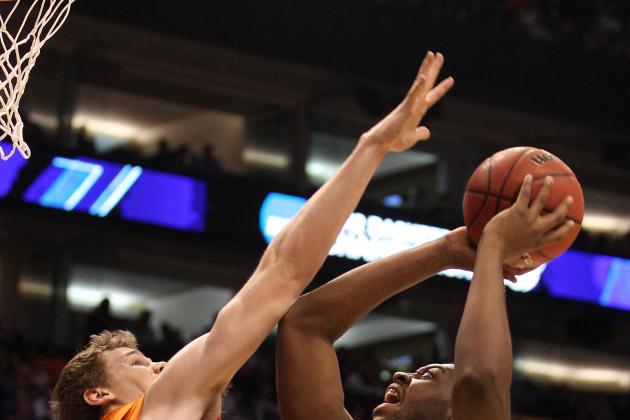 Christian Petersen/Getty Images

Any 6'8", 290-pound basketball player has to answer questions about his conditioning, and Marquette mountain Davante Gardner is no different.
What can't be questioned are his excellent footwork and passing touch from the low post, which make him a key component of the Golden Eagles' offense. Gardner is second on the team at 12.9 points per game despite ranking fifth in minutes at 21.4.
His 59 percent shooting from the floor is made even more effective by a strong 84-percent mark from the foul line. Even if a player is physically equipped to bang with Gardner—and not many are—fouling him is a risky proposition, unlike so many others his size.
Without a truly dominant scorer, Marquette will win with efficiency, and Gardner does efficient better than anyone, ranking second in the Big East in true shooting percentage. Only once this season has he shot less than 50 percent from the floor, and that was in the season opener.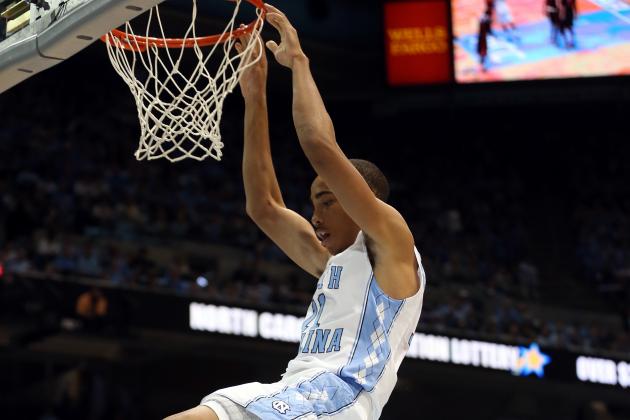 Streeter Lecka/Getty Images

Brice Johnson is part of North Carolina's young trio of rotating big men, a group that should cause coach Roy Williams to pine for football-style offensive and defensive platoons.
Sophomore Desmond Hubert is a defensive stopper, freshman Joel James is a bulky load on the glass and Johnson scores.
A lot.
In only 13 minutes per game, Johnson produces 8.4 points per night. That would compute out to nearly 19 points per 30. He's currently top-10 in the ACC in field goal percentage, effective FG percentage and true shooting.
On a North Carolina team that struggles to play cohesive defense, Johnson is held back by being a major liability on that end. He's third on the team at 4.6 boards per night (fifth in the ACC in defensive rebounding percentage), but primarily gets by on superior athleticism.
Situations will dictate who Williams plays in his post position, but it's hard to argue that Johnson is the most dangerous of the three. If he ever learns how to play defense, All-ACC could be a baseline expectation.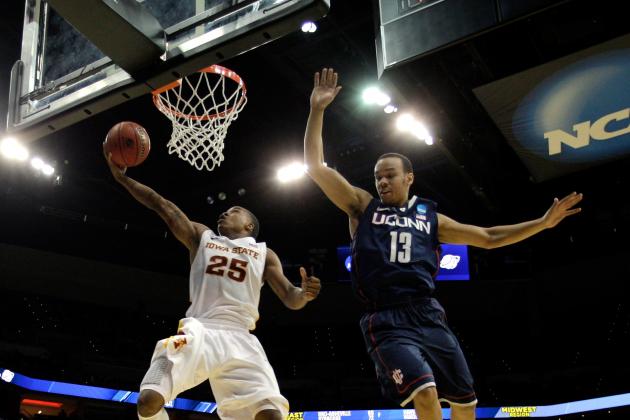 Andy Lyons/Getty Images

Tyrus McGee makes it rain when he pops off of Iowa State coach Fred Hoiberg's bench.
No, not in the Pacman Jones putting strippers through college kind of way. McGee's form of precipitation is in the way we used to define "making it rain" on the schoolyard courts. He shoots three-pointers without conscience and with great success.
In less than 24 minutes per game, McGee is fifth in the Big 12 with 79 three-point attempts and 14th in America with a 48.1 percent success rate.
Lest we accuse McGee of being a one-trick pony, however, his 24 MPG are filled up with nearly four rebounds, two assists and 1.4 steals per night.
Between McGee and teammate Georges Niang (two starts each), Hoiberg may have one of the three or four best bench duos in America.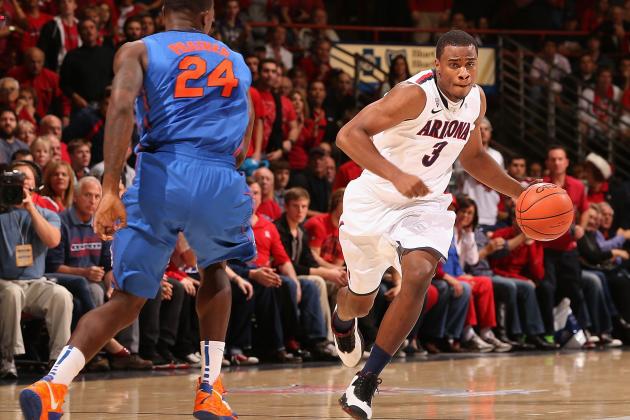 Christian Petersen/Getty Images

Arizona senior Kevin Parrom is the epitome of the adage "It's not who starts the game, it's who finishes." Parrom draws 23 minutes per game, and they're often the most important ones. When he's on the court in crunch time, he has the ability to change the game.
His pair of free throws in the final minute helped seal the Wildcats' win over Florida, and he also tracked down Nick Johnson's game-saving block against San Diego State, ensuring that the Aztecs would get no desperate attempts at a miraculous win.
After a lost junior season that involved a gunshot wound and a broken foot, Parrom's return to form has been a big reason for U of A's superb start. While his raw 9.3 PPG and 5.4 RPG don't leap off the page, he's top-40 in America in both eFG% (65.1) and TS% (67.0).
Parrom produced a combined 33 points in Arizona's tough wins over San Diego State and Colorado, so don't sleep on him when the competition gets stiff. Look for him to pull out some strong games in March, too.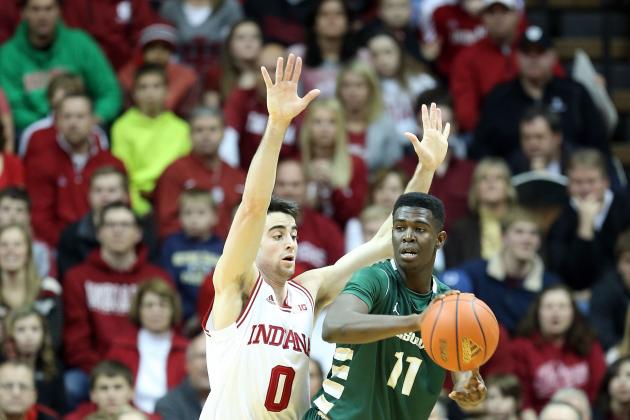 Andy Lyons/Getty Images

On an Indiana team becoming loaded with high-profile recruits, Will Sheehey never lacks for motivation to keep proving himself.
Sheehey was ranked No. 131 by Rivals when he enrolled at Indiana, and he's been the Hoosiers' leading source of grit and attitude ever since. This season, his impact is becoming more quantifiable by our conventional statistics.
At 12.1 PPG, Sheehey sits fourth in scoring on one of America's most potent offensive teams. Defensively, he's an irritant par excellence. He was instrumental in shutting down everybody's All-American, James Michael McAdoo, in IU's November punking of North Carolina. McAdoo shot 4-of-15 from the floor, while Sheehey produced a highly efficient 19 points.
Saying Sheehey plays with a chip on his shoulder is akin to saying the Atlantic Ocean is damp. On a team full of laid-back performers, his edge is what will shock the Hoosiers out of their rare moments of complacency.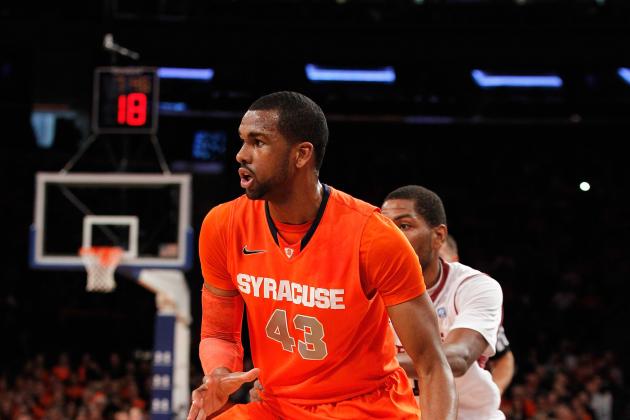 Mike Stobe/Getty Images

If any college basketball team could be said to have six starters, it's Syracuse. Last year, sixth man Dion Waiters became the fourth player taken in the NBA draft. While no one's predicting lottery-pick status for James Southerland, he's every bit as critical to this year's Orange as Waiters was last season.
Southerland is capable of taking over a game with his scoring, as Arkansas fans would bitterly attest after he dropped 35 on the Hogs back in November. When the shots aren't falling, though, he's fine with producing in other ways.
Combined 9-for-29 efforts in January games against Rutgers and Providence would go down as wasted nights for many players, but Southerland salvaged his with 11 rebounds, five assists and five steals in the two games.
A 60-percent true shooter, Southerland doesn't have many of those clunker games. So, opponents need to learn to take advantage.
Rutgers and Providence couldn't, but what of Louisville and Cincinnati?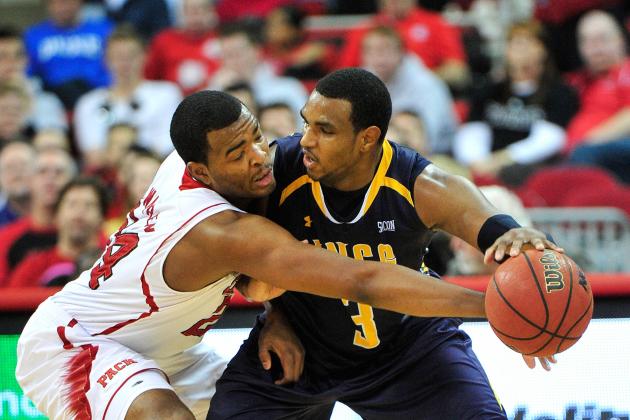 Grant Halverson/Getty Images

Only two players in ACC history have officially shot 67 percent or better in a season: North Carolina's Brendan Haywood and Clemson's Dale Davis. NC State freshman T.J. Warren, currently hitting at a 67.5-percent clip, is set to crash that club.
(Christian Laettner shot 72.3 percent as a freshman, but did not get enough shots to qualify for the conference lead.)
Already, Warren has had seven games of 75-percent accuracy or better. His 70.8 eFG% ranks fifth in America.
It's likely that his percentage will cool off, since he's a weak 48-percent foul shooter, but that's only if defenses can manage to force him away from the basket.
Warren sees opportunities in the post as an occasional power forward, often sharing the court with veteran studs C.J. Leslie and Richard Howell. Doubleteaming any of the three can prove dangerous, so expect Warren to keep seeing honest, if aggressive, defenses the rest of the season.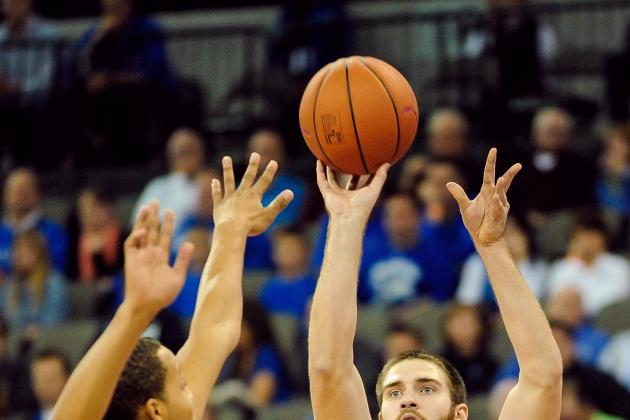 Eric Francis/Getty Images

Pictured here: Ethan Wragge doing what he does best.
Wragge leads the Missouri Valley Conference in made three-pointers and hits at a 46.2 percent clip. That's good for sixth in the MVC, but only fourth on his own team. That kind of perimeter bombing is what's made Creighton hard for the rest of the Valley to contend with.
Wragge had a long December, averaging less than five points per game, but the new year has been kind. He drilled a combined 15 triples in wins over Illinois State, Indiana State and Drake, scoring 16.3 PPG in January.
Not known for his penetrating skills, Wragge makes no secret of how he gets his points. A whopping 93 of his 100 shot attempts have come from outside the arc. Even when the defense knows what's coming, stopping Wragge's shot is another matter entirely.
For more from Scott on college basketball nationwide, check out The Back Iron (now on CollegeBasketballTalk's #NBCMustFollow College Hoop Directory).