Houston Rockets vs. New Orleans Hornets: Postgame Grades, Analysis for Houston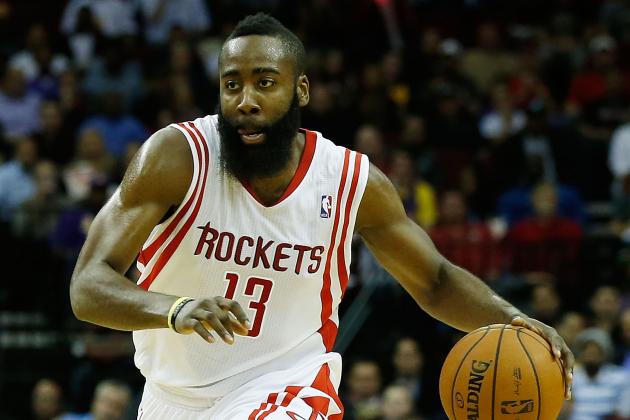 Scott Halleran/Getty Images

The Houston Rockets came into this game leading the league in scoring. Their 125-point outing against the Los Angeles Lakers the Tuesday night was concrete evidence of that. Well, that offense took a vacation Wednesday night, as the Rockets fell to the New Orleans Hornets by a score of 88-79.
Houston actually had two double-digit leads in this one, but it blew both of them. The fourth quarter was an absolute disaster for Kevin McHale's club, as they were outscored 29-10 by the Hornets and were just torched by a red-hot Roger Mason.
Despite 25 points from James Harden (who led all scorers), the Rockets saw their five-game winning streak snapped on Wednesday night. Your first thought is that they may have been a bit tired on the back-to-back, but given the fact that they appeared to have this game well in hand on a couple of different occasions, you can't help but feel that Houston is going to be pretty upset with the way it lost this game.
Begin Slideshow

»
This was just not a very efficient game from Jeremy Lin. The point guard shot 4-of-12 from the floor and was nothing more than a liability out there, turning the ball over five times.
Lin still gets out of control at times, and you have to wonder if he is ever going to be able to harness his rambunctiousness. He hasn't improved in that area at all this season, as he also tended to get a little over-aggressive last year with the New York Knicks as well.
Lin has a tendency to dribble into the lane without an idea. He then stops his dribble and gets stuck, wasting valuable seconds off the shot clock and allowing opposing defenses to trap. This happened far too many times against the Hornets on Wednesday night, resulting in a team-worst plus/minus stat of minus-18.
The only reason why Lin avoids a grade in the D's is due to the fact that he had five steals.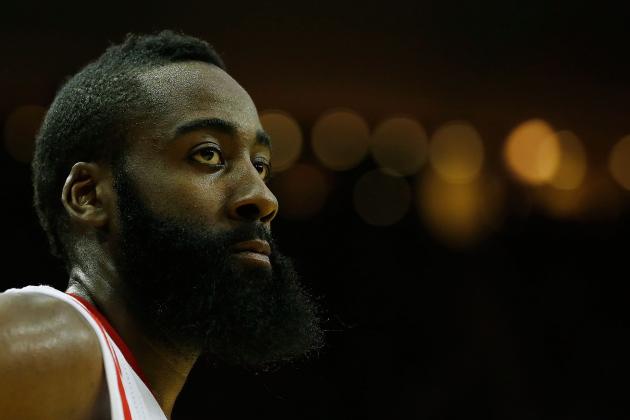 Scott Halleran/Getty Images

While Harden shot the ball fairly well (9-of-18) and finished with 25 points, he did not really leave his fingerprints on this game. He turned the ball over a game-high seven times and missed some shots that he normally makes.
The biggest problem with Harden Wednesday night was that his points seemed to come in bunches. He didn't put together any kind of consistency in this one, and the fact that the officials were letting both teams play put a serious damper on his effectiveness.
Harden relies heavily on drawing contact and getting to the charity stripe, but the circumstances weren't conducive to that on Wednesday night.
Harden also pulled down four rebounds and dished out three assists, but this just wasn't a typical James Harden performance.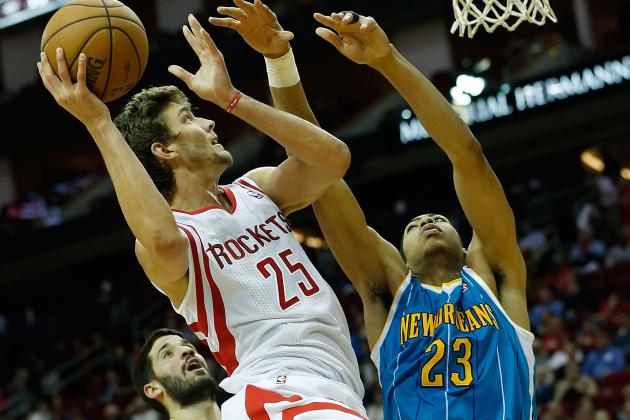 Scott Halleran/Getty Images

This was not a very great outing for Chandler Parsons.
The second-year player out of Florida finished with eight points off 3-of-10 shooting, misfiring on some good looks and never really getting into any kind of rhythm in the 36 minutes he played. He was solid on the glass, though, hauling in eight rebounds, three of them coming on the offensive end.
Despite his presence on the boards, however, Parsons' impact was hardly felt in this one. There were no athletic plays in transition and there was no consistent jump shot.
Parsons has certainly had better nights.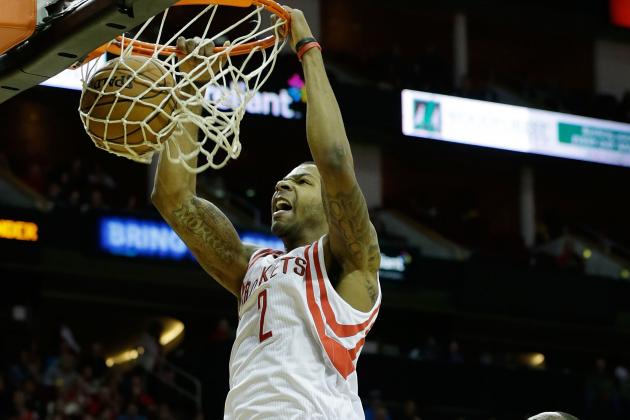 Scott Halleran/Getty Images

It was as if Marcus Morris didn't even play Wednesday night.
In 20 minutes, Morris scored seven points off 2-of-6 shooting. Despite the fact that he started at power forward, he only had one rebound, and outside of playing some solid defense on Anthony Davis early in the first quarter, his impact was not felt on that end of the floor, either.
Morris is the kind of guy who can put together big nights offensively if his shot is falling, but he was not aggressive at all Wednesday, and as a result, Patrick Patterson saw the bulk of the minutes at the 4.
Both of Morris' makes came from behind the three-point line. He was 0-of-3 on two-point attempts. Is that the type of production you want out of your power forward?
Don't think so.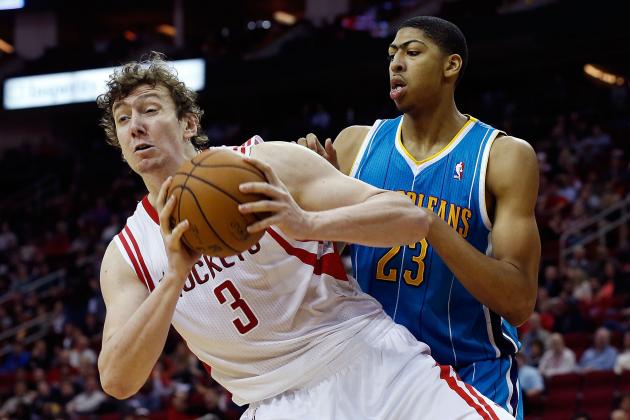 Scott Halleran/Getty Images

After a very slow first half in which he went scoreless and only pulled down two rebounds, Omer Asik had a great third quarter, scoring eight points and making his presence felt on the glass (six boards) and on the defensive end. He was clearly a deterrent to the Hornets' slashers, making some nice contests around the rim and altering plenty of shots.
The problem? Asik did not play at all in the fourth quarter, and it boggles my mind why he didn't. New Orleans absolutely killed Houston on the boards in the final period, and for some inexplicable reason, McHale kept Asik on the bench.
Yes, Asik only averages 29.7 minutes per game, but in a game this close where you clearly need help in terms of rebounding, you have to get him out there. Plus, it wasn't like Asik logged a ton of playing time before the fourth. He had only played 26 minutes.
Asik led the Rockets in plus/minus with a plus-8, by the way.
So, why wasn't he out there again?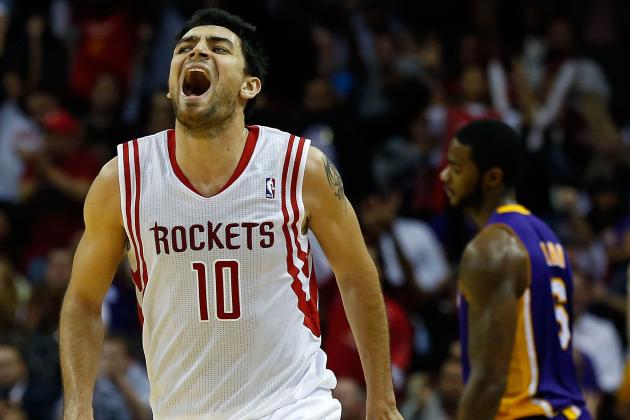 Scott Halleran/Getty Images

This wasn't one of Carlos Delfino's best nights.
After lighting up the Lakers for five threes the night before, Delfino came out and shot 3-of-10 against the Hornets, missing some wide-open looks that could have been momentum changers.
He finished with nine points and only hit two of his six three-point attempts, logging a minus-14 plus/minus stat.
There really isn't much more to say other than the fact that the Argentinian was not exactly efficient in this one.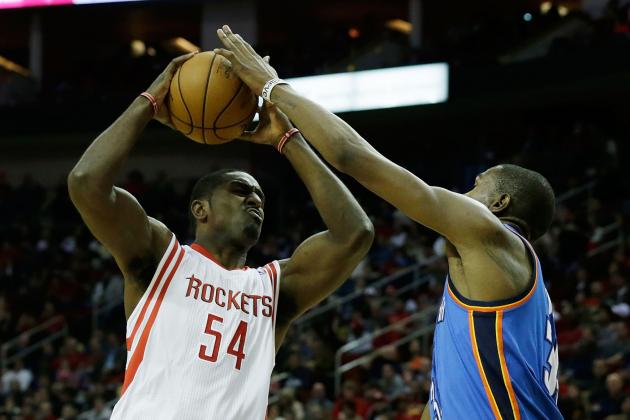 Scott Halleran/Getty Images

Patrick Patterson put forth an impressive performance off the pine, scoring six points and pulling down 10 rebounds in 27.5 minutes. He was hustling all over the floor and looked to be the only Rocket who wasn't feeling the aftereffects of the win over Los Angeles the night before (Tuesday).
Kudos to Patterson for providing plenty of energy throughout the entire game.
Toney Douglas was also solid, scoring seven points in 15 minutes of play. He did a solid job managing the offense, and considering how poorly Lin played, you have to wonder whether or not McHale would have been better-served going to Douglas a bit more.
The biggest problem with Houston is usually its bench. That wasn't the case Wednesday night, as Patterson and Douglas did more than enough to help. Unfortunately, the starting lineup did not reciprocate.