Michigan Basketball: 5 Keys to Beating Ohio State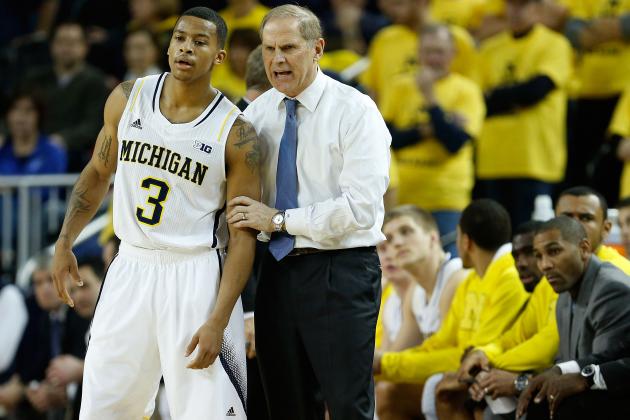 Gregory Shamus/Getty Images
Trey Burke will play an intricate role in one of Michigan's keys to victory.
With each victory, the No. 2 Michigan Wolverines win over more believers and continue to shun any remaining doubters, but the Maize and Blue's pivotal tilt with the No. 15 Ohio State Buckeyes at Value City Arena on Sunday will be their toughest challenge yet.
The Wolverines did not exactly wow anyone with a lackluster shooting performance in their most recent victory over the Nebraska Cornhuskers, though Michigan still appears to be the team to beat in the Big Ten Conference at the moment.
Even Michigan State Spartans legend Mateen Cleaves and former Michigan standout Jalen Rose have bought into the Wolverines' 16-0 start to the 2012-13 season.
Michigan has not defeated Ohio State away from the Crisler Center since 2003, though the Wolverines look talented enough to end the nine-year drought this weekend.
What are the five keys to a Michigan win over the Buckeyes? Click ahead to find out!
Begin Slideshow

»
Jonathan Daniel/Getty Images
Trey Burke and Aaron Craft will be difficult matchups for one another.
Sophomore Trey Burke and junior Aaron Craft are the top two point guards in the Big Ten Conference, and it will be critical for the Michigan Wolverines to win this matchup in order to come away with a victory over the Ohio State Buckeyes.
In Michigan's two losses to Ohio State last season, Burke only amassed 18 points and nine assists. However, in the Wolverines' 56-51 upset of the Buckeyes at the Crisler Center, Burke notched 17 points and five assists.
Burke's offensive numbers are much better than Craft's through the first half of the 2012-13 season, but the Buckeyes need the Findlay, Ohio native's best effort on the defensive end of the floor more than they need his scoring.
The Columbus, Ohio product is Michigan's leading scorer with an average of 18.2 points per game to go along with 7.5 assists per contest, while Craft is only putting up 8.9 points and dishing out 4.7 assists a night for the Buckeyes.
The reigning Big Ten Defensive Player of the Year will provide Burke with his toughest test to date, and the Wolverines will need the 6'0", 190-pounder to continue playing at an All-American level if they hope to top Ohio State on the road.
Craft does have a tendency to get into foul trouble early, so Burke should be aggressive in the first half and attempt to force the Buckeyes to play without their veteran distributor.
This game could also wind up playing a major factor in who takes home the 2013 Bob Cousy Collegiate Point Guard of the Year award since Burke and Craft are among the 20 finalists for the coveted trophy.
Jamie Sabau/Getty Images
Deshaun Thomas could have a monster night no matter how good Michigan's defense is.
Although Trey Burke is the favorite to win the Big Ten Player of the Year award in the eyes of the Maize and Blue faithful, junior small forward Deshaun Thomas is making quite a case to be named the league's top player at the end of the 2012-13 campaign.
Thomas currently leads the Big Ten in scoring (20.3 points per game), is one of the league's top rebounders (6.8) and can make shots from anywhere on the floor no matter who is guarding him.
No team has been able to slow Thomas down this season, and even though the Wolverines will stick Tim Hardaway Jr. and Glenn Robinson III on Ohio State's preseason All-American, there is not a whole lot Michigan can do to stop him.
The Fort Wayne, Ind. native has eight games with 20 or more points this season, including Ohio State's last three contests. Thomas has only been held under 15 points in one contest this year.
The Wolverines need to avoid letting Thomas post up, keep a hand in his face at all times and simply hope for the best.
If Thomas is shooting the ball well there is nothing Michigan will be able to do, which is why the Wolverines need to focus their attention on the rest of Ohio State's talented guards and forwards.
Michigan only has to ensure nobody else has a big night to defeat the Buckeyes in Columbus for the first time since 2003.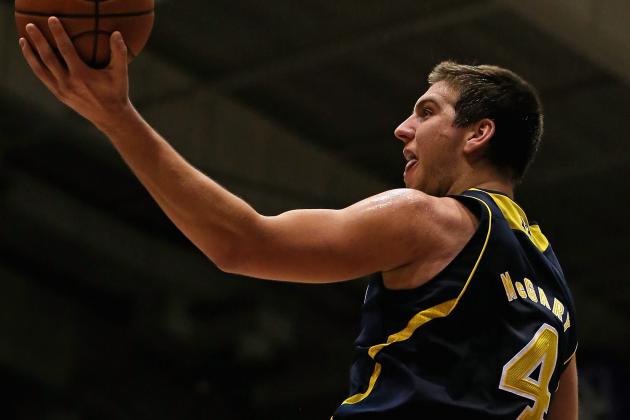 Jonathan Daniel/Getty Images
Mitch McGary (pictured) and Jordan Morgan will need to keep the Buckeyes out of the paint.
The Ohio State Buckeyes are similar to the Michigan Wolverines in a couple of ways, and the lack of a dominant big man is something the two have in common.
True freshman center Mitch McGary and redshirt junior forward Jordan Morgan will need to be reliable options in the post on offense, keep Ohio State's big men in check on defense and use their length to bother the Buckeyes' guards when they attack the lane.
McGary and Morgan will also be responsible for keeping senior forward Evan Ravenel and sophomore center Amir Williams off of the boards as much as possible.
Both of Michigan's big men have posted a double-double and pulled down at least 10 rebounds in a total of seven games this season, so there is plenty of potential for either McGary or Morgan to have an outstanding night in the paint.
For the Wolverines' sake, their post players need to out-rebound the Buckeyes and hold their own in one-on-one battles.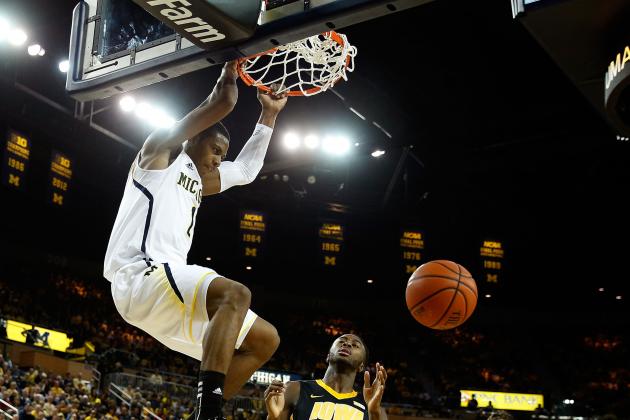 Gregory Shamus/Getty Images
Glenn Robinson III will need to be on his game for the Wolverines to top Ohio State.
After some growing pains in games earlier this season, true freshman small forward Glenn Robinson III is playing at an All-Big Ten level and junior shooting guard Tim Hardaway Jr. appears to be more confident shooting the ball than at any point in his career with the Michigan Wolverines.
Robinson is Michigan's leading rebounder (6.1 boards per game) and has scored at least 10 points in the Wolverines' last five games. During that span, Robinson turned in 20-point efforts against the Iowa Hawkeyes and Central Michigan Chippewas.
Meanwhile, Hardaway has reached double digits in three straight games after sitting out Michigan's rout of Central Michigan with an ankle injury. He will need to be stellar once again if the Wolverines want to steal a road win early in Big Ten play.
Both of Michigan's stars will need to combine for at least 30 points and pull down 12 rebounds to put the Maize and Blue in a position to beat the Ohio State Buckeyes.
Jamie Sabau/Getty Images
Value City Arena will be the most hostile environment Michigan has played in all season.
Value City Arena in Columbus, Ohio will be far and away the toughest venue the Michigan Wolverines have played in this season, which is why it will be critical for head coach John Beilein's team to get off to a quick start and neutralize the raucous crowd.
The Wolverines cannot afford to fall behind early like they did against the Iowa Hawkeyes. It is important for Michigan to come out shooting the ball well like it did in the 94-66 rout of the Northwestern Wildcats last Thursday.
Michigan started the blowout at Welsh-Ryan Arena on a 20-4 run, but the Wolverines will only need about half of that output over the first seven minutes to make the crowd a nonfactor and allow the Maize and Blue's younger players a chance to settle in.
Either Trey Burke, Tim Hardaway Jr., Glenn Robinson III or freshman sharpshooter Nik Stauskas will need to come out firing in the early going of the first half to give the Wolverines an early lead to build on throughout the contest.