L.A. Lakers vs. San Antonio Spurs: Live Score, Results and Game Highlights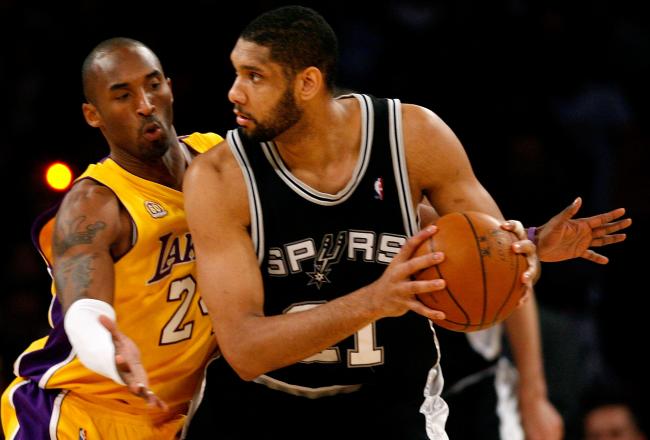 Jeff Gross/Getty Images
The shorthanded Los Angeles Lakers mounted a valiant comeback, but fell short against the San Antonio Spurs Wednesday night, 108-105.
San Antonio was the more polished team in both halves, with six players in double figures. Los Angeles was carried by the efforts of Kobe Bryant (27 points), Metta World Peace (23 points) and Earl Clark (22 points).
Keep it locked here for postgame analysis, reaction and social media stream.
Up next for each team:
San Antonio (28-10) visits Memphis Friday, 8 p.m. ET at FedEx Forum
Los Angeles (15-20) hosts Oklahoma City Friday, 10:30 p.m. ET at Staples Center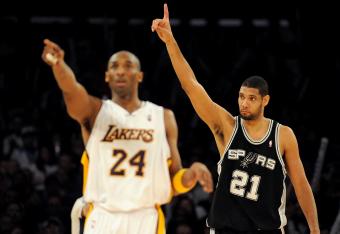 Takeaways from this game for each team:
Spurs: Great ball movement and offensive rebounding led to the victory. SAS grabbed eight offensive boards and 40 defensive boards (48 total), while LAL grabbed a total of 40 boards.
Staying focused for 48 minutes would have prevented the late-game scare.
Lakers: An admirable effort resulted in a loss due to shoddy defense in the first three quarters. LAL gave up 85 points through three quarters due to being out of position and failing to rotate.
Another positive for the Lakers: they won the turnover battle, coughing up just 10 compared to SA's 19.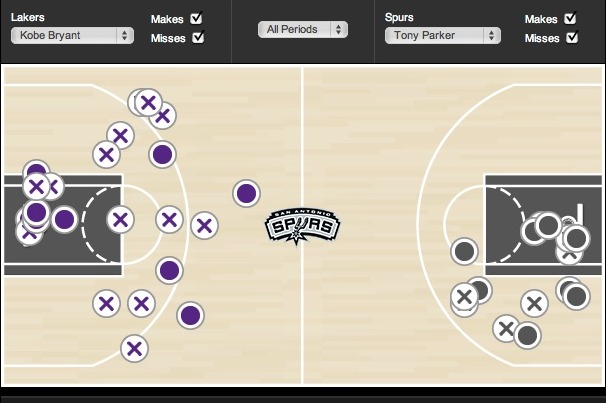 Shot chart: Kobe vs. Parker....note how Parker continued his career-long trend of working his way into the paint.
Earl Clark's 22 points and 13 rebounds were a surprise and a bright spot for L.A.
Earl Clark said he was pleased to have the opportunity to show what he could do, but was sorry it came w/teammates getting hurt.

— Mike Trudell (@LakersReporter) January 10, 2013
His performance is little consolation as the team falls to 15-20.
Poppovich gives his game ball to Kawhi Leonard:
"Kawhi Leonard was the only highlight of our game tonight," Pop saying Leonard's play at both ends was only thing special tonight. #Spurs

— Paul Garcia PS (@24writer) January 10, 2013
Leonard's effectiveness as a shooter, cutter and defender were indispensable.
Considering San Antonio barely beat a depleted LAL team, Mike Monroe hits the nail on the head:
I know Spurs fans who don't think a 1st-round playoff matchup vs. Lakers would be scary; wonder what they think now?

— Mike Monroe (@Monroe_SA) January 10, 2013
A healthy, cohesive Lakers unit could make for a scary No. 8 seed.
San Antonio stopped Kobe when it counted:
Lakers went on a 20-7 run in the final 6:20 of the 4th Q, but the only stat that mattered was Kobe: 0-1 on FG to send the game into OT.

— Numbers Never Lie (@ESPN_Numbers) January 10, 2013
Bryant's 27 points weren't enough. If he had 30, the game would've gone to overtime.
Spurs final box score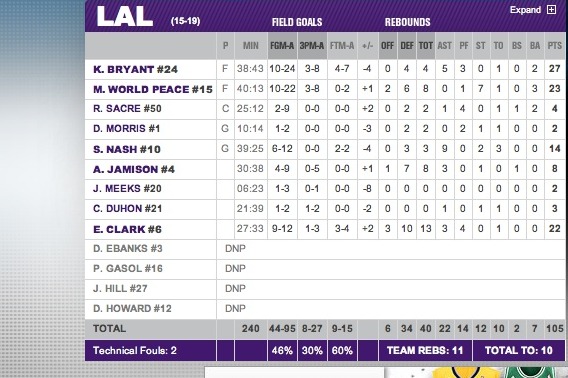 Lakers final box score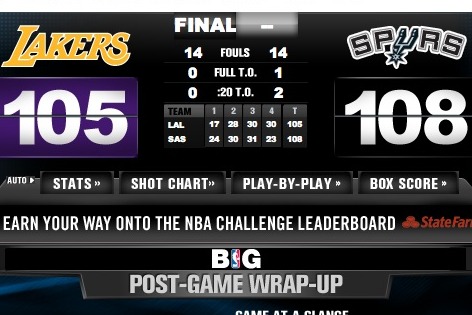 Stay dialed in to our complete postgame coverage!
Kobe and Earl Clark both had contested three-point attempts, but neither fall.
LA falls just short of an impressive comeback.
San Antonio hangs on in a finish that shouldn't have been that close.
Spurs 108, Lakers 105, FINAL
Still a one-possession game, as Tony Parker throws it away with 10 seconds left.
Earl Clark's triple previously brought the Lakers back within 3.
Lakers with a chance at the last shot here.
Spurs 108, Lakers 105, 10.4 seconds remaining in regulation
Phenomenal ball movement by LA sets up a Jamison layup.
One possession game.
Spurs 105, Lakers 102, 2:15 remaining in 4th quarter
Jackson's pair of technicals could open the door for a wild finish:
Bad technical from Jackson there, complaining for a foul call. Too late in the game to be giving away free points.

— Jeff McDonald (@JMcDonald_SAEN) January 10, 2013
Now LA is just 3 possessions from taking the lead.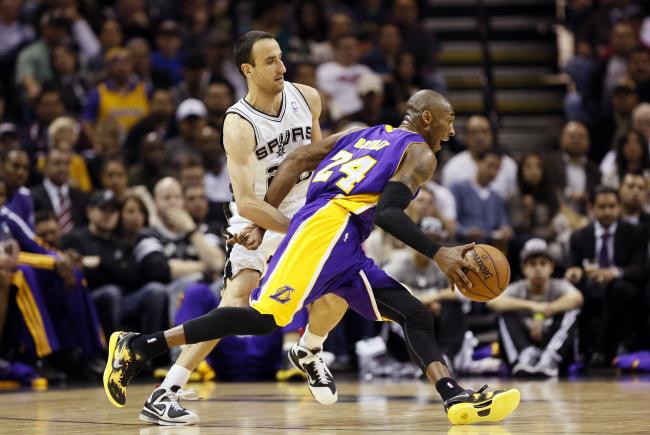 Back-to-back solid defensive possessions by LAL are followed up by a goaltend from Clark.
However, Stephen Jackson gets T'd up twice to get tossed.
This one's not over.
Spurs 105, Lakers 99, 3:32 remaining in 4th quarter
Tiago Splitter having himself a night, feasting off Los Angeles' inexperienced/undermanned front line:
Tiago Splitter has matched a season high with 12 rebounds. Also has 14 points.

— Jeff McDonald (@JMcDonald_SAEN) January 10, 2013
In other news: Kobe hasn't scored in the 4th quarter yet.
Los Angeles' offense hasn't been horrendous. The defense is another story:
This isn't about defensive philosophy any more for the Lakers. It's about the basics-- get out to the open man, move, contest the shot.

— David Aldridge (@daldridgetnt) January 10, 2013
Spurs 103, Lakers 91, 5:09 remaining in 4th quarter
Rebounding update:
SAS- 43 boards
LAL- 34 boards
Jackson's long-distance barrage highlight's San Antonio's fourth-quarter attack.
But the Spurs just refuse to miss from three ... Stephen Jackson drained 2 more (4 of 5) for a team now 11 of 21 from distance. 101-85.

— Mike Trudell (@LakersReporter) January 10, 2013
Spurs 101, Lakers 85, 6:45 remaining in 4th quarter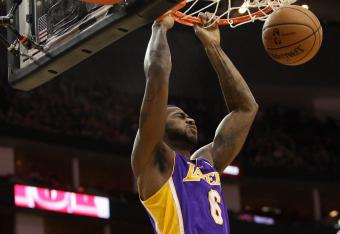 Earl Clark with 19 and 11. He's probably earned himself some playing time moving forward.
Meanwhile, SAS keeps humming from downtown.
Spurs 98, Lakers 85, 7:13 remaining in 4th quarter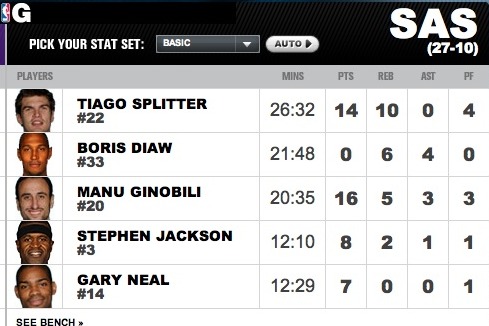 San Antonio's current assemblage of talent:
Earl Clark is making the most of his cameo tonight:
That's a double-double for Earl Clark -- 13 pts, 10 reb in 18 mins so far

— Dave McMenamin (@mcten) January 10, 2013
Spurs 87, Lakers 79, 10:22 remaining in 4th quarter
Free-throw update:
LAL: 5-of-11
SAS: 14-of-16
Spurs 87, Lakers 77, 10:55 remaining in 3rd quarter
Bryant has kept LAL in it, but can he win it for them?
Kobe finds his stroke in the 3rd to keep the Lakers hanging around as we head to the 4th quarter. 85-75 SA. #GoLakers

— Los Angeles Lakers (@Lakers) January 10, 2013
He starts the 4th on the bench.
This article is
What is the duplicate article?
Why is this article offensive?
Where is this article plagiarized from?
Why is this article poorly edited?