Washington Capitals: Predicting Their Starting Lineup for the 2013 NHL Season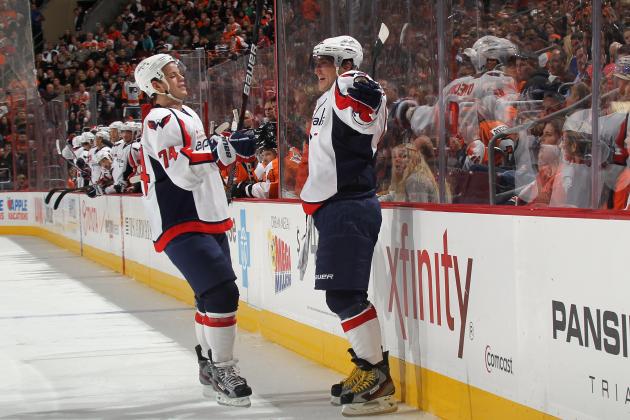 Bruce Bennett/Getty Images

With the lockout set to officially come to a close this weekend, all 30 National Hockey League teams will be scrambling to put together their lineups for the 2013 season within the next week.
For many, such as the Washington Capitals, this campaign will be a pivotal one for the franchise as a whole, as the team enters the season with its third head coach in 14 months, and continues to face lofty expectations after a fifth straight postseason appearance that ended in bitter disappointment.
In the offseason, George McPhee re-signed defensive cornerstones Mike Green and John Carlson to extensions, and jettisoned promising prospect Cody Eakin in exchange for talented center Mike Ribeiro. But, for the most part, the Caps' lineup will be similar to the one that fell to the New York Rangers in the Eastern Conference Semifinals in May.
Heading into the season, here's a preview at what Washington's opening night lineup will look like.
Begin Slideshow

»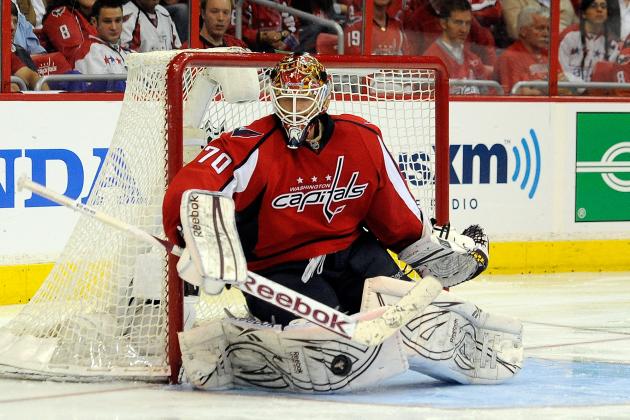 Patrick McDermott/Getty Images

Starter: Braden Holtby
In the 2012 Stanley Cup Playoffs, Braden Holtby was one of the feel-good stories of the spring, as the Washington Capitals' third-stringer lead his team on a surprising 14-game postseason run, and knocked off defending Conn Smythe winner Tim Thomas and the Boston Bruins in the first round.
After his stunning performance, Holtby has to be considered the Caps' unquestioned starting goaltender heading into the season. He won't play anywhere close to every game, but until he falters, he'll be the No. 1 guy in Washington's crease.
Backup: Michal Neuvirth
For the past three season, Michal Neuvirth has battled Tomas Vokoun, Semyon Varlamov and Jose Theodore for the starting job, but never quite seized control of the position.
Now, with Holtby coming off an overwhelmingly impressive run against Boston and New York, Neuvirth will have to fight to earn playing time, but even as the backup, he'll get at least 15-20 games down the stretch.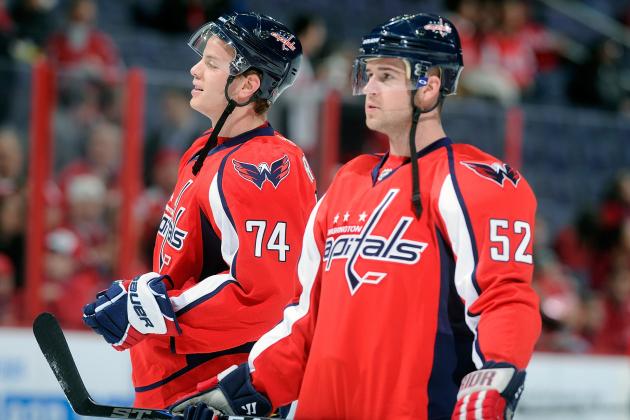 Greg Fiume/Getty Images

First Pairing: Karl Alzner and John Carlson
The Washington Capitals know they have a special tandem in John Carlson and Karl Alzner, and it'd be a shock if they weren't lining up together on opening night. Over the last two seasons, Carlson and Alzner have emerged as one of the most promising young pairings in the league, and they're a good bet to be the Capitals' No. 1 duo on the blue line for the better part of the next decade.
Second Pairing: Mike Green and Roman Hamrlik
No, Roman Hamrlik didn't have a good 2011-12 campaign, but he at least partially made up for it with a solid showing in the postseason, and finally played like the steadying defensive presence Washington had hoped he'd be. As a stay-at-home rearguard (at least at this point in his career), Hamrlik is a good fit with rover Mike Green, who looked better in the postseason than he had in over a year, and appears on the verge of a bounce-back season in 2013.
Third Pairing: Dmitry Orlov and Jeff Schultz
Though Katie Carrera of The Washington Post reported that Dmitry Orlov is unlikely to be ready to go for the start of the season, whenever he does return, he'll be in the lineup immediately. New coach Adam Oates is almost guaranteed to introduce a more up-tempo style of play, and Orlov fits that billing perfectly. Jeff Schultz will likely be given a shot at a top-six spot to start the season, but if Tom Poti's able to bounce back from hip surgery, he could earn ice time as the team's sixth defenseman.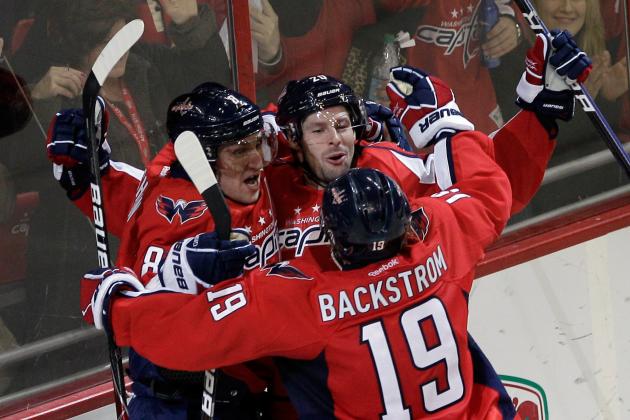 Rob Carr/Getty Images

First Line: Alex Ovechkin, Nicklas Backstrom and Troy Brouwer
Yeah, there are still questions as to whether Nicklas Backstrom will be ready to go in time for the season opener, but until we hear otherwise, we have to assume that the silky Swedish pivot will start the year between long-time (though sometimes on-and-off) triggerman Alex Ovechkin and power forward Troy Brouwer.
Brouwer creates space for his talented linemates with his consistently bruising style of play, and if Ovechkin and Backstrom can recreate the chemistry they displayed while playing for Moscow of the KHL this year, both will enjoy bounce-back seasons offensively.
Whether the Caps win the division in 2013 will likely depend on Ovechkin and Backstrom, because unless they're able to score more than they did in 2011-12 once Backstrom went down with the concussion, they may miss the postseason for the first time in six years.
Second Line: Wojtek Wolski, Mike Ribeiro, Brooks Laich
In Wojtek Wolski, the Capitals have a low-risk, high-reward scoring winger, as the 26-year old is a former 60-point man. Alongside a top-flight playmaker in Mike Ribeiro, he could find his touch in Washington.
In addition to Wolski and Ribeiro, Brooks Laich would be a nice fit with a pair of skill-first players, though Marcus Johansson could see time in this role as well. As a rugged forward, Laich would be an ideal foil to the puck-moving pair of Wolski and Ribeiro, but if Oates wants to go with an all-skill second line trio, Johansson could take his spot.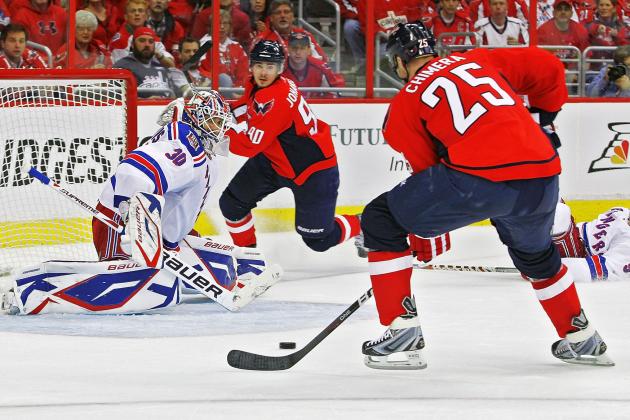 Len Redkoles/Getty Images

Third Line: Jason Chimera, Marcus Johansson and Joel Ward
In Jason Chimera and Marcus Johansson, the Washington Capitals have a pair of speedy forwards who are more than capable of chipping in offensively. Joel Ward's hard-charging style of play will fit in well alongside them. During the postseason, Ward was better than he was during the regular season, and began to look like the player George McPhee spent $12 million on in July of 2012.
Both Chimera and Johansson enjoyed breakout seasons in terms of goals and points, and if Ward can carry the momentum he gained last spring, Adam Oates will have three solid scoring lines at his disposal.
Fourth Line: Matt Hendricks, Jay Beagle and Joey Crabb
One of McPhee's more unheralded offseason acquisitions was that of Joey Crabb, who emerged as a legitimate top-12 NHL forward in 2011-12, registered over 25 points with Toronto, and that alone should earn him a chance to play alongside defensive specialists Matt Hendricks and Jay Beagle on the fourth line.
Crabb's gritty style will mesh well with Hendricks and Beagle, who emerged as the Caps' specialist on draws during the 2012 Playoffs, and though he may not light the lamp as frequently as 30-point scorer Mathieu Perreault, he's enough of a physical presence that he'll be given the chance to earn a spot on the fourth line.