Houston Rockets vs. New Orleans Hornets: Live Score, Results and Game Highlights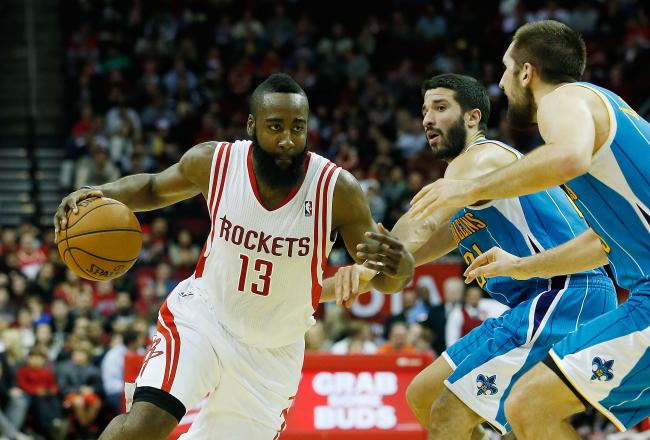 Scott Halleran/Getty Images
The Houston Rockets are the hottest team in basketball. They have won five straight games and after a three-game losing streak in early December, they are 12-3 since December 12.
Standing in their way are the pesky New Orleans Hornets. Despite having the worst record in the Western Conference, they have shown new life since the return of guard Eric Gordon and just one week ago played the Rockets tough through two quarters.
If the Rockets are going to keep their win streak going, they are going to need a repeat performance from James Harden from a week ago when he dropped 31 points on the overwhelmed Hornets. But potential Rookie of the Year candidate Anthony Davis is sure to provide at least a bit of a stumbling block to the surging Rockets.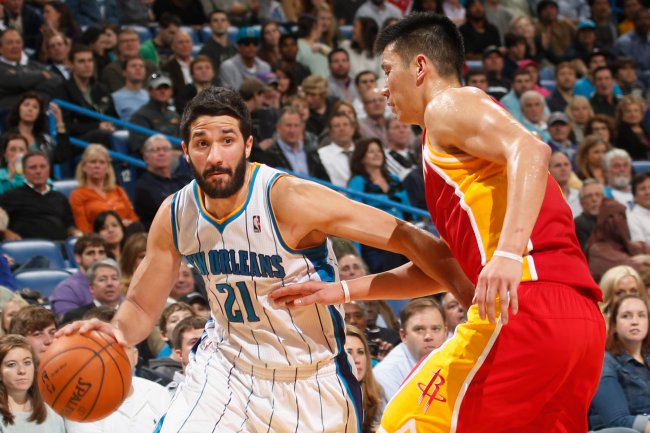 Chris Graythen/Getty Images
ROCKETS 79, HORNETS 88
The Hornets won a slugfest against rival Houston, riding the bench play of Roger Mason and the tremendous point guard prowess of Greivis Vazquez.
This was a team that needed a win against a legit squad, and they were able to overcome the hottest team in the NBA despite mediocre play from their top rookie Anthony Davis.
For Hornets fans, this is an encouraging sign. They won against a good team despite not bringing their best game.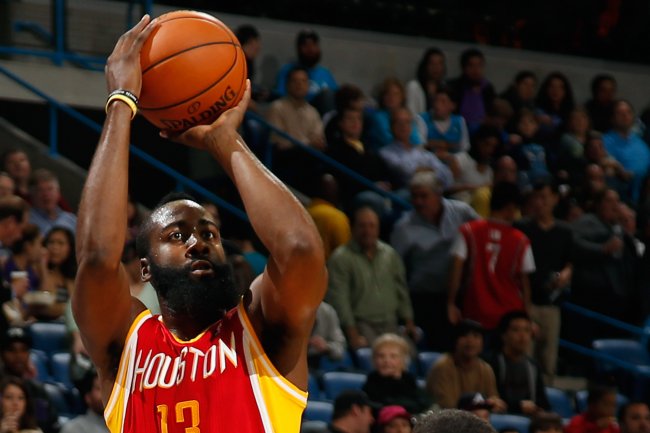 Chris Graythen/Getty Images
ROCKETS 75, HORNETS 83-.55.3 SECONDS REMAINING
The Hornets just seem to want this game more. They are battling for loose balls, looking for charges and walking with a swagger.
The crowd is coming alive and it is tough to tell which team is riding a five game winning streak.
Overall, it is nice to see exuberance from this Hornets crowd.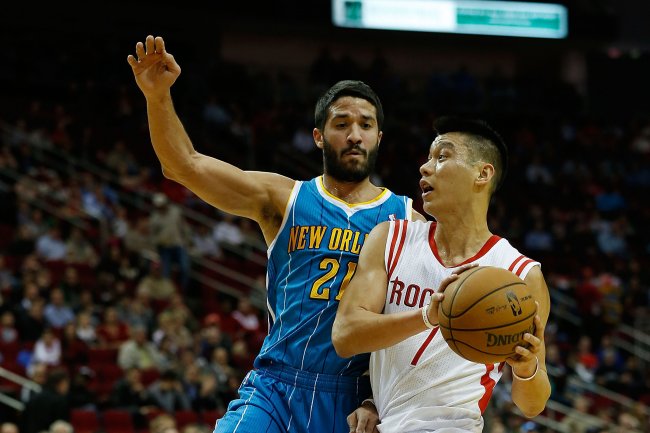 Scott Halleran/Getty Images
ROCKETS 73, HORNETS 83-2:53 REMAINING IN THE GAME
The Rockets continue to struggle with every aspect of their game. Why they gave up on the pick-and-roll is anyone's guess. This is a half-court team built with transition players. They will figure it out eventually, but not tonight.
Greivis Vazquez is making people forget about Ricky Rubio, even if those folks are already in the atlatic coast region. Vazquez, who was viewed as a shooting guard coming out of college, already looks like the next rec-league big and unathletic point guard in the NBA.
Overall, this kid looks like the real deal.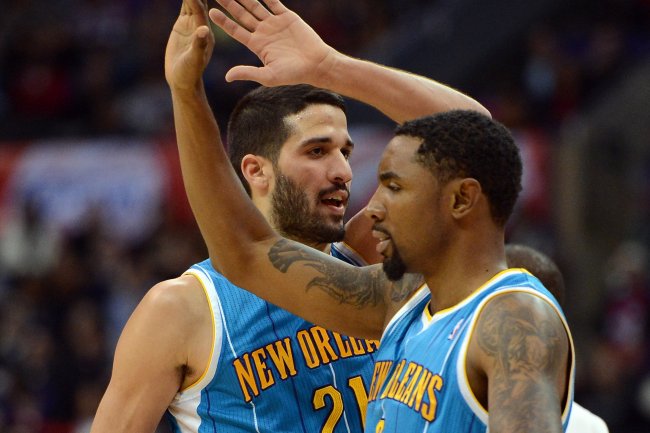 Harry How/Getty Images
ROCKETS 71, HORNETS 73-6:28 REMAINING IN THE GAME
The Rockets, after leading the game almost the entirety of this game, allowed Roger Mason Jr. to hit a three that gave the Hornets their first lead in nearly two quarters.
The Hornets are scrapping and their best players are struggling, but they are still in this game.
If you are Kevin McHale, you are not happy that this team from the bayou is still hanging around.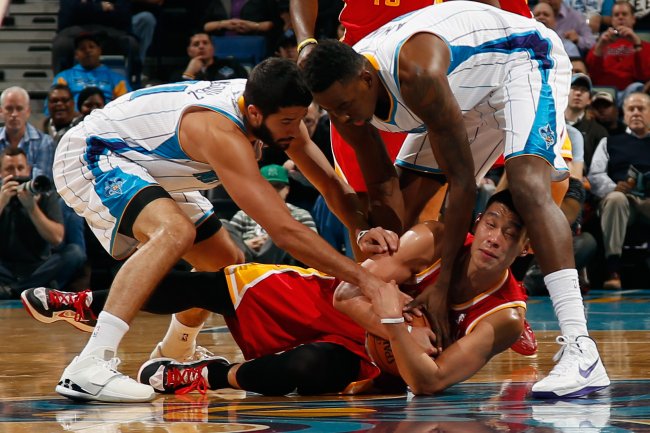 Chris Graythen/Getty Images
ROCKETS 69, HORNETS 60-END OF 3RD QUARTER
The Rockets have securing fastened their imprint on this game.
True, it has been ugly on both sides of the ball and only the defense can hold their heads up high, but in fact both of these squads have been struggling with the offensive side of the ball.
Luckily for the Hornets, Harden hasn't gone off and Lin is looking lackadaisical. But if they continue to play so lethargically on offense, this could be a blowout.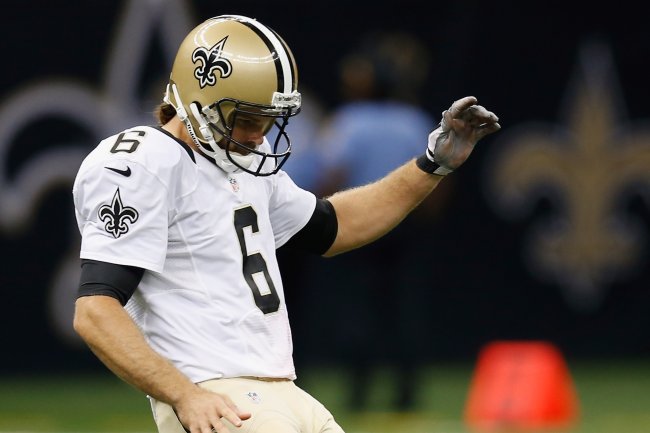 Chris Graythen/Getty Images
ROCKETS 62, HORNETS 57-1:56 REMAINING IN 3RD QUARTER
The Hornets sideline reporter continues her mediocre performance tonight, interviewing the Saints unenthuastic and seemingly overweight punter Thomas Morestead. Glad to hear he is engaged to his gorgeous girlfriend, but why exactly isn't he thrilled about the Pro Bowl?
That being said, the Rockets continue to let the Hornets into the game. They have the advantage in the back court, the front court and on the breaks. Why exactly aren't they blowing out this New Orleans squad?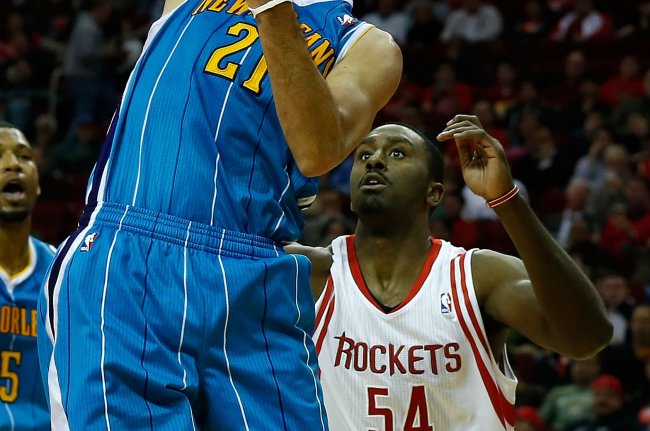 Scott Halleran/Getty Images
ROCKETS 58, HORNETS 49-3:39 REMAINING IN 3RD QUARTER
Greivis Vazquez is doing his best to keep his squad in the game, but the Houston frontline just looks too formidable.
Robin Lopez continues to grind and body up Asik, but Davis needs to pull his own weight.
Also, where exactly is Aminu? He is one of the few athletic advantages the Hornets have, why not play him?
Patrick Patterson scored, and his family is relieved; the milk carton campaign finally found him.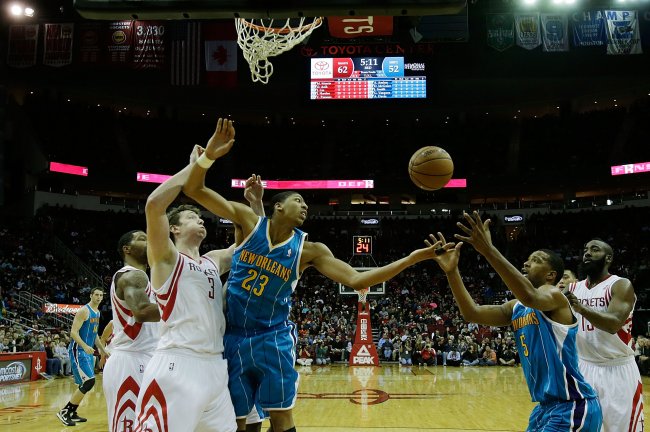 Scott Halleran/Getty Images
ROCKETS 46, HORNETS 38-9:17 REMAINING IN 3RD QUARTER
The Rockets are pulling away, scoring several unanswered points early on in the second half.
Eric Gordon continues to struggle, culminating in getting his pocket picked by Jeremy Lin.
The Rockets have the momentum in their favor and the body language of the Hornets is not looking good.
The real question is what is going on with Anthony Davis? After looking great early on in the season versus heavyweights like Tim Duncan, he is struggling against a frontline of Omer Asik and Marcus Morris.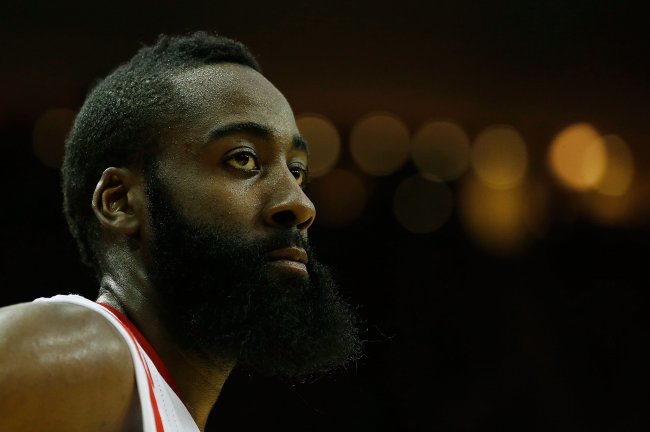 Scott Halleran/Getty Images
ROCKETS 36, HORNETS 34-HALFTIME
The first half was certainly pro-Hornets as they were able to hold the combustible Rockets' offense in check.
Obviously a sloppy game for both squads, the refs certainly are doing their best to help supplement the meager talent of the Hornets by giving them the upper hand in calls thus far.
If this were a boxing match, we would be looking at a couple of brawlers that are feeling each other out thus far.
Look for a much more open second half and James Harden and Eric Gordon going off behind likely big picks from their post players.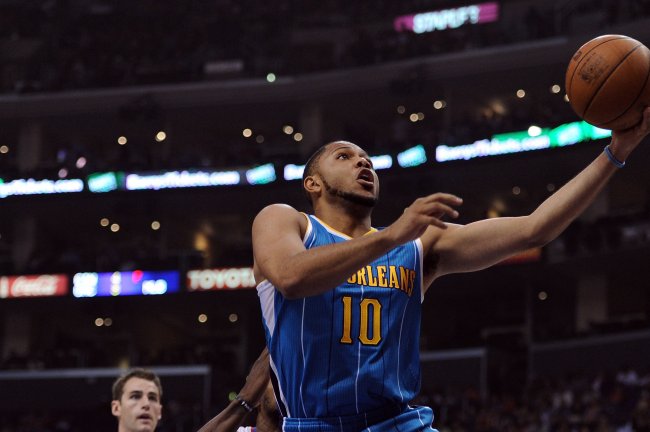 Harry How/Getty Images
ROCKETS 34, HORNETS 34-.51 REMAINING IN 2ND QUARTER
The slugfest continues as both teams seem to be on pace for a sub-80 point performance.
The interesting thing about this game is that neither squad seems to be excelling defensively. These are just two teams that are not efficiently scoring the basketball.
Look for Eric Gordon to catch fire in the second half.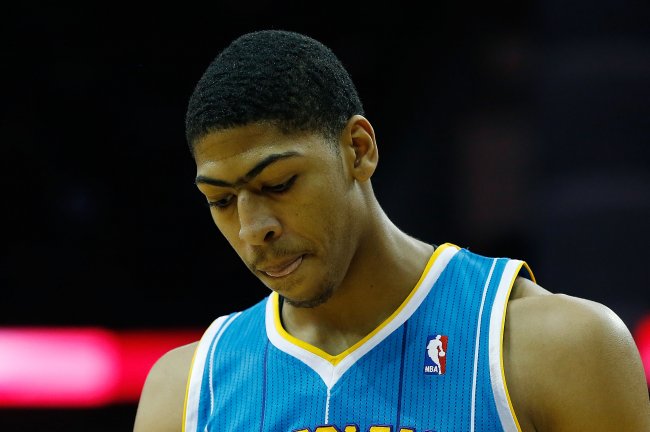 Scott Halleran/Getty Images
ROCKETS 27, HORNETS 29-5:42 REMAINING IN 2ND QUARTER
Interestingly, the Hornets sideline reporter, prior to interviewing Anthony Davis' parents says that Davis is having a "fantastic game" despite only scoring four points to go along with three rebounds.
Apparently the word fantastic is a euphemism for solid these days.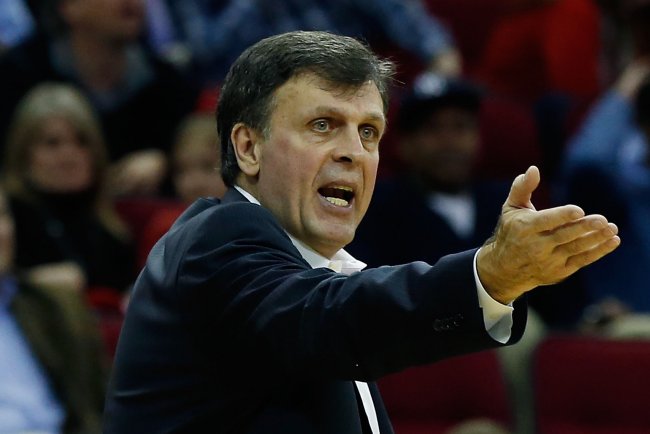 Scott Halleran/Getty Images
ROCKETS 27, HORNETS 28-7:47 REMAINING IN 2ND QUARTER
Lance Thomas is providing a real lift to this Hornets squad, getting four quick points for New Orleans.
The local New Orleans commentators suddenly have new life in their voices as the Hornets are playing with more life.
Carlos Delfino is the likely whipping boy for this play-by-play group as his nose for the ball antics seem to be rubbing them the wrong way.
Rockets coach Kevin McHale is looking like he isn't happy with his team's production thus far. And Jeremy Lin isn't looking much better.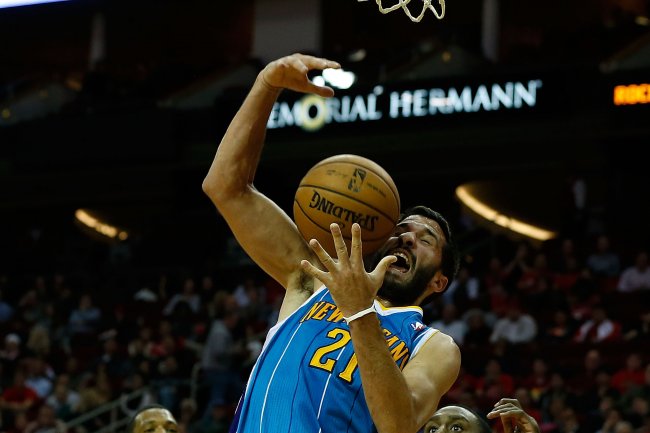 Scott Halleran/Getty Images
ROCKETS 22, HORNETS 18-END OF FIRST QUARTER
After a sloppy start, the Rockets regain control of this game behind the scoring touch of James Harden.
The Hornets are hanging tough behind some inexplicable offense from Robin Lopez as well as some brilliant play from Greivis Vazquez, who is calling to mind Andre Miller in his prime with his teardrop buckets off of the glass.
The Hornets need to try to deny Harden the ball as that worked early on.
For Houston, they look like a bear awakening from a slumber, getting ready to take control.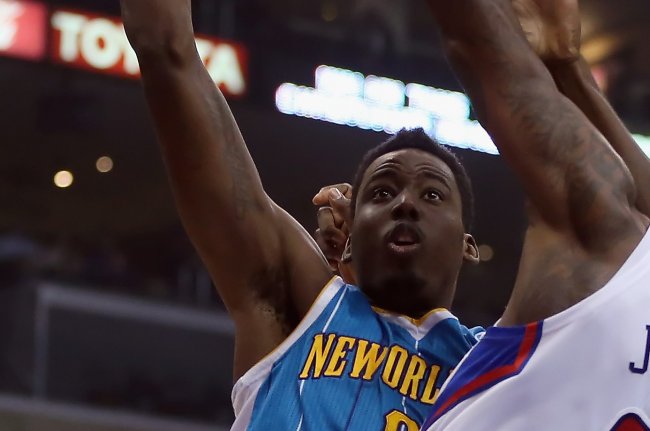 Jeff Gross/Getty Images
ROCKETS 17, HORNETS 18-1:00 REMAINING IN 1ST QUARTER
I obviously jinxed the Hornets as once Austin Rivers came in to guard Harden he has re-discovered his stroke. After a weak first half of the first quarter, Harden now has nine points and is looking good.
Aminu, meanwhile, saw a pass go right off of his hands after a nice feed down low. My jinx is certainly complete!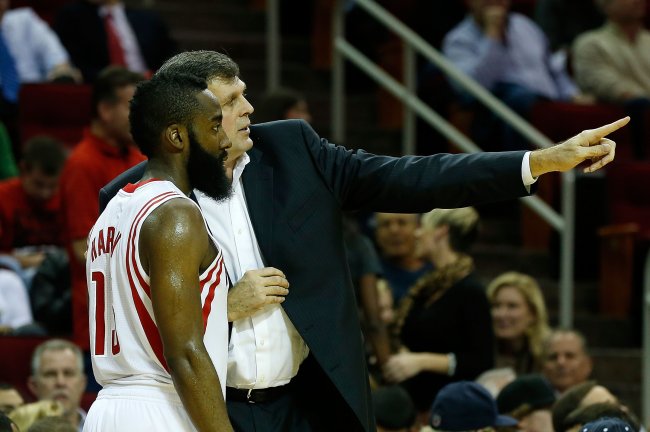 Scott Halleran/Getty Images
ROCKETS 10, HORNETS 14-5:21 REMAINING IN 1ST QUARTER
Sloppy game thus far with few standouts besides Robin Lopez and his eight points.
The real story so far, besides the uneven play from both sides has got to be Al-Farouq Aminu and his stellar defense on James Harden. Already over midway through the first quarter and only one weak field goal attempt.
So far, the Hornets have got to love the pace of this game.
This article is
What is the duplicate article?
Why is this article offensive?
Where is this article plagiarized from?
Why is this article poorly edited?

Houston Rockets: Like this team?