Chelsea Player Ratings vs. Swansea City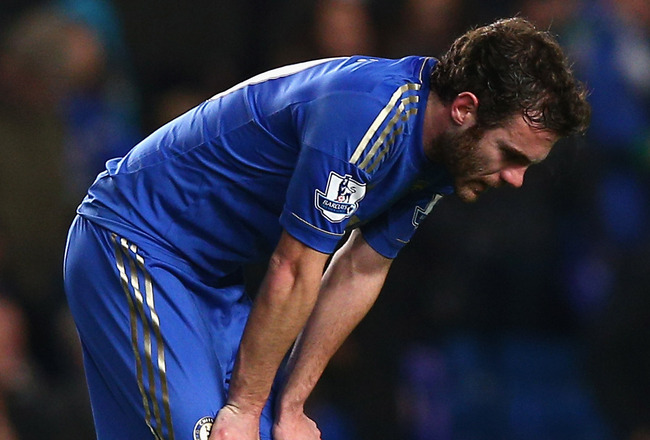 Chelsea are down and probably out.
Clive Rose/Getty Images
It was yet another night to forget for Chelsea as two Branislav Ivanovic howlers gifted Swansea City a 2-0 Capital One Cup semi-final first-leg lead.
The Blues were the livelier side for much of the first half until Michu capitalised on an Ivanovic mistake.
Chelsea huffed and puffed in the second half but created little, and Danny Graham compounded the misery after seizing on another Ivanovic gaffe in injury time.
The inquisitions will run long and deep, so let me cast the first stone by looking at how the Chelsea lot fared.
Ross Turnbull: 6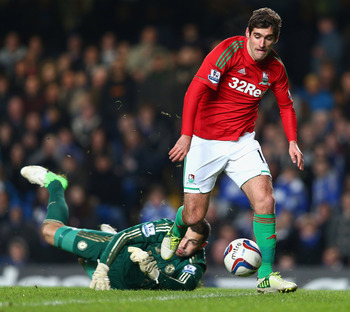 Exposed by errors
Clive Mason/Getty Images
It tells the tale of the game that the only things Ross Turnbull had to do was get beaten for the two goals. No real blame could be attached to him for either of the situations he found himself in, but he may have got a hand to Michu's opener.
Cesar Azpilicueta: 6.5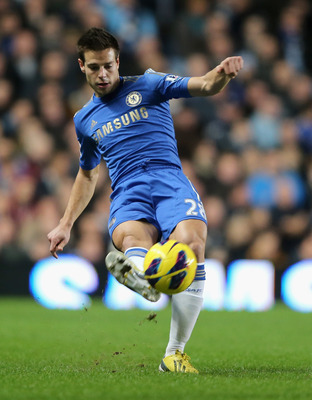 Cesar didn't seize the day
Ian Walton/Getty Images
Always busy and put in another solid shift here. The Spaniard is alert defensively and never shy to press forward, but as demonstrated tonight, the quality in the end product isn't good or consistent enough.
Gary Cahill: 6.5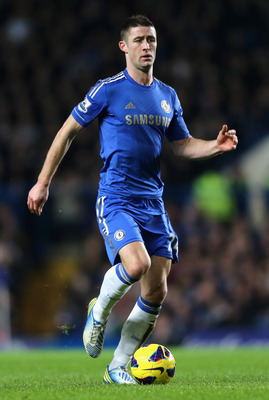 Cahill needs to be commanding
Ian Walton/Getty Images
Cahill kept to his half of the centre-back pairing by giving little away and bringing the ball out when needed. Distributed it tidily enough but for a player of his ability and level of experience within the side, you'd want him to give you another dimension coming out from the back.
Branislav Ivanovic: 4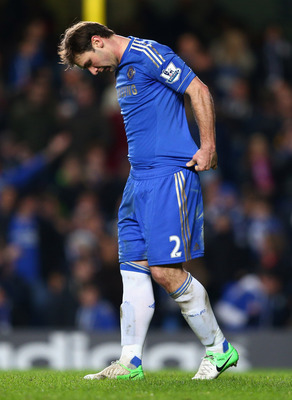 Chin up Branny
Clive Mason/Getty Images
The Serbian ironically had a pretty good game in most other areas than the two fatal errors for both goals. On that basis you can't really say he played well. Otherwise he was the usual Ivanovic, and he'll hopefully move on.
Ashley Cole: 6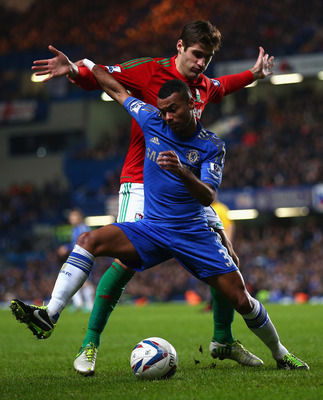 Captain Cole
Clive Mason/Getty Images
Defensively solid, but in my opinion Cole doesn't offer you enough going forward. Rarely do you see him go by his opposite number or get crosses in from deep, and Leighton Baines deserves to have unseated him out of the England side. On a night like this top sides need in the final third more from their full-backs, and Cole consistently doesn't do it.
Ramires: 5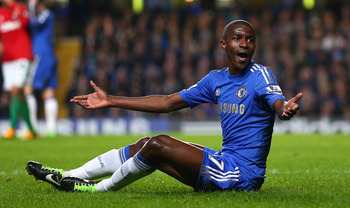 Random Ramires
Clive Mason/Getty Images
Ignoring Ivanovic's errors, Ramires was comfortably the worst player on the pitch. His touch was awful, his passing erratic and he continually led to the break-up of play. Should have been substituted much earlier than he was and can also add himself to the long list of those who should be doing better.
David Luiz: 7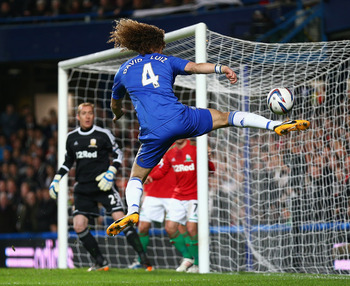 Sideshow was the main act
Clive Mason/Getty Images
Arguably Chelsea's best player on show tonight. He seems to be composing himself into the midfield role, albeit there's a lot of composing still to do. At the moment you feel he's neither one type of midfielder or another, and I feel he should be unshackled and allowed to bomb from box-to-box. Combined with a genuine holding midfielder in the future, Luiz could be a real asset.
Juan Mata: 6.5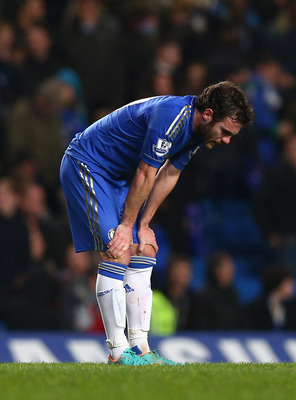 Juan not the man tonight
Clive Rose/Getty Images
A strangely peripheral figure and it showed as Chelsea lacked any real fluidity. He was required—probably overly so—to find a moment of magic for an equaliser, but on too many occasions his final ball lacked its usual finesse.
Eden Hazard: 6.5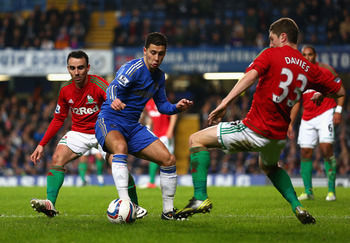 Not Hazard-ous enough
Clive Mason/Getty Images
Another performance which flattered to deceive. Hazard looks very good in small parts of games, and when he does he looks a serious threat. Chelsea's general tempo means he falls into the lull of poking it about in midfield, when he'd actually be far more useful trying to make more things happen more often.
Oscar: 6.5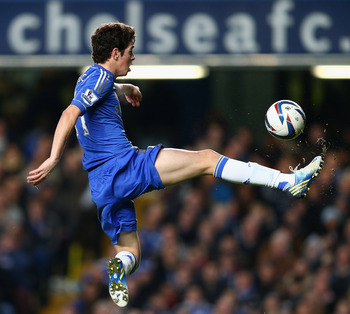 Not an Oscar performance
Clive Mason/Getty Images
Ditto Hazard. There are regular moments of class interlaced with periods when Oscar gets lost. It's easy to forget he's just a boy who's raw to English shores and it's the rest of the team's duty to integrate this talent into the side. The more Chelsea labour, the harder it will be for their Brazilian ace to demonstrate his ability.
Fernando Torres: 4
Have you seen this man?
Alex Livesey/Getty Images
Lampard: 6.5
One of Lamps last stands?
Julian Finney/Getty Images
Second half substitute for the ineffectual Ramires and instantly tried to smarten things up. He looked for the ball and looked for things to happen, and although it never happened, it's difficult to think Chelsea would be any better off without Lampard at the club
Demba Ba: 7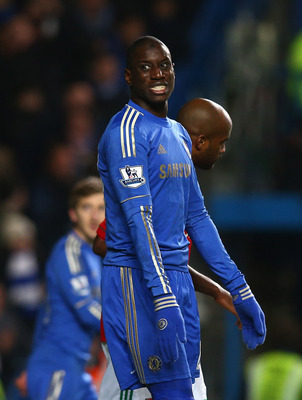 Dangerous Demba
Clive Rose/Getty Images
Ba did in 10 minutes what Torres never looked like doing in 80. He won two decent crosses with headers at goal, could have won a penalty and incorrectly had a goal disallowed, which further showed why Ba simply must start ahead of Torres.
Marko Marin: 6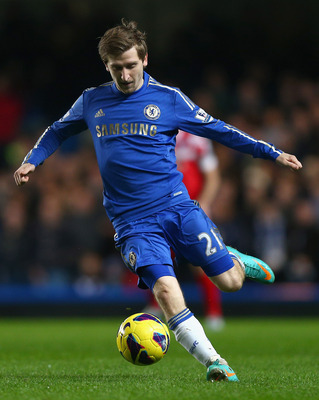 Marin to repalace Moses?
Clive Rose/Getty Images
Flittered around in a brief cameo of only seven minutes, so it's still a case of watching and waiting with Marko Marin. Chelsea missed Victor Moses' width and directness and that's a facet to their play that needs replacing. Marin could be the man but needs more minutes and to take them.
Keep Reading

Chelsea: Like this team?