Tennessee Volunteers Football: 4 Recruits Most Likely to Start as Freshmen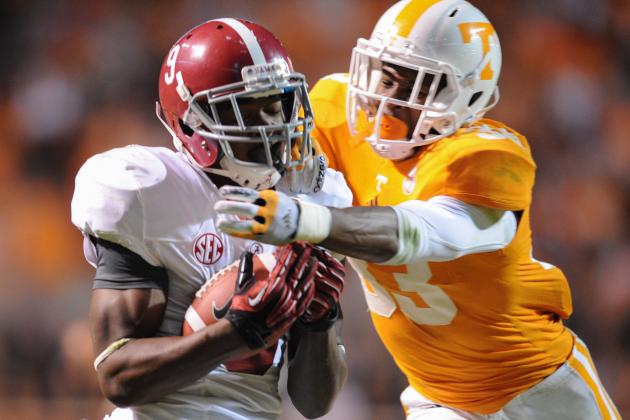 Randy Sartin-USA TODAY Sports

The Tennessee Volunteers were looking at a 2013 recruiting class outside of the top 40 just a week ago. But Butch Jones' coaching staff got a flurry of recent commitments and is in the running for several more. There are a number of them that have excellent chances to start this fall.
Even after a third consecutive losing season—just the second time such a run has ever happened on Rocky Top and the first since 1911—the Vols are turning out a solid recruiting class.
Paul Fortenberry of Rivals thinks Tennessee will still finish the recruiting season ranked somewhere between No. 17 and No. 22. Such a strong ranking (especially considering the circumstances) would be a great sign of things to come.
Most importantly, Tennessee is adding players that can contribute early and often. Here's a short list of the future freshmen who have the best chance of starting next season.
Begin Slideshow

»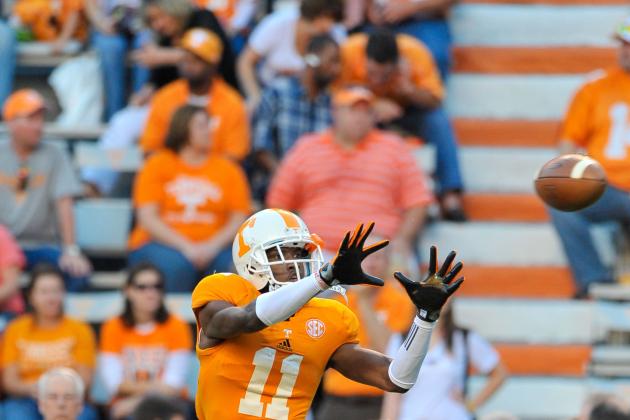 Jim Brown-USA TODAY Sports

The most glaring hole in the 2013 Tennessee team is undoubtedly the wide receiver position. In a matter of four months, the Volunteers went from having three All-American caliber receivers to none.
With the dismissal of Da'Rick Rogers and the early exits of Justin Hunter and Cordarrelle Patterson to the NFL, the once stacked pass-catching unit is thin and ripe for freshmen faces.
As of January 10th, the Vols' top incoming wideout is Paul Harris of Maryland. Harris had offers from USC, Ohio State, South Carolina, Michigan and Virginia Tech among many others.
He is an early enrollee to the University of Tennessee, which means he's on campus right now and has begun strengthening, working out and training as we speak.
Harris will battle Vincent Dallas, Alton "Pig" Howard, Drae Bowles and Jason Croom for three starting spots. Besides Croom, Harris has the biggest frame of the UT receivers, something that could be helpful for a new quarterback.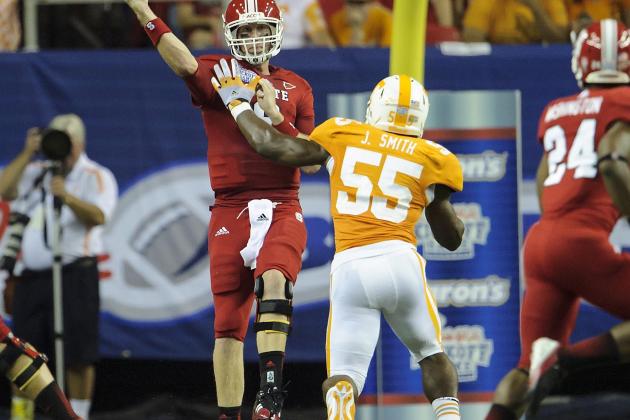 Paul Abell-USA TODAY Sports

Now that the Volunteers are switching back to a four-down defensive front, oversized defensive ends won't work anymore.
Maurice Couch, who weighs in at 300 pounds, played end in the 3-4, but in 2013, he'll move back to defensive tackle alongside Daniel McCullers. The other end, Darrington Sentimore, has declared for the NFL early.
That leaves two spots on the defensive line for Butch Jones and defensive coordinator John Jancek to fill. Jacques Smith figures to return to one of the spots, but the other is pretty wide open.
Tennessee could go with a senior like Corey Miller or Marlon Walls, but both have had lukewarm careers. They could also try an undersized end like Jordan Williams, but Smith is already one undersized end, and it may not be wise to start two.
That leaves unproven Trevarris Saulsberry or a freshman like Memphis native Jason Carr.
Carr's commitment to Tennessee has softened a bit after the introduction of a new staff. He formed a relationship with the prior coaching staff and is now doing his due diligence with the new coaches and other schools.
That's smart, and I don't blame him. I just hope he sticks with the Vols because he's a high-quality player.
Carr is the Vols' highest-ranked recruit at No. 165 in the country. He has offers from LSU, Nebraska, Mississippi State and more. At 6'6", 280 pounds, Carr is just about the perfect size for an SEC freshmen defensive end.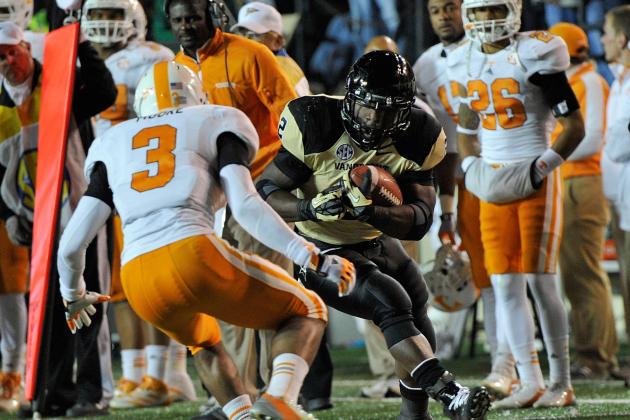 Frederick Breedon/Getty Images

Jalen Reeves-Maybin has been itching to get his orange jersey on for months now. He was a solid commitment all through the tough times this fall with Derek Dooley, and he doubled down when Butch Jones took over.
He even became an informal Tennessee spokesman/promoter through his Twitter account.
Like Paul Harris, Reeves-Maybin is an early enrollee, giving him a nice jumpstart on some of the competition in the 2013 defensive backfield.
The safety position is locked down by Brian Randolph and Byron Moore (which will become one of the best duos in the country—you heard it hear first!) with LaDarrell McNeil as a solid backup.
Cornerbacks are different. Justin Coleman will be entering his junior season, and although he hasn't been a show-stopper for the Volunteers, he's all but assured one of the starting spots on the corner. The other side is more fluid.
Eric Gordon has the inside track as a rising senior, but after him, it's completely open. Reeves-Maybin is as likely as any other player to unseat Gordon from his presumed starting role.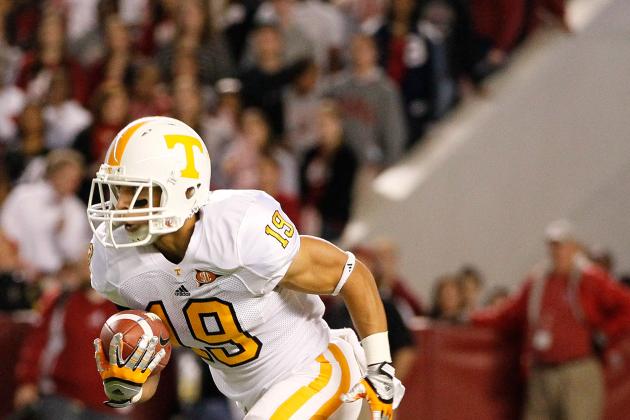 Kevin C. Cox/Getty Images

While Devrin Young is a nice option with good explosiveness on kickoff and punt returns, he's yet to provide the spark on special teams that he was expected to.
Enter Malik Foreman, a recent Vanderbilt-to-Tennessee flip (always love that) from Kingsport. Foreman was a track star at Dobyns-Bennett, winning the 2012 state championship in the 100-meter dash with a sprint of 10.75 seconds.
(That's a 3.9 second 40-yard sprint. Seriously. Do the math. Obviously he got to full speed a little after 40 yards, but it at least gives you an idea of his speed.)
With Cordarrelle Patterson leaving, the need for a playmaking returner is back. Foreman has a chance to get a few looks on kickoffs, and if he performs, he just might take over the job.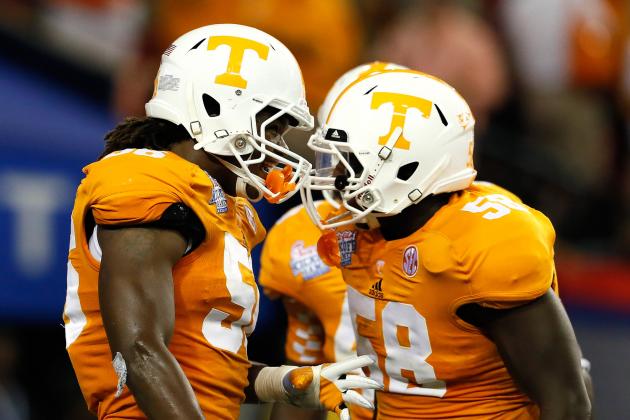 Kevin C. Cox/Getty Images

There are at least three big names that have expressed serious interest in the Volunteers leading up to National Signing Day on February 6th. If any one of them signs with Tennessee, they'll immediately be favorites to start.
Marquez North is a 4-star wide receiver from Charlotte, North Carolina. He has narrowed his college choices down to Tennessee and UNC. He would leapfrog Paul Harris as the best Vol recruit at wide receiver.
Carl Lawson would be a major coup for the Vols. He is a 5-star linebacker out of Georgia, the second-overall player in the entire class. He's currently committed to Auburn, though that commitment has softened after their coaching overhaul.
He has a relationship with former Auburn, current Tennessee coach Tommy Thigpen. If he were to commit, he'd be the favorite to join A.J. Johnson and Curt Maggitt at linebacker.
Derrick Green is a familiar name in Volunteer households these days. Though the 5-star running back is officially still considering Auburn, Miami, Oregon and Ole Miss, the word is that it's down to Michigan and Tennessee. He could easily win the starting job with a nice summer and early fall.