NFL Divisional Playoffs: 10 Key Numbers Heading into Seahawks-Falcons Matchup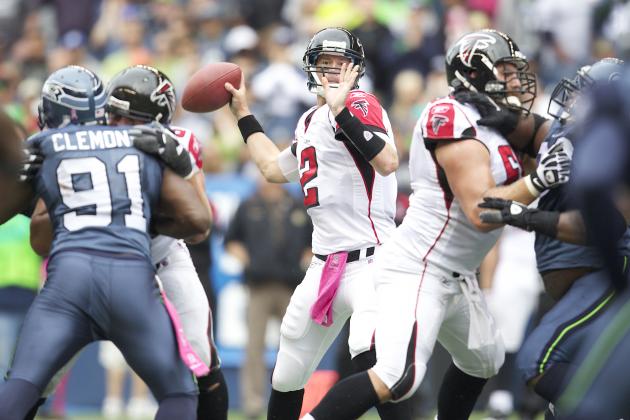 Stephen Brashear/Getty Images

The Seattle Seahawks and Atlanta Falcons will meet at 1 p.m. ET on Sunday in arguably the most intriguing playoff matchup of the postseason, to this point.
On one side, you have the red-hot Seahawks (12-5), who are starting to look a lot like the streaking Packers and Giants of Super Bowl's recent past, despite having a rookie quarterback.
In the other corner are the Falcons, who, despite finishing tied for the league's best regular season record (13-3), have yet to win a playoff game under the beloved leadership put in place in 2008.
All of the pressure is on Atlanta in a can't-lose game, while the Seahawks have suddenly gone from cute story to possible Super Bowl contender.
Here are 10 key numbers that will magnify the factors going into Sunday's NFC divisional playoff game.
Begin Slideshow

»
Kevin C. Cox/Getty Images

Yes, it is true that Falcons owner Arthur Blank desperately wants a new stadium in Atlanta, but don't let those facts fool you.
Falcons fans and visiting fans alike know just how loud the Georgia Dome can get, sometimes reaching 120 decibels.
The shape of the bowl-style seating and closed roof make for a venue where all of the sound created by fans bounces right back down to the field.
Seattle is known for having the 12th Man in the NFL, but 70,000 screaming Falcons fans can give the Seahawks a run for their money.
Atlanta is 33-7 in the Georgia Dome since 2008, and went 7-1 in it this year (its lone loss coming in a meaningless game in Week 17).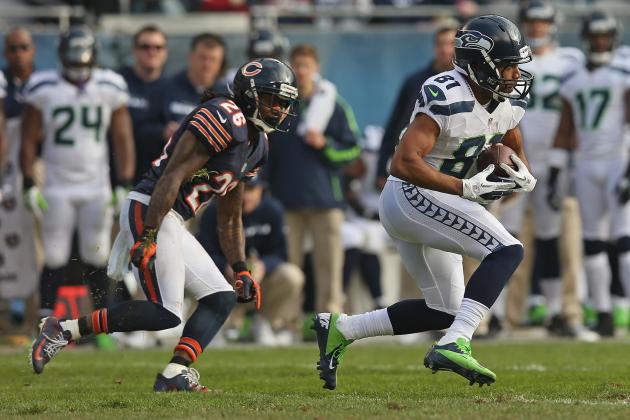 Jonathan Daniel/Getty Images

Seattle has won eight of the last nine games on its schedule, including a 24-14 win in Landover against the Washington Redskins. They are no doubt the hottest team in the NFL, and deserve the title until proven otherwise.
If Seattle did have a weakness this year, however, it was their two-faced home and road records. The Seahawks didn't lose a single game in front of the 12th Man, earning eight of its 11 regular season wins within the confines of CenturyLink Field.
But, the Seahawks own just a 4-5 road record, which includes the playoff win. The only road wins in the regular season came at Carolina, Chicago and Buffalo.
Road losses included Arizona, St. Louis, Detroit and Miami.
Seattle definitely will have its hands full coming into one of the most hostile environments in the NFL.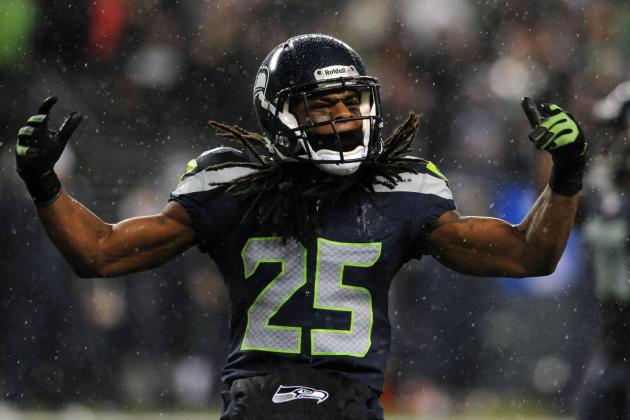 Steve Dykes/Getty Images

Adderall or no Adderall, Seahawks cornerback Richard Sherman has established himself as one of the biggest names in the NFL.
Aside from being mentioned in headlines for off-field antics, the second-year man out of Stanford has not left anything on the field.
The Pro Bowl caliber defender racked up an astonishing 24 passes during the season, and has notched eight interceptions, three forced fumbles and a sack, to boot.
Sherman's 6'3", 190 lb. frame will make him a formidable matchup for one of the NFL's most physical receivers in Roddy White (6'0", 211 lbs.).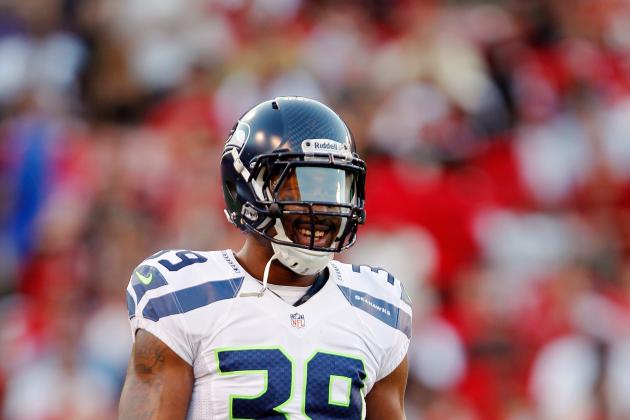 Brian Bahr/Getty Images

As if Sherman isn't enough of a story in the receiver-corner matchup between the Falcons and Seahawks, meet the 6'4", 221 lb. Brandon Browner.
Seattle's giant cornerback duo makes for a physically imposing task for any group of receivers.
Luckily for the Falcons, they have arguably the best receiving duo in the league with White and second-year thoroughbred Julio Jones.
Jones, at 6'3" and 220 lbs., has the explosiveness to expose Browner, who is a bit more of a downfield player.
Either way, the fact Seattle boasts probably the biggest pair of cornerbacks in NFL history is reason enough to watch the Seahawks on any given Sunday.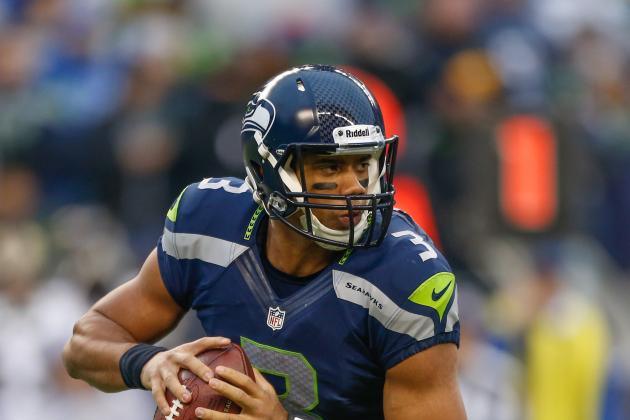 Otto Greule Jr/Getty Images

Everyone might be saying that a rookie quarterback can't make it through the NFL playoffs unscathed. But, Seattle's Russell Wilson isn't just any rookie quarterback.
Why rookie signal-callers are seeing more immediate success in the NFL is beyond all of us, but there's no arguing against Wilson's numbers.
This season he finished with a 100.0 quarterback rating, tossing 26 touchdowns to just 10 interceptions and completing 64.1 percent of his attempts.
Atlanta's Matt Ryan, who wasn't too shabby as a rookie in 2008 either, broke a franchise record for passing yards (4,719) and touchdowns (32) this season, but Wilson's accolades will take center stage on Sunday.
Ryan will need to finally win a playoff game before anyone will look at his numbers as half-full instead of half-empty.
Kevin C. Cox/Getty Images

Atlanta's overall defensive statistics aren't too breathtaking.
The Falcons gave up 365.6 yards per game in the regular season, which was ninth worst in the league. But, if you look closer you'll see a prettier picture.
Atlanta allowed just 18.7 points per game, which was actually fifth best in the NFL. And, at the end of the day, points are more important than yards (just ask Detroit Lions receiver Calvin Johnson).
Atlanta notched 20 interceptions, which was also fifth best, and allowed just six passing touchdowns in the entire season.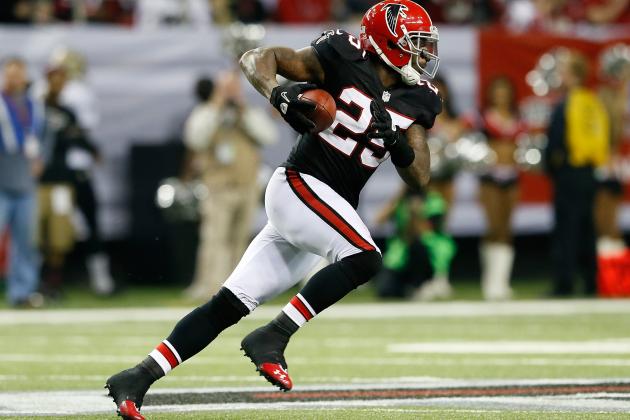 Kevin C. Cox/Getty Images

Falcons safety William Moore was on track for a Pro Bowl campaign until a hamstring injury sidelined him for the final four games of the regular season.
Still, Moore managed 75 tackles and four interceptions and was a force defending the run and pass from other teams. He was on pace for 100 tackles, which would have led the team over Stephen Nicholas (97).
Moore is listed as questionable for Sunday's game, though it was reported earlier in the bye-week that he should be back and ready to go.
A healthy Moore gives Atlanta a defensive backfield comparable to Seattle's. Asante Samuel, Dunta Robinson and Thomas DeCoud have all been fantastic this year.
DeCoud was a Pro Bowl snub (six picks), while Samuel has energized the locker room, brings in playoff experience and had five interceptions to his own credit.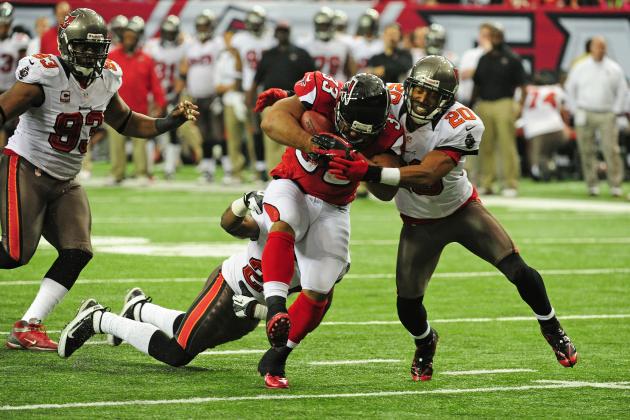 Scott Cunningham/Getty Images

Despite owning the nickname "Turner the Burner," Falcons tailback Michael Turner has not lived up to the billing.
Turner averaged just 3.6 yards per carry in what many believe has been his final season as the feature runner in the Falcons offense.
Behind a less than stellar run-blocking offensive line, Turner has not been able to get to the second level and showcase the combination of straight-line aggressiveness and power that made him a Pro Bowl running back in the past.
Atlanta's other tailbacks, Jacquizz Rodgers and Jason Snelling, are more shifty and fit more into Dirk Koetter's system. Expect to see a light load for Turner and a lot more versatility from the other two backs if Atlanta is going to have a good day on offense.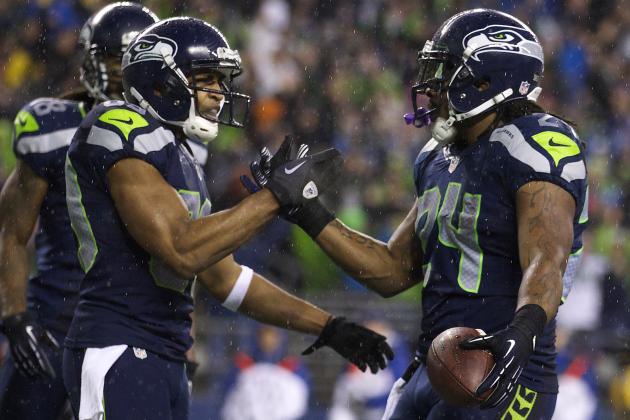 Stephen Brashear/Getty Images

Seattle's offensive balance, featuring the efficiency of Russell Wilson and a dominating running game, has been one of the keys to building a great team.
Anyone who thought the running game was becoming extinct needs to look no further than Seattle's stat sheet from the season.
The Seahawks were the third-best rushing team in the league, averaging 161.2 yards on the ground per contest.
That included 99.4 a game from starting tailback Marshawn Lynch, who undoubtedly entered "Beast Mode" in 2012, going for 1,590 yards and 10 touchdowns.
Wilson added 30.6 yards a game, while backup tailback Robert Turbin took a modest 80 carries for 4.4 yards a pop.
Stopping a good running attack has been Atlanta's weakness all year, and many believe the combination of the ground game and a mobile quarterback could be what breaks Atlanta's back.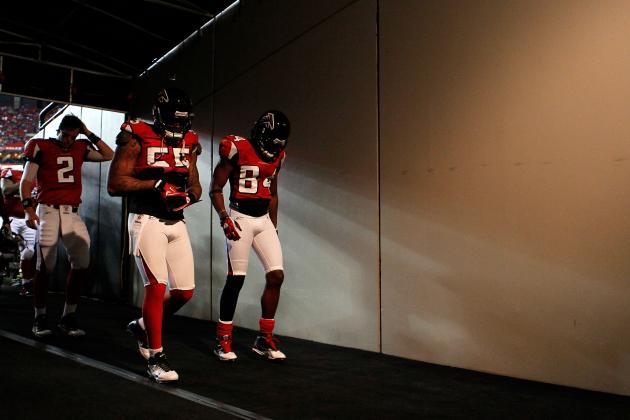 Kevin C. Cox/Getty Images

Since the regime in Atlanta turned for the better in 2008, with the hiring of general manager Thomas Dimitroff, head coach Mike Smith and quarterback Matt Ryan, the Falcons have gone 0-3 in the playoffs.
Not much was expected of Atlanta in the first try. In 2008, the Falcons lost on the road with Ryan as a rookie, 30-24, to the Arizona Cardinals. Arizona made it to the Super Bowl.
But, the Falcons left a 13-3 regular season record for not in 2010 with a 48-21 loss to Green Bay, and followed that failure with an abysmal showing in East Rutherford against the Giants in 2011, falling 24-2.
There are no words to describe the amount of pressure that currently sits on the shoulders of Smith and Ryan. For as much success, continuity and professionalism that has been brought into this organization over the past five years, criticism would be at an all-time high if Atlanta skidded to 0-4 in the postseason at the hands of Pete Carroll and his rookie quarterback.
Arthur Blank, who's one of the more emotional and likable owners in the NFL, would possibly have some upsetting decisions to make, even for fans.