NFL Playoffs 2013: Underrated Hero Who Will Change the Game for Every Team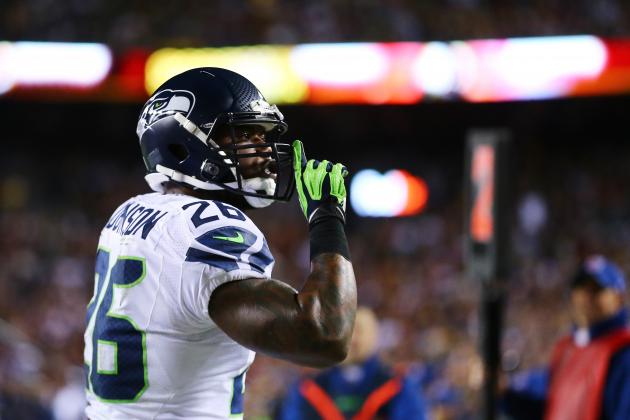 Al Bello/Getty Images

The NFL playoffs are now down to eight teams. For every team, there is an underrated hero who could change the game.
Some of these heroes may go down fighting. All will fight for their right to earn the Lombardi Trophy. Likely, none of them will get acclaim they deserve.
True heroes never do.
These are the underrated heroes of the remaining teams in the 2012 NFL Playoffs.
Begin Slideshow

»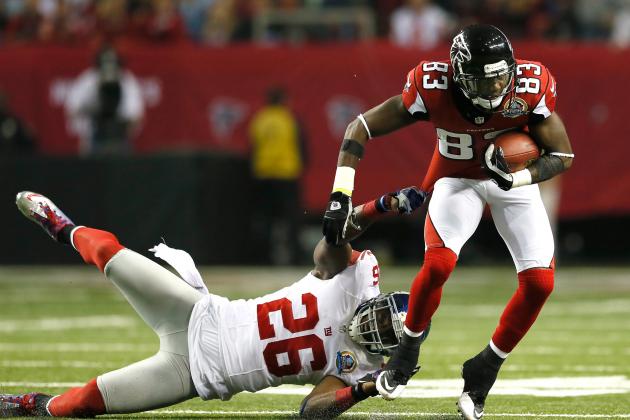 Kevin C. Cox/Getty Images

Brandon Browner and Richard Sherman will be matched up man-to-man with Atlanta's big-name receivers, Julio Jones and Roddy White.
Tony Gonzalez is likely to garner the attention of either Earl Thomas or Kam Chancellor. Each of those matchups potentially favor Seattle.
The result could mean a big game from Atlanta's third wide receiver, Harry Douglas.
Douglas was one of the better third receiver options in the league in 2012, hauling in 38 receptions for 396 yards and a touchdown.
He didn't make as many big plays as he has in the past. That's partially because the second-year Jones took the next step in his progression as an NFL receiver. Few defenses possessed the man power to slow the trio of Jones, White and Gonzalez. Thus, Douglas was not needed as much as in prior seasons.
As already established, Seattle is one of the few teams capable of containing that superstar trio.
Douglas must have one of his better games in this contest if Atlanta is going to emerge victorious and win its first playoff game in the Mike Smith/Matt Ryan era.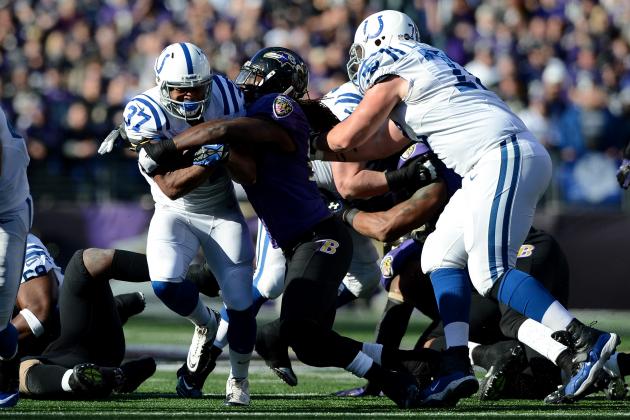 Patrick Smith/Getty Images

Though Dannell Ellerbe was given his props on CBS' broadcast of the Wild Card Round on Sunday afternoon courtesy of Jim Nantz and Phil Simms, it's likely the average football fan still doesn't associate Ellerbe with the upper-echelon players of the Ravens' star-studded defense.
That's a mistake.
The primary reason for that mistake is that the fourth-year veteran took until his fourth season to come on strong. But boy, has he ever.
This season, he had 66 tackles and 4.5 sacks. The undrafted Georgia product was undervalued when he came out of Georgia and still can't get any respect.
If he helps the Ravens pull the upset at Denver this weekend, some respect will certainly come flowing in from all corners of the United States.
Just wait Dannell, your time is coming.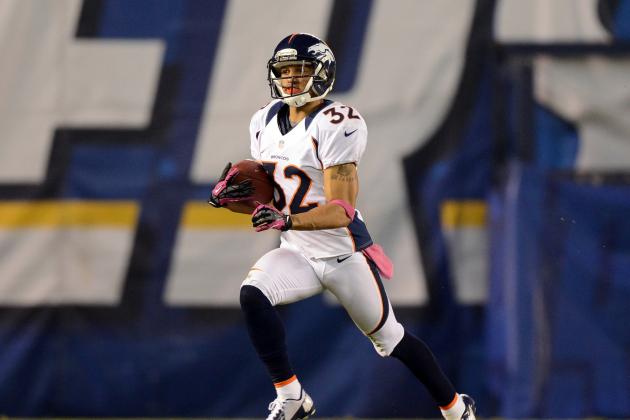 Harry How/Getty Images

Tony Carter is another fourth-year player who just came into his own this season after bouncing between Denver and New England the previous three years.
Carter had two defensive touchdowns this season. One came on a bizarre play that only Philip Rivers is capable of producing (OK, maybe Mark Sanchez is too) in which he had all day to throw, found no one open and held onto the ball. He then just gave it up to Tony Carter who pretty much walked it into the end zone for the Denver Broncos.
That was on Monday Night Football. The other came later in the season against Carolina.
It isn't only the big plays that have endeared Carter to Broncos fans. He is an extremely solid corner who has helped make a Champ Bailey move to safety plausible.
But it is the big plays that the Broncos hope continue to come from Carter as the team makes its way through the playoffs.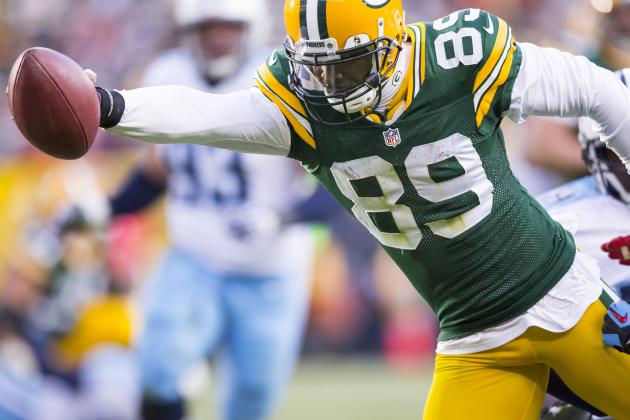 Tom Lynn/Getty Images

News flash: James Jones had 14 touchdowns this season. That placed him atop the NFL leaderboard for regular season touchdown receptions.
The 784 receiving yards he accumulated were a career high, as were the 64 catches.
Most impressively given his past, he went 16 games with close to no dropped passes—having only two to his record in 2012.
He was targeted 98 total times and his catch percentage was a career-best 65.3 percent.
The former third-round pick from San Jose State is a matchup problem for any defense, as he plays much bigger than his 6'1" frame would suggest. Aaron Rodgers trusts him and that trust was rewarded this season.
Good luck, San Francisco—he's a tough cover.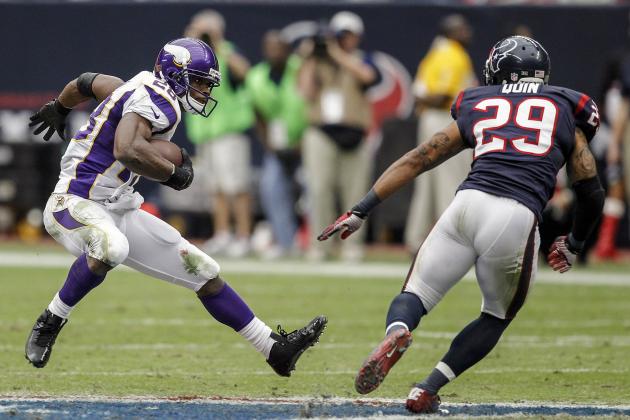 Bob Levey/Getty Images

There's J.J. Watt and then there's everyone else on the Houston Texans' defense.
Don't forget about safety Glover Quin. He had 84 tackles on the season, one sack, two forced fumbles, two interceptions and 14 passes defensed—which ranked him tied for 17th in the league.
It isn't just the numbers with Quin, though. He flies all over the field making plays. He is a steadying force on the back end of Wade Phillips' defensive unit.
Tom Brady would be wise to avoid Quin on Sunday afternoon, assuming he is able. If he does not, Quin may become a more household name come Monday morning.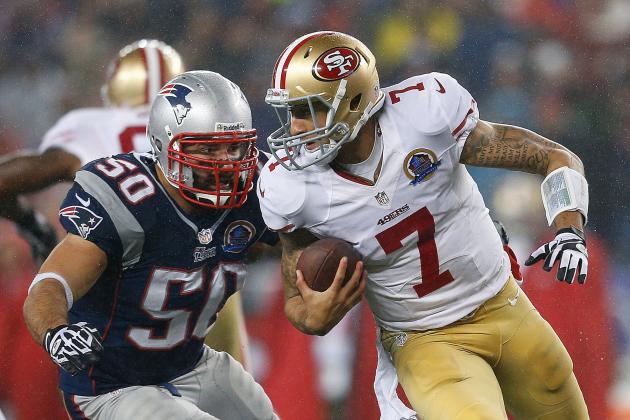 Jim Rogash/Getty Images

Rob Ninkovich is questionable for Sunday's Divisional Game against the Houston Texans. That really means he'll play and play well.
Ninkovich is another journeyman, who first came into the league with the New Orleans Saints.
This season, he has eight sacks and a remarkable five forced fumbles. He complements rookie Chandler Jones to give the Patriots some semblance of a pass rush, something they struggled to develop in recent seasons, save last year with Mark Anderson and Andre Carter.
Ninkovich needs to play to make life tough on Matt Schaub and make Houston a one-dimensional running team.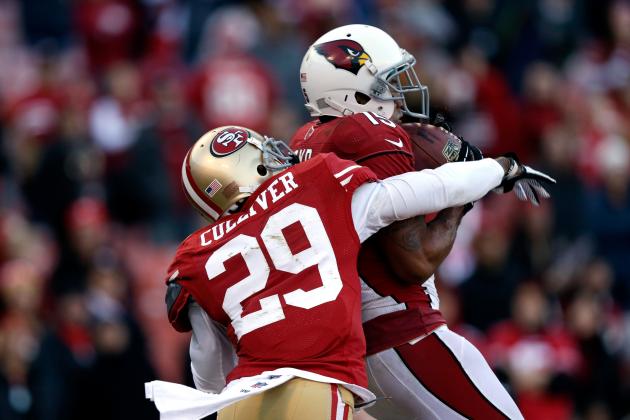 Ezra Shaw/Getty Images

Chris Culilver tied for 17th in passes defensed with a host of other players. He also had two interceptions. That only tells part of the story, though.
The other half of the equation is that teams intentionally target Culliver in hopes that they can avoid Carlos Rodgers. Culliver is regularly up for the challenge.
He's not a sexy hero. He's the workmanlike hero every team needs.
If the Packers defeat the Packers this weekend, Culliver will likely be a big reason they do.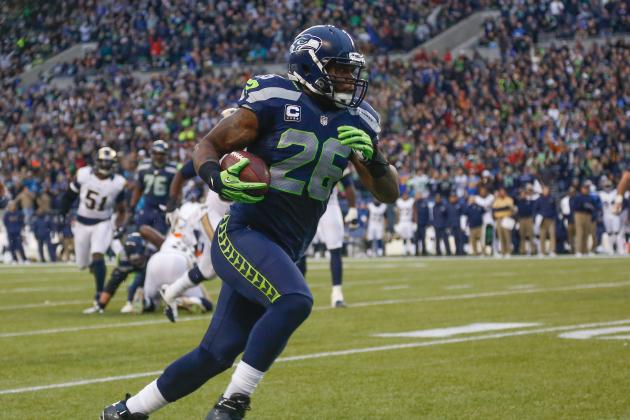 Otto Greule Jr/Getty Images

Michael Robinson is Mr. Do Everything for the Seattle Seahawks. Not only did he run the football 12 times for 49 yards in the regular season, but he also caught 13 passes for 126 yards.
That yards per reception number (9.7) is comparable to that of a tight end. His blocking is too, except better.
He has played a major role in opening grandiose holes for Marshawn "Beast Mode" Lynch this season. And his work as a pass protector has not gone unnoticed either.
He had a key touchdown in last weeks' playoff win at Washington.
If the Seahawks are going to leave Atlanta with a win this weekend, Robinson will have to play a major role again.
He's been doing it all year, so there isn't much reason to think he'll stop now.