Brian Burke Fired: Ranking His 5 Biggest Mistakes as Toronto Maple Leafs GM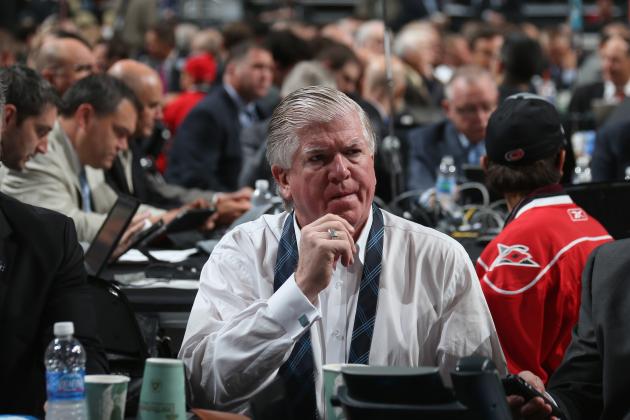 Bruce Bennett/Getty Images

Brian Burke was a "love him or hate him" type of general manager. He was belligerent, mean, brash, often controversial and, above all, very opinionated.
He also leaves the Toronto Maple Leafs in pretty good shape going forward.
They are in good cap shape as the cap dips to $64.3 million next season. Not too many teams right now have that kind of flexibility.
The contracts of Matthew Lombardi, Tim Connolly, Clarke MacArthur and Tyler Bozak, among others, are expiring this offseason, leaving the door wide open for new GM Dave Nonis to spread his wings and flex his muscles.
As a fan, I wonder why this move wasn't made sooner. If it had been made before or immediately after the draft, Nonis would have had more time to work with the team. It also wouldn't serve as a distraction as training camp opens this weekend.
Here are Brian Burke's five worst moves as GM of the Leafs.
Begin Slideshow

»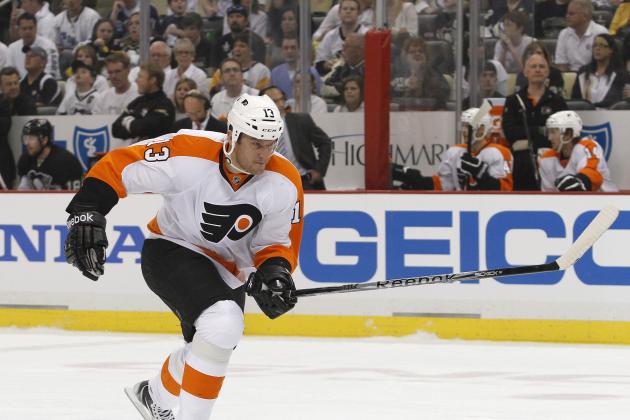 Justin K. Aller/Getty Images

The Move: July 1, 2009 – D Pavel Kubina and F Tim Stapleton traded to ATL in exchange for D Garnet Exelby and F Colin Stuart
Pavel Kubina wasn't an All-Star by any means, but he was an effective defenseman with a deadly shot from the point.
This move was strictly a salary dump by Burke and the Leafs; however, what they got back was basically nothing.
Stuart was immediately packaged off in another deal, and Exelby was more penalty prone and useless with the puck than anyone else on the team. He was a minus hound who was often found on the ice when the other team was potting goals.
Stapleton has stapled himself in the Winnipeg Jets lineup, playing 63 games last season and scoring 27 points.
Sadly, what he's produced is far more than what the Leafs got back in this trade.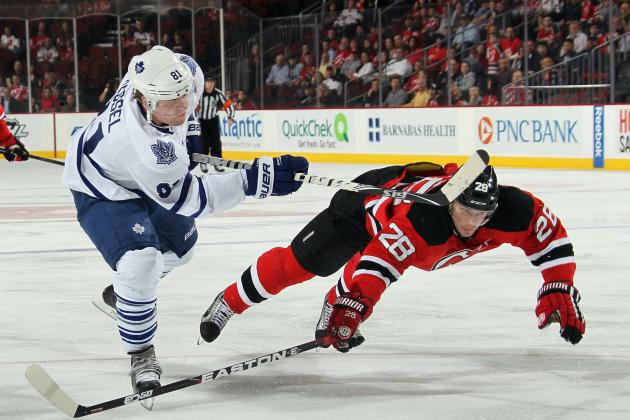 Bruce Bennett/Getty Images

The Move: A first- and second-round pick in 2010 and a first-round pick in 2011 for Phil Kessel
Well, I don't classify this as Burke's worst move; however, a majority of Leafs fans and NHL fans may think otherwise.
Kessel is a very speedy, skilled, talented player who can explode offensively at any point in a hockey game.
However, is he a superstar player or just a great complementary piece to a superstar?
He doesn't have the size, leadership or personality to be a leader, but the Leafs made the trade anyway.
The picks turned out to be top 40 NHLer Tyler Seguin (currently breaking out in Beantown), Dougie Hamilton and Jared Knight.
With Kessel on the team, the Leafs have made the playoffs a grand total of zero times.
The way to build a winner is through the draft. For this reason, this move had to be mentioned.
When a team trades draft picks for a player and doesn't make the playoffs, people are bound to say: Build through the draft and covet those picks—don't just deal them.
Patience must have been running thin at the time for Burke, and he felt like he had to make the move—much like MLSE and its motives for firing Burke this late into the offseason.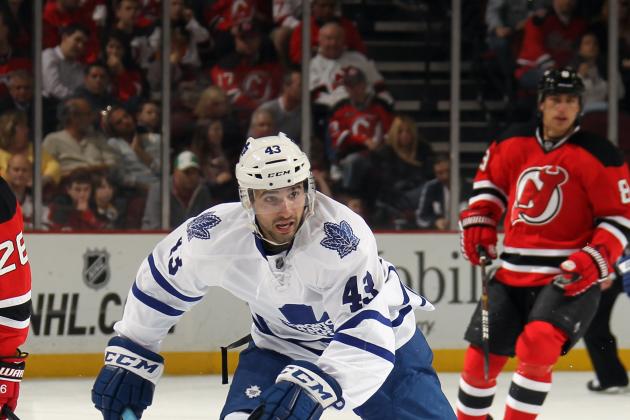 Bruce Bennett/Getty Images

The worst part of Burke's tenure, and probably the reason why he was canned, was not only the treatment of Nazem Kadri, but how Burke handled the situation in the media.
He took the kid—and I say kid because he was only 18 at the time—as the seventh overall pick in 2009. Kadri immediately became the most talked-about Leafs prospect since Wendel Clark.
Because of this spotlight, every mistake Kadri made was magnified. He had to become better defensively, but due to his age, Burke believed he needed seasoning in the AHL.
That's all well and good, but when the entire team stinks defensively as a unit, you wonder why he wanted to single out this young player.
Kadri had a lot of supporters among the fans and the media. For that reason, Burke was often bombarded with questions regarding Kadri.
He often got into verbal wars with radio hosts, commentators and journalists and often hung up on people, bullied them on national TV or said nothing and avoided the issue.
MLSE apparently didn't like what Brian Burke was about and gave him the boot.
But like I've said, why now? Why not a year or two prior to this?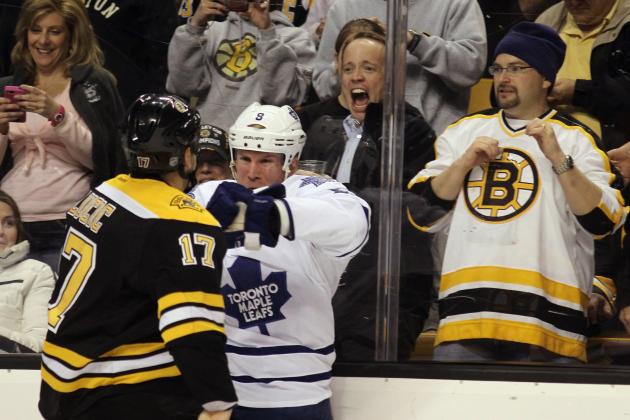 Bruce Bennett/Getty Images

Mike Komisarek was brought in to be an intimidating presence on the blue-line as a guy players would hate to play against.
Much to the Leafs' dismay, Komisarek has been a delight for opponents to play against. The speed of the game looks to be too much for him.
He's been largely ineffective with the Leafs because he has failed to carve out a spot among the team's top four defensemen. He's also been injured the majority of his time with the Leafs.
He's often been the subject of many rants from Leafs fans on fan sites and in papers around North America.
Many thought Andrei Markov made him look good. Many never believed he was that good in the first place and that the Montreal Canadiens picking him seventh overall was a reach—much the same as when the Leafs took Luke Schenn fifth overall ahead of Erik Karlsson, Jordan Eberle, Tyler Myers and Cody Hodgson.
Komisarek now looks to etch himself a spot in the team's top four. If he can't and looks outmatched, you can likely see a buyout coming his way.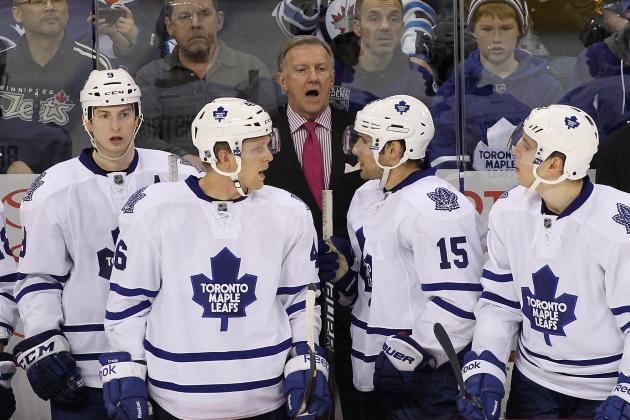 Marianne Helm/Getty Images

Ron Wilson was hired by Cliff Fletcher. Soon after, Burke was brought in to be the new GM.
Even though the Leafs struggled, Wilson remained the coach. The friendship between Wilson and Burke often clouded Burke's judgment of how the team was playing and whether Wilson was really doing his job.
What hit the boiling point for me was Wilson's treatment of his young players in the media. Not only would he criticize them, but he would often embarrass them in front of reporters. He really did not make it fun to play for him.
He never instilled a system in Toronto. The Leafs became one of the worst penalty-killing and overall defensive teams in the league under Wilson.
He was finally canned last year during the Leafs' dismal stretch of February and March, when the team only got six of a possible 40 points.
What started out smooth and creamy turned sour and chunky fast as Wilson's stay in Toronto was spoiled.
I mean that in more ways than one.
Spoiled because he finished terribly but also because the GM gave him free rein to do whatever he wanted, whenever he wanted.
Did the hiring of Wilson set the club back a few years?
You bet it did.
And for not dealing with him sooner, Burke eventually got the axe one short year later.