The Biggest Winners and Losers of the 2013 Baseball Hall of Fame Vote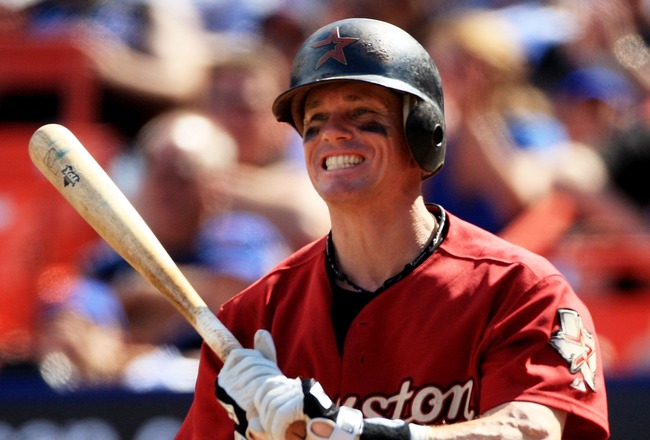 Was Craig Biggio a winner or loser in this years HOF vote?
Travis Lindquist/Getty Images
In the wake of hearing that no player was voted into the Major League Baseball Hall of Fame in 2013, there is a certain measure of astonishment that washes over you. Who are really the biggest winners and losers of the Hall of Fame vote?
The players? Perhaps.
The public? Quite possibly.
The Baseball Writers Association of America? That's up for debate.
Considering the fact that the last time there was a shutout in Hall voting was 1996, there is a whole generation of baseball fans that has never seen this occur.
In an effort to maintain a sense of "glass half full" mentality, the Bleacher Report takes a look at what transpired today and does its best to distinguish who the winners and losers were in the Hall voting process.
Winner: Craig Biggio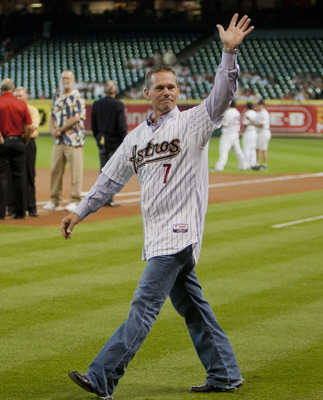 Craig Biggio led the way in Hall of Fame voting.
Bob Levey/Getty Images
While earning a nod from the Hall of Fame on your first ballot appearance is an extremely rare feat, Craig Biggio was extremely close to accomplishing just that.
Biggio received 68.2 percent of the vote.
The catcher-turned-second-baseman never once was accused of steroid use during his illustrious 20-year career in Major League Baseball.
The seven-time All-Star owns four Gold Glove Awards and five Silver Slugger Awards. He is also a member of the 3000 hit club, with 3060 total career hits.
The fact that Biggio was able to obtain such a high margin of votes on his inaugural appearance on the ballot is incredibly inspiring.
While nothing is certain, Biggio appears to be on track for election into the Hall.
Loser: Jack Morris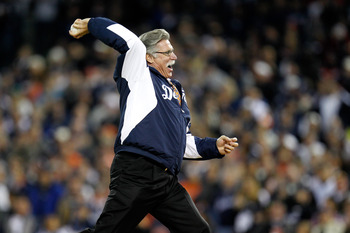 Jack Morris missed the cut once again.
Gregory Shamus/Getty Images
For the 14th straight year, Jack Morris was passed over by the Hall of Fame.
While the former Tigers righty saw a slight bump in his results (67.7 percent of the vote versus 66.7 percent last year), once again he fell short of induction.
Morris pitched 18 seasons in Major League Baseball and racked up a career 254-186 record with a 3.90 ERA and 1.296 WHIP.
Should he get elected next year, Morris would own the highest ERA among pitchers in the Hall.
However, that is where things get really sticky. Next year, the ballot is going to be significantly more difficult for a tenured name to be voted in on.
Greg Maddux, Frank Thomas and Tom Glavine all will be on the ballot for the first time joining the likes of Biggio, MIke Piazza and Jeff Bagwell, who will return to the ballot.
If ever there was a year for Morris to get in, it would have been this year.
Sadly, that was not the case.
Winners: BBWAA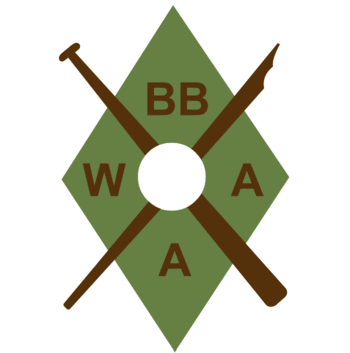 Logo c/o BBWAA
Simply put, the Baseball Writers Association of America has spoken.
Whether or not you agree with how the writers voted, in a magnanimous showing of intolerance (at least this year), all players with any ties to performance enhancing drugs were left out of the Hall.
However, that resulted in all players being left out as well.
It would seem that despite their best efforts to be a last line of defense in terms of baseball morality, the BBWAA have managed to overlook numerous players that could have been bestowed the honor of induction this year with no ties to PEDs.
Perhaps you can't have it both ways.
One can't help but feel that though a message needed to be sent, there was unnecessary collateral damage in the process.
Loser: Barry Bonds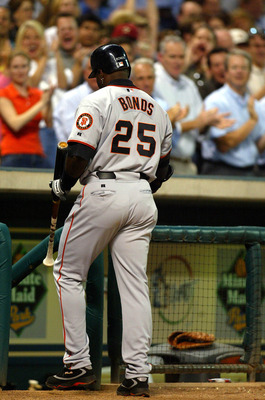 Bonds was a HOF'er before alleged steroid use.
Ronald Martinez/Getty Images
It is hard to dig up anyone willing to say that Barry Bonds was not a sure-thing Hall of Famer before any alleged steroid use.
Draw a line in the sand. Let's assume Bonds decided to retire after the 1999 season. Had he done that, he would have ended his career as a three-time MVP.
Additionally, Bonds would have eight Gold Gloves and seven Silver Slugger Awards while making the All-Star team eight times.
He was a five-tool player up and down before ever having his name associated with the words "Balco" or "The Clear," for that matter.
Had he steered clear of any scandal, Bonds was likely a first ballot Hall of Fame inductee with likely well over 90 percent of the vote.
Winner: Curt Schilling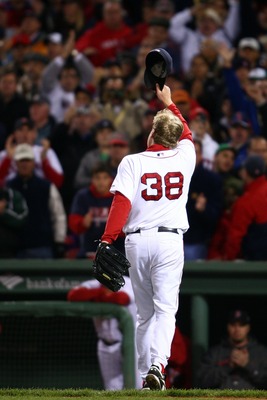 Big Schill came up big in the vote.
Elsa/Getty Images
Despite only having 216 career wins, Curt Schilling had a quite successful day.
Big Schill managed to receive 38.8 percent of the vote, obtaining more votes than Roger Clemens or Barry Bonds.
True, Schilling struggled during his first few years in Major League Baseball; however, he would go on to be one of the finest postseason pitchers in MLB history.
He is 11-2 all-time in the playoffs with a 2.23 ERA and 0.968 WHIP in 19 games and 133.1 innings pitched.
In 2012, ESPN put together a list of the greatest postseason pitchers of all time. Schilling was number two on that list behind Bob Gibson.
While it may not be next year or the year after, Schilling will benefit from his strong initial appearance on the ballot and presumably one day will be elected to the Hall.
Loser: Roger Clemens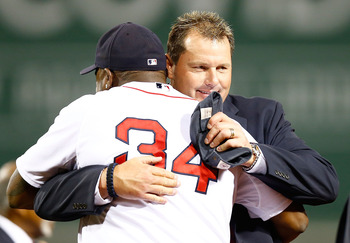 Roger's hall bid took a hit.
Jared Wickerham/Getty Images
Like Barry Bonds, Roger Clemens was a sure-thing Hall of Famer before ever being tied to steroids or performance enhancing drugs.
As with Bonds, imagine if Clemens decided to retire after the 1999 season.
Clemens would still own five Cy Young Awards, an MVP Award and would be a five-time All-Star.
Instead, the desire to be the best ever and not just one of the best ever has led him to being just an onlooker at this stage.
While Clemens and Bonds would have been first ballot vote recipients before all of this mess, they remain the respective faces of a generation of baseball players to which the BBWAA has no idea how to truthfully handle.
Keep Reading