Keep, Trade or Cut Every Key Player on the Cleveland Browns Roster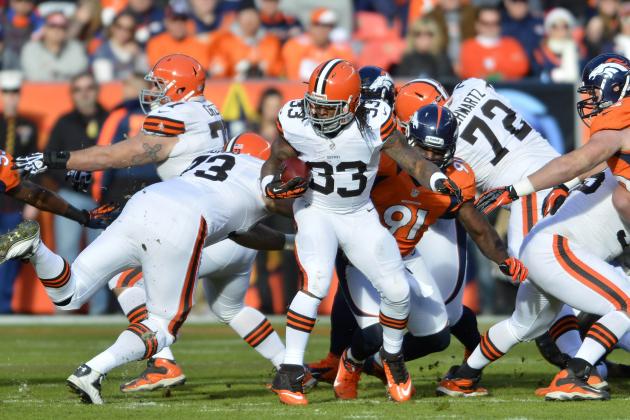 Ron Chenoy-USA TODAY Sports

The announcement of new head coach Rob Chudzinski means that plenty of difficult decisions need to be made personnel wise.
We we will map out potential roster moves for the incoming boss by deciding whether to keep, trade or cut every key player on the Cleveland Browns roster.
As Chudzinski builds a staff and studies game tape, which players will impress him and who could be shipping out of town in 2013?
Another fresh start comes to Northeast Ohio. Let's get started.
Begin Slideshow

»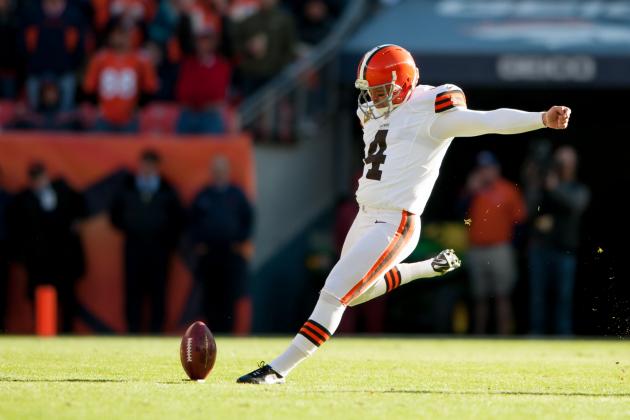 Dustin Bradford/Getty Images
Browns legendary kicker Phil Dawson
Kicker- Phil Dawson: KEEP
Phil Dawson is the most consistent player on this Browns team.
The last remaining player from the 1999 expansion club is Cleveland's all-time leader in field goals made (305) and second in total points (1271).
Dawson delivered his best statistical campaign, connecting on 29 of 31 FG attempts in 2012, seven of which were from 50-yards or more and finally earning a Pro Bowl nod at 37.
It would be hard too imagine No. 4 in any other jersey.
Being given the franchise tag for two straight years means that he will need a multi-season deal. According to ESPN Cleveland, using the tag a third time would cost an astronomical $15 million.
It is a no-brainer to keep the ageless wonder on staff as long as he wants to return. If anyone deserves to retire a Cleveland Brown, it is "Phil the Foot".
Punter- Reggie Hodges: CUT
The six-year veteran ranked 33rd among NFL punters with an unimpressive average of 41.8 yards per punt.
Yes, you counted right ladies and gentleman: there are only 32 teams in the league.
Hodges has never returned to his 2010 form since an Achilles injury put him on the sidelines for all of last season.
An improvement can be targeted in this year's draft with such talents as Ryan Allen or via free agency.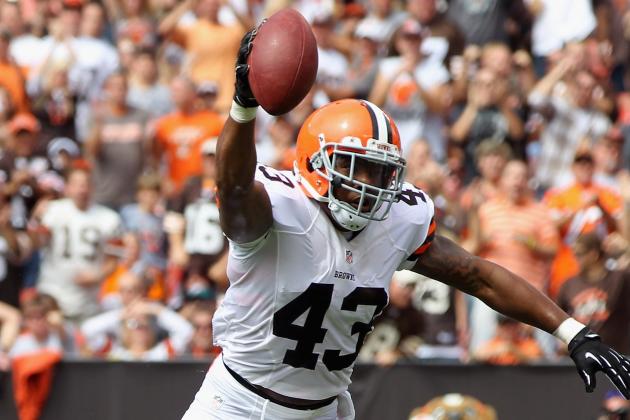 Matt Sullivan/Getty Images
SS- T.J. Ward
T.J. Ward (SS) - KEEP
"The Boss" may be injury-prone, but he is a ferocious hitter.
With only three years in the league Ward provides leadership, youth and boundless energy.
He has not been able to match his rookie season tackle total, but did force two additional fumbles in 2012.
Usama Young (FS) - KEEP
The best way to describe this six-year pro is "serviceable." Young is an average free safety.
He won't make the standout play, but you can get by with him. The Browns need an upgrade here to strengthen the secondary.
The Kent State alum's experience and positive attitude give enough leverage for him to stick around in a rotational capacity.
Tashaun Gipson (FS) - KEEP
Dressing for 10 games in 2012, Gipson showed just enough promise to earn another look.
Earning his first career interception in the win over Kansas City, No. 39 demonstrates speed and aggressiveness.
The rookie possesses good field vision and, with a strong training camp, could fill a 'tweener role between safety and cornerback.
Eric Hagg (FS) - CUT
Hagg is the odd man out.
Coming out of Nebraska in 2011, he was the early favorite to start over Usama Young. Hagg's inconsistent play gave him limited field time as he ultimately could not rise to the challenge.
Ray Ventrone (SS) - CUT
In seven NFL seasons, we pretty much know what Ray Ventrone brings to the table: a physical presence that is a fixture on special teams.
Several penalties on that unit this past season makes one wonder if it is time for "Bubba" to go.
Surely a roster spot for a younger athlete with a potential upside provides better value for the Browns.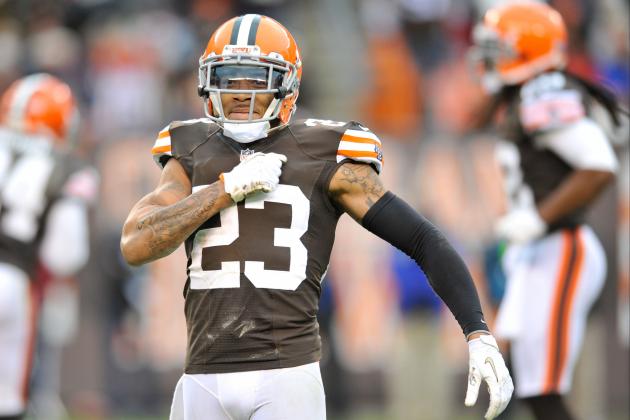 David Richard-USA TODAY Sports
CB- Joe Haden
Joe Haden - KEEP
An inexperienced and often-overwhelmed secondary increases the value of Joe Haden on the outside corner.
Providing a shutdown presence, quarterbacks avoid No. 23 whenever possible, opting instead to pick on more vulnerable parts of the field.
The Browns lost all five games that Haden missed in 2012 and desperately need an answer opposite him.
Obviously, keep Joe and shower him with gifts whenever possible.
Buster Skrine - CUT
He may be fast, but Buster Skrine is a magnet for pass interference penalties.
The several costly infractions in the loss to Dallas highlighted that at 5'9 (a generous listing) and 185 pounds, Skrine is unable to handle outside cornerback duties.
In that, game the Georgia native was filling in for an injured Joe Haden. The 23-year-old was given four previous chances without Haden to prove he could be the man, failing each time.
Give someone else an opportunity that can control their aggressiveness and not be a detriment.
Sheldon Brown - KEEP
The crafty 11-year cornerback put together his best statistical season in Cleveland for both tackles (52) and interceptions (3)
Brown is a role model for this young defensive backfield and can still break down plays with the best of them.
It is no secret that No. 24 has been picked on this season by opposing quarterbacks wanting to stay away from Joe Haden.
The inability to keep pace with the league's fast and physical receivers is a problem that cannot be overlooked.
However, if the club can draft or sign a shutdown corner, then the South Carolina native can make the move to free safety.
This would allow his vast experience to be utilized and eliminate the mismatches that occur on the perimeter.
Only keep around if the reassignment to FS happens. At 33, if Brown agrees to a two-year extension, he is definitely worth keeping around.
Trevin Wade - KEEP
Drafted in the seventh round, we did not see much of the rookie. A finesse cover man, Wade adds depth and can always wait his turn on special teams.
Johnson Bademosi - KEEP
An intriguing prospect that dished out several nasty tackles on special teams throughout the regular season.
Bademosi possesses size (6'0, 200) and quick feet that give him a chance to eventually develop into a starter.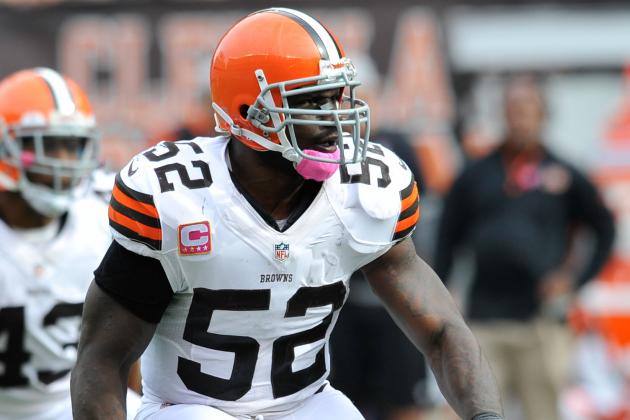 David Richard-USA TODAY Sports
MLB- D'Qwell Jackson
D'Qwell Jackson - KEEP
Playing in every game for the second straight season, Jackson is the emotional leader of this Browns defense.
No. 52 tied a career high in sacks (3.5) and returned his first interception for a touchdown back during the home opener.
At 29, the captain is in his prime and a tremendous asset.
Scott Fujita - CUT
Fujita is a free agent who may end up retiring anyway because of chronic neck/shoulder trouble.
In his three seasons with the Browns, the California native never played more than 10 games in a single year. He only appeared in four matches during 2012.
At least Fujita's name was cleared in the overturned New Orleans Saints bounty scandal.
Emmanuel Acho - KEEP
If Emmanuel can be as good as his brother Sam out in Arizona, then Browns fans are in for a treat.
Unfortunately, getting injured in training camp meant that Acho was finished before he began.
The sixth-round pick will get a second chance at a rookie season in 2013.
Chris Gocong - KEEP
Tearing his Achilles in training camp shut down Gocong's third-year as a Brown and sixth as a pro.
The 6'2, 263-pound linebacker is expected to make a full recovery. He has been an effective contributor since coming over from the Eagles and will be a welcome veteran presence to the group.
Kaluka Maiava - KEEP
He isn't the biggest, strongest or fastest, yet Maiava stepped up when his number was called to replace Chris Gocong.
In a chance to start regularly, the Hawaiian was effective with 53 tackles, two sacks and a pair of forced fumbles.
Maiava gives the LB depth and four years of NFL experience.
James-Michael Johnson - KEEP
Selected 120th overall in the fourth round, Johnson kept getting derailed from injury.
Appearing in ten games, the inside linebacker from Nevada looked solid in preseason and possesses the size at 6'1, 240 pounds to be a difference maker.
The jury is still out on JMJ. However, with talk of the Browns defense moving to a 3-4 scheme, depth in the LB corps could be more important than ever.
Craig Robertson - KEEP
The injuries to Gocong and Fujita forced Robertson into the day one lineup.
On Cleveland's practice roster for 2011, this second-year pro burst onto the scene and never looked back.
He was a flying buzzsaw all over the field defending passes, stuffing the run and showing constant aggressiveness.
L.J. Fort - KEEP
Another youngster thrust into live action because of the injury bug, Fort provided flashes of being a future star.
While not as consistent as Robertson, the rookie did have a 10-tackle effort versus the New York Giants and snatched an interception in the season opener.
Fort became a solid special teams regular for the majority of 2012.
Tank Carder - KEEP
Carder saw most of his action on the special teams unit. However, at 6'2 and 235 pounds, Tank remains an intriguing prospect.
USA TODAY Sports
DE- Frostee Rucker
For Cleveland's defensive tackles the answer is simple. Keep them all!
Ahtyba Rubin, Phil Taylor, John Hughes, Billy Winn and Ishmaa'ily Kitchen weigh a combined 1,610 pounds.
All developed and grew together throughout 2012 to produce one of the fiercest defensive lines in the AFC North.
Rookies Winn and Hughes were thrown into the fire from day one with the injury to Taylor in training camp. The duo stepped up and gained valuable starting experience.
Rubin suffered from ankle ailments, which also forced the rookie Kitchen to play. He performed well in spot work and always came on strong off of the bench.
Jabaal Sheard (DE) - KEEP
Sheard's sack total was down by 1.5 from his rookie season, but No. 97 finished the year with four quarterback take downs in the last five games.
Now over the sophomore slump, Sheard can gear up for a dominant 2013 campaign.
Juqua Parker (DE) - CUT
In his 12th year, Parker was a surprise success for the Browns.
Putting up his best numbers since 2010, the DE was kept fresh by rotating with Frostee Rucker.
Parker proved an excellent stop gap with six sacks, however, to take that next step Cleveland needs to draft a nasty pass rusher to complement Sheard.
Age and an expired contract makes Juqua expendable.
Frostee Rucker (DE) - KEEP
With four years left on a $20.5 million deal, Frostee Rucker is not going anywhere.
Setting a career-high in tackles (48) and tying a personal best in sacks (4), Rucker partnered well with Juqia Parker.
However, the five-year veteran is not a dominant edge rusher. The USC alum is best-suited as an end that is cycled in and out.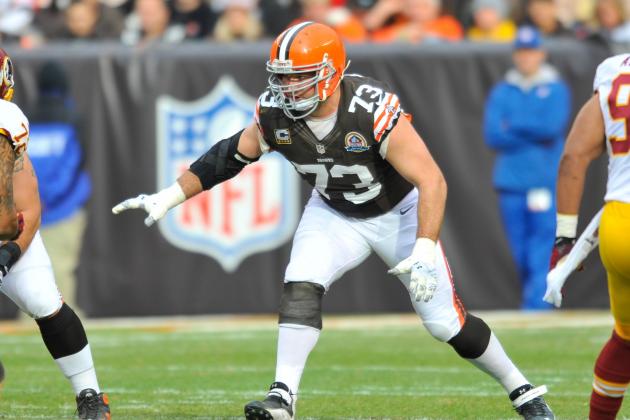 USA TODAY Sports
LT- Joe Thomas
Joe Thomas (LT) - KEEP
Six years in the league and six Pro Bowls. It doesn't get any better at left tackle than Joe Thomas.
Widely considered the best at his position in the game, Thomas will be an anchor on Cleveland's O-Line for many years to come.
Oniel Cousins (LT) - CUT
Primarily a backup to Joe Thomas, the five-year veteran is dispensable. Getting out maneuvered often, the team is better off grooming a versatile prospect than bringing back Cousins.
Guards
Shawn Lauvao (RG), Jason Pinkston (LG), John Greco (LG) and Jarrod Shaw (LG) make up the club's guards.
When Pinkston was sidelined for half the season with a lung blood clot it exposed how thin the Browns were at the position.
Greco stepped in and did better than expected in relief, while Lauvao struggled with consistency.
Decision: Dump Shaw, sign free agent Andy Levitre and draft a lane-clearing beast that can pave the way for Trent Richardson.
Alex Mack (C) - KEEP
A Pro Bowl alternate in 2012, Alex Mack has improved in every one of his four NFL seasons.
Hard to ask for anything more reliable than a center that doesn't miss a single snap in 64 games.
Mitchell Schwartz (RT) - KEEP
The 37th overall pick was inconsistant out of the gate in his rookie campaign. However, Schwartz learned quickly and rarely made the same mistake twice.
On a line with Thomas and Mack, this second-round selection is becoming another key piece to the Browns offense.
Ryan Miller (RT) - KEEP
6'7, 320 pounds and a love to battle in the trenches, why wouldn't the team hold onto this first-year player?
Miller only saw major action in the season finale, but does add useful size and depth.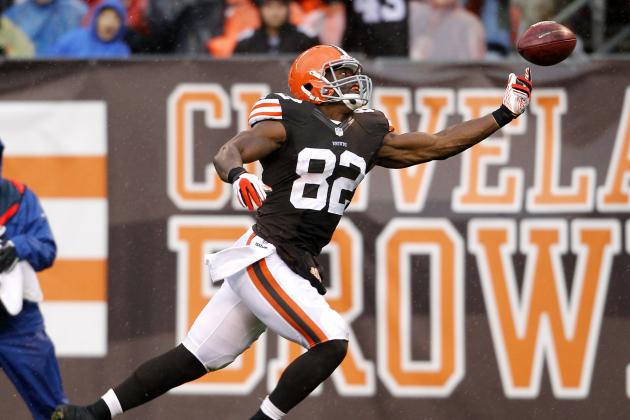 Ron Schwane-USA TODAY Sports
TE- Benjamin Watson
Benjamin Watson - KEEP
Benjamin Watson became a favorite target for rookie QB Brandon Weeden as 2012 wore on and was the rock of an inexperienced tight end group
He averaged over 10 yards per catch in nine of the 15 games played and scored three touchdowns overall.
Excellent hands and a sturdy 6'3, 255 lb-frame almost excuses any lack of blocking skills. It is essential to keep him aboard Cleveland's young offense.
Watson also provides stability while the skills of fellow tight end Jordan Cameron, a second-year player, are still under evaluation.
Offering the 32-year-old a three-year extension makes perfect sense, especially since his health has not been a concern.
That timeline gives the Browns a transition period to groom from within or search for their next No. 1 TE.
Jordan Cameron - KEEP
Besting Evan Moore for a roster spot in training camp, Cameron displayed glimpses of future greatness.
The former college basketball player backed up Watson, but was still able to contribute in spots. 226yards on 20 receptions and a touchdown suggests that the sophomore has plenty to offer.
Brad Smelley - KEEP
Is he a tight end, a fullback or none of the above?
The FB for Trent Richardson at Alabama, Smelley spent all but two games in the press box.
Keep the 2012 seventh-round pick around for now, as he adds the ability to slide into tight end or the backfield if injuries pop up.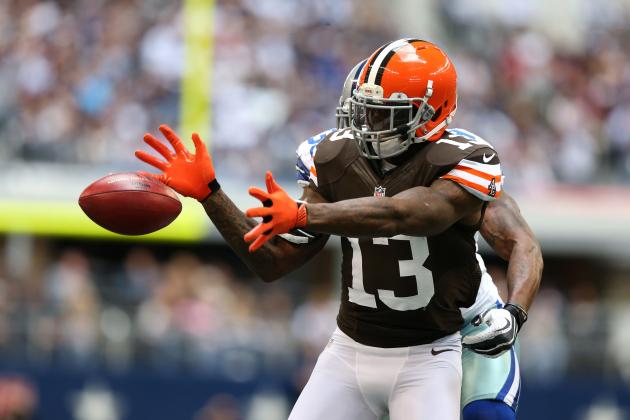 Matthew Emmons-USA TODAY Sports
WR- Josh Gordon
Josh Gordon - KEEP
What a whirlwind ride it has been for Josh Gordon!
From being out of football all of last year to being chosen in the supplemental draft to becoming a breakout star.
Gordon's progression was remarkable, as he tallied 805 yards and five touchdowns, with several highlight-reel long bomb receptions.
The scary thing is that No. 13 isn't even at his best yet. Imagine what he can do with a training camp.
Standing 6'3 and unafraid of running through defenders, Gordon is today's prototypical NFL receiver.
Greg Little - KEEP
Arguably the most improved player on the Browns roster, Greg Little is part of a dynamic WR duo with Gordon.
Constantly dropping balls during his 2011 rookie season and well into this past year, it seemed like the emergence of "Flash" Gordon helped Little.
Whether it was because the pressure was off of him to be the number one or that he was afraid of being replaced, No. 15 started to perform.
Leading the team in receptions (53), the former North Carolina student is now well known as a ferocious blocker.
This double threat stamps Little's ticket as a long-term key to Cleveland's offensive success.
Mohamed Massaquoi - CUT
The fourth-year receiver only played all 16 games in his rookie season. Various ailments have plagued Massaquoi and he appeared in just nine matchups during 2012.
Inconsistent play, too many injuries and younger wide outs looking for a chance all point to a change of scenery for MoMass.
Joshua Cribbs - SIGN and TRADE
Cribbs is still feared on both sides of special teams and is tied as the NFL's all-time leader in kickoffs returned for a touchdown with eight.
However, No. 16 has not taken a kick back for a TD since 2009. Rule changes and surrounding personnel contribute to this drought, but excuses don't matter.
The former-Kent State quarterback constantly clamors for more offensive opportunities, which demonstrates his passion.
Comments to the Plain Dealer about feeling "caged" earlier in the season and a controversial Twitter outburst following the loss to Denver are unnecessary distractions.
Five fumbles on returns through 15 games, increasing injury troubles and sporadic use on offense all point to a parting of ways.
New head coach, Rob Chudzinski, is known for creative play calling and that could be good news for Cribbs.
The speedy eight-year man is a proven threat when utilized out of the Wildcat and was second on the club in receptions with 41 in 2011.
Josh Cribbs is currently a free agent. If he can be signed back at a lower rate then trade possibilities may arise.
A squad needing a versatile option on offense may give up something of value.
Travis Benjamin - KEEP
Josh Cribbs 2.0?
Benjamin's blazing speed and variety of talents is what the Browns were hoping for when drafting him this past offseason.
A record-setting 93-yard punt return for a score against Kansas City, double reverses and deep ball threat are all part of the package.
He missed two games with hamstring trouble so as long as nagging injuries do not become a problem then Benjamin looks to have a bright future in Northeast Ohio.
Joshua Cooper - KEEP
Caught up in the numbers game, undrafted wide receiver Josh Cooper could be a diamond in the rough.
He was a favorite target of quarterback Brandon Weeden while they were teammates at Oklahoma State and this rapport has carried over to the NFL.
Cooper averaged 13.3 yards per catch on eight receptions and demonstrated a nose for finding the first down marker.
Jordan Norwood - CUT
The second-year WR has shown flashes of brilliance in his two seasons with the Browns.
Unfortunately for Norwood he appeared in only two games. In both of those outings (Ravens and Giants) No. 10 performed well in the slot.
However, the physical toll from opposing linebackers was too much for his slight 180 pound frame to handle.
Norwood is built for speedy outside routes. Benjamin replaced him in that category and their are bigger bodies that can take the pounding underneath.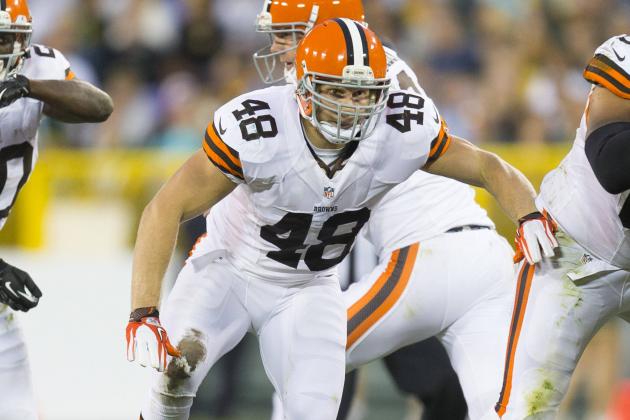 Jeff Hanisch-USA TODAY Sports
FB- Owen Marecic
Alex Smith - CUT
Starting the year as a tight end, Alex Smith was forced into the fullback role when it was clear that Owen Marecic was not cutting it.
Although he is a strong blocker, Smith cannot clear a path for star RB Trent Richardson. Catching the ball was also a problem for the 30-year-old.
FB is a high priority area for Cleveland and no one on the current roster appears to fit the requirements.
Owen Marecic - CUT
The heir apparent to veteran grinder Lawrence Vickers, it is now clear that Marecic is not the answer at fullback.
In his second season, No. 48 was a healthy scratch and was shipped off to do only special teams functions if he was active at all.
Marecic is a flop and will be lucky to be on a NFL practice squad in 2013.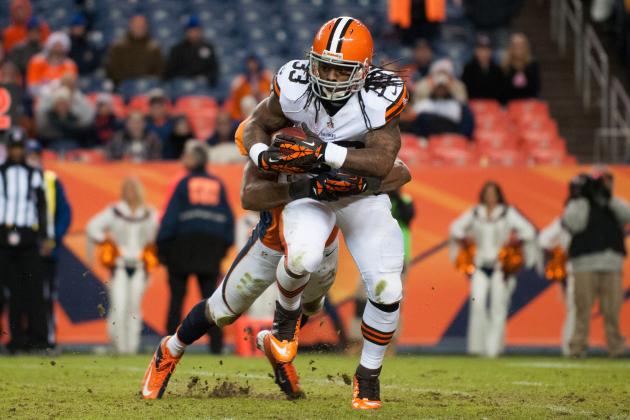 Dustin Bradford/Getty Images
RB- Trent Richardson
Trent Richardson - KEEP
Rehabbing from knee surgery and then playing through broken ribs made up Trent Richardson's first year.
Despite these setbacks, he was able to break Jim Brown's rookie rushing touchdown record by posting 11 scores. T-Rich also came 50 yards shy of the 1,000 mark.
Imagine what the third overall pick can do healthy and with a full training camp.
Montario Hardesty - KEEP
When the preseason ended, Montario Hardesty looked like he was on his way out of town.
Fumbles, inconsistency and injuries over three seasons had detoured a once promising career.
Getting no carries the first five weeks of the season, injuries to Richardson made it necessary for the load to be shared.
To the surprise of everyone, Hardesty responded and in the process carved out a niche for himself as a change-of-pace back.
The ex-Tennessee runner scampered to a 4.2 yards per carry average on 65 attempts and recorded his first career touchdown.
Brandon Jackson - CUT
Two years and zero impact means that there is no need to keep on Jackson.
His contract expired and Ogbonnaya has proven that he is more than capable of handling the backfield catching duties.
Chris Ogbonnaya - KEEP
What a nice surprise Chris Ogbonnaya continues to be since joining the Browns off of the Houston Texans practice squad in 2011.
Great hands, good speed and a strong blocking skills will always have a place on a football team.
Dustin Bradford/Getty Images
QB- Brandon Weeden
Brandon Weeden - KEEP
The 22nd overall selection has truly become a polarizing figure in the Dawg Pound. Love him or not, it can be agreed that 2012 was a bumpy ride for Brandon Weeden.
On the positive side, he passed for a rookie team record of 3385 yards and displayed that advertised rocket arm on several of his 14 touchdowns.
Some negatives include the throwing of 17 interceptions, a 72.6 percent QB rating and 57.4 completion percentage.
Essentially being handed the starting role and having Pat Shurmur's version of the West Coast Offense jammed down his throat were all part of an overwhelming campaign.
Extra pressure was thrust upon Weeden because of the success of fellow first-year quarterbacks Andrew Luck, Robert Griffin III and Russell Wilson.
Did No. 3 do enough to earn a return ticket in 2013? Yes.
Was BW's performance consistently strong and therefore warrant an automatic top QB spot? No.
Weeden teased the franchise with flashes of excellence. He also made hair-pulling, curse word-screaming decisions on a fairly regular basis.
The Oklahoma State gunslinger needs to step up his all around play and show steady improvement during training camp.
That sense of urgency only comes through a legitimate quarterback competition.
Colt McCoy - KEEP
Poor Colt McCoy was treated like an unloved stepchild this year.
No running game and an offensive line that let defenders feast on him all resulted in a boring attack that did not produce points in 2011.
Former-head coach Pat Shurmur handed incoming first round pick Brandon Weeden the reigns and let him ride the entire season no questions asked.
McCoy was cast aside and rarely spoken of again. The ex-Texas Longhorn was a consummate professional throughout and never created any waves.
He was only allowed to throw the ball during one of his three game appearances and that was during the blowout loss to Denver.
The third-year signal caller's below-average arm strength and ability to make plays outside the pocket all point to more of a backup station in the NFL.
However, McCoy at least deserves the chance to fight for what was once his starting job.
At worst, he remains a viable change of pace second option. Best case is that at 26, Colt catches the eye of a QB-hungry club in preseason and gives the Browns a tradable commodity
Thaddeus Lewis - TRADE
A practice roster third string option for his two seasons in Cleveland, Thad Lewis was thrust into the starter role for Game 16 vs. Pittsburgh.
The former-Duke quarterback may have become some intriguing trade bait because of his performance in that matchup.
Throwing 204 yards for one touchdown and an interception against the top ranked defense is pretty good for a first NFL start.
For a desperate team in need of a backup, Lewis could command a late-round draft pick.
Josh Johnson - CUT
He was brought in as a last resort for the final regular season game with Weeden and McCoy down to injury.
No need to keep Johnson around.
Follow Andy McNamara on Twitter @AndyMc81