6 Reasons You Should Tune into the Final Strikeforce Event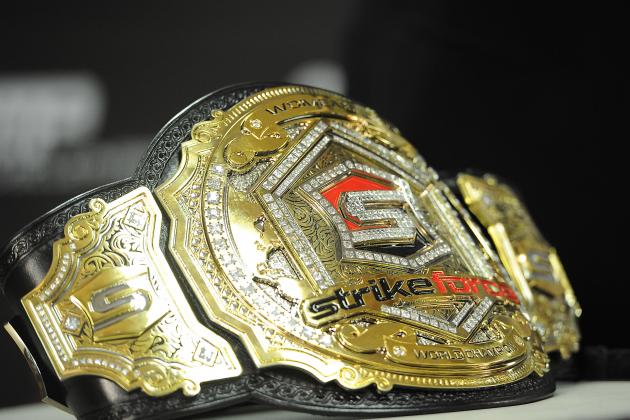 Jayne Kamin-Oncea-USA TODAY Sports

The end of Strikeforce is near. In fact, the promotion will take the stage for its official swansong this Saturday, Jan. 12.
For nearly seven years Strikeforce brought fans MMA entertainment, and before that, many more years of kickboxing. But it all comes to a close this weekend, Zuffa's secondary promotion is folding into its larger, the UFC.
While much of the Strikeforce roster is expected to migrate to the UFC, this will be the final time you'll be able to tune into an actual Strikeforce event. And there are plenty of reasons not to miss out on that opportunity.
The following is a list of six reasons why you shouldn't miss out on the soon to be disbanded promotion's final hurrah.
Begin Slideshow

»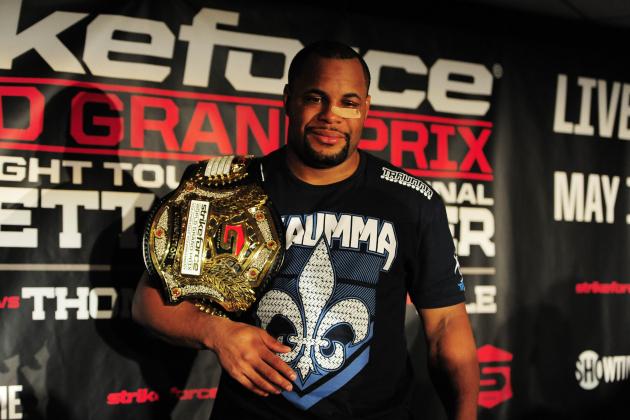 Kyle Terada-USA TODAY Sports

Though Cain Velasquez recently dethroned Junior Dos Santos to regain the UFC heavyweight title, the two of them remain the division's de facto front-runners.
Some would posit the argument that Alistair Overeem runs alongside them, but few would enter any other fighter's name into the discussion.
Except Daniel Cormier, maybe.
Strikeforce's best heavyweight captured Grand Prix honors last year, besting current UFC competitor Antonio Silva, as well as the highly regarded Josh Barnett, to make a case for himself as one of the division's top dogs.
Precisely where he stands against the best is likely something we'll learn later this year when he joins the UFC roster, but we'll at least get to glimpse the prelude to that development this Saturday.
Cormier will take on Dion Staring in a bout he's expected to win, but how well he performs will dictate the energy his UFC arrival produces.
A convincing win, for instance, will start him out at the top of the promotion's ladder and see his reputation grow. A loss or iffy victory, on the other hand, might just cause fans to all but forget about him before his tenure with the UFC even begins.
Though Cormier vs. Staring might not seem like a truly impactful matchup, it will have a significant bearing on the sport's heavyweight picture, making it a bout worth watching.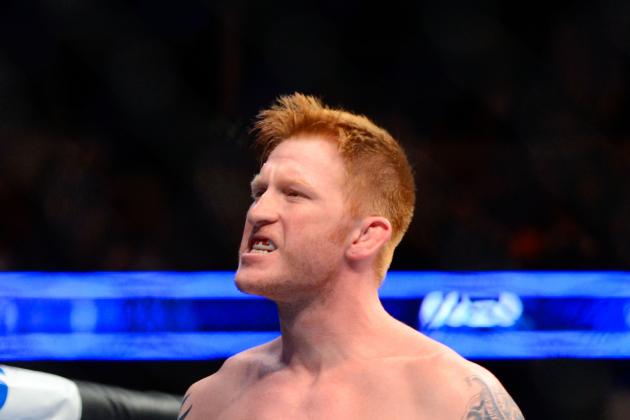 Ron Chenoy-USA TODAY Sports

Souza, one of Strikeforce's top 185-pounders, and Herman, a mid-tier UFC middleweight, will share the Strikeforce cage this Saturday for a bout with some intriguing implications on the line.
It's not exactly champion vs. champion, but anytime the UFC indulges in any sort of inter-promotional matchmaking, it is worth keeping an eye on.
If Souza wins the bout it goes a long way for legitimizing the Strikeforce roster, or at least its 185-pound class. If Herman, a non-contender in the UFC, takes Souza out, it doesn't exactly speak well for anyone coming over from Strikeforce.
Not that too much can be gleamed from the outcome of this one bout. Not exactly. The result will say a lot about where Souza stands in the grand scheme of things, but it's only symbolic for the remainder of the Strikeforce-UFC interplay.
Nevertheless, the contest remains an interesting one, and something worth keeping tabs on.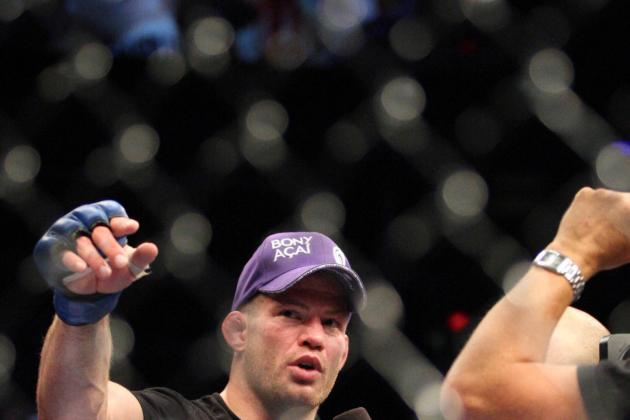 Scott Olmos-USA TODAY Sports

UFC welterweight champion, Georges St-Pierre, will take on Nick Diaz at UFC 158, this March 16. After that, it's a bit up in the air as to what will happen in the promotion's welterweight division.
It is commonly assumed that the next crack at the welterweight strap will go to Johny Hendricks, but that's no given. Especially since he'll face Jake Ellenberger the same night St-Pierre and Diaz duke it out, since a loss would all but crush his title aspirations.
In such a scenario, the way might be clear for Nate Marquardt to swoop in and compete for the UFC title. After all, there is a certain allure to champion vs. champion bouts, so if he's able to retain the Strikeforce strap this Saturday night, maybe he'll get the nod.
Marquardt recently told The Ultimate Show he'd be up for a match with the UFC champ, even though GSP is his friend. On a related front, Jon Fitch recently expressed his belief that Marquardt vs. St-Pierre might happen later this year.
Though neither Marquardt nor Fitch has any matchmaking authority, their related statements confirm that there is a definite buzz around the potential bout.
Of course, Marquardt needs to take out Tarec Saffiedine this Saturday for any of it to come to fruition.
That makes Marquardt vs. Saffiedine an important match. One worth watching.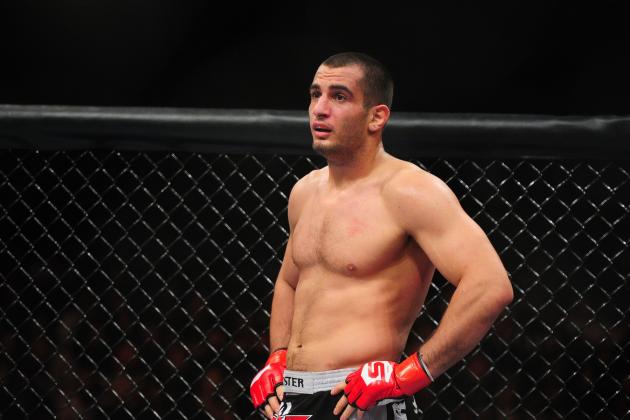 Mark J. Rebilas-USA TODAY Sports

In a UFC-centric MMA universe, most of the sport's top talent resides within a single promotion. That doesn't mean there is no solid talent outside it's ranks, only that non-UFC cards flush with top fighters are rarely assembled.
Strikeforce's final show, however, is pretty loaded all the way through. Maybe not in terms of competitive matchups, but at least in terms of individual talents. In fact, many of the sport's top non-UFC fighters will see action this Saturday night.
K.J. Noons, Ryan Couture, Tim Kennedy, Pat Healy, Roger Gracie, Ronaldo Souza, Gegard Mousasi, Josh Barnett, Mike Kyle, George Gurgel, Daniel Cormier and Nate Marquardt are all scheduled to compete.
That roster might not look special when you juxtapose it with a UFC pay-per-view billing, but it is uncommon for so much talent—and so many recognizable names—to inhabit any single non-UFC event.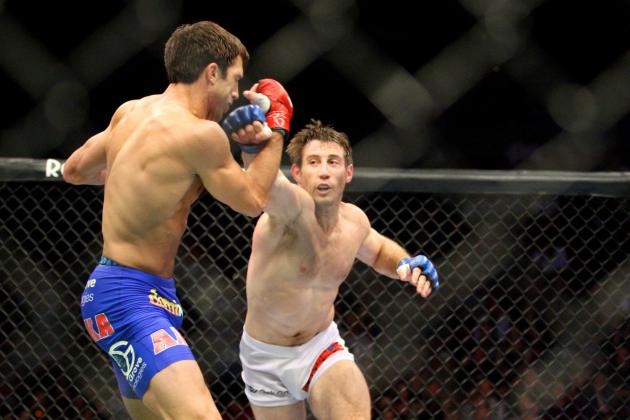 Scott Olmos-USA TODAY Sports

Of course, much of that non-UFC talent will become UFC talent as soon as Strikeforce's last event concludes.
But, there is the matter of projecting where precisely any one individual will enter the UFC ranks after jumping the Strikeforce ship.
Grading fighter performances this Saturday night will be the first step in making those projections.
For instance, with an impressive win, Daniel Cormier will enter the UFC as a consensus top four heavyweight. A loss or underwhelming victory, on the other hand, will crush his hype and put him much lower on the promotion's ladder.
The same can be said for any number of other fighters from Saturday night's card, and it's certainly worth tuning in to see at what level guys like Roger Gracie, Tim Kennedy, Ronaldo Souza and many others, are likely to begin their UFC careers.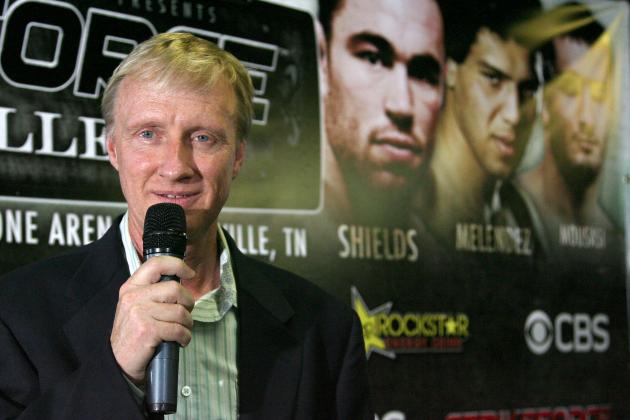 Valerie Macon/Getty Images

MMA fans seem to love looking back nostalgically on defunct promotions. Think about it. Can you really hear the acronym WEC, or catch a reference to Pride FC without releasing a regretful sigh?
Strikeforce may not carry the same weight as those former fight leagues still do, but the promotion did have its moments. And on Saturday, Jan. 12, after nearly seven years of MMA operations, those moments will cease to come.
So, whether or not you ever really bought into Strikeforce as a viable MMA promotion, it will be worth your time to see it ride off into the sunset. Even if you don't anticipate missing it a whole lot, you may just end up sighing mournfully when it's recalled years down the road.
Besides, you'll never see another Strikeforce event in your life. Why not catch the final act?