5 Possible Fixes for Miami Heat's Rebounding Problem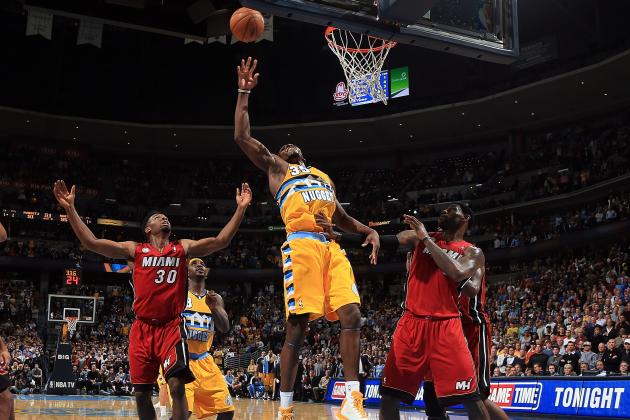 Doug Pensinger/Getty Images
When the ball's in the air, the Heat often look helpless.
Erik Spoelstra made it clear, before the season started, that he would prefer his Heat players not use the word "repeat" to describe the mission for 2012-13. After all, this would be a new endeavor and adventure, one that would require Miami to remain wary of slippage as well as a slew of contenders to its crown.
Perhaps his team misunderstood him.
So far this season, Heat players have too often avoided another word that starts with "re-":
Rebound.
And that, above all, may be the thing that keeps Miami from repeating, or winning again, or whatever it is that they're trying to accomplish.
The Heat was bludgeoned on the boards again Tuesday, this time by Indiana, which converted 21 offensive rebounds into 23 second-chance points, stifling the Heat's fast break in the process.
Miami entered Wednesday's NBA play averaging the second-fewest rebounds per game in the league, ahead of only the Celtics, and tied for 23rd in rebound differential. This comes after tying for sixth in rebound differential last season.
Some nights, the Heat (the defending champions) have appeared overmatched on the glass. Sometimes, as against Denver and Minnesota and Orlando, they have overcome it. Recently, against East rivals Chicago and Indiana, they have not.
"At some point, enough will be enough for us and we'll take care of that department," Spoelstra said. "It's got to stop, and at some point, we'll get pushed to the brink where enough will be enough."
Wednesday, Spoelstra pushed his team through an unexpected, physical workout.
"We always know that we have to own it and work at it to correct it," Spoelstra said. "And that's what today was about, it wasn't about talk, it wasn't about stories, it was about working at it. Will it happen overnight? We'll see."
What are five of the possible fixes?
(All quotes for this story were collected through the course of the author's coverage of the Miami Heat for the Palm Beach Post. All statistics were accurate as of Wednesday afternoon.)
Begin Slideshow

»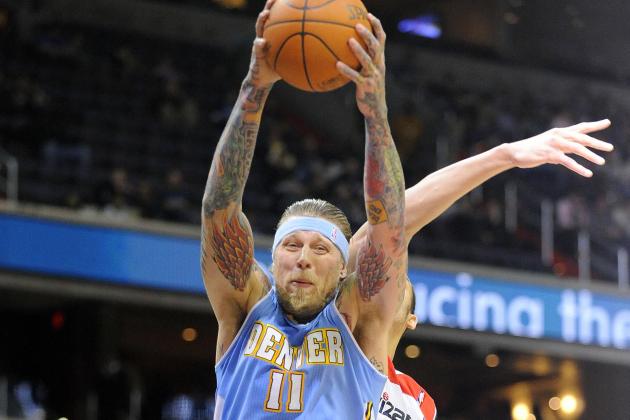 Brad Mills-USA TODAY Sports
Miami worked out Chris Andersen on Tuesday.
After Wednesday's practice, LeBron James was asked about whether the Heat had enough to correct its rebounding deficiencies.
"This is who we have," James said. "Ain't nobody outside. Who's out there? If there was somebody out there, he'd have been picked up. So this is what we got. As a collective group, we've got to figure it out."
As he was speaking, it wasn't yet widely known that Pat Riley and the personnel team, back in Miami, had decided not to sign veteran Chris Andersen following a Tuesday workout.
Instead, the Heat chose to bring back two projects, former second-round pick Jarvis Varnado (who had been cut in training camp) and offseason import Josh Harrellson (who had been cut just prior to his contract becoming guaranteed).
Both are currently on 10-day deals, so these are mere trials.
Figure that Riley will keep looking.
At the moment, as James astutely assessed, there isn't much out there. Andersen remains a possibility and, if in shape, he may be able to offer some energy minutes even at age 34. He has been a plus rebounder over the course of his career.
Still, don't rule out the Heat trying to lure players who get bought out, as they have in recent seasons. Two seasons ago, Riley took shots at Troy Murphy and Mike Bibby, nabbing the latter, even if that proved to be a backwards move. Last season, he recruited Ronny Turiaf, and Turiaf provided some useful minutes.
Any player the Heat adds, however, figures to have a minimum role unless he can always be a live option on offense; and the odds of finding that on the scrap heap are slim.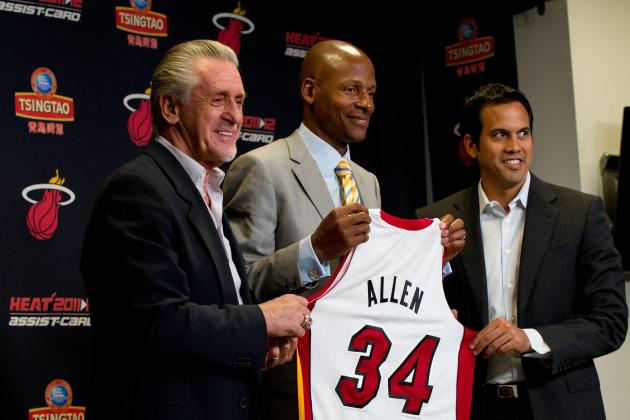 Steve Mitchell-USA TODAY Sports
This offseason, Pat Riley and Erik Spoelstra doubled down on pace, space... and small.
It was a bold course for a franchise (and a leader) with an established track record.
At every stop as a coach or executive, Pat Riley either inherited or acquired a centerpiece at center, whether Kareem Abdul-Jabbar or Patrick Ewing or Alonzo Mourning or Shaquille O'Neal.
After signing Chris Bosh and LeBron James to complement Dwyane Wade in the summer of 2010, Riley lacked the resources to pursue a proven big man in his prime, so for the first two seasons, he surrounded them with the limited likes of Zydrunas Ilgauskas, Erick Dampier, Joel Anthony and Ronny Turiaf.
Then, when Bosh got hurt during the 2012 postseason, Erik Spoelstra had to experiment further and (by the way Bosh returned) chose to stay relatively small, with Bosh at center and veteran wing Shane Battier taking a role as a stretch "power" forward.
That worked so well, during a short period, that Riley doubled down on the Heat's strengths last offseason rather than try to shore up weaknesses, signing shooters Ray Allen and Rashard Lewis to stretch the floor, and adding a big man in Josh Harrellson who played mostly below the rim and often behind the arc.
Spoelstra, for his part, pushed the ideals of pace and space, and of playing "positionless," where players wouldn't get hung up on the typical labels.
This has worked to a degree, as Miami has been much more efficient offensively than either of the past two seasons. But players have privately wondered whether the team was sacrificing too many principles in the pursuit of free-flowing offense.
And Bosh, who has taken the most criticism for his inconsistent rebounding, has recently spoken publicly about how the Heat may need to go back to the way they were.
This could lead Riley to rethink the approach, and try to pull off a trade, even though the Heat has little in the way of attractive assets.
Or, as the next slide explores, Spoelstra could alter the way he deploys the current roster.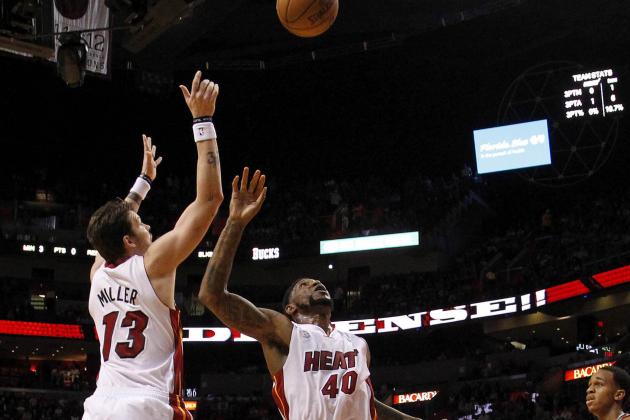 Robert Mayer-USA TODAY Sports
Mike Miller and Udonis Haslem are both playing fewer minutes than last season.
After watching the Bulls "play volleyball" against his team last week, Erik Spoelstra again insisted that Miami had enough in its locker room to turn things around.
"If I'm not mistaken, the main players outside of Ray (Allen) that played in our rotation last year during the playoffs were the same as this year," Spoelstra said. "It's not rotation."
It would be mistaken to call him mistaken; only three players are gone from last postseason's championship run, and Juwan Howard and Eddy Curry weren't contributors. Ronny Turiaf got some minutes but was a passionate cheerleader in the NBA Finals.
That, however, doesn't mean that the returning players are all playing the same number of minutes. Allen is playing more than 25, and while he is rebounding at a rate higher than his career average, he's still a 6-foot-5 guard who is not expected to crash the glass.
Allen's presence has played a role in reduced minutes for Mike Miller, who has typically been a plus rebounder for a perimeter player, especially when healthy, as he is now. It has also compelled Spoelstra to go with three guards at times, sometimes taking Udonis Haslem off the floor.
Haslem may not be what he was, but he still has the highest rebound rate among Heat regulars, and he, like Miller, is playing more than five fewer minutes than last season.
So Spoelstra could tinker further, even without inserting a more traditional center next to Bosh, especially since Joel Anthony has never been a strong rebounder.
But he could also dust off Josh Harrellson or even Dexter Pittman, currently getting some consistent playing time at Sioux Falls of the NBA Development League.
That would require taking a better all-around player off the floor.
But it might lead to more caroms in the Heat's hands.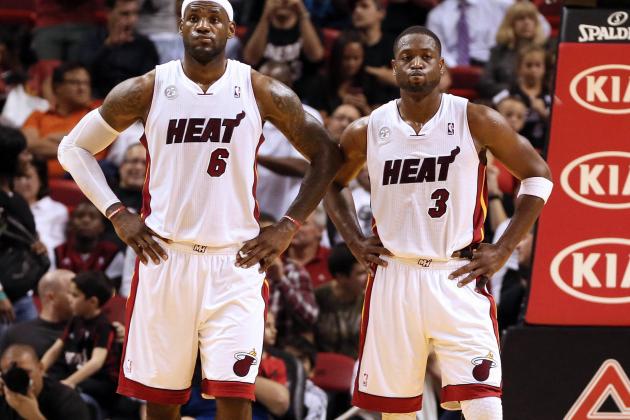 Robert Mayer-USA TODAY Sports
As if these two guys don't have enough to do....
They score.
They steal.
They pass.
They block.
And yes, they rebound.
In fact, LeBron James has never rebounded at a higher rate than this season, and Dwyane Wade is right at his career average, if down a bit from the past two seasons.
Yet, as with everything else related to the Heat, there's a question of whether they can do even more.
James has been open with his frustration of late, not just in interviews but also on the court, where he has rolled his eyes and shaken his head after opponents get shot after shot at the Heat basket.
Wade has made it clear that "we've got to fix it, We're not going to get bigger overnight. We've got to find a way to fix it or we're going to keep losing those games."
They can both play a role in fixing, though that will come at a cost.
If Miami doesn't address its defensive glass, it can't ignite its transition game.
"That's been our Kryptonite as far as our fast-break points," James said.
But if James or Wade are the ones that have to do the crashing, they won't be the ones flashing down court.
Unless they can both be two places at once. And sometimes, it seems that the Heat needs them to be.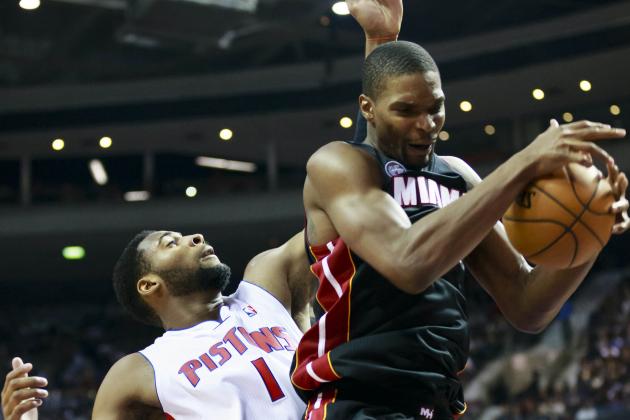 USA TODAY Sports
Chris Bosh gives up some girth, but sometimes he goes and gets it.
Before the season, Chris Bosh spoke of embracing the move to center, that the difference was all in his mind, and that he was ready for whatever he encountered.
He also said that he wouldn't set rebounding goals, since he hadn't reached them last season (when he promised double digits) and would prefer simply to perform his best, and see where that took him.
And while Bosh has had a strong season as measured by many statistical categories, he has become the lightning rod for the Heat's inability to hold their own on the boards.
Bosh is actually averaging the same number of rebounds (8.1) per 36 minutes that he did last season, and just slightly down from the 8.3 he averaged in 2010-11, his first season with the Heat.
It just seems worse than that, especially when fans think back to his Toronto days, when he averaged double-digit rebounds in three different seasons, and especially on nights that the opposing center (Nikola Vucevic) has 16 rebounds before he has one.
Lately, Bosh, who is remarkably patient and honest with the media, has tired of the questioning, hinting of the limitations of playing without another traditional "big" and of the way he's been used, which often takes him away from the basket.
And he's spoken of the defensive breakdowns at the point of attack, which lead to overhelping, players out of position, and the yielding of offensive rebounds.
That all led to Tuesday night's comments about how the Heat wouldn't win a postseason series of any kind while playing this way, and to Wednesday's follow-through.
"We know we have to do a better job on the boards," Bosh said. "If you can't rebound and get stops, you're not going to win, you might have a decent record in the regular season, but come playoff time, it's not going to get it done."
That all made sense, but it was odd to hear him say that, in the spirit of team performance, "if coach needs to put somebody else in who is going to rebound better, I'm all for it."
That's ludicrous, of course. Miami badly needs Bosh on the floor, and at his best.
"I know I can rebound the basketball," Bosh said. "I know we all can."
That's more of the spirit his team needs.