Sacramento Kings Sale Could Bring NBA Back to Seattle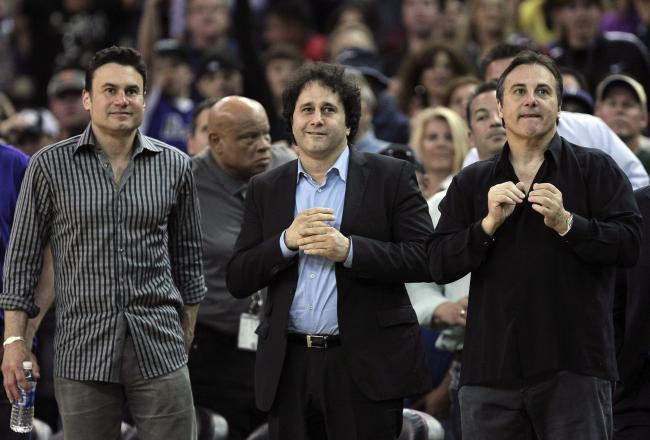 Kelley L Cox-USA TODAY Sports
Sacramento's loss could prove to be Seattle's gain.
Per Adrian Wojnarowski of Yahoo! Sports, Sacramento's ownership is finalizing a deal to sell the team to a group in Seattle.
The Maloofs are finalizing an agreement to sell the Sacramento Kings to the Hansen-Ballmer led Seattle group, sources tell Yahoo! Sports.

— Adrian

Wojnarowski

(@WojYahooNBA) January 9, 2013
The proposed accord (via Wojnarowski) has the Maloofs netting an approximate sum of $500 million.
While the sale of the Kings would tear the team out of the destructive grasp of the Maloofs, Sacramento-based fans are anything but relieved.
Make no mistake, Kings fans want the Maloofs' reign of terror to end. Just not like this.
As Wojnarowski notes, the Seattle group purchasing the organization intends to move the team to Seattle immediately and then into a new arena in two years time.
The Seattle group's plans, with support of the NBA, is to play two seasons in Key Arena before moving into a new Seattle arena, sources say.

— Adrian

Wojnarowski

(@WojYahooNBA) January 9, 2013
And so commences the jubilation that will spread through a market the NBA hasn't called home since 2008.
To say we didn't see this coming, though, would be a stretch.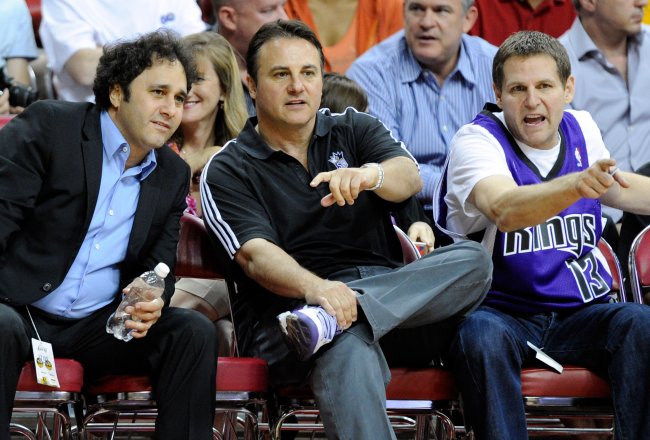 Have the Maloofs paved the way for basketball to return to Seattle?
Ethan Miller/Getty Images
Seattle has long been at the forefront of the relocation rumor mill. And when a hedge-fund manager and Seattle native in Chris Hansen headed an approved proposal for a new arena, we knew it was only a matter of time.
Virginia Beach's recent concession was merely the icing atop an already iced cake.
Yes, the sale still has to be finalized and a petition for relocation must be filed, but if we're to believe Wojnarowski, all that may be a mere formality at this juncture:
Once the sale is completed, the Seattle-based group will have until March to file for relocation. NBA commissioner David Stern has been a big proponent of the Hansen-Ballmer group, and league officials will work diligently to help the franchise move to Seattle if the sale is finalized, sources said. The Seattle-based group is determined to not have the franchise spend a final lame-duck season in Sacramento.
After months (borderline years) of the Maloofs going back and forth, the lack of exigency has finally subsided.
Or has it?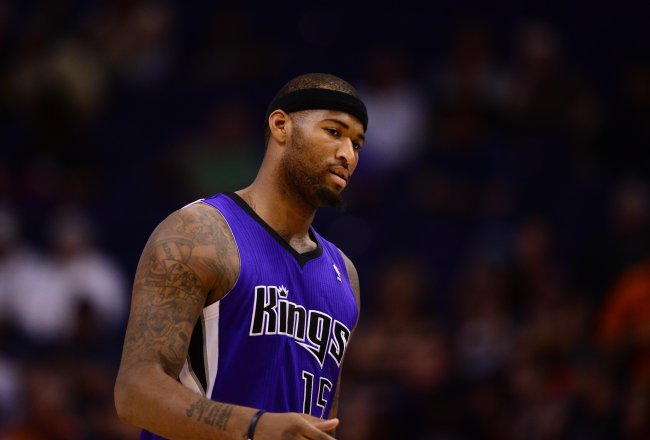 Don't pack your bags just yet, DeMarcus.
Mark J. Rebilas-USA TODAY Sports
According to Steve Large of CBS 13 in Sacramento, the Maloofs have actually rejected the Seattle group's latest offer.
Source: Seattle groups offer was rejected by Maloofs. Hmmm. Plot thickening by the minute.

— stevelarge_cbs13 (@largesteven) January 9, 2013
The plot thickens indeed. Which is fitting. It wouldn't be a Maloof-hosted party if their friends Mr. Ambiguous and Ms. Indecisive weren't invited.
We have to believe that the NBA expected complications to arise. Per Sam Amick of USA Today, the league has been less than forthcoming about the current situation and has instructed owners not to comment on the ongoing saga:
The Maloofs had gone missing from their own arena recently, no longer attending games and leaving their own employees to speculate that a sale or a move was on its way. A person with knowledge of the Kings situation told USA TODAY Sports that the minority owners of the team haven't been informed of the sale as of early Wednesday afternoon. The person spoke on condition of anonymity because of the sensitivity of the situation. The person said terms of the ownership agreement dictate minority owners must be told before a sale is complete.

What's more, according to two people who spoke on the condition of anonymity because of the sensitivity of the situation, the league issued a memo to owners on Wednesday warning them not to comment on the Sacramento situation. The memo did not include any detail about the state of the any negotiations.
Surprised?
You shouldn't be.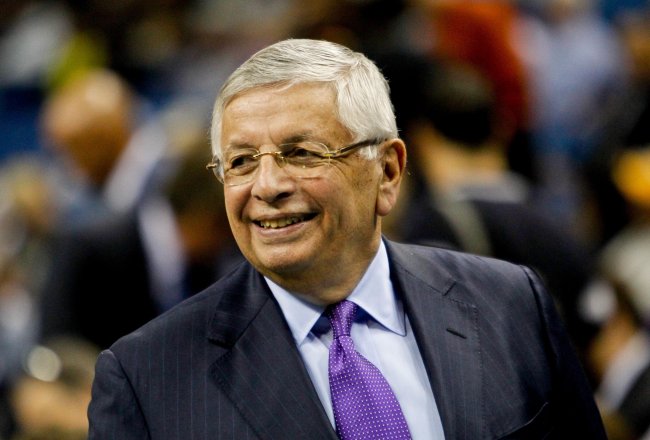 A petition has surfaced urging Stern to allow a Sacramento-based buyer to match any offer the Kings receive.
USA TODAY Sports
The Maloofs are the front office version of last year's Dwight Howard. Definitive decisions aren't a strong suit of theirs. Remember, it was only last year the Maloofs toiled with their own emotions when they reached an agreement in principle to have a new arena built in Sacramento.
Look how that turned out.
And now there's this. A deal waiting to be signed that the Maloofs won't, thus perpetuating the agonizing reality they have forced upon the people of Sacramento for years.
While the Maloofs themselves remain a major impediment to any of Seattle's current plans, though, they are just one of the many obstacles the road back to Key Arena will incur.
A petition has surfaced (via change.org) that urges NBA commissioner David Stern to allow a Sacramento buyer to match any offer the Kings receive:
Basketball fans should not have to choose between Sacramento and Seattle. Both of these cities have proven their worth in the best of times and in the worst of times. It is time for David Stern and the NBA owners to right one wrong and prevent another. If the team is available for purchase, it is time for a Sacramento buyer to be granted an opportunity to match any offer the Maloofs extend to potential buyers. It is time for Seattle to be granted a new expansion team for the 2015-16 season. Seattle deserves a team after what happened to their Sonics. Sacramento deserves to keep the Kings in Sacramento after supporting the franchise for more than a quarter century and putting together a viable arena financing plan last year. Sacramento has one of the most passionate fan bases in NBA history, which is illustrated in the above documentary, Small Market, Big Heart. #HereWeStayNBA
Will such a petition resonate?
That much remains to be seen, but it's something to consider. Sacramento is a resilient city, one that has done everything in its power to keep the Kings where they are.
It also doesn't hurt that the Sacramento Mayor, Kevin Johnson, is helping fuel his city's cause.
Bottom line Sacramento: it's not over... #keepthefaith #playingtowin

— Kevin Johnson (@KJ_MayorJohnson) January 9, 2013
I don't have to tell you how much emotion is currently being put into whatever the hell is happening in Sacramento right now. You can see that for yourself.
You can also see this whole ordeal is still shrouded in ambivalence.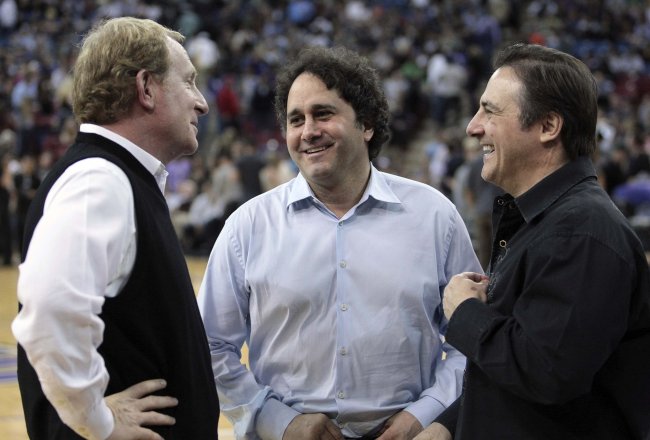 The Maloofs continue to toil with the emotions of an entire franchise.
Kelley L Cox-USA TODAY Sports
The Maloofs might be close to selling, but as their latest rejection implies, they're not there yet. Neither the Maloofs nor the NBA has informed the city of Sacramento that the Kings are on their way out, and this entire transaction is either in jeopardy or nearing completion.
We just don't know.
What we do know is that Seattle could be on the brink of bringing back a team it so desperately wanted to keep more than five years ago—at Sacramento's expense.
To say Seattle doesn't deserve to have the Supersonics back is misguided.
This city has pined for a second-chance since the day they watched Kevin Durant put on his Oklahoma City Thunder jersey for the first time. They have done everything to bring the NBA back to Seattle.
And now, the city and the fans have hope.
Per Ryan Lillis of a The Sacramento Bee, it's a premature hope, but an existent hope nonetheless.
Talks related to #NBAKings sale have been 'conceptual,' source tells The Bee. Reports sale is done are premature.

— Ryan Lillis (@Ryan_Lillis) January 9, 2013
A hope that the Hansen-Balmer group will bring the same team back to the same building (for the time being); a hope that the NBA is on the cusp of returning to a market that it once called home.
Words cannot express how excited I am to see Seattle lay claim to a team again. They were unceremoniously cut off from supporting an NBA franchise, and for that, they deserve this second chance.
But I also feel compelled to note that the Kings and the people of Sacramento didn't deserve this. At all.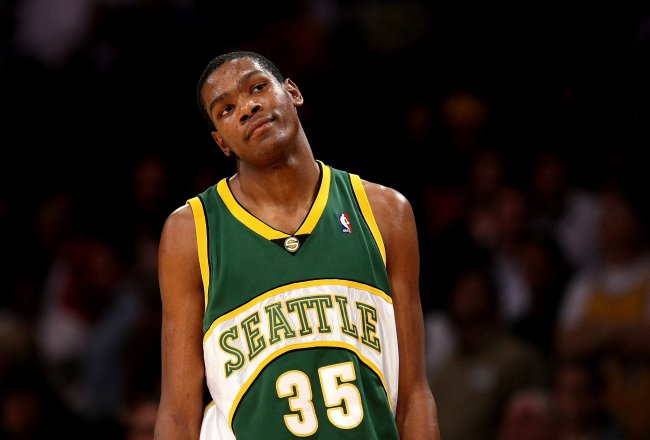 Seattle deserves a second chance, but Sacramento doesn't deserve this.
Stephen Dunn/Getty Images
The Maloofs aren't entitled to a penny of the purported $500 million they might receive. They've done nothing but fail this team; fail the city that supported it so ferociously for so long.
They also don't deserve to remain a part of the franchise's picture, but unfortunately they will. Per Wojnarowksi, they'll retain a small stake in the organization if the purchase is finalized.
Will the Sacramento Kings ultimately be moved to Seattle?
Which isn't fair. This whole thing isn't fair.
It wasn't fair when Bennett helped spurn the people of Seattle and it's not fair that the Maloofs continue to exploit the city of Sacramento.
And it's certainly not fair that neither city has a concrete hold of their future–or lack thereof—within the NBA.
For now, all we can accurately assert is that professional basketball may be returning to Seattle.
Which is awesome.
But if it does, it is coming at the expense of a loyal Sacramento fanbase and being delivered by the very faction of owners that did nothing but torch the hope of an entire city.
Which is tragic.
This article is
What is the duplicate article?
Why is this article offensive?
Where is this article plagiarized from?
Why is this article poorly edited?

Sacramento Kings: Like this team?