2013 NHL Season: Necessary Post-Lockout Moves by the NHL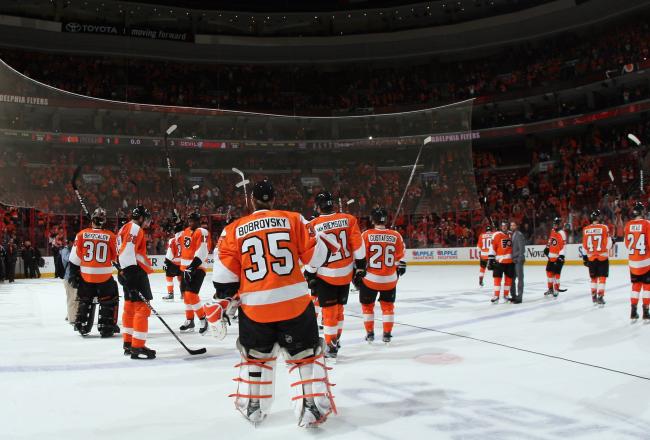 Bruce Bennett/Getty Images
The NHL season is finally going to begin later this month, but the reality is, the lockout hasn't really caused any devastation. Hockey purists and hardcore fans will continue to watch their team and follow the NHL regardless of the lengthy legal battle that just took place between the players and the owners.
For hockey fans, the lockout was more of an annoyance than anything else. Many players left the country to play overseas and the fans were deprived of almost half of the regular season. Now that the lockout has ended, we'll still have a shortened season and the playoffs—arguably the most exciting playoffs in sports.
For casual hockey fans, I really don't think this lockout has caused them to despise the NHL. After all, lockouts are not uncommon these days. Despite the NHL's cancellation of several months of hockey, the casual fan will remain casual. They'll watch their respective team in the playoffs, maybe attend a few regular season games, and they might even buy a jersey if their team advances to the Stanley Cup.
As for the sports fans that don't watch or follow hockey, the NHL lockout certainly did nothing to attract a larger fan base. But these fans weren't going to become hockey loyalists this year anyway, regardless of the lockout.
The bottom line is, this lockout will be remembered as a dent in the 2012/2013 season. A small minority of fans may still be upset, but overall, hockey fans are generally happy that there will actually be a season this year.
That being said, the NHL should be going out of it's way to show that they truly do value their fans. Here are few ways it can save face, appear apologetic for the recent lockout, and salvage a season that was dangerously close to not happening.
Offer NHL Center Ice For Free
My colleague at Bleacherreport, Steve Silverman, beat me to the punch here, but it's a phenomenal idea. This is a tremendous way to give fans—hardcore and casual—access to all televised NHL games, via their laptop, tablet or smart phone. More importantly, it will promote the league and attract advertisers.
Promote Doc Emrick Everywhere
Mike Emrick, also known as "Doc" Emrick is easily the most exciting play by play announcer in sports. Period. The guy could call C-SPAN's coverage of a congressional hearing and make it sound like a gold medal was on the line. His calls complement the ridiculously fast on-ice play and his knowledge of the game is uncanny.
The NHL has a little over a week to gear up for it's shortened season. Every effort should be made to popularize Emrick this year. He's easily the NHL's best asset outside of it's players.
Treat The Regular Season Like The Playoffs
The NHL playoffs are beyond thrilling. Just like in any other sport, the play picks up, but in hockey, it feels like there is so much more on the line. If you've ever been inside an NHL arena for a playoff game, you know what I'm talking about. The electricity is mind-blowing you can cut the tension with a knife.
The NHL has a tremendous opportunity to exploit this shortened season since it will feel like every game is going to have sweeping ramifications on a team's shot at Lord Stanley. Before we know it, the playoff race will be upon us, so why should the NHL wait to promote it's postseason?
This article is
What is the duplicate article?
Why is this article offensive?
Where is this article plagiarized from?
Why is this article poorly edited?