Pac-12 Football: Way Too Early Pac-12 Power Rankings for 2013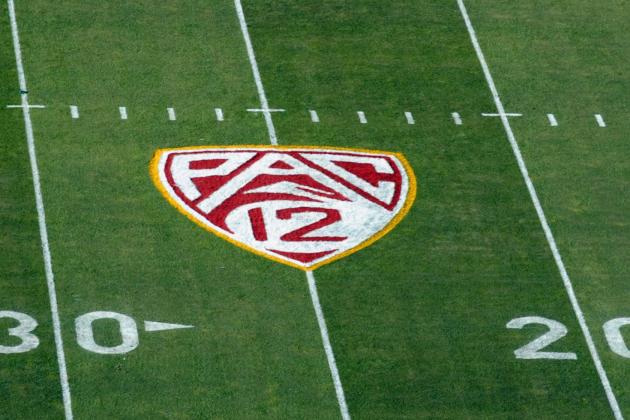 Kirby Lee-USA TODAY Sports

It's over.
The 2012 football season is now officially in the books and football fans can now turn to the long seasons of baseball and NASCAR to get them through these dry months.
Of course, there still is National Signing Day on February 6 as well as the start of some spring games in a few months to quench your thirst for college football.
There's also our power ranking preview for the upcoming season because it's never too early to be talking about Pac-12 college football.
Never.
Begin Slideshow

»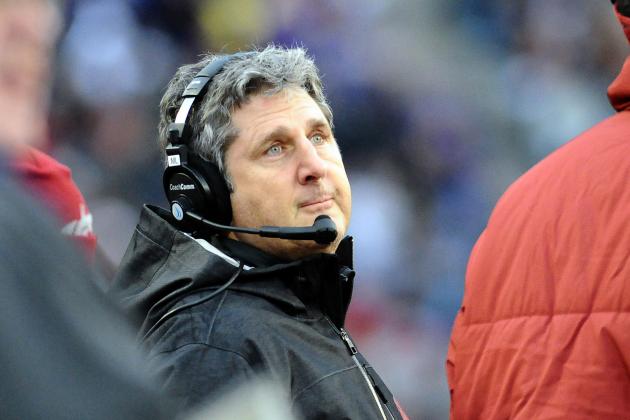 James Snook-USA TODAY Sports
Head coach Mike Leach
Quarterback Jeff Tuel has decided not to seek an NCAA appeal to grant him an extra year of eligibility and will take his talents to the NFL. According to The Spokesman-Review, Tuel's shot of being granted an extra year was a big "if" and he decided not to prolong an iffy process.
Connor Halliday looks like the projected starting quarterback for the Cougars.
This is only the second year of the Mike Leach era and while the team may actually have a better win total than 2012's (3), the schedule doesn't look too promising for a winning season: the Cougars drew USC, Oregon, Washington and Arizona all on the road.
The defensive line will also lose a lot of veterans so while we can assume the offense may really start to jell under Leach, the defense looks to be a giant question mark.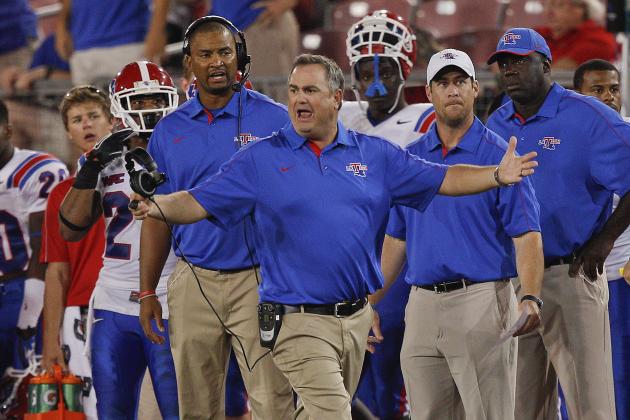 Bob Levey/Getty Images
New Cal head coach Sonny Dykes
Anytime a new coach replaces a coach who has been with a program for 12 years, there's bound to be some growing pains. Sonny Dykes has his work cut out for him after head coach Jeff Tedford was dismissed.
But the loss of talent on this team is also very concerning. The offense loses All-Pac-12 offensive lineman Brian Schwenke as well as receiver Keenan Allen—who declared early for the NFL draft—and quarterback Zach Maynard.
Cornerback Steve Williams declared early for the NFL draft—Cal's other starting cornerback, Marc Anthony, as well as safety Josh Hill, are both seniors. The loss of defensive lineman Aaron Tipoti will also be a big void to fill.
The Golden Bears will be in total rebuilding mode in 2013 and while we should see a much more prolific offense, a 6-6 season sounds about right. The Bears drew Oregon, Stanford, UCLA and Washington on the road and also drew USC and Oregon State at home. Their non-conference slate includes Northwestern and Ohio State.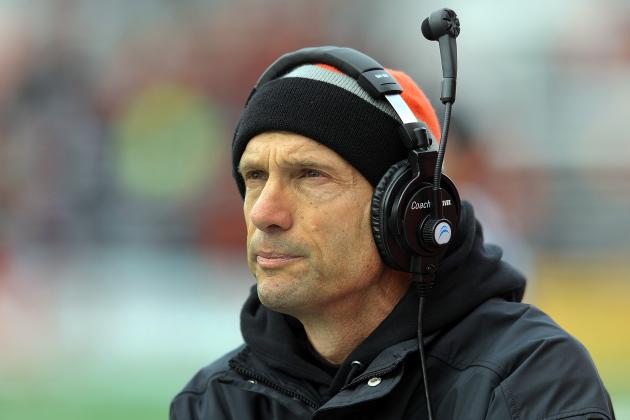 Steve Dykes/Getty Images
Head coach Mike Riley
Oregon State had a remarkable turnaround in 2012 going from 3-9 the previous season to 9-4 this season. Part of the reason for that success is because of some outstanding senior talent in cornerback Jordan Poyer, receiver Markus Wheaton and kick returner Jordan Jenkins.
The cupboard isn't bare for 2013, though. Receiver Brandin Cooks and defensive end Scott Crichton are two outstanding athletes that will help this Beaver team continue to improve and challenge for the North.
Keeping quarterback Sean Mannion healthy will be a big priority but count on this team to pull some upsets within the league.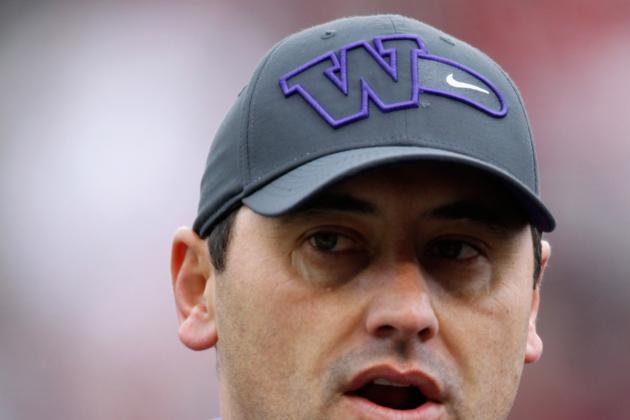 William Mancebo/Getty Images
Steve Sarkisian
The Washington Huskies will be a major force in the Pac-12 this year, partially due to all the veterans the team is returning.
On the offensive side of the ball the Huskies will have to replace center Drew Schaefer. On the defensive side, All-Pac-12 cornerback Desmond Trufant will have to be replaced.
Washington also gets a big break in its 2013 schedule. The Huskies avoid USC and Utah and get Colorado and both Arizona teams instead. While they do get Oregon at home, they will have to travel to Oregon State and Stanford. The Huskies open the 2013 season at home against Boise State.
All in all, this should be the best year yet for Sarkisian and there may be some roses in the Huskies' future.
Doug Pensinger/Getty Images
Head coach Chip Kelly
The Oregon Ducks at No. 2? Yes, the Oregon Ducks at No. 2.
I know Chip Kelly reloads talent better than any coach in the Pac-12 but look at the talent leaving: running back Kenjon Barner, defensive end Dion Jordan and linebackers Kiki Alonzo and Michael Clay.
Sure there is a lot of talent returning—too many names to list here—but that NCAA infractions meeting is coming up and I do think it's going to hurt Oregon's mindset during the season if it gets sanctioned with a post-season ban.
Oregon's schedule is a little tougher than 2012's cakewalk in that it will travel to Nevada and host Tennessee as part of its non-conference slate. The Ducks also drew road games at UCLA and Utah from the South—they host Arizona.
The Ducks will still have a great year but don't count out an upset at Stanford, UCLA or Washington.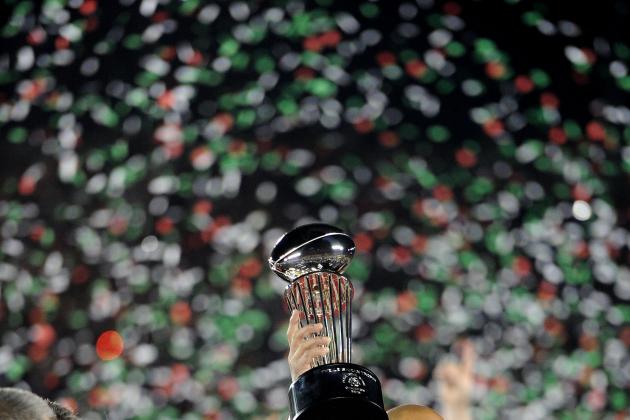 Harry How/Getty Images
David Shaw
I'm all in on head coach David Shaw. His Cardinal beat the Oregon Ducks, won the Pac-12 Championship and beat Wisconsin in the Rose Bowl game. Additionally, this season he won't have a quarterback dilemma as Kevin Hogan will be returning.
There are some shoes to fill but defensive starters Shayne Skov, Ben Gardner and Trent Murphy are all returning for their senior seasons, according to the Mercury News.
Things look great for Stanford in the scheduling department as well: Stanford gets Oregon, UCLA and Washington at home as well as non-conference foe Notre Dame. The Cardinal will travel to USC and Oregon State.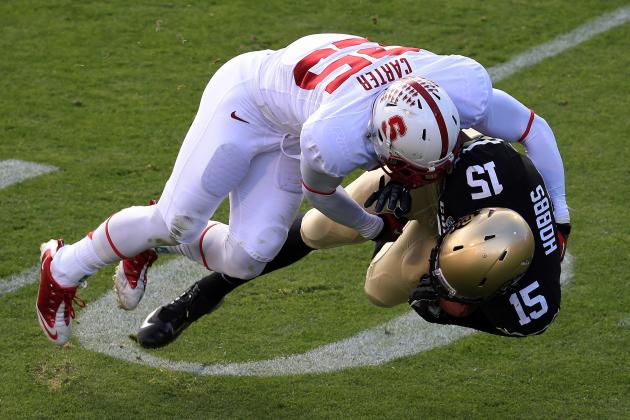 Doug Pensinger/Getty Images

No shocker here.
The Colorado Buffaloes can't get much worse than last season's 1-11 so there is something to look forward to in Boulder.
The Buffaloes get a new coach in Mike MacIntyre, formerly of San Jose State, and he's an exceptional coach, but he needs at least four years to get things rolling.
Their schedule includes USC, Oregon, Arizona, Arizona State, Oregon State, UCLA, Utah and Washington.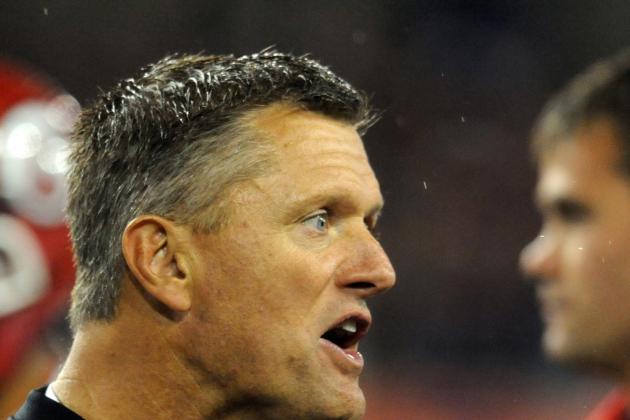 Steve Dykes/Getty Images
Kyle Whittingham
Utes head coach Kyle Whittingham has earned a lot of respect from Pac-12 fans but this season will be another disappointment due to the sheer number of seniors on the team who are leaving.
The one thing that kept Utah in most of its games was its front four, but defensive linemen Star Lotulelei and Dave Kruger will be going to the NFL. That's a huge loss for Utah.
Offensively, the line and backfield will both take big hits but the biggest hit is the Utes' schedule. Utah drew both Stanford and Oregon from the North and plays both USC and Oregon on the road. Even their non-conference slate is alarming: hosting Utah State and at BYU.
If Whittingham gets this team bowling, that will be an impressive feat.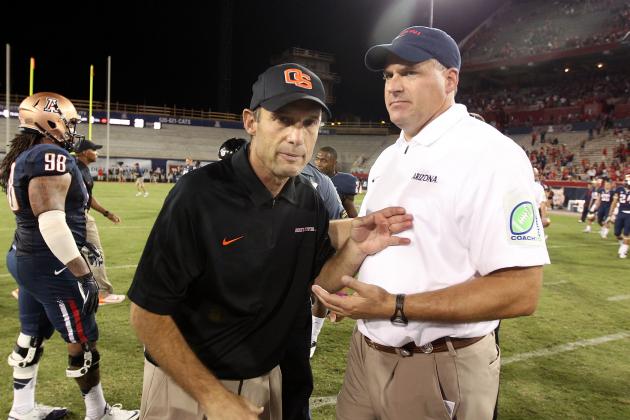 Christian Petersen/Getty Images
(l to r) Mike Riley and Rich Rodriguez
First-year head coach Rich Rodriguez did a remarkable job of getting this team bowling after missing a bowl in 2011.
That being said, the Wildcats' defense has got to get better because several games that they were in (Stanford, Arizona State and Oregon State) got away from them due to their defense allowing at least 34 points.
The schedule is incomplete, although two non-conference games with UNLV and UTSA aren't very impressive. The Wildcats avoid Stanford and host Oregon from the North.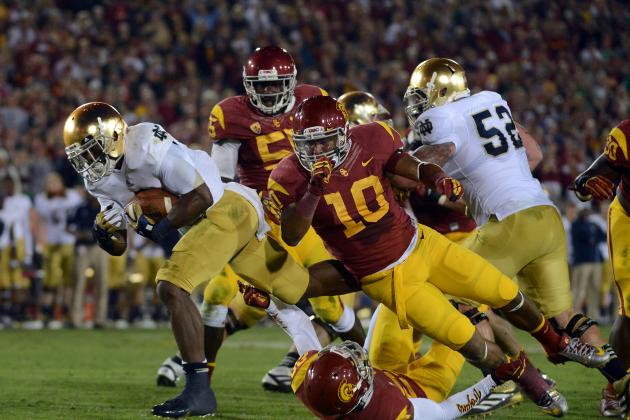 Harry How/Getty Images

There's a ton of talent at USC but things aren't looking so great in the off-season. USC has lost five commits—although there has been a lot of spin that four of them were expected—and ended their 2012 season 7-6.
This year the Trojans are without quarterback Matt Barkley, center Khaled Holmes and receiver Robert Woods, all of whom will be playing in the NFL. Those three losses were the heart of USC's offense last season and they will be difficult to replace, despite receiver Marqise Lee returning for his junior year.
The secondary will also take a big hit but the defensive line may actually improve with a lot of first-year players with more experience and a defensive coordinator who knows how to defend against the spread.
Right now, another 7-6 or 8-5 season looks likely but that could improve if and when the new defensive coordinator position is filled.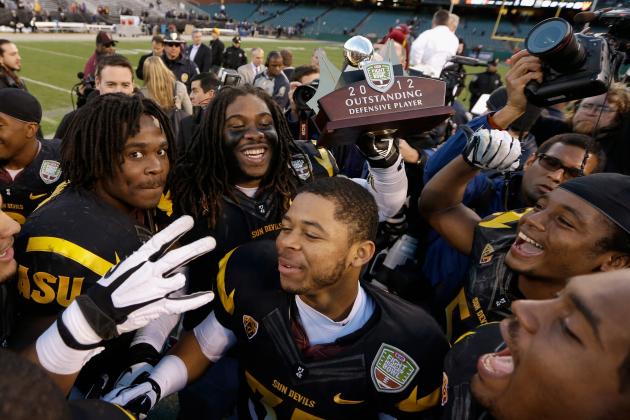 Ezra Shaw/Getty Images

How crazy is it that a team that only returned four starters on each side of the ball went 8-5 last season? That's a Todd Graham-coached team for you: disciplined and consistent.
I'm very impressed with what Graham has done in his first year and look to see a very tough team in 2013 with so much returning talent having a year under its belt.
The best news for Arizona State was that defensive tackle Will Sutton announced that he is returning for his senior year.
The Sun Devils' non-conference schedule is frightening: hosting Wisconsin and on the road against Notre Dame in Arlington, TX. Their league schedule has them avoiding Oregon. They also get Oregon State, USC and Washington at home and travel to UCLA and Stanford.
It's a championship schedule, no doubt.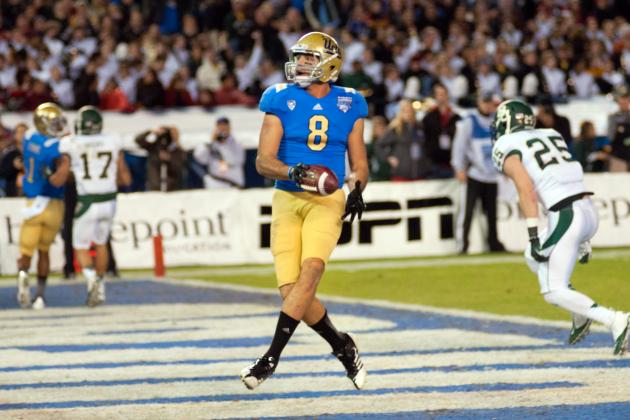 Kent Horner/Getty Images

UCLA's offense looks good to go this season. The Bruins do lose running back Johnathan Franklin and tight end Joseph Fauria but the roster is stocked with talent including incoming freshman tight end Thomas Duarte (Mater Dei High School, CA) as well as two running backs.
UCLA's main concern is fortifying its O-line to protect quarterback Brett Hundley because the experience behind him is very green.
Head coach Jim Mora and his staff have recruited well defensively. The breakout season of defensive lineman Ellis McCarthy is going to be exciting to watch. The secondary loses a lot of starters but it also was ranked No. 8 in the conference so some new faces may improve that statistic.
More than anything else, this team is well-coached and now has fire coming out its mouth.