6 Key Premier League Battles to Watch This Weekend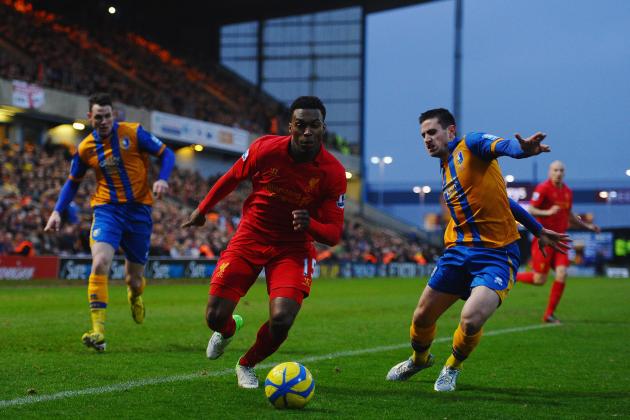 Laurence Griffiths/Getty Images
Is Daniel Sturridge in line to start for Liverpool at Old Trafford?
After a 10-day break from league action, the Premier League makes its return this weekend with some mouthwatering fixtures.
The biggest signing of the transfer window so far has been Daniel Sturridge, who moved to Liverpool from Chelsea.
Sturridge scored in his debut as Liverpool beat non-league Mansfield in the FA Cup this past Sunday, and he'll be looking to start as Brendan Rodgers takes his side to Old Trafford on Sunday.
There are crucial matches at both ends of the table this weekend, so let's take a look at the six Premier League matches I'll be keeping an eye on.
Begin Slideshow

»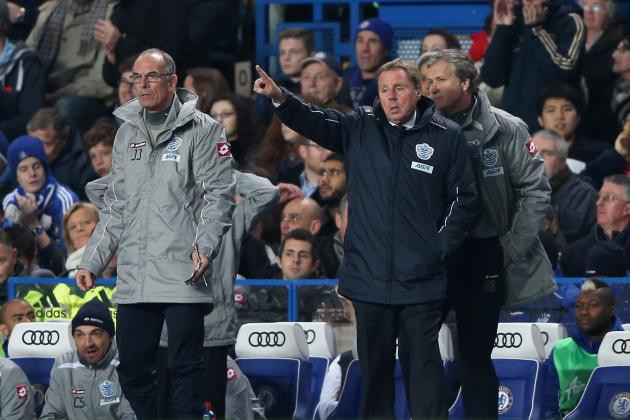 Ian Walton/Getty Images
Redknapp masterminded a win at Chelsea. Will Spurs be next?
On December 30, 2012, it looked all but over for QPR.
They'd just lost 3-0 to Liverpool in a game where they were never at the races, and they were heading for Stamford Bridge to play Chelsea.
I'd bet that not even the most ardent QPR fan would've thought they could win.
Enter Harry Redknapp.
Harry masterminded an unlikely 1-0 victory for QPR, which might just be the win they needed to keep themselves afloat.
If QPR can build on that victory, it might just be the turning point of the season, but it won't be easy this Saturday lunchtime.
We get yet another London derby as Harry's old club Tottenham come calling.
It'll be the first time Harry's come up against his old side since he left White Hart Lane in bizarre circumstances last summer.
His old side are in good shape under his replacement Andre Villas-Boas.
Spurs are placed nicely in fourth position, and but for some indifferent form at the start of the season, they might have been even higher than that.
Spurs will be without Emmanuel Adebayor, who has decided to play for Togo in the African Cup of Nations after all (courtesy of BBC Sport).
In truth, Adebayor has contributed little or nothing this season, so I don't think Spurs will miss him that much.
Spurs have other options who are more than capable of destroying QPR on Saturday, like the in-form Aaron Lennon, Jermain Defoe and Gareth Bale.
Bale picked up his third booking of the season for diving against Sunderland a couple of weeks ago, and he's fast picking up a reputation as a diver.
While I think there are far worse offenders than Bale in the Premier League, he does need to be careful about how theatrically he falls to the ground after being "fouled."
In terms of the match, if QPR play like they did in the first half against Liverpool, they'll get destroyed.
Spurs have too much quality all over the pitch for QPR, and they'll leave with the three points on Saturday.
Prediction: Tottenham win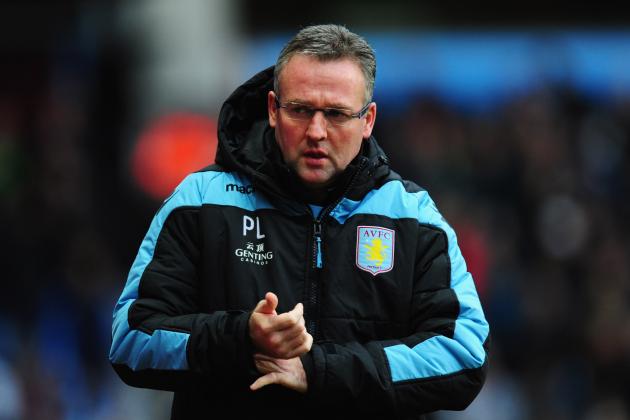 Stu Forster/Getty Images
Villa fans will hope Paul Lambert has a trick or two up his sleeve
Probably the most crucial match of the weekend comes on Saturday when Aston Villa host Southampton.
Villa's season went from bad to worse on Tuesday night when they were well beaten (3-1) by League Two side Bradford City in the semi-final of the Capital One Cup.
Villa have been freefalling in recent weeks, and to say some of their defensive performances of late have been naive would be an understatement.They look out of their depth all over the pitch.You can't fault them for lack of effort, but that will only get you so far.
Apart from Christian Benteke and a couple of others, Villa are devoid of the quality that you need to stay in the league. I hate to say this, because they're a great club, but Villa might be relegated this season. I just don't see how they can stay up.
Their visitors on Saturday are Southampton.
In Saints' last league game, they drew 1-1 with Arsenal, which will have been a morale booster for Nigel Adkins' side, especially after being beaten 6-1 in the reverse fixture earlier in the season.
Saints have some good players going forward, like Gaston Ramirez and Rickie Lambert, but Jason Puncheon has been really impressive over the last few weeks. He's pacy, tricky and knows where the goal is, so he'll need to be watched this weekend.
Saints look as if they'll still be without their injured captain, Adam Lallana. Lallana is a classy player, and he's definitely been missed, but Saints will feel confident of getting a result at Villa Park without him.
It seems stupid to say this, but on Saturday, Villa have to win this match. I don't think that a draw will be enough, and, to be honest, I don't even think they'll get that. I expect Saints to win comfortably on Saturday and pile even more pressure on Paul Lambert and his players.
Prediction: Southampton win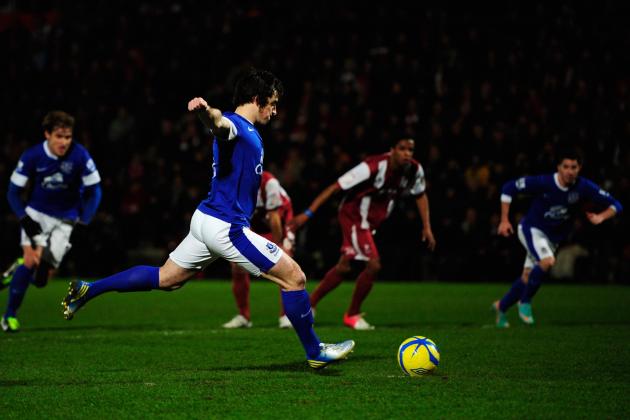 Stu Forster/Getty Images
How long can Everton hang on to Leighton Baines?
This will probably be the tightest match of the weekend as both Everton and Swansea come in to the game off the back of very decent results in the FA Cup last week.
When these two sides last met, Everton were so dominant that it wasn't even funny, and the final score of 3-0 didn't do the Toffees justice. The scoreline could've been three or four times that, and it wouldn't have flattered them, but Swansea will prove a difficult test for Everton.
Leighton Baines scored for the second successive match on Monday, and you've got to wonder how long Everton can hang on to him.
While players like Marouane Fellaini and Steven Pienaar get credit, and rightly so, Baines has been nothing short of outstanding for the last year or so. He's excellent defensively, and going forward he never fails to make a contribution in the attacking third. His goal against Newcastle a couple of weeks ago was a stunning effort that had Newcastle keeper Tim Krul beaten all ends up.
I actually think that Baines is a better left-back than Ashley Cole, and the only reason Cole is picked ahead of him is because Baines plays for Everton.
That's it.
Snobbery.
And it's a damn shame because Baines has been consistently better than Cole for the last year, if not longer.
There are concerns about whether Baines will play a part on Saturday after David Moyes revealed (courtesy of BBC Sport) that his left-back has been struggling with an ankle problem.
If he does play, he'll have to be at his best defensively when Swansea come to Goodison.
Michu is still scoring goals for fun, and Jonathan de Guzman has started to chip in with a few goals of late as well.
They'll need to keep up their impressive goalscoring form if Danny Graham leaves the club during the transfer window.
Last season's top scorer has been linked with moves away from the club, but speaking to the press on Monday (again courtesy of BBC Sport), manager Michael Laudrup says there have been no bids for the unhappy frontman.
Graham has done his cause no harm over the last few weeks, as he's scored some important goals for the Swans.
There will be some great football in this match, with both sides keen to consolidate their places in the top half of the table, and I just can't pick a winner between them.
Prediction: Score Draw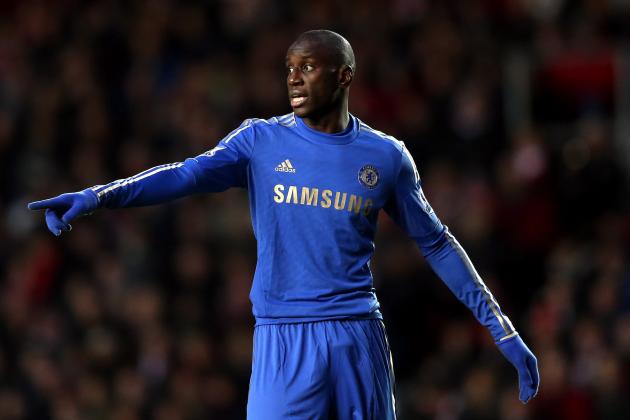 Julian Finney/Getty Images
Will Demba Ba ever stop scoring?
The next intriguing game on Saturday sees Stoke hosting Chelsea. Stoke are still unbeaten at home this season, and Tony Pulis' side will make sure that Chelsea don't have it all their own way this weekend.
Shortly after their last league game, the club announced that their inspirational captain Ryan Shawcross signed a new contract, tying him to the club for the next five-and-a-half years. Shawcross has proven himself to be a top-class defender over the last couple of seasons, and Stoke will be relieved to have secured his services for the foreseeable future at least.
Stoke have only conceded seven goals at home in the league this season, which is better than clubs like Manchester City, Manchester United and Chelsea.
Although, they don't score many goals.
Their average for the league this season is a goal a game, and, in truth, they were lucky to get a draw against Southampton in their last home game. Only a stunning late rocket shot from Cameron Jerome earned them a point from a game that, by all rights, they should've lost.
If they want to keep their unbeaten home record, they can't afford to give Chelsea the same chances on Saturday.
Despite suffering an unexpected loss to QPR last time out in the league, Chelsea have been among the goals of late.
Even with their recent penchant for scoring goals, Chelsea decided to go out and splash the cash on Demba Ba. The Senegalese striker made an immediate impact for his new club, scoring twice in their 5-1 win at Southampton in the FA Cup last weekend.
It just seems like Ba will score every time he plays, which must be a luxury for Chelsea fans. It's been a while since they've had a striker like that! But seriously, I'd play Ba up top ahead of Torres because he's more likely to convert the chances that the likes of Hazard, Mata and Oscar are likely to create for him.
Ba isn't the only player that Stoke need to be careful of.
A couple of weeks ago, I wrote about how Frank Lampard's return from injury would be key to Chelsea's chance of success this season, and the midfielder has returned with a bang. He's scored goals and been in brilliant form over the last six weeks or so.
The fact that Chelsea are prepared to let him leave the club in the summer just seems ridiculous to me. He can still do it at the top level and it'll be difficult to replace a man of Lampard's consistency and experience.
As far as the result on Saturday, it's really difficult. Chelsea will have to play at their best to beat Stoke, but I don't think either side will lose.
Prediction: Score Draw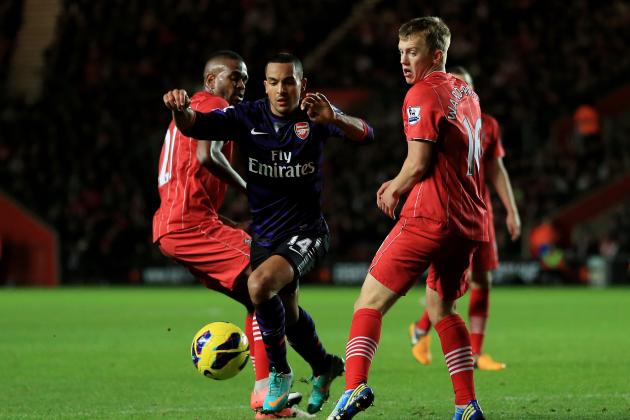 Richard Heathcote/Getty Images
Will Theo Walcott sign a new deal or leave the Emirates for free?
Sunday has a feast of football on offer for the fans and, although this game is Sunday's late kickoff, I'll talk about it here. Arsenal host Manchester City in what is a critical game for both sides.
Don't let Arsenal's couple of thumping wins over the last six weeks fool you. They may have beaten Reading 5-2 on December 17th and Newcastle 7-3 on December 29th, but if you take those two results out of it, Arsenal have been lucky to pick up points. They needed a total of three penalties to see off West Brom at home and Wigan away, they drew with Southampton and they lost to Swansea.
That's against the so-called "smaller" clubs, so if they struggle to beat them, how can they possibly expect to cause the "bigger" sides problems?
Arsenal need Theo Walcott to be at his best on Sunday. The England international has been scoring goals for fun lately, and he'll want to use Sunday's match as a way to further enhance his case to get the sort of contract he wants.
The Independent reported that, although both parties are close to reaching an agreement, Walcott has yet to receive a firm offer from the club. Otherwise, putting himself in the shop window with a stellar performance against the English champions could only help his case in finding a new club.
Arsenal are already four points behind fourth-placed Chelsea with the same number of games played, and their next two fixtures are against the current English champions (Manchester City) and the current European champions (Chelsea). If Arsenal lose both of those games, which might happen given their current inconsistent form and defensive frailties, they will struggle to qualify for the Champions League next season.
As good as they can be going forward, Arsenal are shocking defensively, and they'll need to shore things up before City come calling for Sunday dinner.
City have got some problems of their own right now.
Mario Balotelli and Roberto Mancini hit the headlines last week after pictures surfaced of them having a "disagreement" on the training ground. You can see images of their bust-up here, sourced from Sky News.
In fairness, Mancini tried to play down the incident during a press conference the following day (sourced via The Daily Telegraph website), and said: "I will give him another 100 chances if possible, if I think he can change. I am here for this. Sometimes I am upset with him because he doesn't everything [I ask], but I give him another chance, sure. He is 22 and he can do a mistake."
I understand that there's some kind of bond there between Mancini and the enigmatic Balotelli, but there has to be a point where enough is enough. His behaviour has to change, or he'll run the risk of never fulfilling his potential. Balotelli was actually sent off in this fixture last season, but it wouldn't surprise me if he played this Sunday.
It's exactly the kind of game and situation that Balotelli thrives on, and what better way to make a point than to play well and score against Arsenal?
There's a fair chance that Balotelli will play on Sunday, given the news that Sergio Aguero has torn his hamstring. The Argentinean star took to his official Twitter account last Saturday to confirm the injury.
City are also without the inspirational Yaya Toure, but they should have enough strength in depth to cope with his absence.
Even with the players they've got missing, I still think City's first XI are stronger than Arsenal's and Arsene Wenger will find himself under even more pressure after Sunday's match.
Prediction: Manchester City win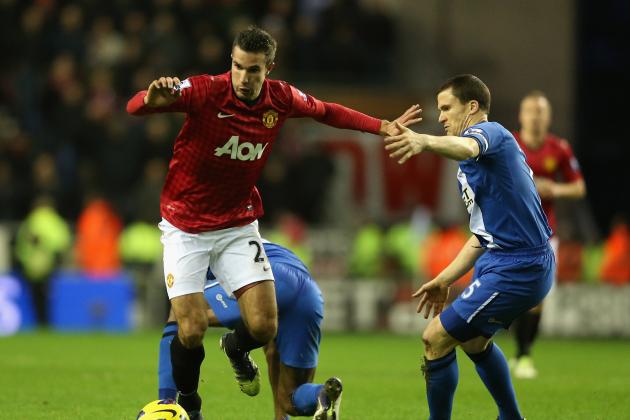 David Rogers/Getty Images
Van Persie will lead the line for Manchester Utd against Liverpool
Manchester United against Liverpool is always one of the biggest matches of any season, and Sunday's lunchtime game will be no different.
Both teams are full of confidence, and they both have strikers at the very tops of their games.
At Old Trafford, Robin van Persie has just been sensational since he signed for the club in the summer. The Dutchman has scored a phenomenal amount of goals, as well as all different kinds of goals. Whether it's with his left foot, right foot or his head, inside or outside of the box, it doesn't matter.
Everything Van Persie touches turns to goals. But he doesn't just score; he provides for his team as well.
Liverpool may need to sacrifice some of their attacking flair for defensive stability to try to keep RVP quiet. But if they do that, they may not be able to get the best out of Luis Suarez.
The Uruguayan has been nothing short of magical at times this season, and just when Liverpool needed him the most, he's come through with flying colours. This has been his most successful season, in terms of scoring goals, since he signed for the club. He's been deployed as the main striker in Brendan Rodgers' preferred 4-3-3 formation, and the Reds have reaped the benefits.
With the signing of Daniel Sturridge last week, Liverpool now have someone else to share the weight of expectation in terms of scoring goals. He scored in his debut against Mansfield in the FA Cup, so that'll be a weight off his mind.
Playing at Old Trafford is another story altogether, though, and he may have to cool his heels on the bench before playing any part against United.
Sunday will be a difficult test for United, and although Liverpool aren't the force they once were, Sir Alex Ferguson won't be underestimating the talent at Brendan Rodgers' disposal.
With that being said, I just don't think Liverpool have enough quality to win at Old Trafford. They might sneak a point, but I think it's more likely that United win to consolidate their lead at the top of the table.
Prediction: Manchester United win