Why Aaron Hernandez Could Have Another Big Game against Houston Texans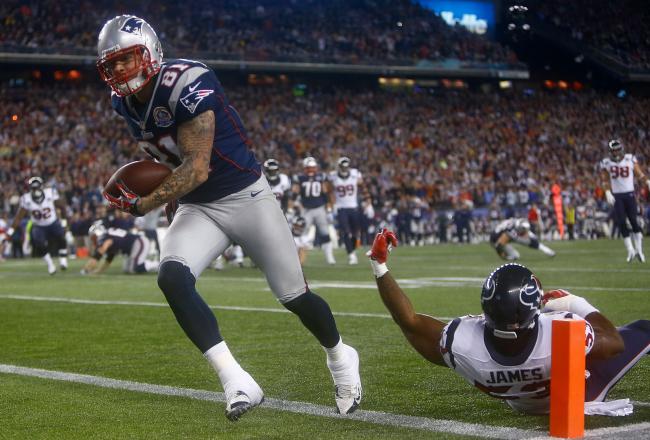 Jared Wickerham/Getty Images
Ask any number of people what the key to a particular game is, and you're bound to get a wide variety of answers.
The defense's performance against Arian Foster, the offensive line's ability to read their keys against the blitz, the linebackers staying disciplined against play action, all of these will play some sort of role.
One key that could carry over from the previous meeting, however, involves Patriots quarterback Tom Brady having enough time in the pocket to find tight end Aaron Hernandez over the middle.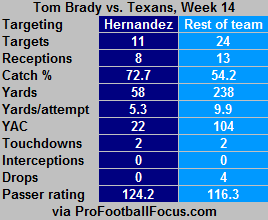 Against Houston, Brady went 8-of-11 (72.7 percent) for 58 yards and two touchdowns when targeting Hernandez.
Hernandez did a majority of his damage against linebackers and tight ends, and was only targeted twice when matched up on a cornerback. Those matchups over the middle of the field are Brady's favorite when it comes to Hernandez, and they'll look for ways to draw that into the game plan.
They did so at the 7-yard line against Houston in the last meeting, lining up Hernandez in the backfield flanking Brady to his left in the shotgun.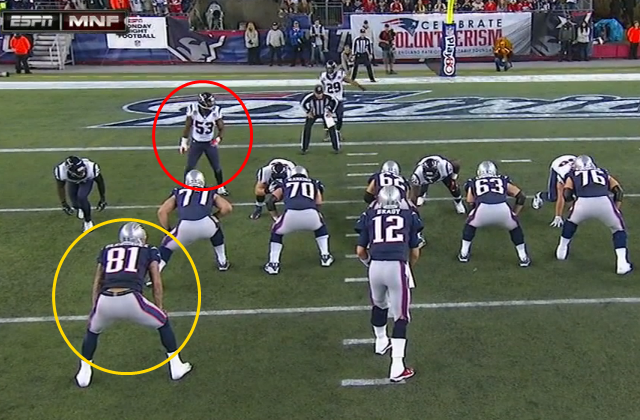 Brady reads the pre-snap alignment, and knows that he has Hernandez matched up on 31-year-old linebacker Bradie James.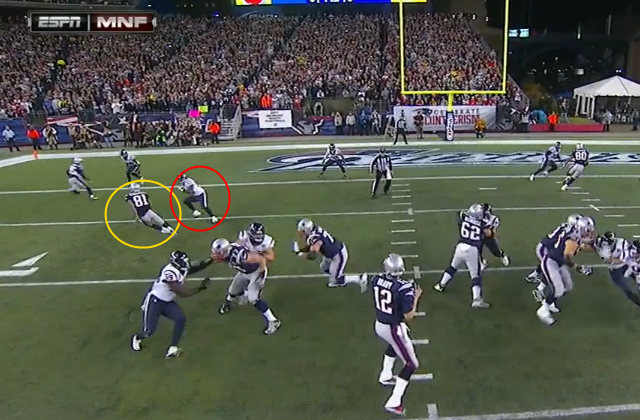 With wide receiver Brandon Lloyd running a post route in the end zone, Hernandez got the one-on-one matchup against James in space, and put his footwork on display to get in for the touchdown.
Those one-on-one matchups with Hernandez on a safety or linebacker could happen a lot if the Texans blitz frequently, as they did in that Monday night loss, and as they have done all season long.
@erikfrenz 48.3%. NFL average = 31.5%

— Pro Football Focus (@

PFF

) January 7, 2013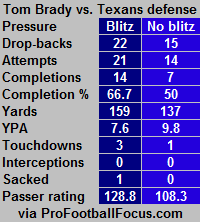 If you're expecting that to change against the Patriots on Sunday, you should reassess your expectations.
In terms of how often they blitzed, the Texans only dramatically dialed it down twice this season. Against the Broncos, they sent extra pressure on 15 of Peyton Manning's 55 drop-backs (27.3 percent); against the Bills, they blitzed Ryan Fitzpatrick on 17 of his 44 drop-backs (38.6 percent).
Bill Belichick talked about Wade Philips' defensive scheme in a conference call on Wednesday (via Patriots.com):
He's basically more or less kept the same system throughout those years, which I think you don't see a lot of that. You see teams evolve differently over the course of time and the offense change or personnel groups change, that type of things. Wade, for the most part, has stuck to his system.
Of course, the system is different than the game plan, but the system has mainly been the game plan for the Texans this year.
That game plan didn't work against Hernandez in the last meeting, and it may not be successful this time around, either.
The ramifications could be felt on a broader scale, as detailed by Emory Hunt of FootballGameplan.com in his Patriots vs. Texans preview.
They usually align Wes Welker at the top of the numbers because of his speed and ability to make one miss on those speed outs, and if you run those speed outs enough, it creates opportunities. What they do to complement that, they'll send a tight end down the seam, and you have to respect the tight end, so the strong safety will normally stay over the top of the tight end as the linebacker tries to get a bump on him.
The added focus on the tight end could help create one-on-one matchups on the outsides, exposing the Texans' corners in coverage.
While the Texans' defense ranks well statistically against the pass, they do not have great cornerbacks, and the Patriots were able to expose that in the last meeting when the Texans left their corners in man coverage on the wide receivers.
That was a big part of why Brandon Lloyd had his best game of the season against the Texans, hauling in seven receptions for 89 yards and a touchdown.
All this, and we still haven't even talked about Wes Welker and Rob Gronkowski.
We may not have to, though, if Hernandez gets matched up on linebackers and safeties like last time.
Erik Frenz is the AFC East lead blogger for Bleacher Report. Be sure to follow Erik on Twitter and "like" the AFC East blog on Facebook to keep up with all the updates. Unless specified otherwise, all quotes are obtained firsthand or via team press releases.
This article is
What is the duplicate article?
Why is this article offensive?
Where is this article plagiarized from?
Why is this article poorly edited?