Re-Grading the Minnesota Vikings 2012 Rookies at the End of the Regular Season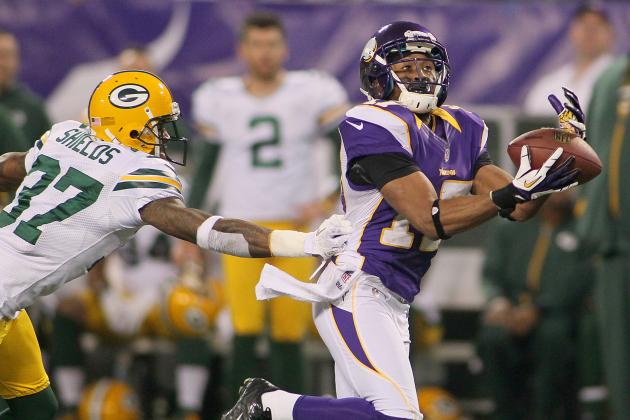 Andy King/Getty Images

The Minnesota Vikings made a seven-game leap in 2012, improving from 2011's train wreck of a 3-13 season to 10-6 and a spot in the NFC playoffs in 2012.
There were many reasons for Minnesota's quick turnaround, but at the very top of the list is the infusion of talent GM Rick Spielman and his staff found in the 2012 NFL draft.
The Vikings made 10 picks back in April, and only one of them, Trevor Guyton, was let go after training camp. Touted receiver Greg Childs injured both knees early in training camp and spent the season on the injured reserve list, but other than those two, the Vikings got some type of contribution from the other eight selections.
Spielman and his player-personnel group get their second consecutive "A" grade for the 2012 draft class. The 2011 group saw four players become starters for at least part of this season in Christian Ponder, Kyle Rudolph, Mistral Raymond and Brandon Fusco. They also got contributions from Christian Ballard, Brandon Burton, D'Aundre Reed and Stephen Burton.
As good as that group is, the 2012 class is even better. Here we grade out each rookie from the Vikings 2012 draft class.
Begin Slideshow

»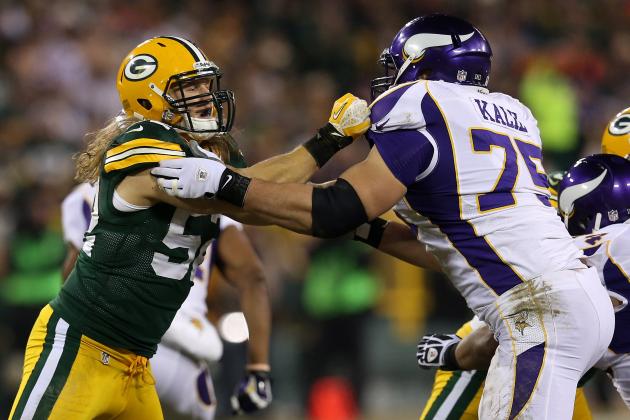 Jonathan Daniel/Getty Images

Once the Minnesota Vikings knew they weren't going to get their hands on one of the franchise quarterbacks available in the 2012 draft, the only man they targeted was USC left tackle Matt Kalil.
Rumors flew around the Twin Cities that the Vikings were trying to decide between Kalil, receiver Justin Blackmon and cornerback Morris Claiborne. While the other two were both attractive options and played positions the Vikings definitely needed to upgrade, Kalil was always their man from the get-go.
GM Rick Spielman worked a deal with the Cleveland Browns to swap spots in the first round. Spielman knew the Browns were going to draft running back Trent Richardson and that Kalil would still be available with the fourth pick.
Kalil became the Vikings starting left tackle from day one, with Charlie Johnson moving to left guard. Kalil hit the ground running and was solid and dependable from the first practice on. With massive size and athleticism, Kalil used his great feet to his advantage and was never overmatched against the best rushers in the world. He was called for just one holding penalty all season long.
Kalil was a better pass-blocker from the start of the season on, but he picked up the nuances of run-blocking as the season wore on. As Kalil gets stronger through his hips and legs, he'll become a better run-blocker.
A Pro-Bowl alternate in his rookie season, Matt Kalil was everything he was advertised to be and will be the anchor of the Vikings offensive line for years to come.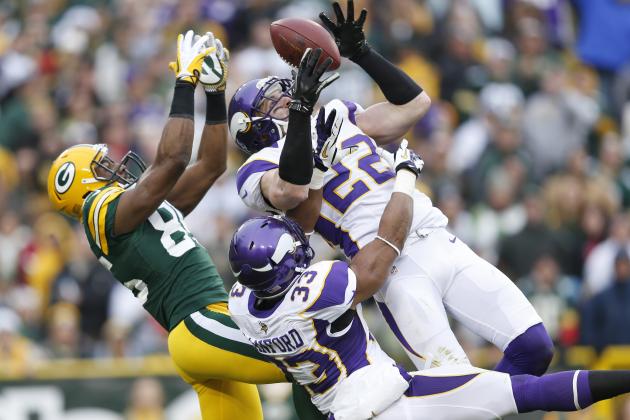 Joe Robbins/Getty Images

The Minnesota Vikings certainly knew what they were doing when they traded their second-round pick and one of their fourth-round picks to the Baltimore Ravens to move back into the first round to take safety Harrison Smith out of Notre Dame.
Smith became the Vikings starting free safety the second Roger Goodell announced his name at the draft.
Smith shied away from nothing all year long, proving he had the mettle the Vikings were looking for early on in training camp when he got into a scuffle with Percy Harvin. While both players were probably scolded by the coaches on the field at the time, the Purple brass had to be elated that their new safety had the stones to get in the face of one of the team's best players right from the start.
Smith won't win Defensive Rookie of the Year, but the Vikings probably wouldn't trade him for any other defensive player taken in last year's draft. Smith is smart, hits with authority and showed off a great football IQ all season long.
Smith finished second on the Vikings with 103 tackles and led them with three interceptions, two which he took back for touchdowns. Smith's 11 passes defended was second on the team to Antoine Winfield.
Like Kalil on the offensive line, the Vikings struck gold in Harrison Smith, and they have a leader for their secondary for years to come.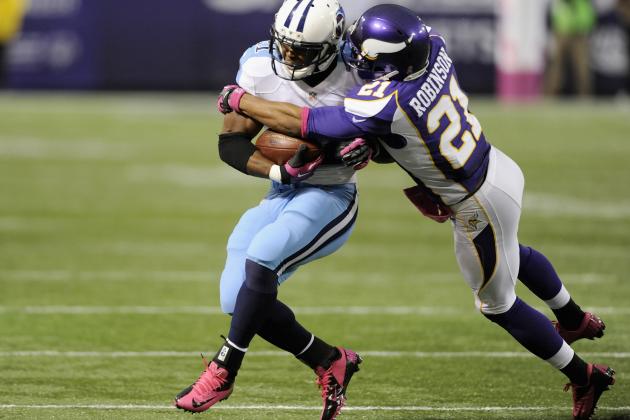 Hannah Foslien/Getty Images

The Minnesota Vikings had their eyes on several different cornerbacks with their third-round choice last April and were thrilled to be able to take Josh Robinson out of Central Florida.
At 5'10", 200 pounds, Robinson was the fastest player at the NFL combine and had a thick, muscular frame that would hold up well to the rigors of the NFL.
Robinson showed off great athletic ability in training camp, and the Vikings didn't hesitate to designate him as the nickelback right from the start of the season. Tough against the run and fast enough to stay with any receivers, Robinson should start at cornerback for Minnesota for years.
A high-character kid, Robinson finished with 55 tackles and two interceptions, with three passes defended. Robinson saw a lot more snaps than the Vikings had expected to play him when Chris Cook went down with a broken arm.
Robinson will only get better as he learns the game at the highest level. He's already more than fast enough and tough enough; as he learns the nuances of the game, he can become one of the best cornerbacks in the league.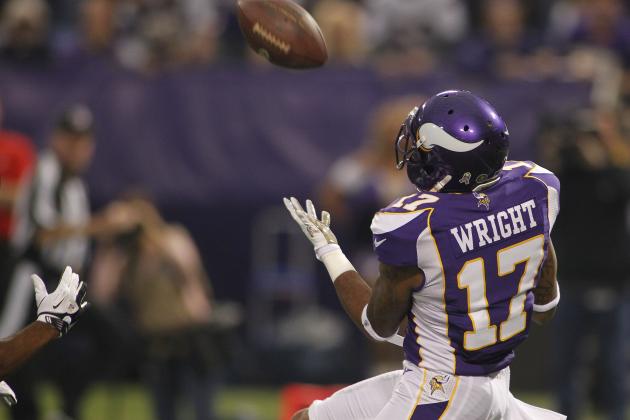 Andy King/Getty Images

The Minnesota Vikings used their first of three fourth-round selections to take Arkansas receiver Jarius Wright.
Slightly undersized at 5'10", 180 pounds, Wright runs a 4.4 40 and came into camp looking like a poor man's Percy Harvin. A four-year starter at Arkansas, Wright is a smart player who knows how to get open.
Wright was inactive for the Vikings' first nine games of the season, but you wondered why after he finally got the chance to play against the Lions on November 11. On the Vikings first possession, Wright ran a go route down the middle of the field and hauled in a 54-yard pass from Christian Ponder, easily outrunning the Detroit secondary.
Wright finished with pretty decent numbers for only playing in seven games and on a passing offense that stumbled its way through the second half of the season. Wright caught 22 passes for 310 yards and two touchdowns. He had three catches for over 20 yards on the year.
Wright showed some big-play potential and will clearly be a bigger player in the Vikings passing game in 2013, especially if Percy Harvin isn't with the Vikings.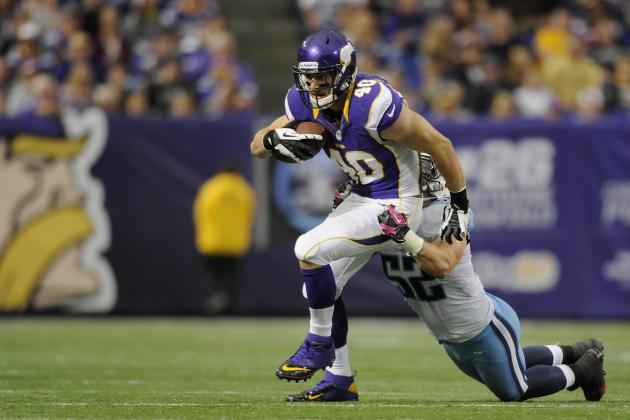 Hannah Foslien/Getty Images

USC tight end/fullback Rhett Ellison was surprised to be taken as high as the fourth round last April in the NFL draft. The Vikings, on the other hand, were quite thankful that he was still around for them to take late in the round.
Ellison was seen as a more athletic heir apparent to Jim Kleinsasser, the physical, blocking tight end the Vikings employed for a decade. Ellison showed a ton of versatility as both a blocker and a receiver for the Vikings, and his role is sure to expand heading into 2013.
Ellison caught seven of the nine balls thrown his way in 2012 and picked up 65 yards in the process. He showed off sure hands and a surprising running ability when given the opportunity.
Ellison is another high-character, team-first guy who the Vikings want to build around.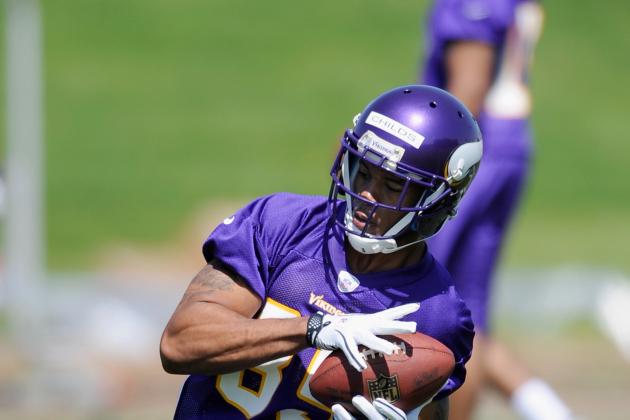 Hannah Foslien/Getty Images

The Vikings admittedly took a chance when they drafted their second wide receiver out of Arkansas in the fourth round, taking Greg Childs, who had a so-so season for the Razorbacks in 2011 after suffering a torn patellar tendon in 2010.
The Vikings were convinced that Childs was a second-round type of talent and would be a huge upgrade for them at a position where they desperately needed one.
Through the first couple of days of training camp, the Vikings were giddy at how good Childs looked.
Their good fortune didn't last long though, as Childs tore patellar tendons in both knees early in camp and was shelved for the season.
Childs' future is obviously up in the air, depending on how his knees react to rehabilitation and whether or not he is able to stay healthy afterwards.
The Vikings see a healthy Childs as a guy who can be a legitimate top-three receiver. He might have been a waste of a fourth-round draft pick.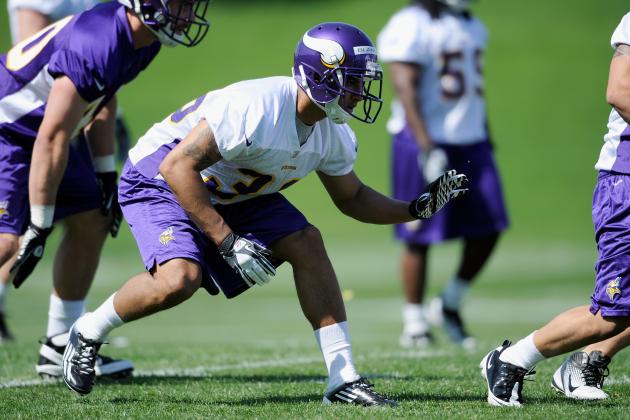 Hannah Foslien/Getty Images

The Vikings weren't expecting to get a lot out of fifth-round draft pick Robert Blanton in 2012, and they didn't.
Minnesota drafted the 6'1", 210 pounder out of Notre Dame to play safety after he'd spent his entire career at cornerback. It's not an easy transition to make at the highest level of football, but Blanton is a very smart kid and shows good football instinct.
Blanton filled in just fine when called upon, and pitched in with 13 tackles in limited action and special teams play. He lacks the elite speed to perhaps ever be a starter in the NFL, but if he shows enough improvement, he could have a job for several years.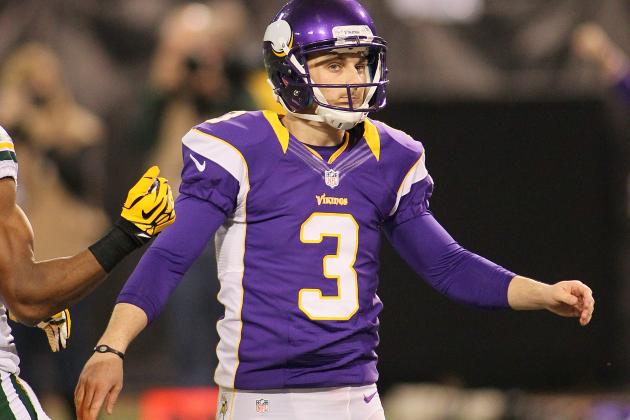 Andy King/Getty Images

Blair Walsh was simply one of the best draft picks in the 2012 draft.
The Vikings snapped up the strong-legged kicker out of Georgia in the sixth round after a senior season where he missed 14 of 35 field-goal attempts. Vikings special teams coach Mike Priefer convinced GM Rick Spielman that Walsh's inaccuracy was easily fixable and the rest is history.
Walsh is headed to the Pro Bowl after a rookie season that saw him set an NFL record by making 10 field goals from beyond 50 yards. Walsh was 10-of-10 from beyond 50 and converted 35-of-38 field goals on the season. His 141 points led the team and set a rookie record.
Walsh was just as dominant kicking off, setting a team record for touchbacks, and his kicks were as high as they were long, giving his coverage team ample time to get down the field and pin the return teams deep. He continually gave opposing teams long fields to work with, and the Vikings offense knew they had short fields, knowing Walsh's range extended beyond 60 yards.
It's rare to find such an impact player in the sixth round. It's even more rare for a kicker to be such an impact player. Walsh has many Pro Bowls in his future.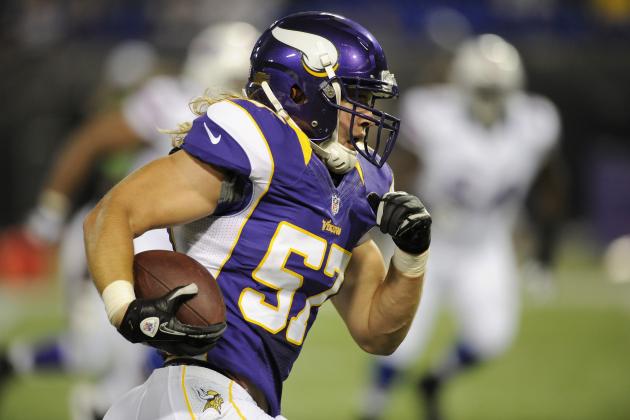 Hannah Foslien/Getty Images

The Vikings were looking for linebacker depth when they selected Audie Cole out of North Carolina State in the seventh round last April.
The 6'4", 250-pound Cole was fighting for a roster spot in August when he had the most memorable game of the preseason and cemented a spot on the practice squad. Cole intercepted two passes against the Buffalo Bills and returned them both for touchdowns, one from 20 yards out and one from 30.
Cole spent most of the season on the inactive list and saw limited duty late in the year when the Vikings linebacker corps suffered some injuries. He didn't make any tackles on the year.
2013 will be a "prove it" year for Cole. He'll have to show the Vikings that he learned and improved during a season that didn't see him on the field a lot and that he deserves a chance to move in to the rotation in 2013. There will most likely be spots available, but Cole will have to prove that he belongs.